MUST-KNOW Crochet Tips for Beginners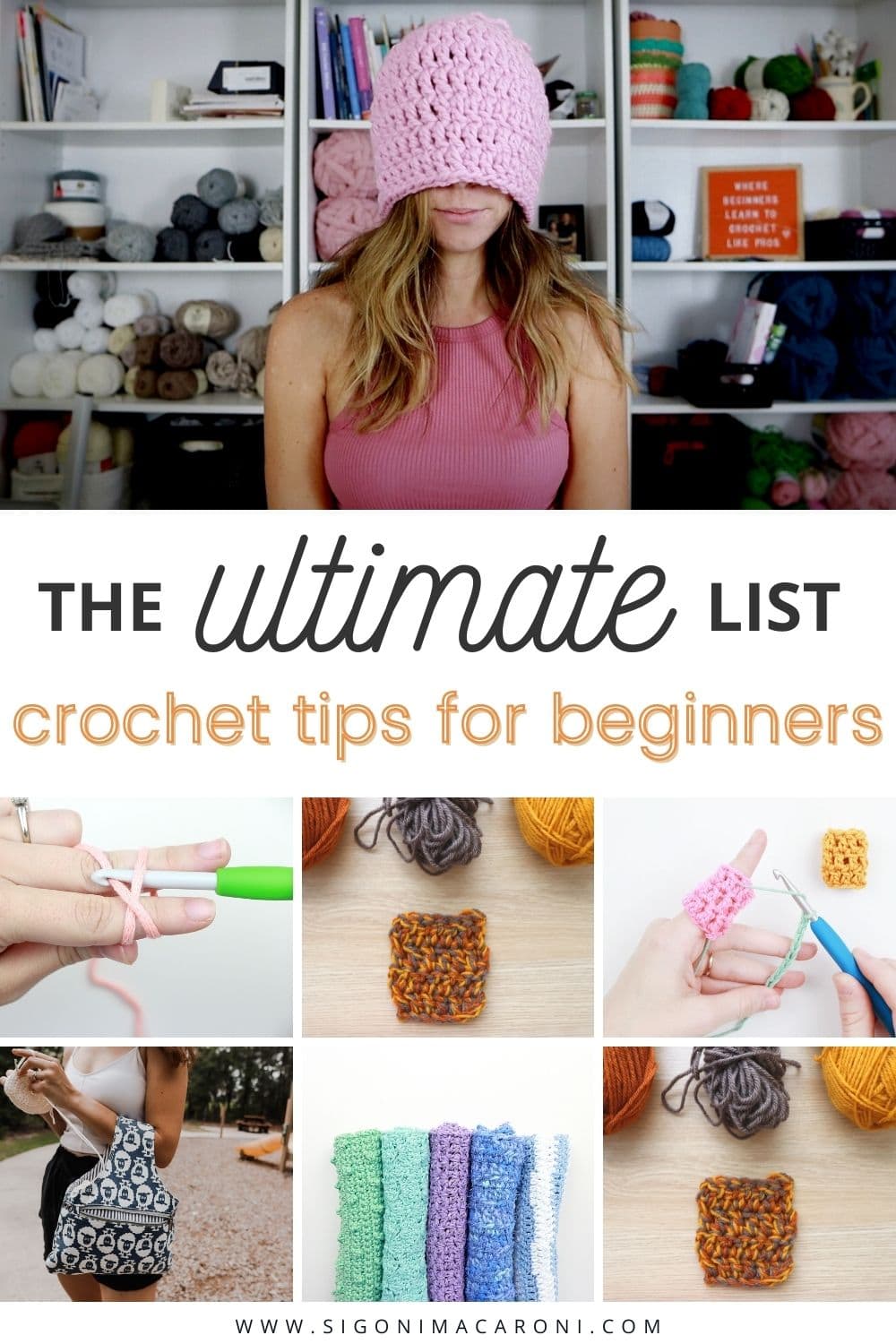 Do you want to get better at crochet? Do you feel like you're pretty good, but not crocheting up to your full potential? I've got you covered. Today I'm going to share this ultimate list of MUST-KNOW crochet tips for beginners. Most of these tips you will NEED to know in order to become a better crocheter.
I've put together a roundup of some of the best beginner crochet tips, hacks, and tutorials that I have here on the blog as of October 2021. I will also be adding to this list as new crochet tips for beginners come out!
I've been crocheting for 5 years and I've been putting out beginner crochet tips, hacks and tutorials for almost as long. I have a few tricks up my sleeves that I really want to share with you. So I've compiled this list based on feedback from readers and YouTube subscribers who have told me their favorites.
If you're interested to know if a certain one of these crochet tips actually works, be sure to read the comments under the videos I link to! Of course, there will be some who struggle more than others, but it's good to see how many crochet beginners have benefitted from a certain tutorial.
That could be you!
Since this will be a running list of crochet tips for beginners, make sure you pin this post for later! That way you can come back and re-read this post when you come across a question. AND see if there have been anymore tutorials added.
---
MUST-KNOW Crochet Tips for Beginners
Before I share all of the best crochet tips for beginners, did you know about my Beginner FAQ guide? There I share all of the answers to the most frequently asked questions I receive. Go through that post to see if any of your current questions have been answered!
Some questions on that list will be mentioned here too, but there are others that haven't.
Be sure to utilize the Table of Contents above to find exactly what you're looking for!
Crochet Tip #1:

Learn how to crochet from the beginning

If you are an absolute beginner, the best thing you can do is start with my FREE Learn To Crochet Masterclass. Even if you're not a beginner, it's a great course to go through to ensure you're learning the correct way. Is it easier to learn through step by step instructions or hopping to different blogs searching for your answers? I think you know the answer 😉

But really, I created this full online crochet class absolutely free so that you can avoid all of those beginner frustrations. Sign up for the 14 day email challenge here.

When you sign up, you will receive:
a free worksheet to help you keep track of your progress in the course
a free sample of my 70+ page Learn To Crochet ebook
This free crochet masterclass includes 10 lessons and 2 projects. You will learn everything you need to know about the basics of crochet and beyond. AND the whole class is hosted over on YouTube for your convenience!
Learn more about the Learn To Crochet Masterclass (and see the full curriculum) here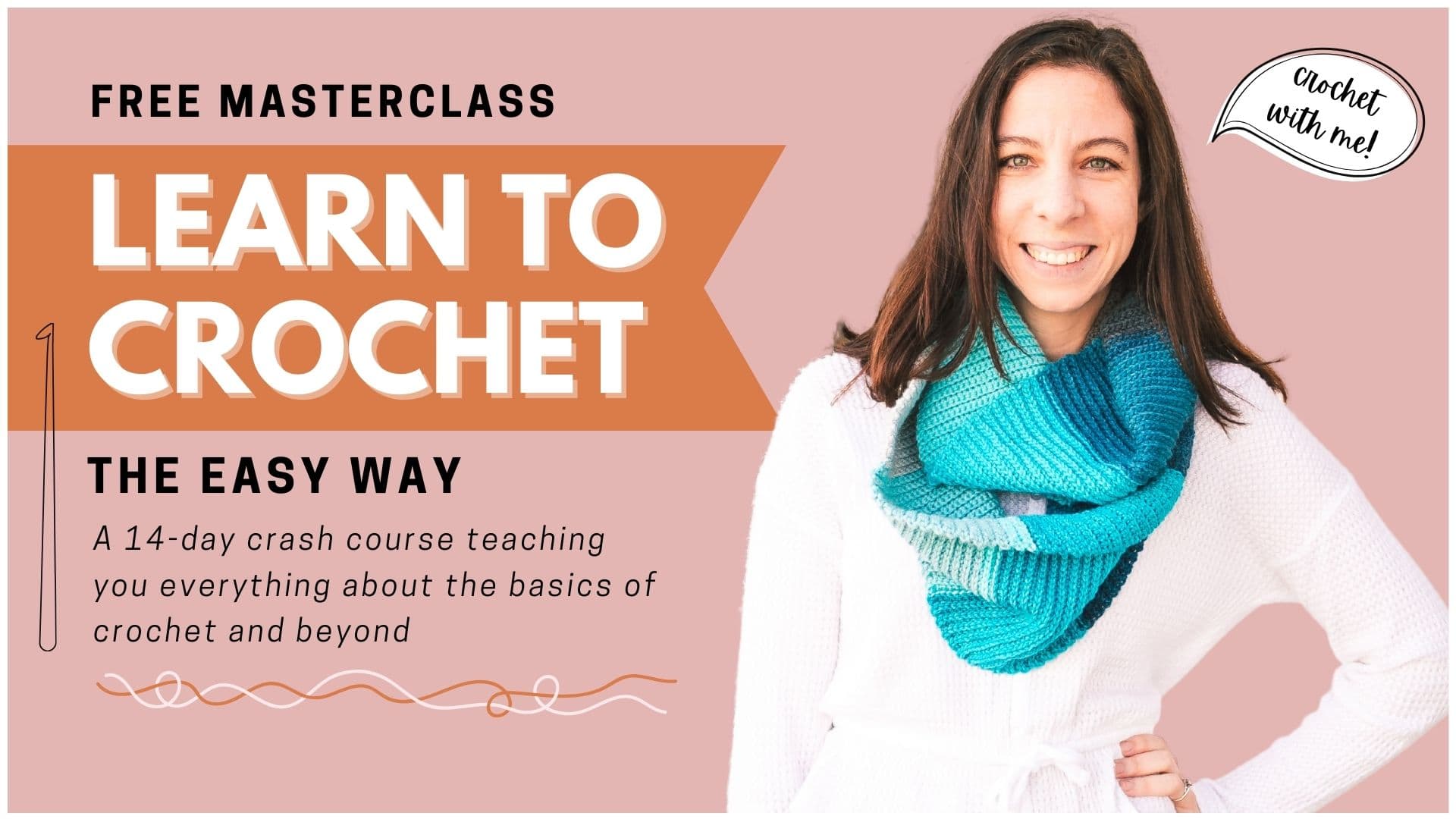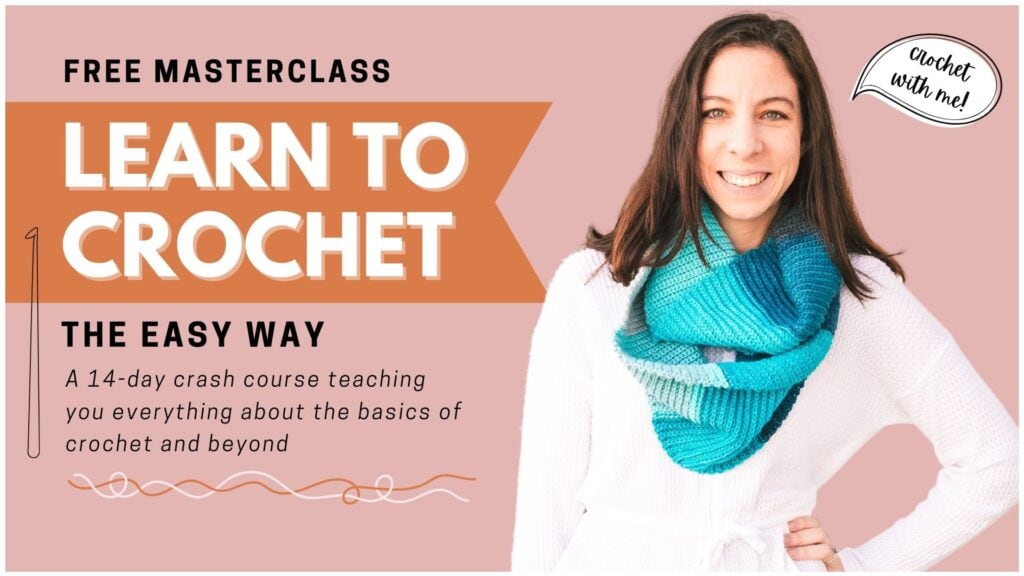 Crochet Tip #2:

Use stitch markers to keep your edges straight

Keeping your edges straight is one of the most frustrating concepts that most crochet beginners struggle with. When it comes to keeping your edges straight, the simple answer is to count your stitches. But when that's not a feasible option, there are a few ways around it.

One of the best ways to keep your crochet edges straight is to use stitch markers to mark the first and last stitch. This is the easiest and the most effective way.

If you've never used stitch markers before, they are an essential tool to include in your crochet toolkit. They can be used in many ways but this little hack is the best way to keep your edges straight.

Go ahead read the comments for proof!

Keep your edges straight with this tutorial
Crochet Tip #3:

Learn to understand turning chains

Here's another frustrating crochet topic. If you've ever wondered if the turning chain counts as a stitch, this tutorial will answer your question. I remember when I first started out, this drove me mad because I could never find the answer! And that's why I made it for you.

This crochet tutorial will also explain everything you need to know about turning chains in crochet, including where to put the first stitch of a crochet row.

Linked below is the blog post that explains all about tutorials but there is also a video tutorial as well.

Learn all about turning chains
Crochet Tip #4: Learn how to control your yarn tension
Does your crochet look a little messy? Have you noticed your edges curling? What about the fabric of your crochet being too loose or too stiff?
The culprit is almost always tension.
We all crochet differently. We use different hooks, we hold our yarn different, we hold our hooks different, we sit in different positions, we can get moody. All of these things affect your tension.
And sometimes, you could naturally be a tight crocheter or a loose crocheter. If you've never heard those terms, it's not a bad thing. The most important thing is learning how to recognize it and adjust your yarn accordingly.
This goes hand in hand with gauge as well but more on that later.
Learn how to hold your yarn based on how you crochet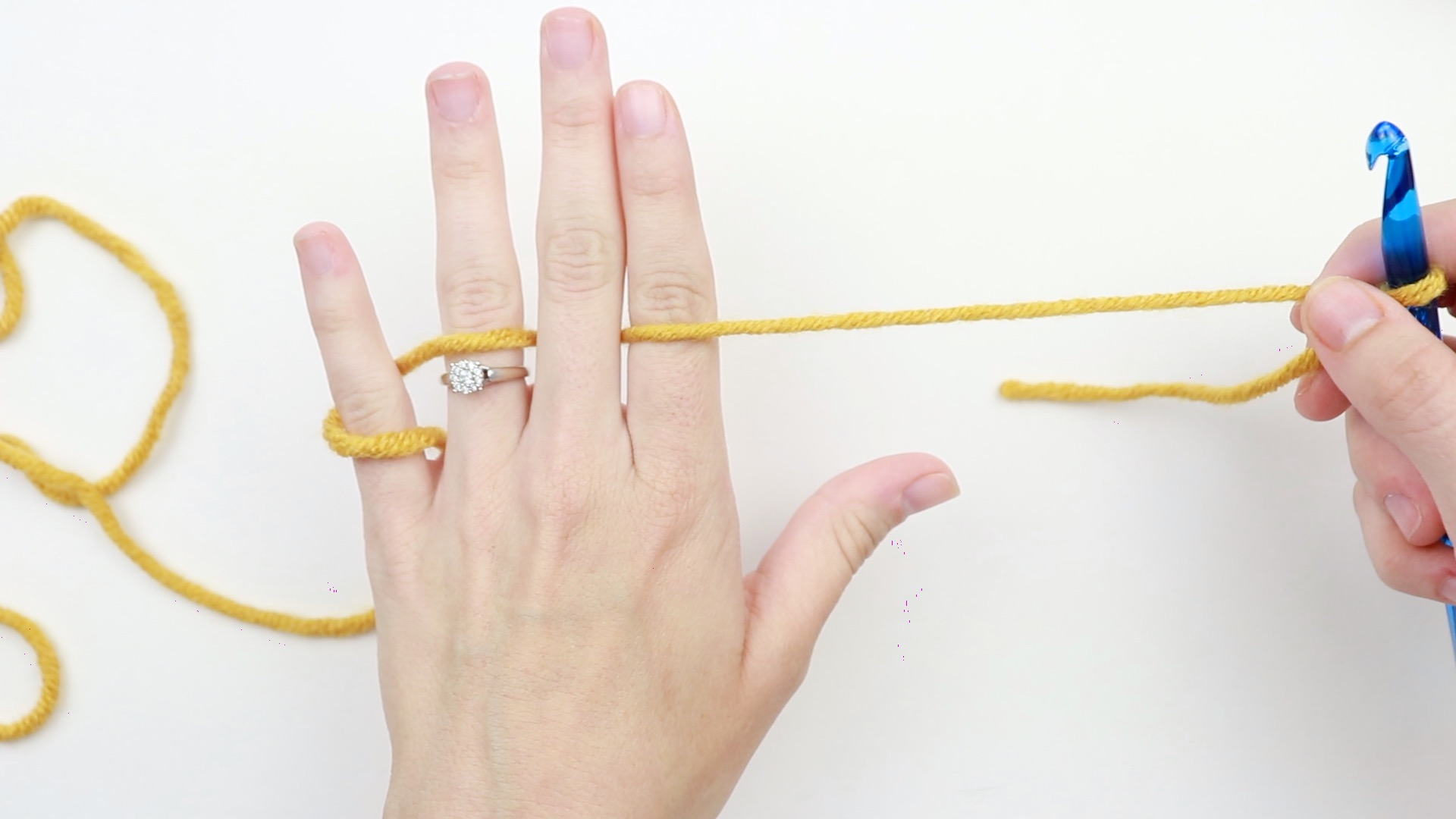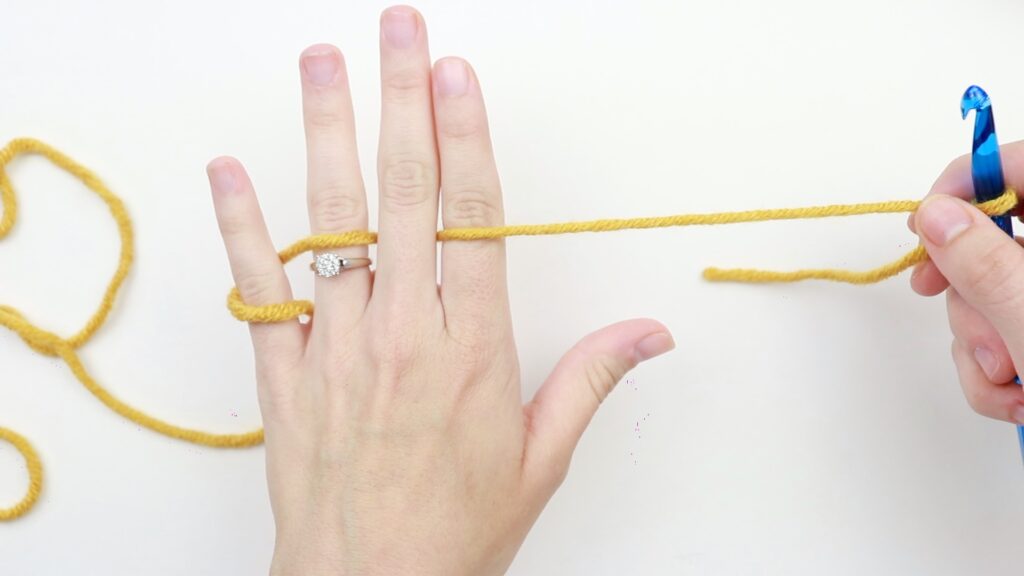 Crochet Tip #5:

Are you making one of these common mistakes?

These 8 crochet tips for beginners are essential to know. The reason why is because a lot of crochet beginners don't realize they're actually making these mistakes. That's why this tutorial is so powerful.

Not only will you learn how to fix these very common crochet mistakes, but you will also learn how to make sure you don't make these mistakes in the future.

Also, are you always down on yourself when it comes to frogging (or ripping back) your work? This crochet video also talks a lot about why frogging is actually a GOOD thing. So go watch it for some encouragement.

Let me know in the comments if you were making any of these mistakes!

Don't make these common mistakes
Crochet Tip #6:

Learn the different ways to keep your edges straight

I know we already talked about keeping your edges straight, but here are some more tips on that.

Keeping your edges straight in crochet really comes down to having the correct stitch count.

As I said previously, there are a few crochet tricks and hacks to get around counting your stitches. But sometimes it's better to learn how to recognize crochet stitches. If you know what they look like (front and back) and how they're constructed, crocheting will be easier for you in the long run.

By going through the full Learn To Crochet Masterclass that I referenced in Crochet Tip #1, you will learn all of these things, step by step.

Lesson 6 in particular is where we talk about learning how to count and recognize your crochet stitches.

I highly recommend watching through all of the crochet lessons, especially if you're an absolute beginner. But if you're just struggling with keeping your edges straight, watch Lesson 6 below.

Learn To Crochet Masterclass: Lesson 6
Crochet Tip #7:

Properly weave in your ends

It might sound self explanatory but there are a lot of crochet beginners who don't realize the importance of weaving in ends correctly.

If you don't weave in your ends the right way, your work could fall apart. If you're spending a lot of precious time into making something, you don't want it to be ruined by something so simple.

In the tutorial below I've demonstrated how to properly weave in your ends so that they never come undone.

Learn these 3 ways to weave in your ends
Crochet Tip #8:

Crochet tension regulator tutorial

Clearly have A LOT of crochet beginner tips and tutorials on the topic of tension. So if tension is something you struggle with, I got you covered.

In this crochet tutorial, I will teach you how to crochet a tension regulator. This tension regulator will help you to regulate your tension by doing all of the work for you.

If you can make this, it will help you SO MUCH. Check the comments under the video for proof! It has helped so many people and I'm so grateful for that.

Make yourself a crochet tension regulator
Now I will say that it's not the most beginner friendly thing to make. Some crochet beginners can make it while others can't. If you can't make it yourself, ask a friend if they can make one for you. OR you can purchase a different type of tension regulator. I talk about some alternatives in this video.
Crochet Tip #9:

Understanding why gauge is important

Three words: GAUGE. IS. IMPORTANT.

Really, it's only important in SOME cases. Not all. However, it is important to learn when you should make a gauge swatch and when it's okay to just continue on with the pattern.

This article covers those main questions, but it will also show you how to actually make, measure, and calculate a crochet gauge swatch. It's jam packed with a bunch of crochet tips for beginners PLUS there's a video tutorial as well. Watch the video if you want to see me demonstrate the hat in the photo below 😂

Crochet Gauge 101: Everything you need to know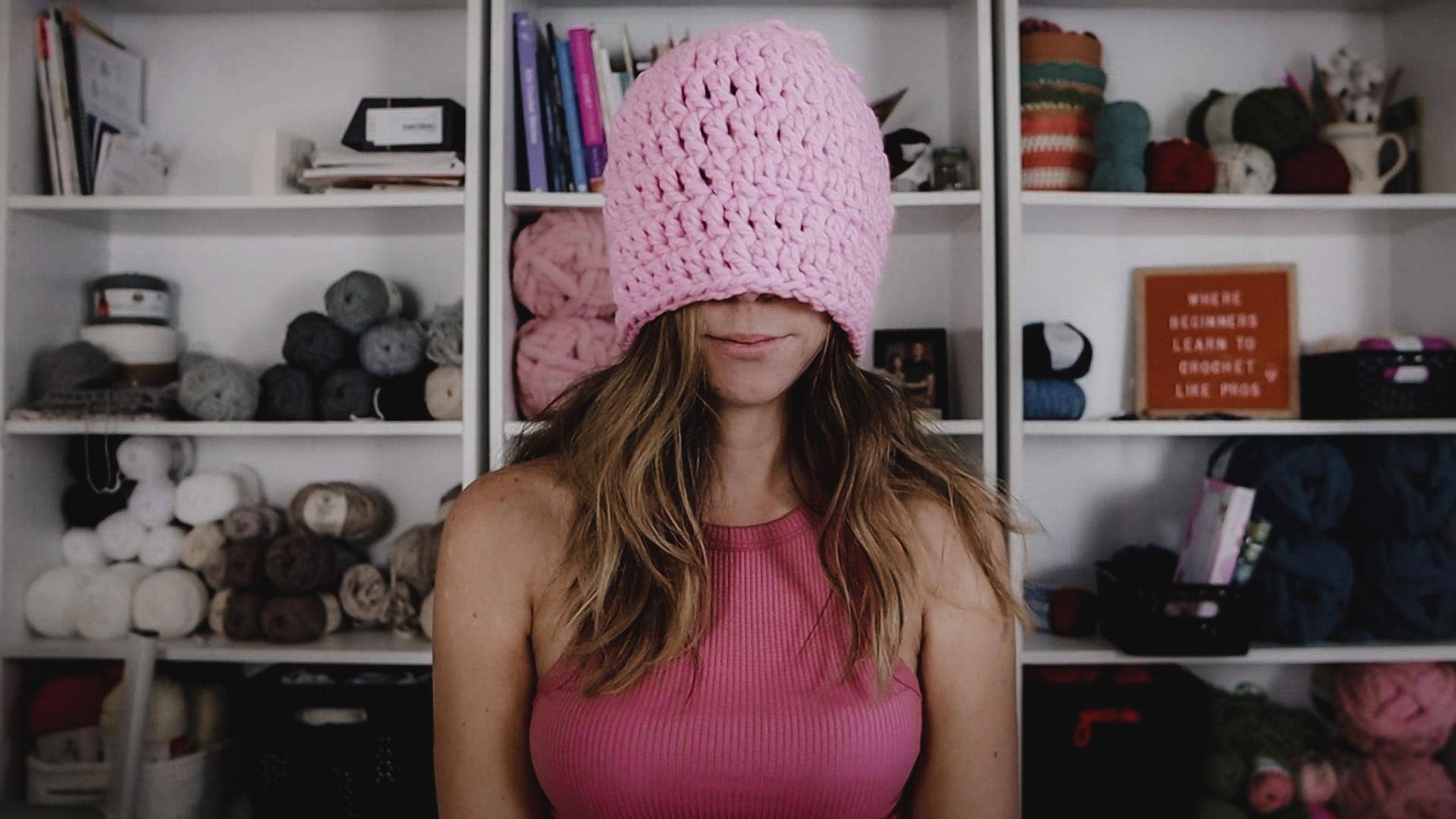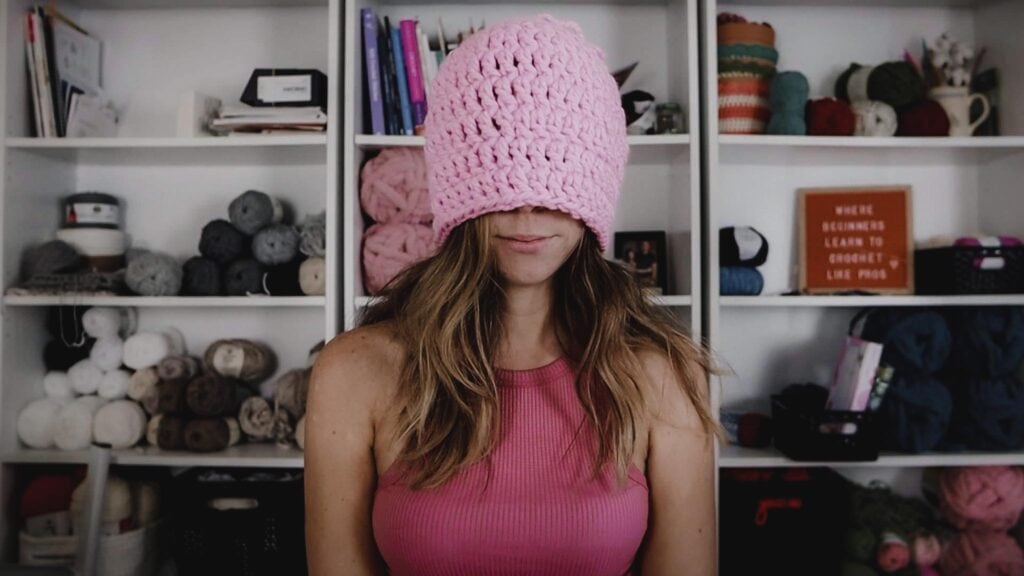 Crochet Tip #10:

Knowing what to do when yarn is discontinued

I have first-hand experience with this one. And if this has happened to you, you might have freaked out a little – just like I did. I'm not entirely sure why yarn gets discontinued to be honest. I'm sure some may be because of the lack of sales or interest.

But I've also seen yarn get discontinued that many people love. Some even beg the brand to keep the yarn around. In the end though, they never do. They have their reasons, I'm sure.

This is what you should do when your favorite yarn gets discontinued

Be sure to watch the video! It shares SO MANY good tips on finding your favorite discontinued yarn in places you didn't even think to look.
Crochet Tip #11:

Gather the right crochet supplies

If you've ever had trouble with tension, try a different hook set.

If you've ever wanted to crochet at night, there's a tool for that.

If you've ever wondered what my favorite crochet supplies are, there are 5 tools that I use the most in my day to day life. And the list includes the supplies with the solutions to the above questions. I highly recommend each and every one of them.

This video was a collaboration with Elise from Le Petite Saint Crochet (she is the sweetest) and she also shares her favorites as well!

These are my FAVORITE crochet supplies
Crochet Tip #12:

Have fun crocheting while learning something new!

I designed this series of crochet washcloths in a way to help beginners practice the basic stitches and learn something new at the same time!

Each washcloth uses the basic stitches, but with a twist. You will learn:
how to make a bobble out of a treble stitch
how to crochet with double strands
how to work into chain stitches
how to follow a crochet tutorial
how to change colors
This set of beginner crochet washcloths will turn you into a pro in no time!
Here are the 5 Beginner Friendly Crochet Washcloths
Crochet Tip #13:

Learn to improve your tension

More tension tips for you!

As I've been saying, tension is a big issue for a lot of people. And again, there are so many different factors that affect your tension when you crochet. Some are factors that are outside of our control and others are factors we can control.

This article will give you 7 different ideas to improve your crochet tension. And this crochet tips are easy to implement, which is always the best part.

Improve your tension with these 7 tips
Crochet Tip #14:

Read these tips for crocheting with multiple strands

Have you ever tried to crochet with multiple strands? It can be tricky sometimes, but it doesn't have to be! Crocheting with multiple strands is one of my favorite things to do!

There are a few reasons why you should learn how to crochet with multiple strands. I talk all about that in the post as well. I also have quite a few free crochet patterns here on the blog that require holding double strands.

These 11 crochet tips for beginners will help you have a better time at crocheting with multiple strands. As long as you remember these tips, the next time you try it will be a breeze.

There's also a video tutorial!

11 tips for crocheting with multiple strands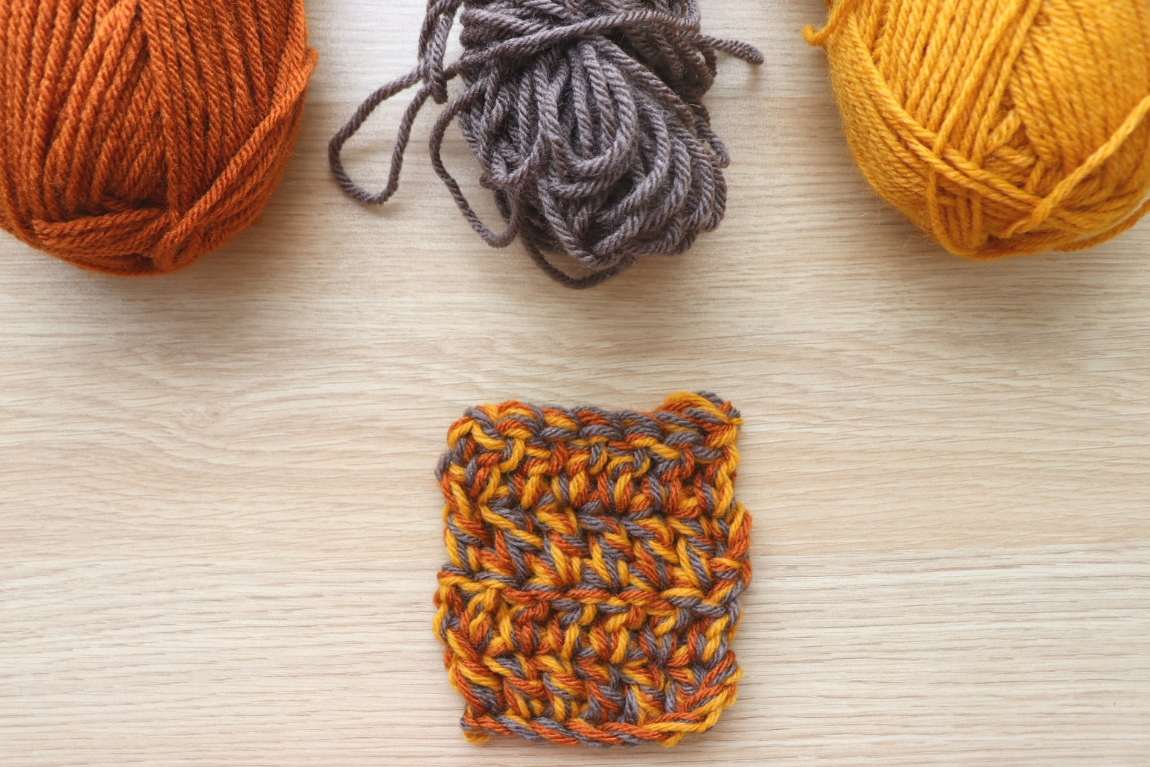 Crochet Tip #15:

Try some beginner friendly crochet stitches!

This isn't necessarily a crochet tip for beginners, but I've included these easy crochet stitches for when you're ready to move on from the basics. Each of these stitches have simple pattern repeats and would make beautiful blankets.

Not only is there a picture tutorial for each stitch, but there's a full video tutorial with all of the stitches included.

Which stitch are you the most interested in learning? Tell me in the comments!

Learn some beginner friendly crochet blanket stitches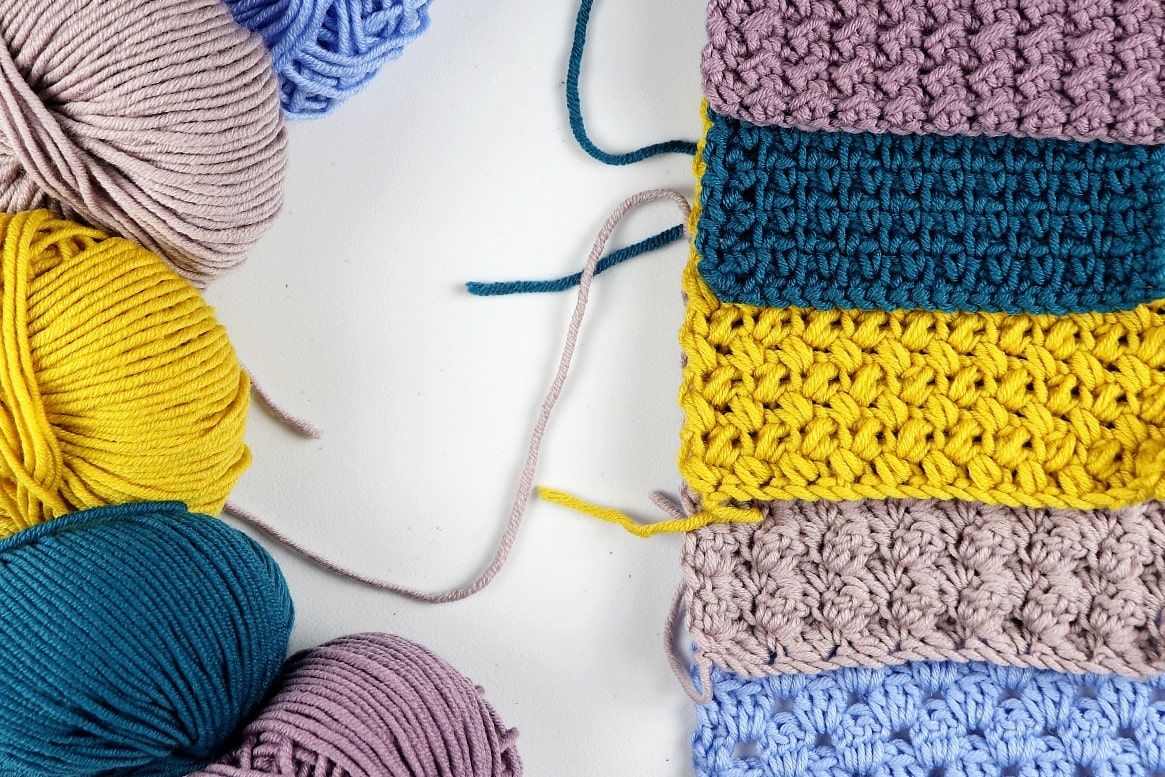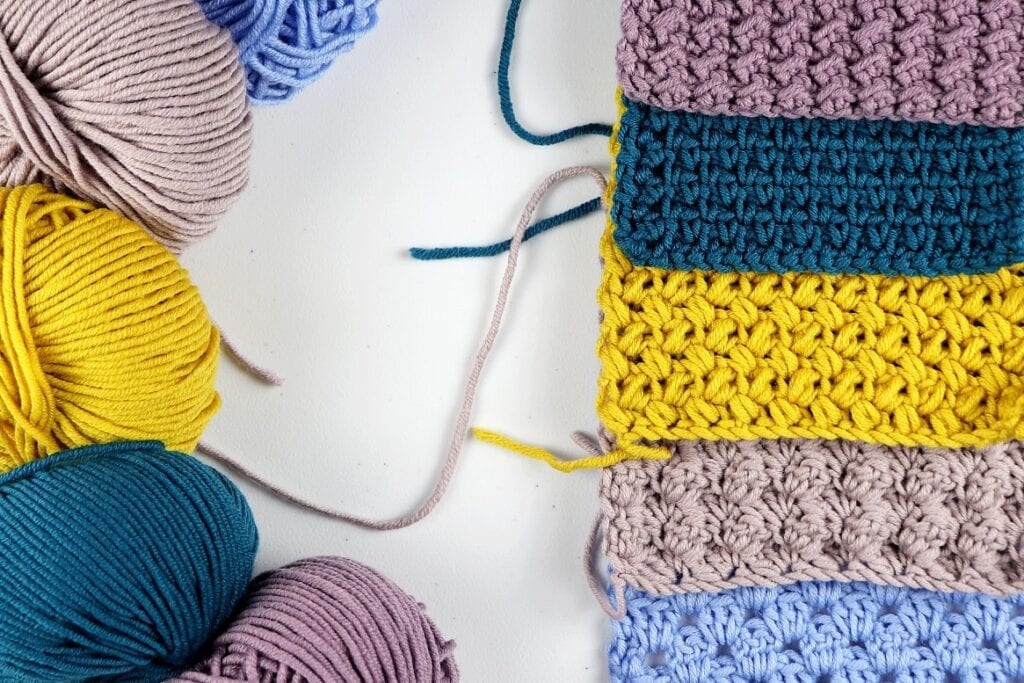 Crochet Tip #16: You don't HAVE to learn the magic circle technique
Don't get me wrong, the magic circle is a great technique to learn. But I've had a lot of people come to me at wits' end saying it's just not working for them.
And to that, I say: Let me tell you my story.
When I first tried the magic circle, I could NOT do it. I tried so many times, became so frustrated, and maybe cried a time or two. But what I didn't realize then was that you don't NEED to learn the magic circle.
Again, the magic circle is a great technique to have in your toolbox but it's not necessary. There are other ways to begin crocheting in the round. You can learn more about that in Lesson 10 of the Learn To Crochet Masterclass.
When learning how to create a magic circle, remember that it's more of a bonus technique and not a "must-know" technique. This might help ease your frustration. If you can't do it now, set it aside for a few days/weeks and try again later.
Learn how to create a magic circle here
Crochet Tip #17: Learn to crochet the PERFECT granny square
While this isn't your traditional granny square, this tutorial shows you how to crochet the perfect solid granny square. Granny squares can be used to create so many different kinds of projects. My favorite granny square book even showcases the different things you can design on your own.
This tutorial will teach you how to count and make sure your square actually stays a square. AND there's a neat trick I like to use so you can't even see the seam!
Learn the special trick to making the perfect granny square
BONUS: 11 ADDITIONAL Crochet Secrets for Beginners
Earlier I said I've been crocheting for 5 years. I've learned a lot over these past few years. Learn from my mistakes and read through all of the BEST things I've learned over the years. Some of these are my best kept crochet secrets.
11 Crochet Secrets | Things I've Learned
Wow, we learned a lot today! Let me know in the comments which one of these crochet tips for beginners was your favorite. Do you have any additional tips for beginners? Leave those in the comments too!