Crochet Tension Regulator Pattern | A Must Have Tool For Beginners
If you've thought about giving up because you are beyond frustrated with your tension, DON'T! This crochet tension regulator pattern is for you. I'm not exaggerating when I say this crochet tension ring is a must have tool for beginners. Tension is the reason why so many beginner crocheters give up without giving it a real chance. If you're thinking about doing the same (or know someone who is) then please give this crochet tension regulator a chance before you do, and then check out these additional tips to help improve your tension.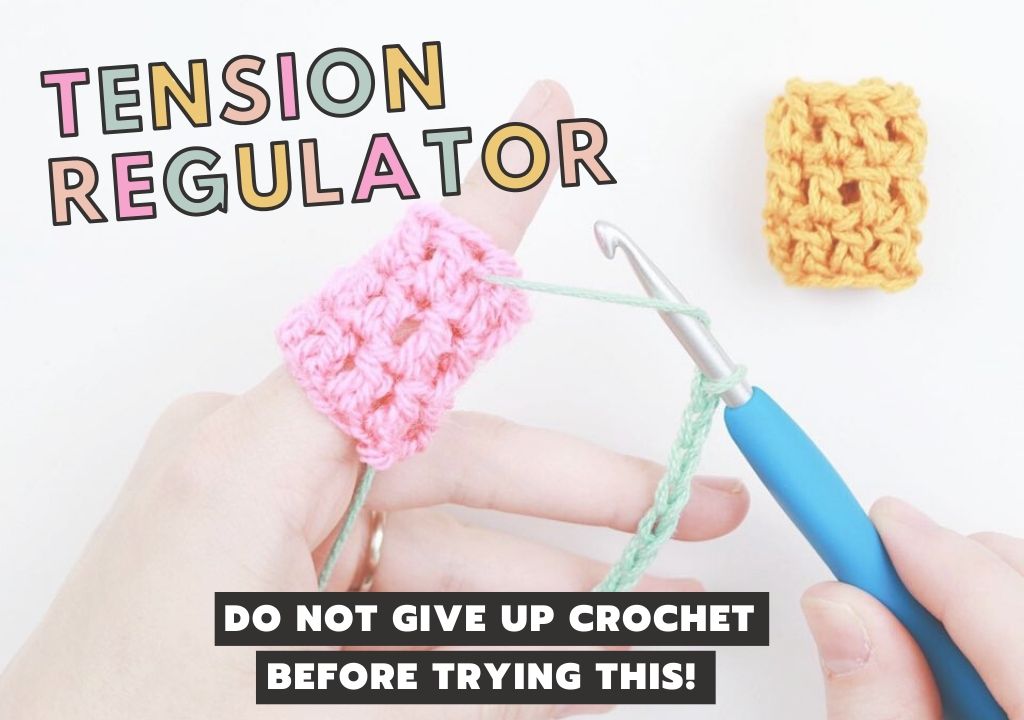 I know that when you're starting to learn a new hobby, the last thing you want to do is become frustrated with the process. We want that easy win that makes us feel like we can do anything.
And that's why so many people give up! Because getting the hang of your tension truly takes practice and in the beginning you do need to have some patience with yourself.
You're learning something new. Your fingers are learning something new. So it's not going to come as naturally to us as we hope.
It can be frustrating, I know. And I get it. I really do.
Now, there's no overnight solution to the perfect yarn tension. But I do have something that comes pretty close.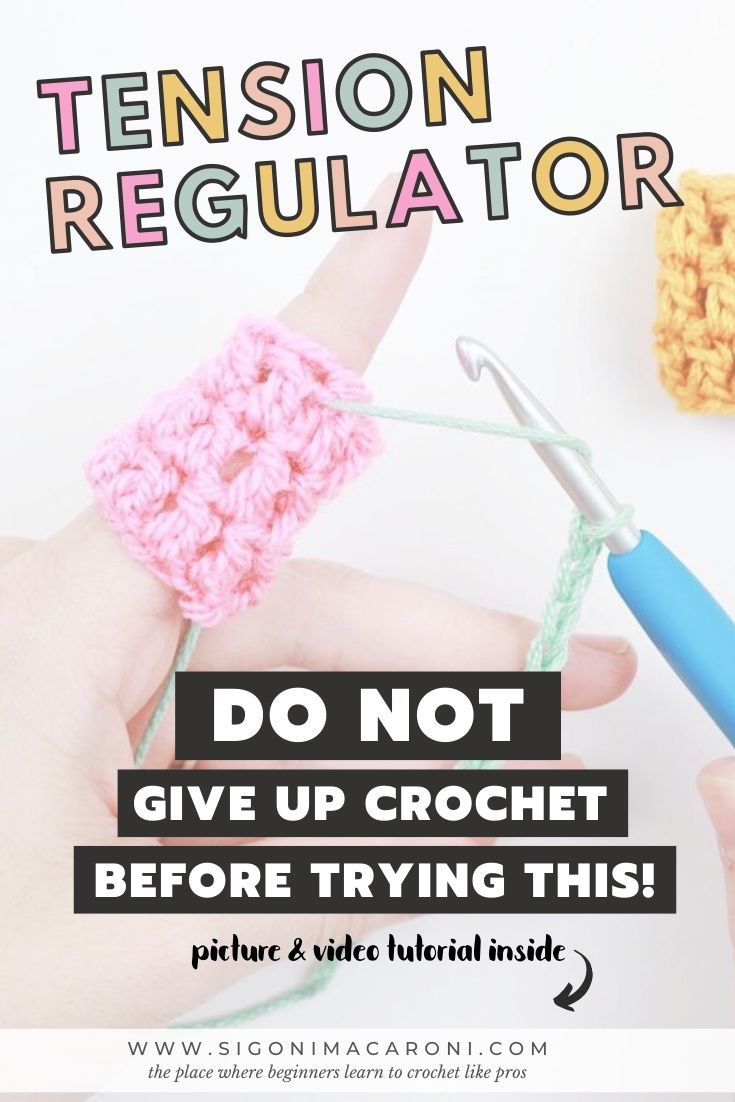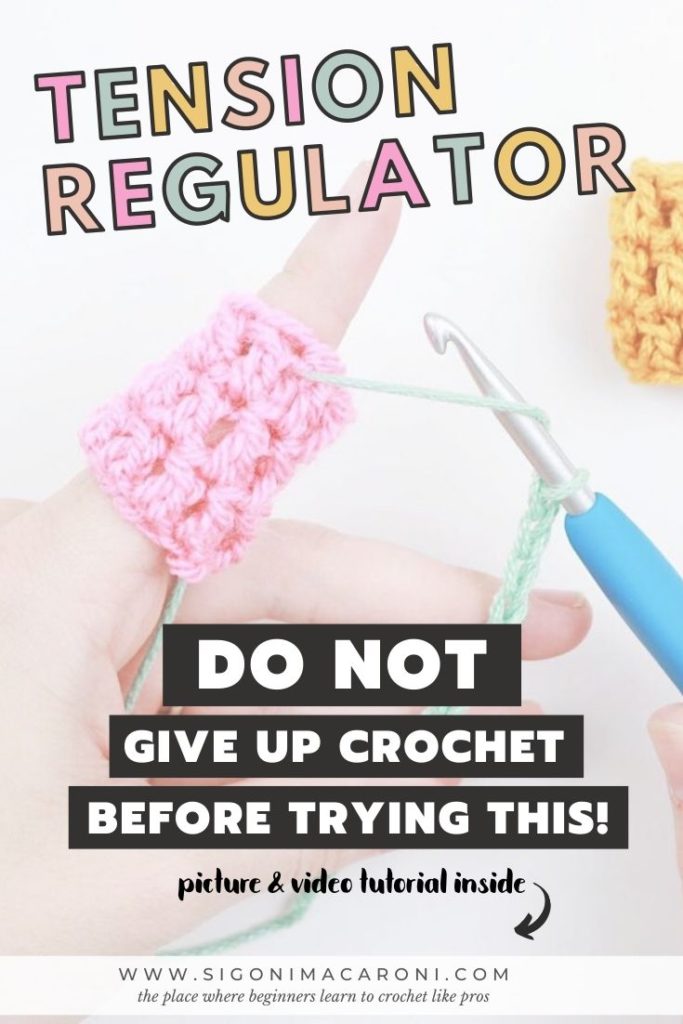 ---
Crochet Tension Regulator – The Game Changer
This crochet tension regulator pattern has completely changed the course of so many beginners who once wanted to throw it all away. And I wouldn't say that if it wasn't proven. Check out the comments on this video I posted last year and see for yourself!
The video I posted above is pretty long and the crochet tension regulator pattern is deep inside the video. So because there have been so many people who have had so much success with the crochet tension regulator, I wanted to create a stand alone pattern so it's easier to find, easier to follow, and easier to share with more people who need it.
If you struggle with tension (or know someone who does), you can create one too and it just might change your life.
---
Who Is The Crochet Tension Regulator For?
The crochet tension regulator is for the beginner who can't find a comfortable way to hold their yarn or even an advanced crocheter who never felt like their tension has been consistent.
Additionally, if you are someone who has arthritis, hand pain, or you have trouble closing your hand, I do believe this tension regulator will help. I've had a few people who experience these symptoms attest to this and I truly hope that if you have the same symptoms, that this regulator will help you too. I want nothing more than to help you find a way to enjoy crochet, relax, and make beautiful things for you loved ones.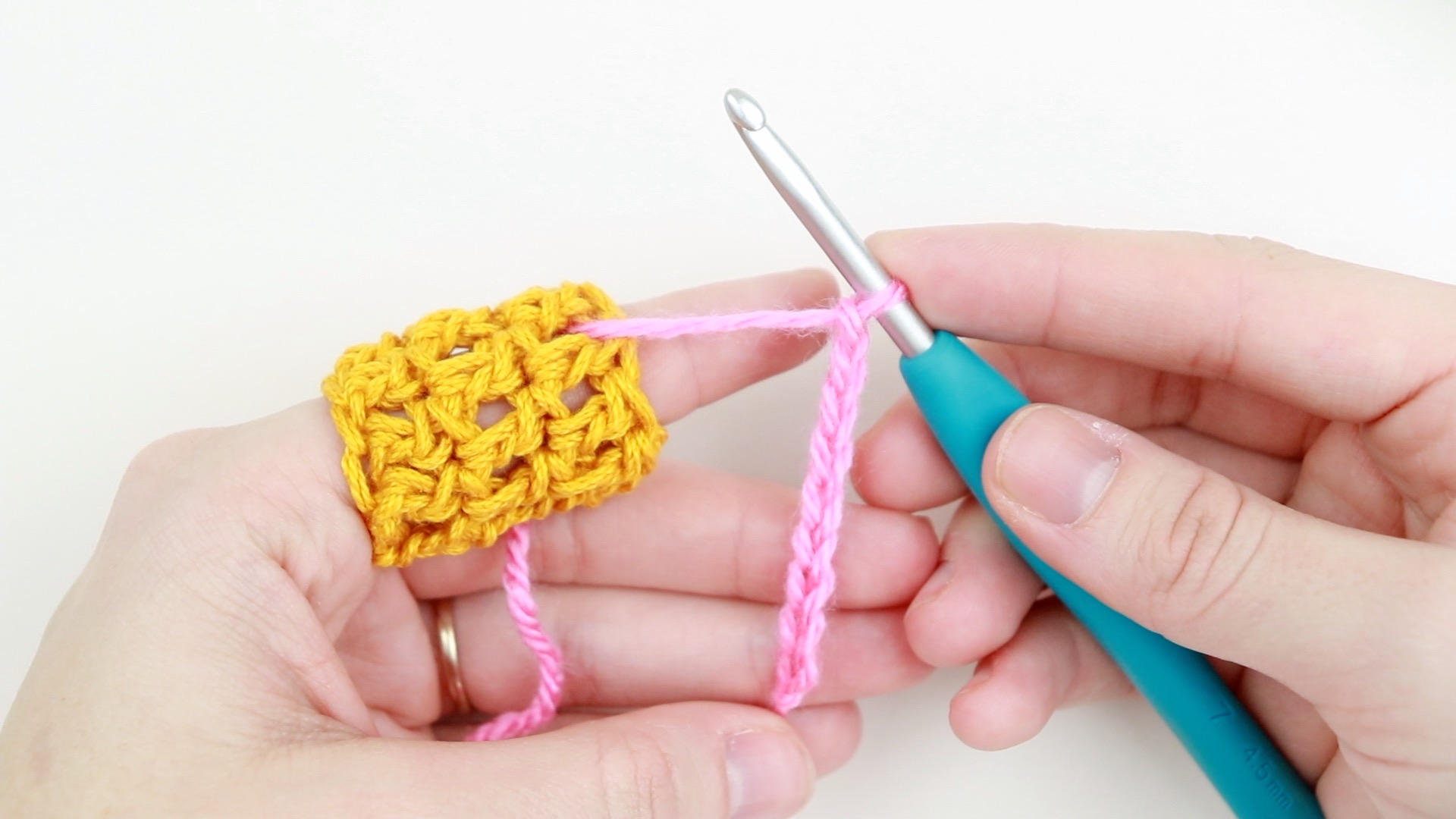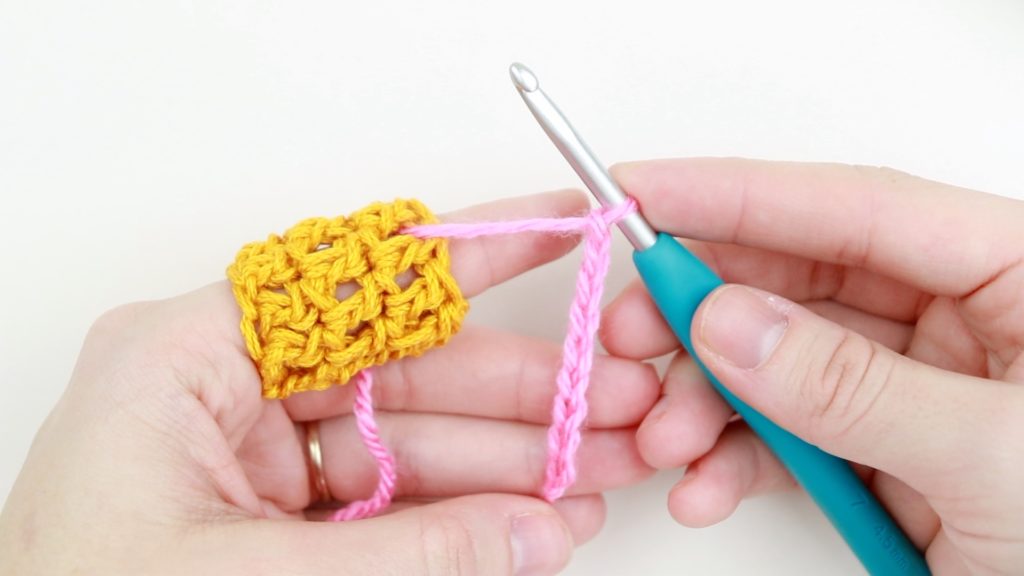 But before you get too excited about this "easy way out", I don't want you to have to rely on the crochet tension regulator forever (unless you are, of course, one of the few mentioned above who truly need it in order to crochet).
Remember, getting the hang of your tension takes practice. The more you crochet, the easier it will get. So before you rely on this regulator, I suggest checking out some of these tips to improve your tension and see if any of those help.
Oh and one more thing, I would love for you to join my crochet community! I will send you beginner tips, free worksheets, and beautiful beginner-friendly patterns (NEVER spam). Plus you will also gain access to my freebie library and my private Facebook group where you can share your makes, frustrations, and get all of your questions answered. We would love to have you!
---
Crochet Tension Regulator Pattern
Some of the links below are affiliate links. Please see my disclaimer for details.
Materials:
Abbreviations Used:
Ch – chain
Sl St – slip stitch
Dc – double crochet
Pattern Notes:
Ch 3 at beginning of round counts as stitch
The size of this tension regulator would work great when working on a project using a light weight (#3), medium weight (#4), or bulky weight (#5) yarn.

If you're not fond of using a medium weight tension regulator with bulkier yarns, feel free to create the same regulator with a bulky weight yarn. Find a further explanation after the pattern instructions.
Crochet Tension Regulator Pattern Video Tutorial:
Other Helpful Tutorials:
---
Crochet Tension Regulator Pattern Instructions
Ch 9, sl st to first ch to form circle
Round 1: Ch 3, dc each ch around. Sl st to top of ch 3. (9)
Rounds 2-3: Ch 3, dc each st around. Sl st to top of ch 3. (9)
Tie off and weave in ends.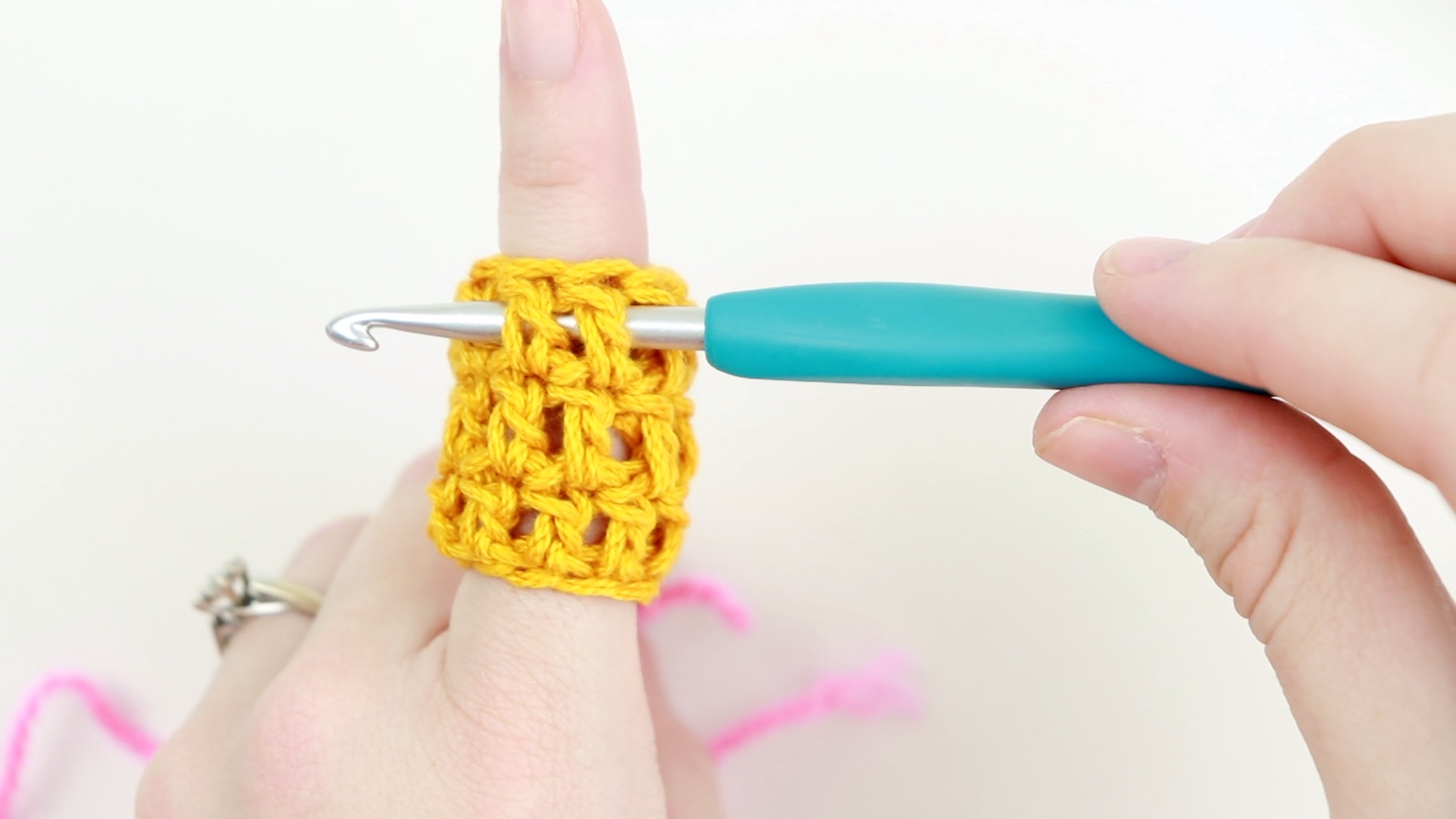 ---
How To Use The Crochet Tension Regulator
After you finish making your tension ring, weave in your ends and slip it on your finger.
If it feels too tight, make another one with a 5mm hook. If it feels too loose, make another one with a 4mm hook.
Insert whichever hook you're using under two of the double crochets on the top row of your regulator. Create a slip knot and pull it through with your hook.
If you understand better visually, watch this video to see how to use the crochet tension regulator. It's simple, but sometimes words just don't do the trick.
---
How To Adjust The Crochet Tension Regulator To Fit
If you made the above crochet tension regulator and you don't feel like it fits you well enough, try a different hook size. If it's too tight to fit around your finger, use a 5mm hook (still chaining 9 at the beginning). If it's too loose, try using a 4mm hook.
Each one of us is different so you will have to test this out for yourself. Luckily, it's quick to make! So even if you try 10 different sizes, it'll probably only take you 30 minutes or so.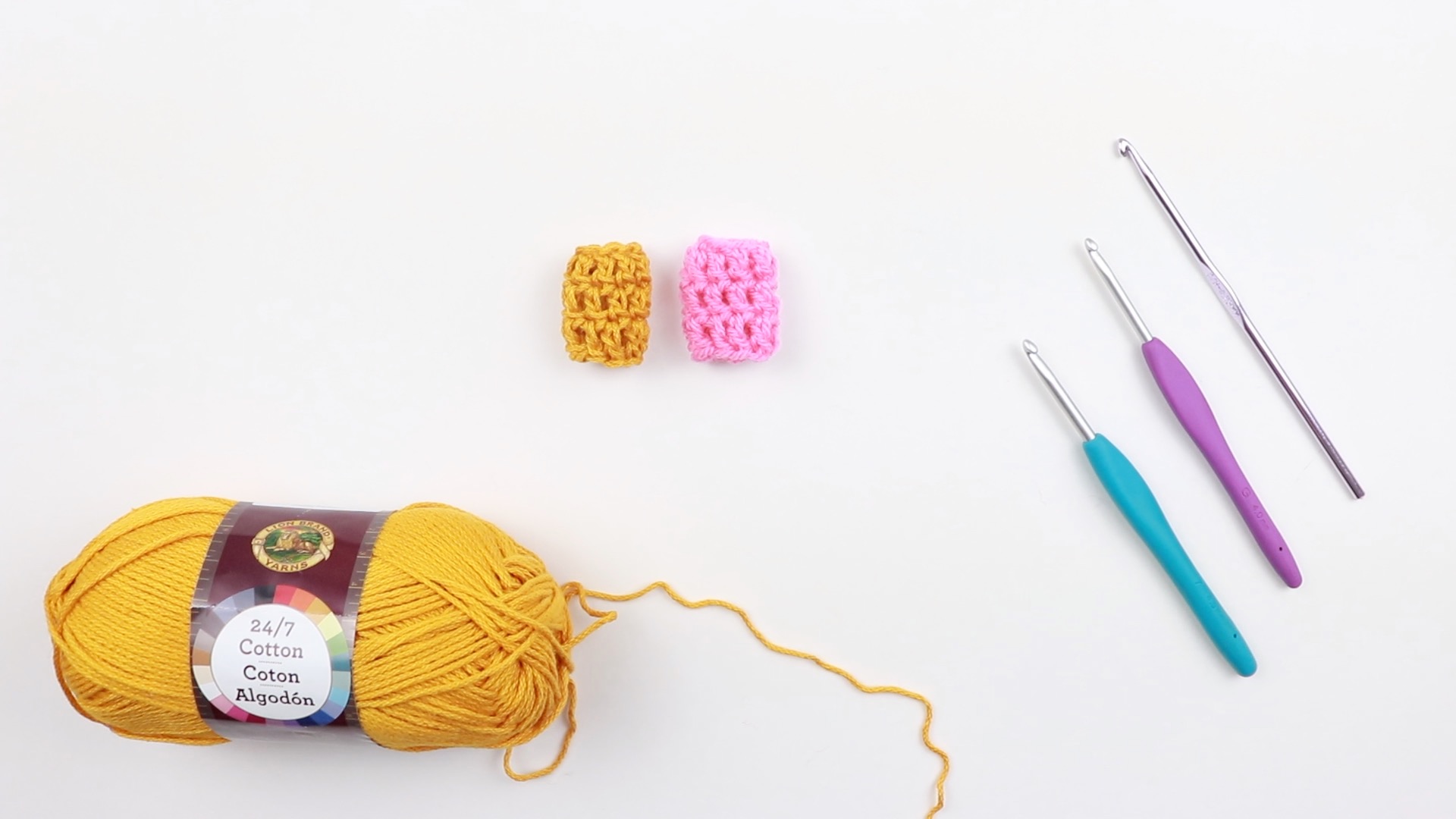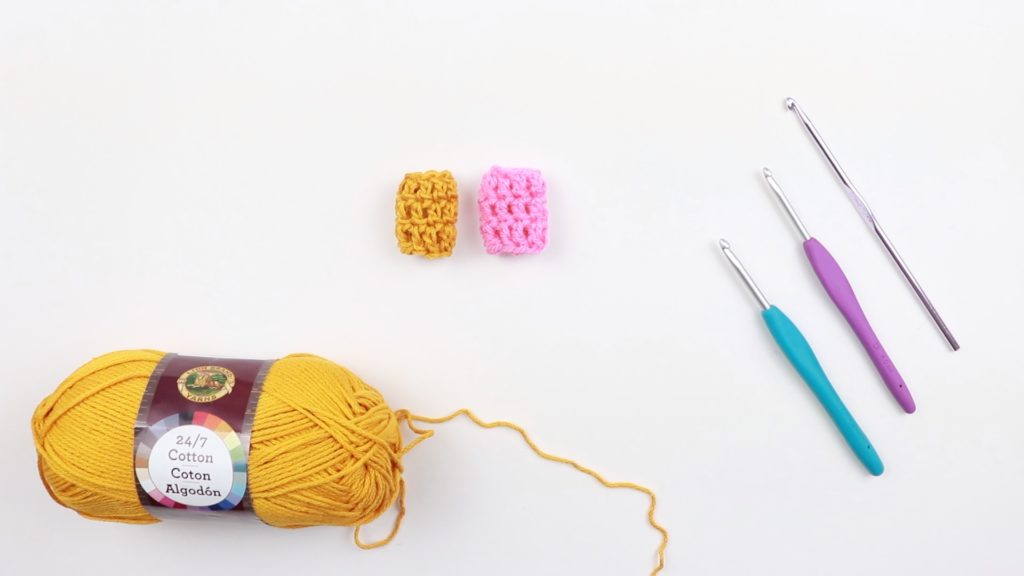 ---
Does The Crochet Tension Regulator Work If Using A Bulky Weight Yarn?
Yes, it does! I had someone ask this question over on the first video tutorial and so I tested it out and it still worked quite well. The only suggestion I would make is to insert your hook under three of the double crochets rather than 2.
If you prefer, you can also create a crochet tension regulator using a bulky weight yarn. I created a separate ring using a chunky (#5) yarn with the same amount of starting chains and a 5.5mm crochet hook.
---
Did you try out the crochet tension regulator?
Tell me your story in the comments! I would love to hear from you.
That's it for today's crochet tension regulator pattern! I'm so excited to share this with you after seeing how much it's helped so many people. So please, if someone you know is struggling with their tension and they're ready to give up, share this with them!
Crochet is so rewarding in so many different ways. You can do it! I promise.