Chain Stitch Crochet Tutorial
After learning the basic materials to get started, the chain stitch is the absolute first stitch you need to know before you start any project. Sometimes you will start with a magic circle, but most of the time you will start with your foundation chain. Today we're going to go over this chain stitch crochet tutorial and soon you will be well on your way to making some beautiful, handmade gifts for friends and family!
Learn to Crochet the Easy Way
The Learn to Crochet the Easy Way series was created to make learning to crochet as easy as possible. If you haven't read the introduction to the series, you can do so here to find out what all it entails. At the bottom of this post you will also see each step I suggest you follow in order! Don't forget to really take the time to practice each stitch before you move onto the next.
Not sure where to start? My 7-Day Learn To Crochet Challenge will give you step by step guidance on where to start, what to learn next, & how to get started on your first project!
Click Here to Join the FREE 7-day Challenge!
The chain stitch is vital to learning how to crochet because it is one of the two ways that you start a crochet pattern. As a beginner, after learning how to make a slip knot, chaining is the FIRST stitch you should learn in order to start your beginner projects.
Creating the chain stitch is relatively easy. The problem that a lot of beginner crocheters have has to do with tension. Tension is something you won't get right away. It takes a lot of practice so be patient!
If you're not sure what I mean by tension when it relates to crochet, let me explain.
---
Tension
Tension is how lOose or how tight you crochet.
Have you already tried crocheting a few projects that have come out with the edges looking a little wonky? It might be because of your tension.
A lot of the time beginners will begin a project feeling tense. You're thinking about how proud and excited you'll be when you're finished, but you're focusing too much on perfection so you start tensing up and chaining tightly.
As you continue your project, you start to loosen up and relax a little bit, resulting in looser chains. This will cause your projects to curl.
If you struggle with tension, or want to learn more about it and how it can affect your future projects, read this article.
If you've had this problem, don't worry we're gonna fix it, but you have to promise me that you'll take the time to really practice! The more you crochet, the more you'll understand your tension and how to control it. Achieving the perfect tension takes a lot of practice and patience, but don't give up! Leave a comment below if you're having any problems or any questions. <3
If you don't know how to create a slip knot, check out my super easy tutorial here.
FOR ADDITIONAL HELP, YOU CAN FIND THE VIDEO TUTORIAL BELOW THE PICTURE TUTORIAL!
---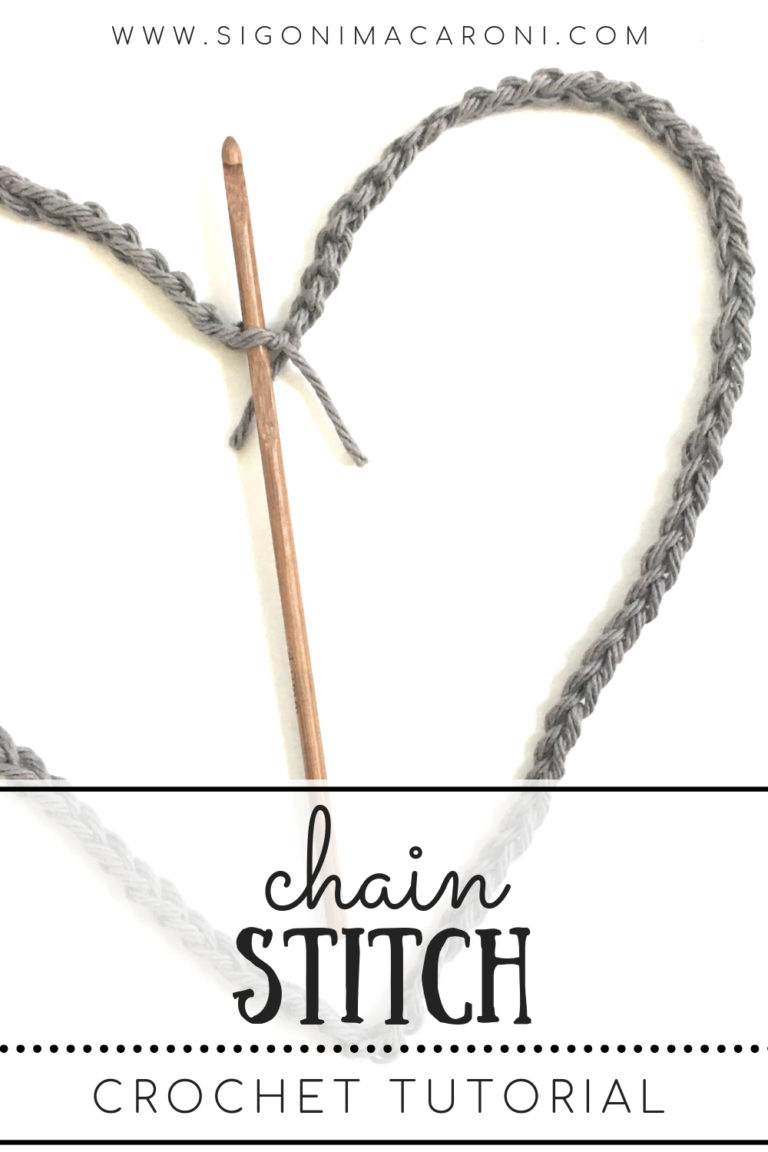 This post may contain affiliate links, please view my disclosure policy for details.
Chain Stitch Crochet Tutorial
Create a slip knot and tighten it around your hook.
Wrap the yarn around your hook, pull the yarn down and through the loop on your hook.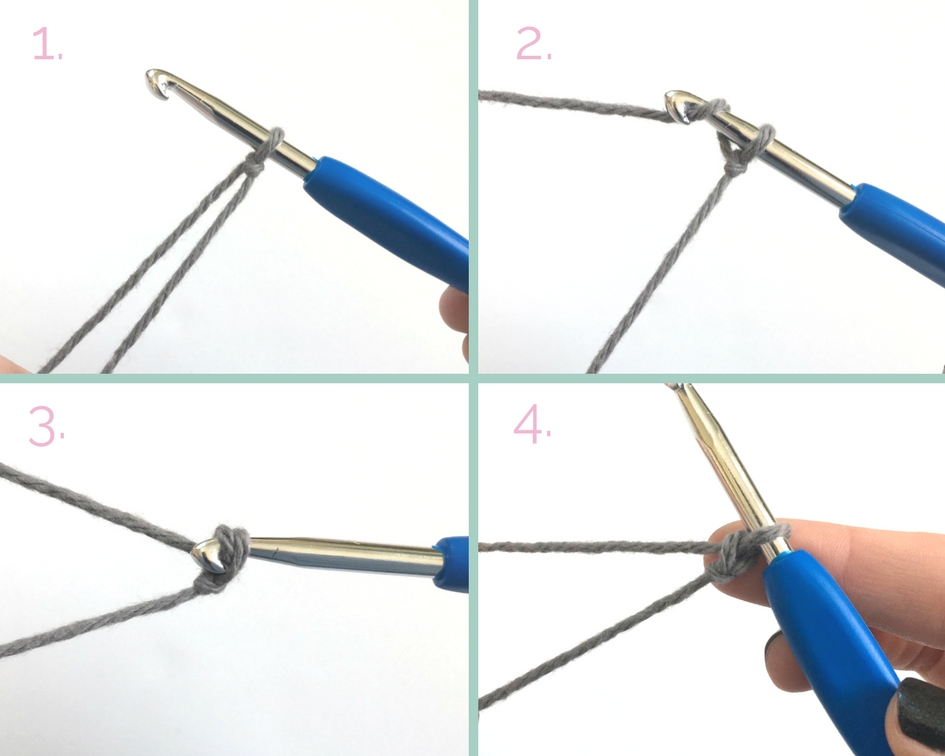 You've just created your first chain! Now repeat the same pattern.
Wrap the yarn around your hook, pull the yarn down and through the loop on your hook.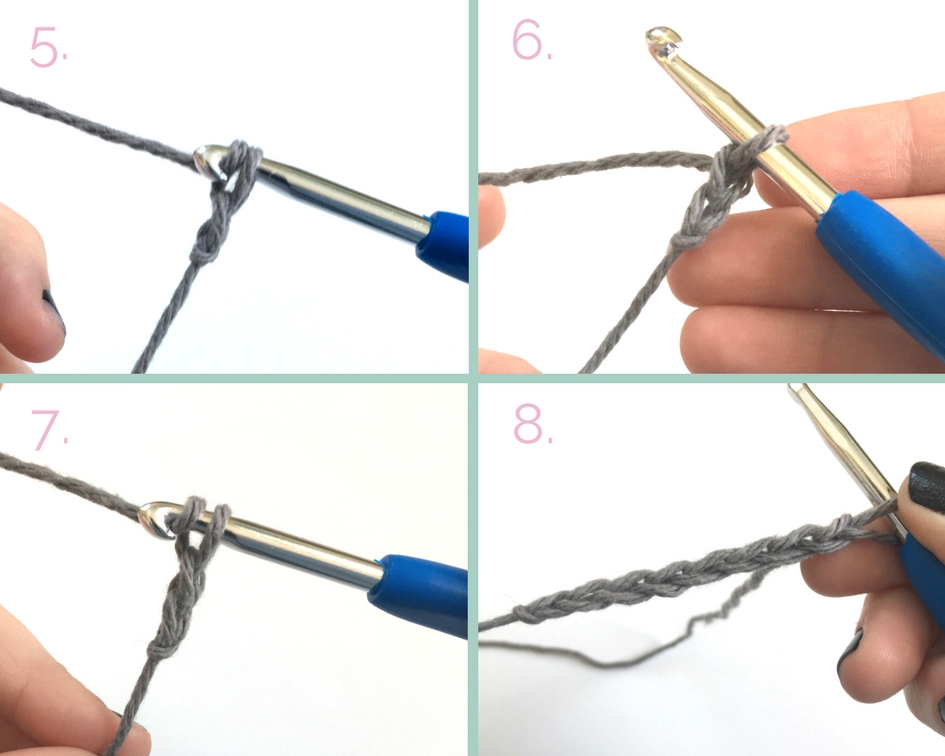 Continue this same motion and chain until your hearts content!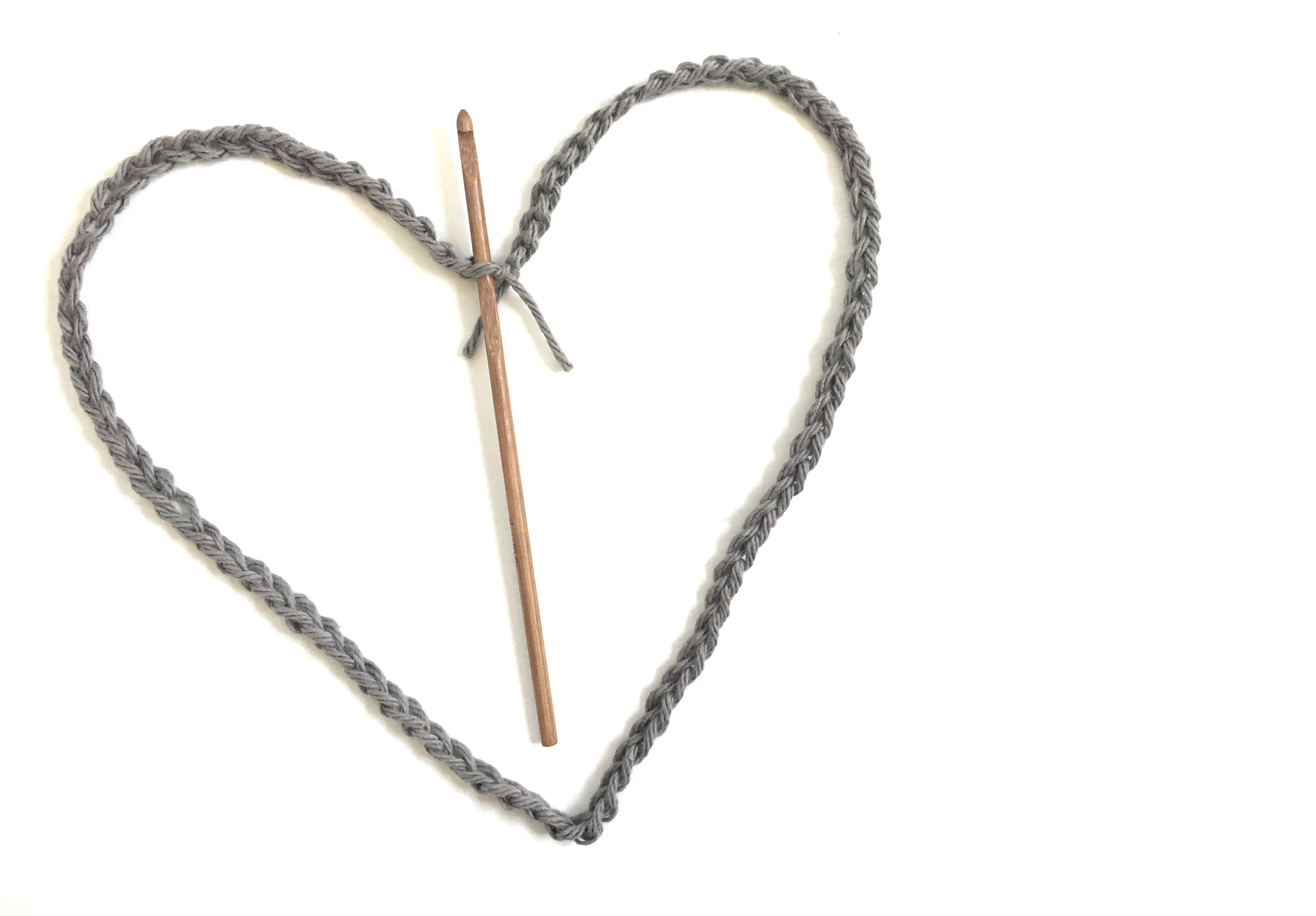 Instead of focusing on your tension, focus on creating the chains. Once you have the chain stitch down, you'll be able to focus more on how tight or how loose you're chaining and adjust as needed!
---
How To Create A SLIP KNOT & Crochet CHAIN STITCH Tutorial FOR BEGINNERS
Plus there's a left handed tutorial linked in the description.
I hope this Chain Stitch Crochet Tutorial was easy for you to follow and understand. f you have ANY questions at all, let me know and I will hold your hand all the way through! <3
Happy hooking!
Not sure what to learn next? Sign up for my 7-Day Learn To Crochet Challenge for further step by step guidance on where to start, what to learn next, & how to get started on your first project!
Click Here To Join The FREE 7-day Challenge!
Next in the Learn to Crochet the Easy Way Series:
---
By the way, I've put together a quick-read, free beginners guide that you should really check out! The free eBook provides 13 essential, detailed tips that a lot of beginners don't know and would truly benefit from! Get your free guide along with access to my freebie library by signing up for my email list below!
---
The Crochet'dy Bunch Facebook Group
I created a Facebook Group just for you! We're calling ourselves the Crochet'dy Bunch and I would love for you to join. We have daily threads that include:
Motivational Mondays
Tip Tuesday
WIP Wednesday
Tutorial Thursday
Chit Chat Friday!
In this group we talk about all things crochet, dive deeper into tutorials, and share tons of laughs! Plus, there's a video tutorial for every picture tutorial. If you join the group and have any questions about this post or would like me to go over something I didn't cover, feel free to leave a question on the wall or send me a message!