How To Crochet The Magic Circle (Magic Loop) | What is a Magic Circle?
Let's face it. The magic circle is one of the most frustrating techniques to learn. But boy, is it a necessary skill! What if I told you I could show you how to crochet the magic circle the easy way? With both a step-by-step photo and video tutorial, you will see that it is not only cleaner, but once you get the hang of it, it's even easier to do than the chain 2 method.
When it comes to crocheting in the round, there are two ways to start your project. You can start with a foundation chain (usually 2-4 chains depending on the stitch) or you can start with the magic circle, also know as a magic loop or an adjustable loop. The magic circle can be a bit tricky at first, but I promise it is ten times better than starting with a foundation chain.
First, we'll cover why starting with a magic circle is better than using a starting chain. Then we will go over how to crochet the magic circle (also known as the magic loop).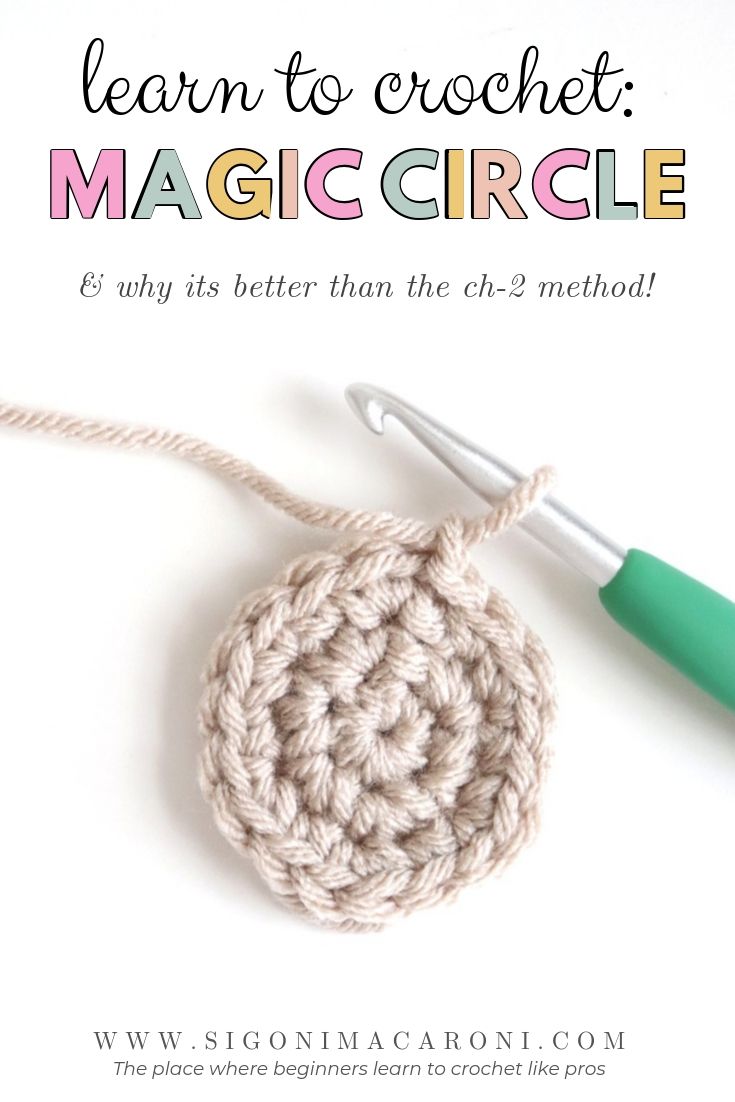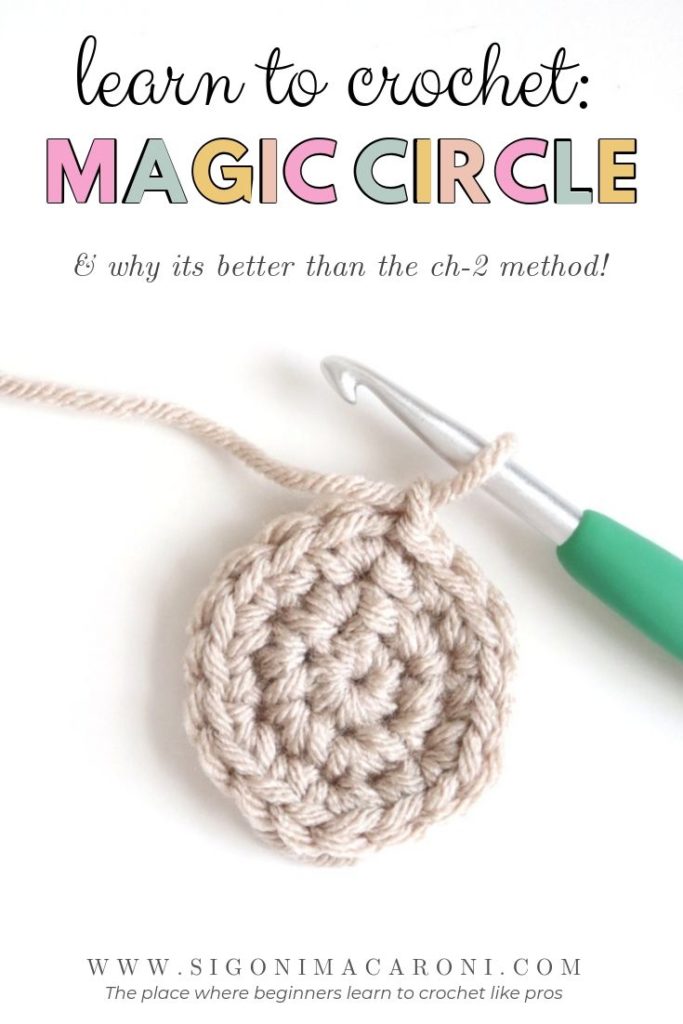 Magic Circle vs. Starting Chain
When I first started learning to crochet, I remember seeing someone create a magic circle and I thought it was complete magic. And no, I didn't realize what I just said there until after I said it… that's probably why it's called the magic circle. Hah!
After seeing the magic circle, I remember thinking there was no way I would ever be able to learn it so I didn't even try. I found the alternative way to crocheting in the round and it was by starting with a foundation chain. If you've never heard of this method, I'll explain.
Depending on the stitch you're using, you will start with a certain amount of chains. Let's say single crochet for example. You would chain 2 and single crochet 6 into the first chain. Then, slip stitch to the first stitch to form a circle.
I don't particularly enjoy starting a project in the round using this technique for a few different reasons.
It leaves a gaping hole in the center that you're unable to close
It can be hard to fit all of your stitches in one chain
The magic circle is so much easier and cleaner once you get the hang of it!
Below is what it looks like to start with a magic circle versus a starting chain. Which one do you like better?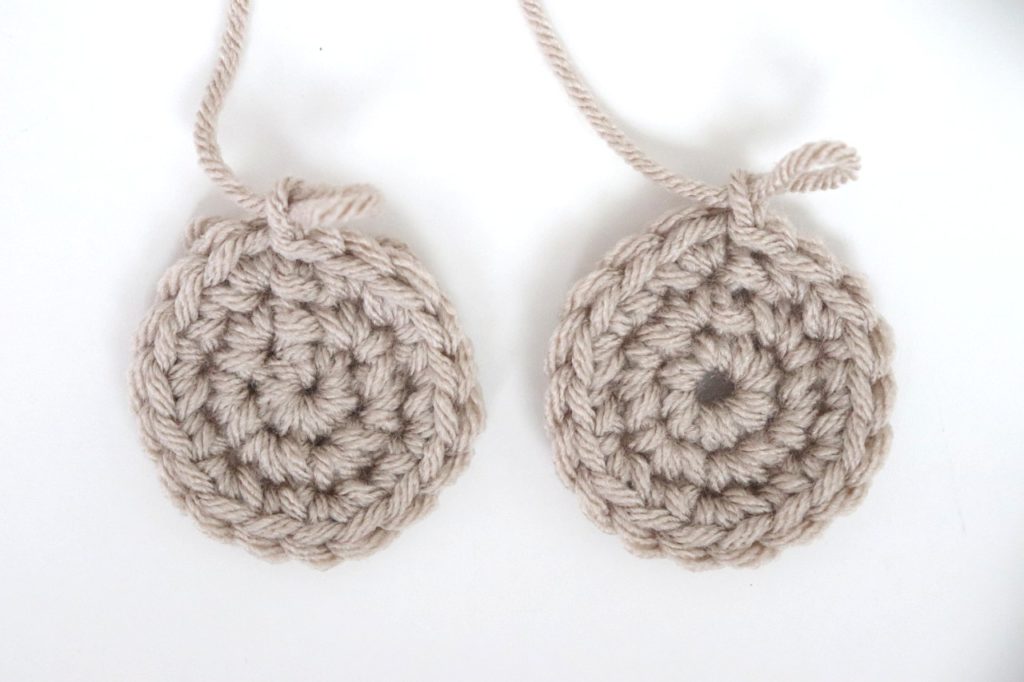 Now that we've gone over why making a magic circle is so much better than starting with a foundation chain, let's learn how to crochet the magic circle!
---
How To Crochet The Magic Circle (Magic Loop)
First things first, pull out about 10 inches of yarn from your skein.
Hold the tail end of your yarn with your thumb while you wrap the working yarn diagonally across from your pointer finger to your ring finger (you can also wrap it around your pointer and middle finger if that's easier).
Then continue wrapping the yarn underneath your fingers and diagonally up and over the yarn, creating an 'X' shape. Hold the working yarn with your pinky finger to secure.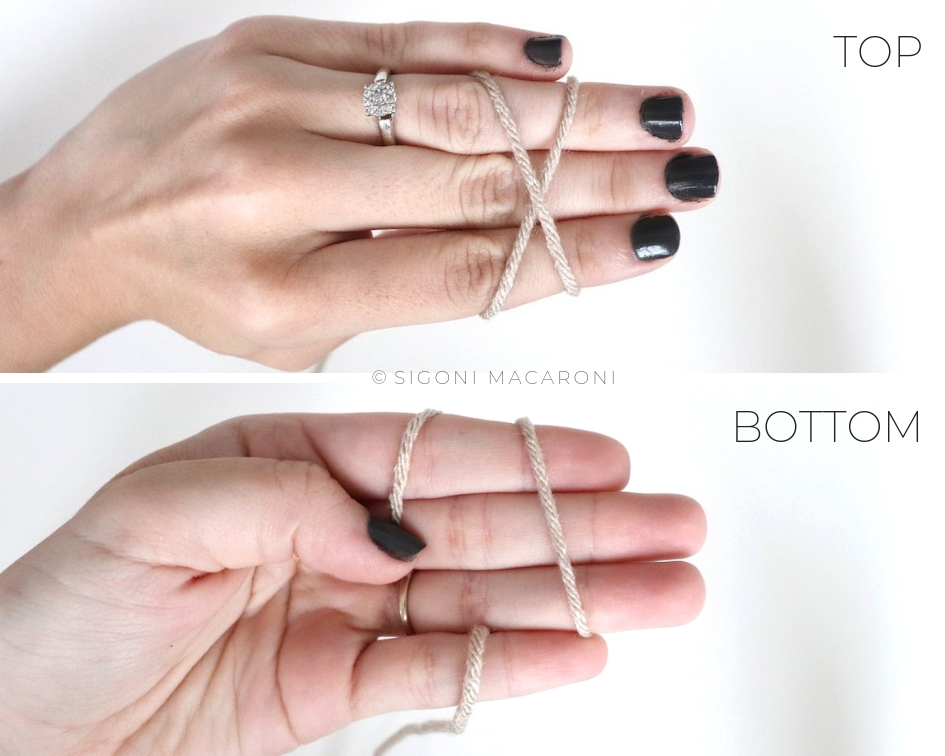 Insert your hook under the first string of yarn and over the second.
Pull the back string under the first and twist your hook towards yourself and up.
Chain 1 to secure your magic circle.
Depending on which stitch you're using, this will determine the number you chain at the beginning. For instance, chain 1 for single crochet and chain 2 for half double crochet.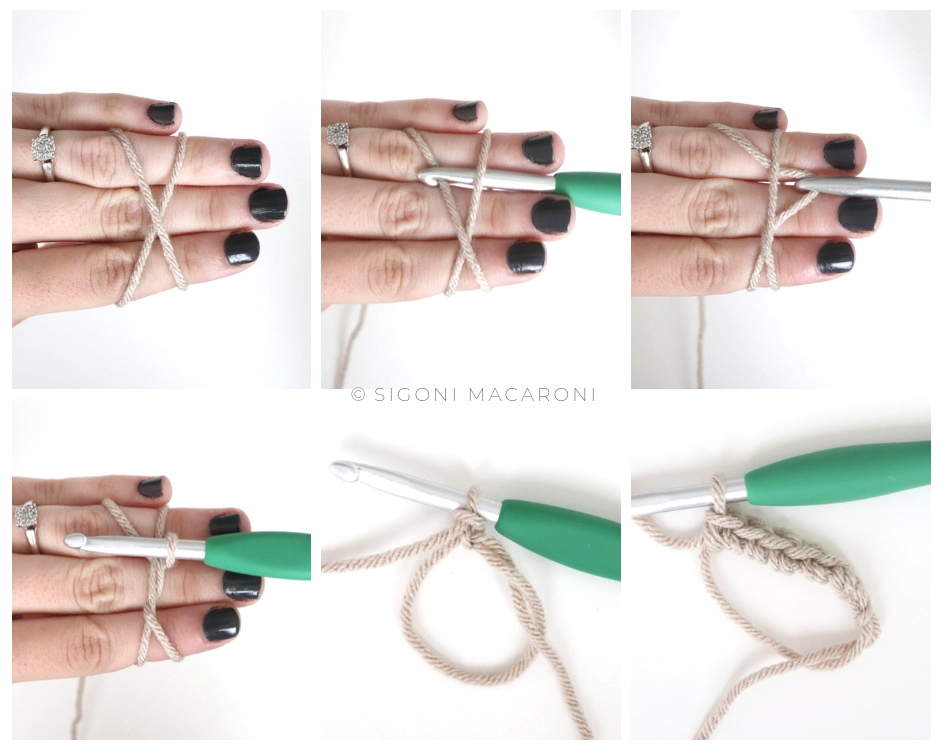 That's it for your magic circle! But I don't want to leave you hanging, so now I'm going to show you how to single crochet into your newly formed magic circle.
Insert your hook into the circle. It's a little flimsy so make sure you're securing your magic loop with your fingers so that it doesn't come undone.
Single crochet six times into your circle (or however many it says in your pattern).
After your 6th single crochet, pull tight on the tail end of the yarn to close your circle.
Depending on the pattern, you will work continuous rounds or you will slip stitch to join the circle.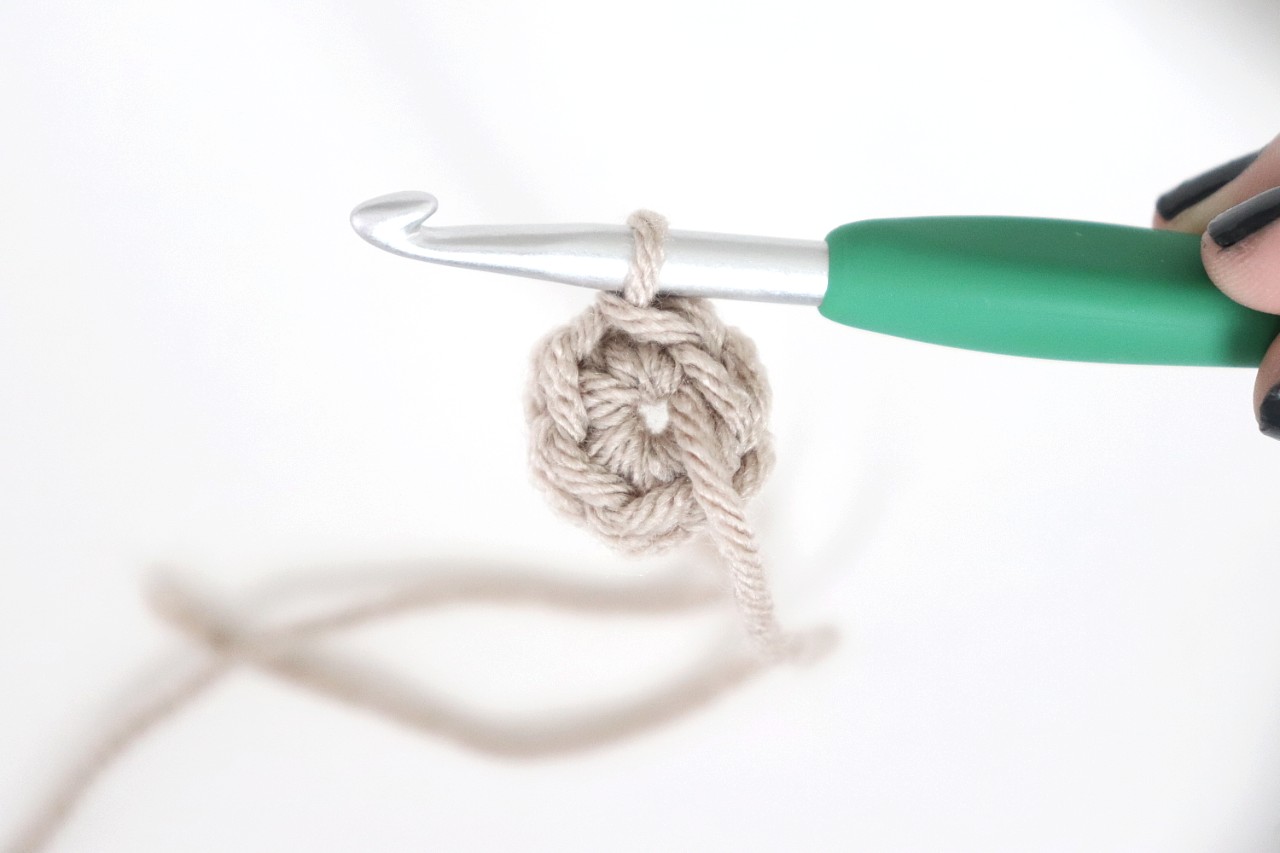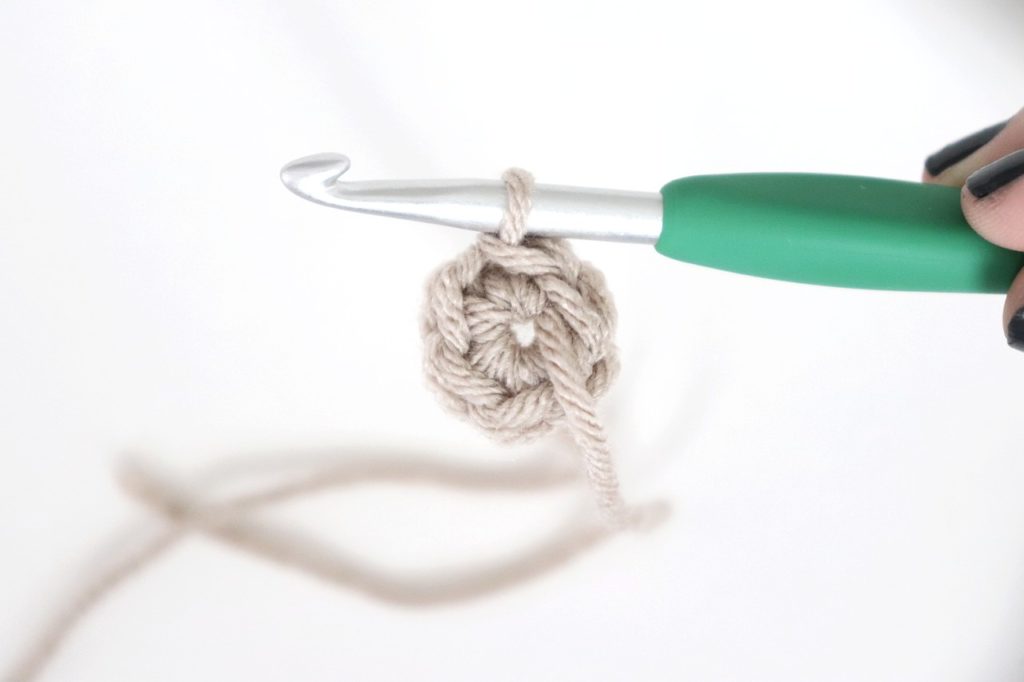 And that's that! Practice, practice, practice! Don't give up. I promise you'll love it once you get the hang of it 😉
If you're more of a visual learner, watch how to crochet the magic circle in the video below! Within the video, I also go over the difference between two different techniques (Don't forget to subscribe for more video tutorials!).
Next in the Learn to Crochet the Easy Way Series:
---
By the way, I've put together a free beginners guide that you should really check out! This free guide provides 13 essential, detailed tips that a lot of beginners don't know and would truly benefit from! Get your free guide by signing up below!
---
The Crochet'dy Bunch Facebook Group
I created a Facebook Group just for you! We're calling ourselves the Crochet'dy Bunch and I would love for you to join. We have daily threads that include:
Motivational Mondays
Tip Tuesday
WIP Wednesday
Tutorial Thursday
Chit Chat Friday!
In this group we talk about all things crochet, dive deeper into tutorials, and share tons of laughs! Plus, there's a video tutorial for every picture tutorial. If you join the group and have any questions about this post or would like me to go over something I didn't cover, feel free to leave a question on the wall or send me a message!