How You Can (Actually) Crochet Through Your Emotions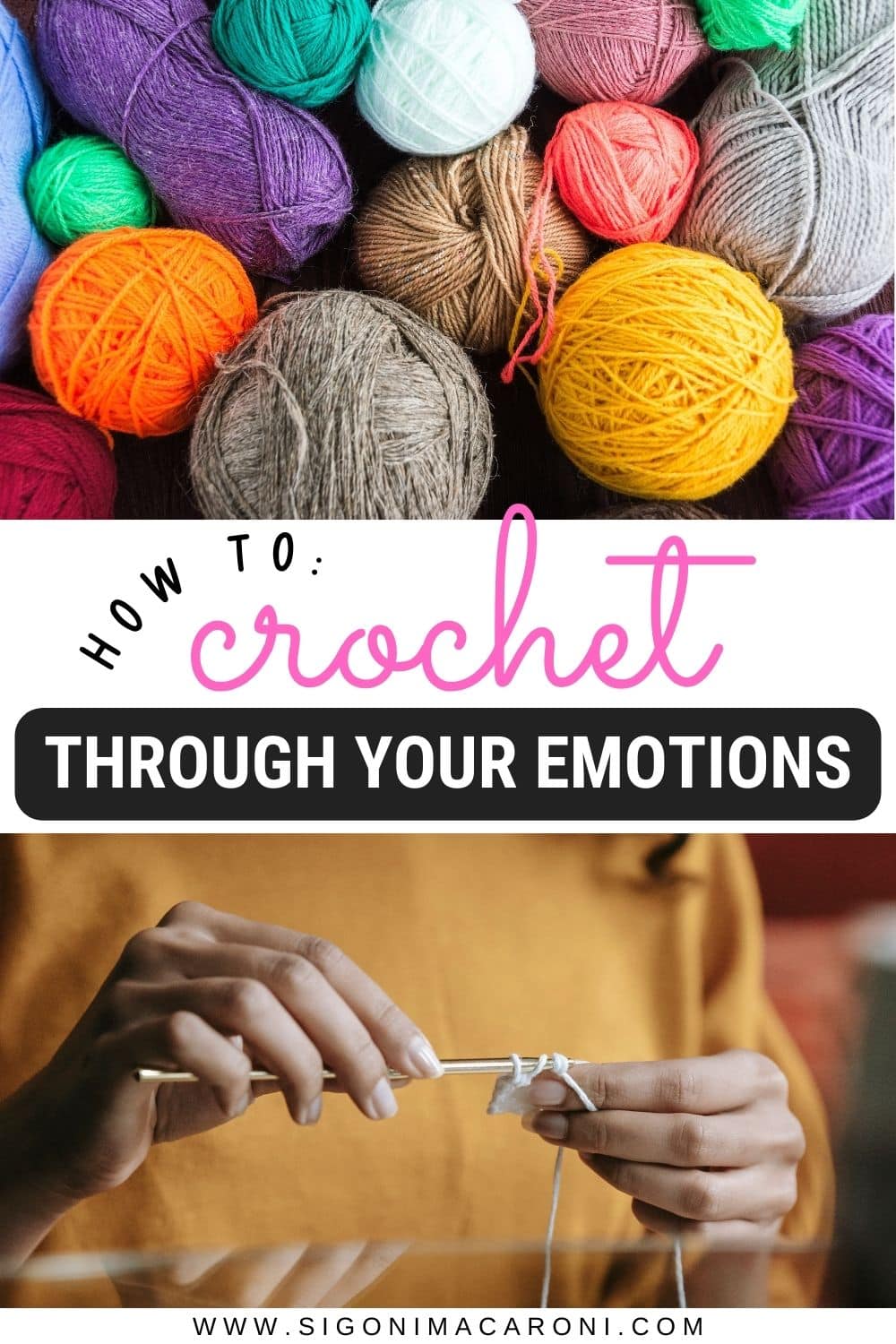 Crochet is an amazing craft for so many different reasons. It's easy to get started, it's accessible to (almost) everyone, and the possibilities are endless. If those reasons aren't great enough, the most important one (at least for me) is the major mental health benefits that come with it. Many of us struggle with our emotional well-being, but when used the right way crochet can help you feel more like yourself again. As something we can use in our daily lives, let's use it to learn how you can ACTUALLY crochet through your emotions!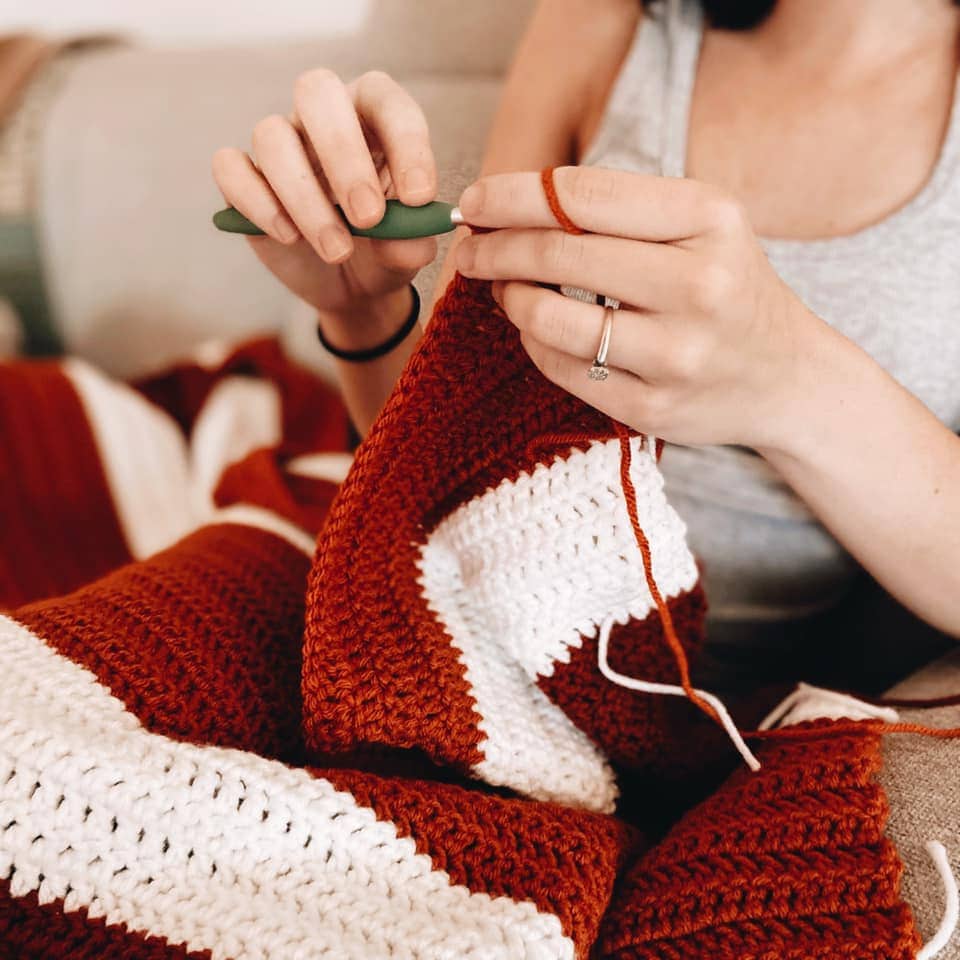 How to Crochet Through Your Emotions in 4 Simple Steps
If you've been around for a while you'll know that I credit crochet for saving my life. If you don't know, I went through a very traumatic experience almost 9 years ago and afterwards I plummeted into a deep depression alongside major anxiety.
When I was at my lowest point, I remembered using crafts in my childhood to relieve my stress. So I ran to the craft store and decided to give crochet a try even though I had never heard of it before then. I felt like it was literally calling out to me 🤪
Even though I hated my job at the time, I looked forward to relaxing at the end of the day with my crochet hook and yarn in hand. It completely changed my overall mood every day.
It sounds so silly but it's absolutely true.
As kids we thrive on creativity and imagination and we have all of these "childish" dreams. As adults, we completely forget about the dreams we once had. But it's time to bring those dreams back to the surface.
When you were a kid, what did you want to be when you grew up? Let me know in the comments and also share if that's what you're currently doing in your life now.
The 4 Steps To Crocheting Through Your Emotions
Accept your emotions and know that they are valid
​Learn the 5 RULES to crocheting through emotions
Start crocheting through negative emotions
Begin crocheting for positive emotions
Plus, as a BONUS I'm going to show you how to create a calming sensory routine for when you're ready to sit down and crochet.
If you want to skip to the part where I talk about these steps in more detail, you can use the table of contents below.
I would also love for you to pin this post and share it with your friends if you know someone who could benefit from using crochet to master their emotions.
How Crocheting Through The Emotions Came To Be
If you've been around a while you might notice that my blog topics are shifting. Initially, I set out to teach crochet to everyone I possibly could. I chose this route because I wanted others to see the beauty in crochet in hopes that it would help improve their mental health like it did mine.
However, I never really talked about the mental health side of things because I felt it was too vulnerable a topic. But we all struggle… and sometimes it's good to hear from others who are going through something similar, that way we feel less alone. I know I am not alone in my mental health struggles and YOU are not alone in yours.
FUN FACT: Originally, this concept of crocheting through the emotions was a book idea I had. I even wrote a 15-page book proposal and submitted it to a publisher and they ACCEPTED it!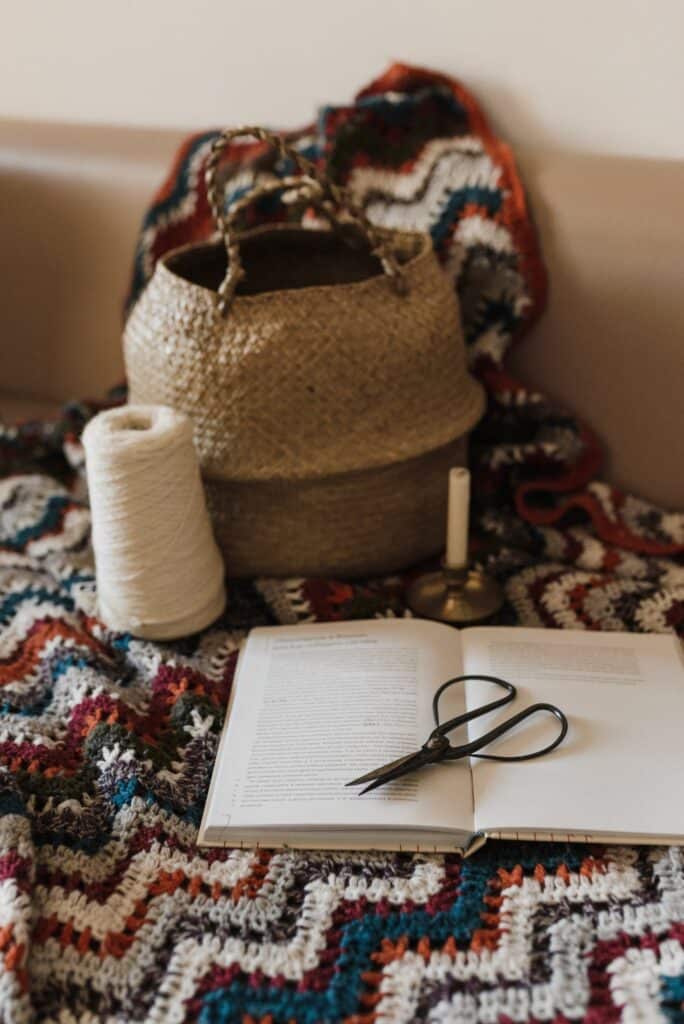 However… as amazing as that opportunity was, I realized that this topic is much too large to be contained into a book.
I wanted to be able to share a wide variety of patterns within each of the most common emotional states, not just two or three for each.
Plus, everyone deserves the benefits of crocheting to improve their mental health and I am so excited to be sharing this with you!
Getting Started with Crochet
Are you new to crochet? I'm so glad you're here!
Even if you've never crocheted before you can still use it to improve your mental health, starting today. You don't need to be an experienced crocheter to reap the benefits.
If you've never crocheted before, I highly recommend starting with my 7 Day Learn To Crochet Challenge. With that challenge you will learn all the basics necessary to get started. You might even improve your mental health just by taking the step toward learning a new hobby!
All you really need to start making some beautiful things are the single crochet and double crochet. Surprised? I can't wait to show you more! You will learn those stitches and more inside the challenge.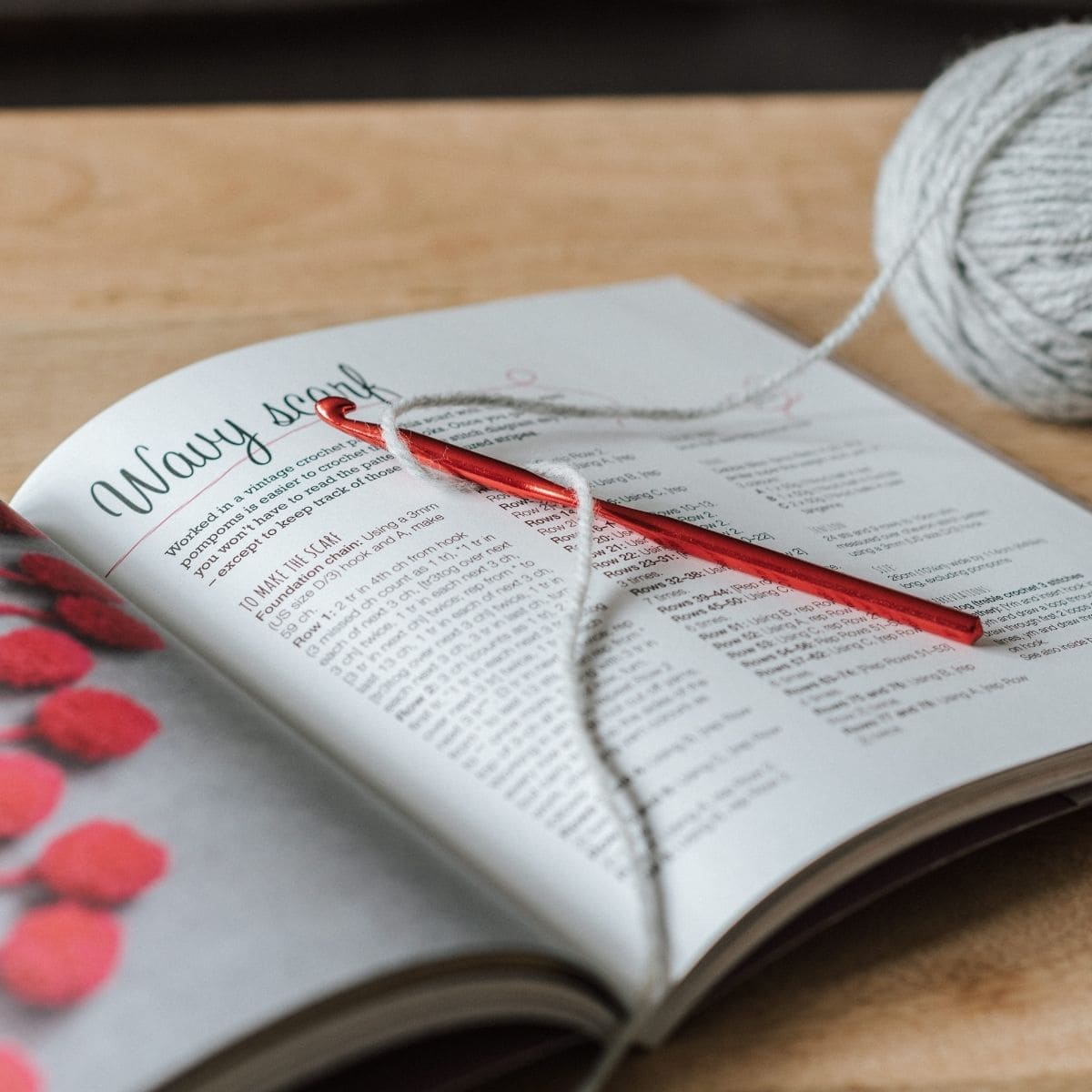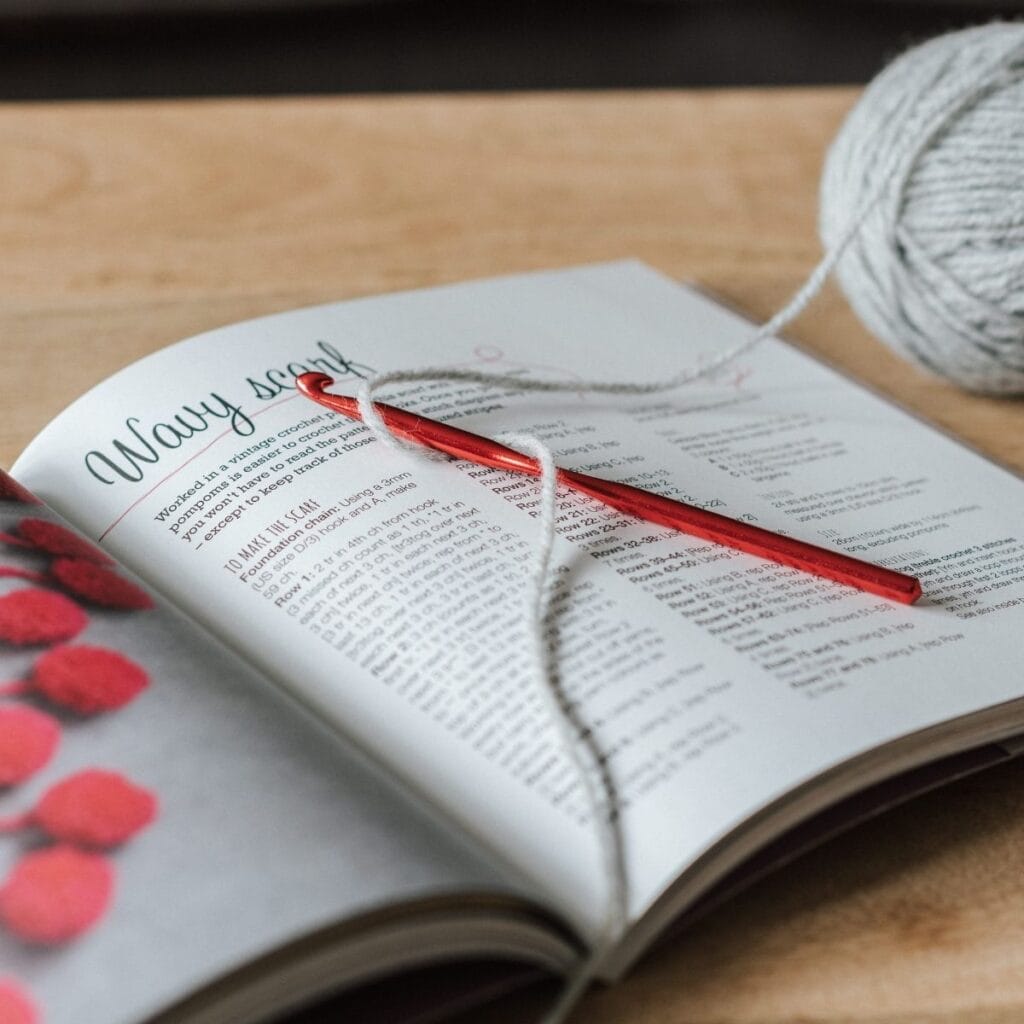 Step 1: Accept Your Emotions
*There are two steps to take BEFORE you actually start crocheting, but they are just as important so don't skip Steps 1 and 2.*
There's a reason why emotions can be referred to as rollercoasters. Even when there's nothing significant happening in your life, your emotions can feel like a rollercoaster.
In the morning you could wake up in the best mood. By the afternoon you're tired and irritable. We go through a wave of emotions daily and all of those emotions are valid.
Sometimes I'll wake up in a bad mood without really knowing why and it frustrates me even more when I try to figure out what my problem is. But that doesn't help does it? It just brings on more anger (and anxiety too).
Instead of trying to figure out why you're feeling a certain way, the best thing you can do is accept the emotion. That way you can move past it instead of sitting in your anger and making things worse.
The next time you feel angry or irritable or anxious, say "Yep, I'm feeling ___ today and that's how it's gonna be." Then try to think of one thing that can improve your mood.
If you want to talk more about how to improve your mood when you're in a funk, let me know in the comments. For now, accepting your emotions is the first step to crocheting through your emotions.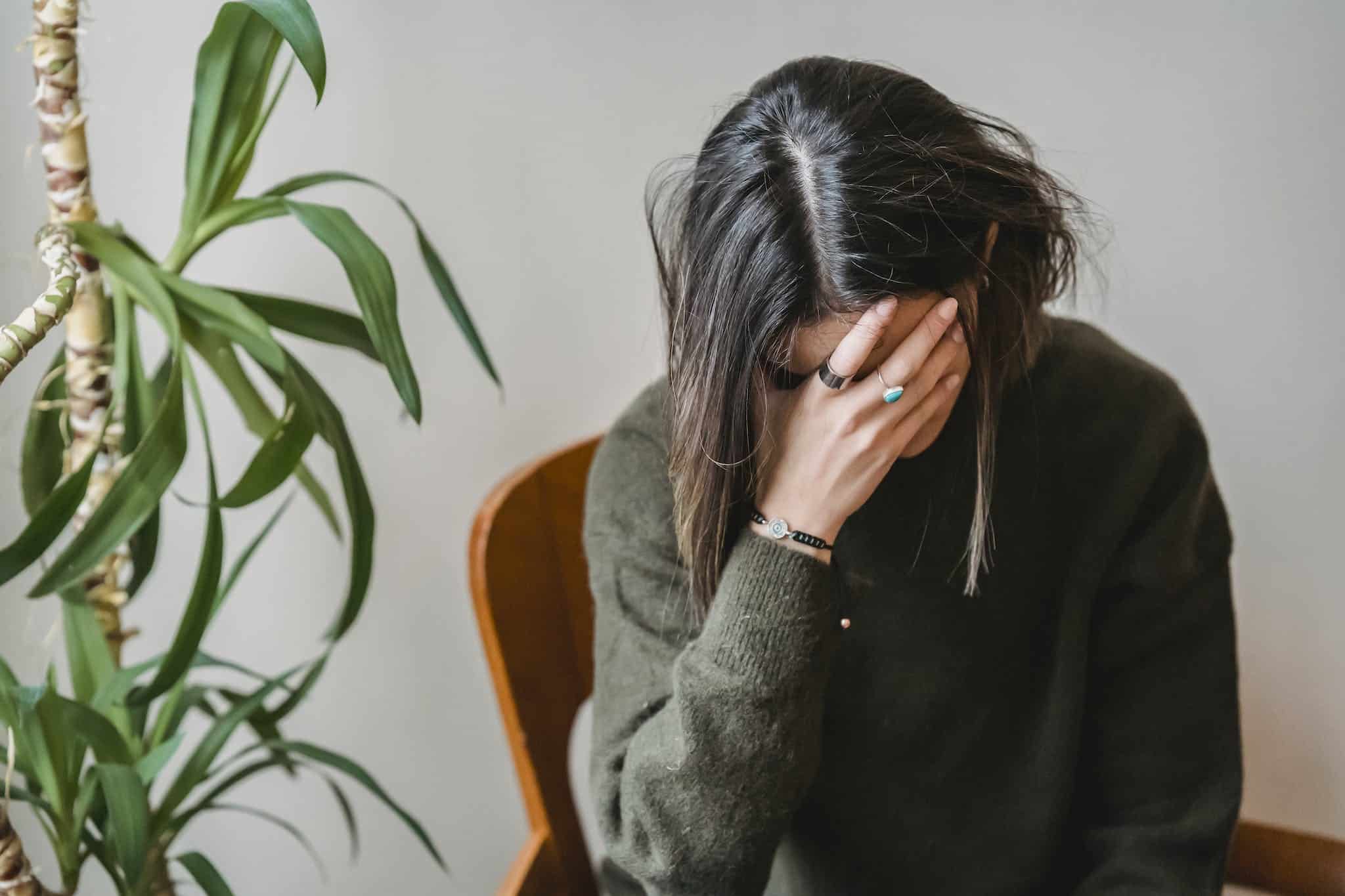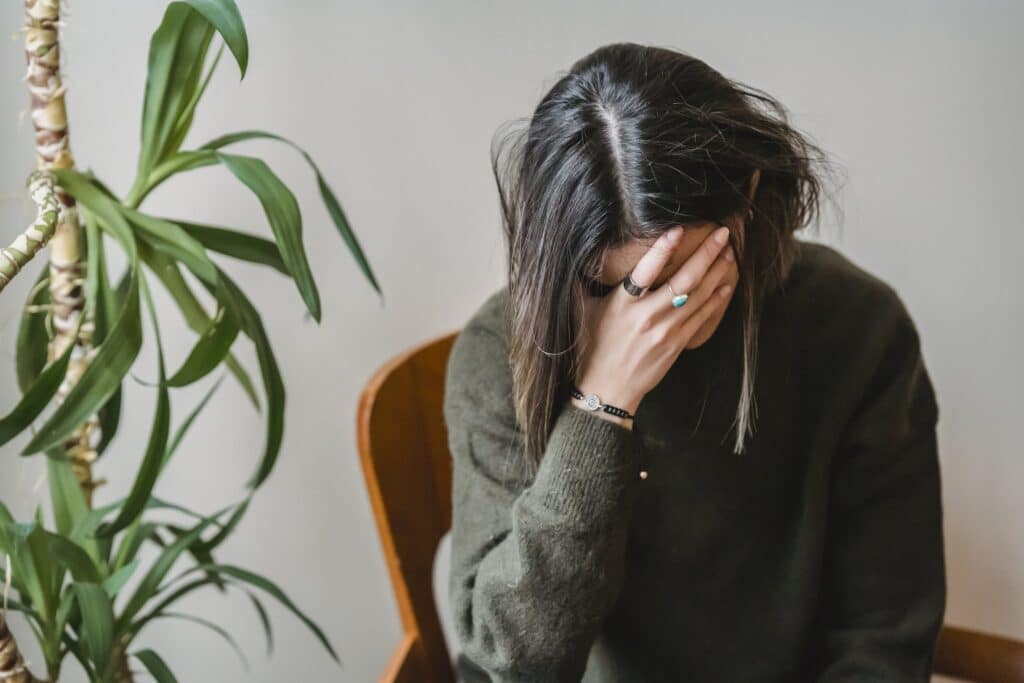 Step 2: Learn the 5 RULES to Crocheting Through Emotions
There are 5 rules I want you to remember when starting to crochet through your emotions. I don't have the space to go into detail today so you can read the details behind each rule here (post coming soon!)
Trust me, the details are important!
​As a brief overview, the 5 rules are:
Have an open mind
Make the time
Do not set deadlines
Toss perfectionism out the window
Have FUN!
The most important rule out of the 5 is to NOT set deadlines. Part of this rule comes down to making what YOU want to make. Let me explain.
If you are someone who always crochets for other people, especially if you feel stressed when making these things, then listen up!
When you are crocheting through an emotion, the project you're working on should be for yourself, especially if you're crocheting through a negative feeling.
You don't need the pressure of a deadline, you don't need to worry about mistakes. That crochet project is for you and you alone.
How You Can (Actually) Crochet Through Your Emotions
So how can you actually crochet through your emotions? By starting the same way I did. A few months ago, I was feeling completely lost and didn't know what to do with myself.
I started reading some self-help books, learning more about how my personal brain works.
I started accepting my emotions and teaching myself how to crochet through them.
I also started journaling, which was a game changer, and I'll talk more about that later.
You can do all of these things too, but I'm going to teach you specifically how to get started with the second one.
So here's what you should do:
Below you will find a list of the most common negative and positive emotions.
Identify the emotions you resonate with the most and start working on projects from that category.
Choose a crochet pattern that you actually look forward to making. And again, remember that this project is for you and no one else.
The projects you will find under the categories below were specifically designed for that emotion and they're all FREE patterns.
When you click on each category you will see a description of the types of patterns that are included and why these patterns work great for those emotions.
By crocheting through your emotions, you will improve your emotional well-being drastically no matter what internal circumstances you're navigating.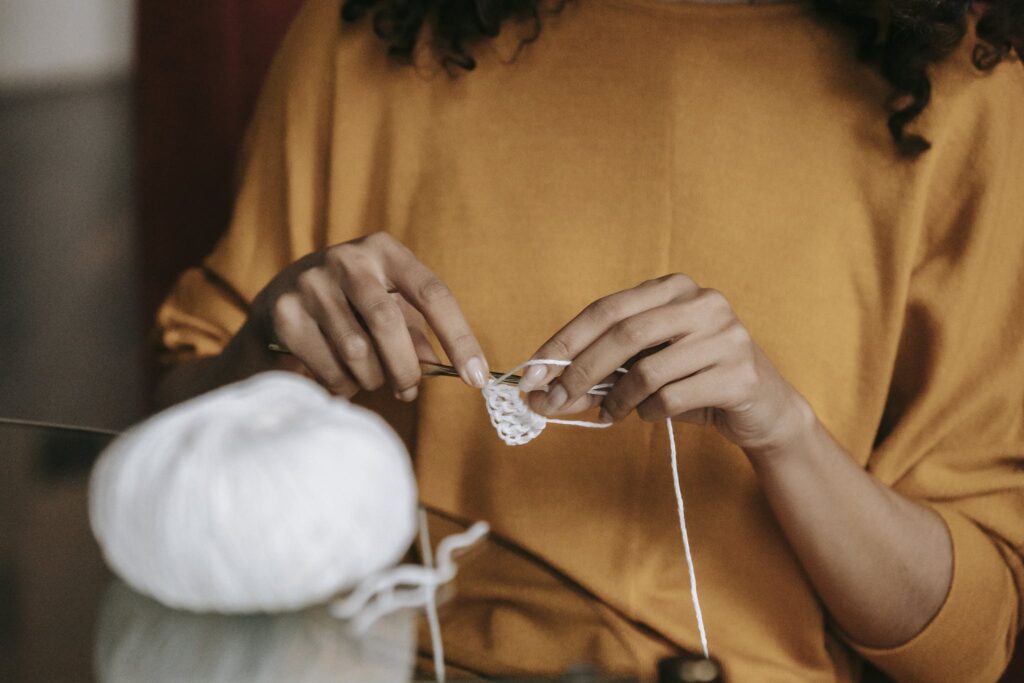 Step 3: Start Crocheting Through Negative Emotions
If you struggle with mental health, as I do, I recommend starting by crocheting through the negative emotions you're feeling.
These types of crochet patterns are perfect because they use basic stitches and calm the mind with repetitive motions.
You don't need to use fancy stitch patterns and a variety of colors all the time. In fact, it's much better to have simple projects to keep your mind at ease.
Sometimes when I feel frustrated that I can't do something right, making something small or trying a new stitch makes me feel a sense of accomplishment. When you start crocheting through negative emotions, you will gain more feelings of happiness. I promise that for you.
Step 4: Begin Crocheting FOR Positive Emotions
As you know, I started by crocheting through negative emotions. So when I started having better days, I thought "Wait…now what do I crochet?" 🤪 And that's how all of these positive emotions came to be!
I remember wanting to crochet something with purpose. I wanted to make things that made me smile and once I was up to it, things to make others smile.
Crochet is the perfect creative outlet because there are so many things you can do with it. You can crochet by yourself, with others, or even for others (which I'm sure you already know).
But when I say for others, I don't just mean friends and family. I mean charities, homeless shelters, and/or hospitals. When you contribute your craft to the world you gain a sense of belonging and a sense of purpose.
And not just that, there are many different techniques to try. It doesn't matter what skill level you're at. It's all supposed to be a fun learning experience! That's what these patterns will help you to remember.
I hope you enjoy the process of learning how you can actually crochet through your emotions! Please leave a comment if you have any questions or if you'd like to share your experience.
Step 5: *BONUS* Create a Sensory Routine
This post is getting SUPER long so I want to make this quick. Creating a sensory routine for my workflow has been a game changer and I know it would work just as well for crochet time.
I've laid this sensory routine out in much more detail in this post (coming soon!). But here are the basics.
To create a sensory routine, you'll want to activate all of your senses before you sit down to crochet. Sight and touch can be grouped together. I'll give you a few examples of each.
Smell: light a candle, burn some incense, use essential oils
Taste: water, coffee, snack
Sound: Music, nature
Sight and touch: clean space, comfortable chair, everything within reach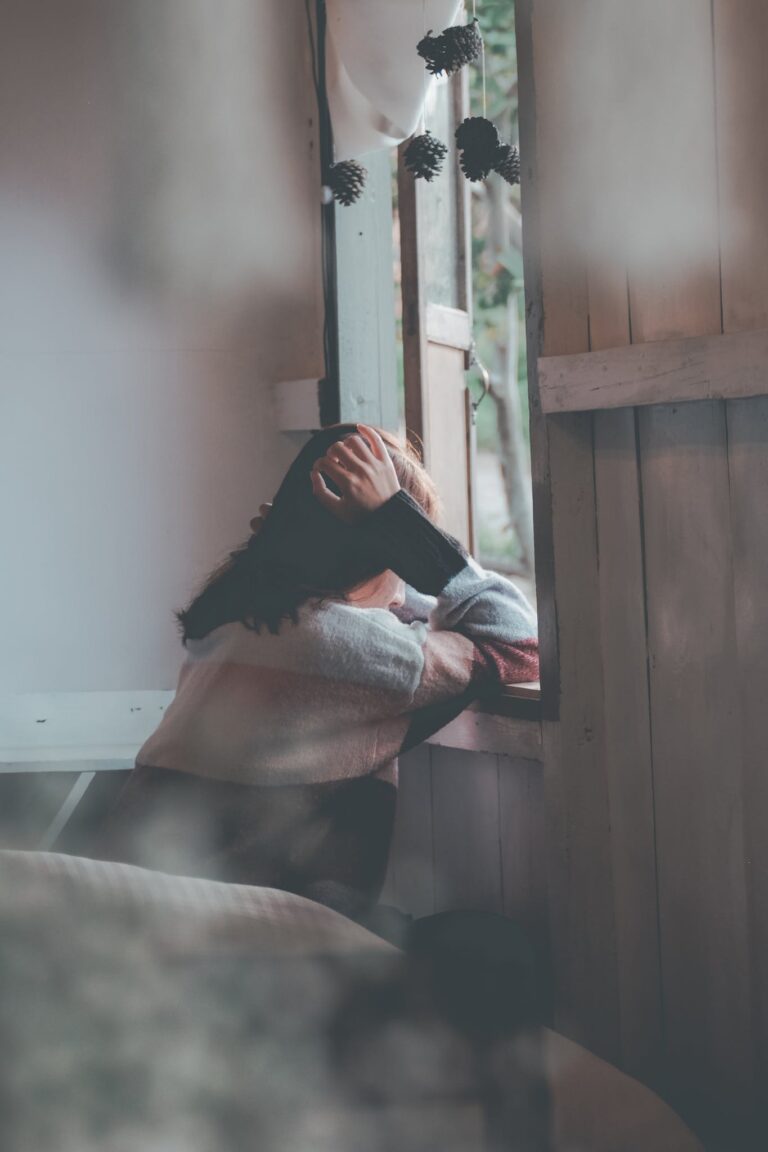 What if I don't feel like crocheting?
That is completely okay.
Sometimes when we're down, we don't want to do anything or we feel so overwhelmed that we don't know what to do with ourselves. It's okay to not do anything.
Maybe you need a break for a day, maybe you need a break for weeks or even months. I know i did.
I stopped crocheting for 2 months after my breakdown. At that time it was more important for me to focus on ME than what I was crocheting.
If you feel like that now, then it's time to focus on you.
Here are some things you can do:
Learn a new craft
Find out what type you are on the enneagram and learn more about it
Do you have ADHD? Listen to podcasts or read books on how to better manage your time
Start reading as a side hobby
Read *The Artist's Way to get creatively unblocked
Start journaling
Just know that I am crocheting through my emotions alongside you every single day.
Join me in my weekly newsletter, on social media (preferably Instagram @sigonimacaroni), or inside my facebook group!
I would love to hear your story on how crochet has helped to improve your mental health. Share your story with me in the comments below or DM me on Instagram.
And always remember, you are not alone.
The items on this page with a * next to it are affiliate links. Thank you!