Colorblock Beach Bag Crochet Pattern
This Colorblock Beach Bag Crochet Pattern is a great pattern for beginners because it is made up of ONE stitch: the single crochet stitch. This beach bag is made holding two strands of cotton yarn, making it very durable and perfect for the sandy beach. One of the great things about this bag is that if it gets covered in sand, simply shake it out like a towel and it'll be ready to use for your next beach trip!
May is officially beach season! Well, at least it is here in Florida. What's the weather like for you in this fine month of May? As a toddler mom, going to the beach means bringing lots and lots of snacks and toys. Therefore, I needed a nice, sturdy, and stylish beach bag! Why not make one myself, right? You should do the same!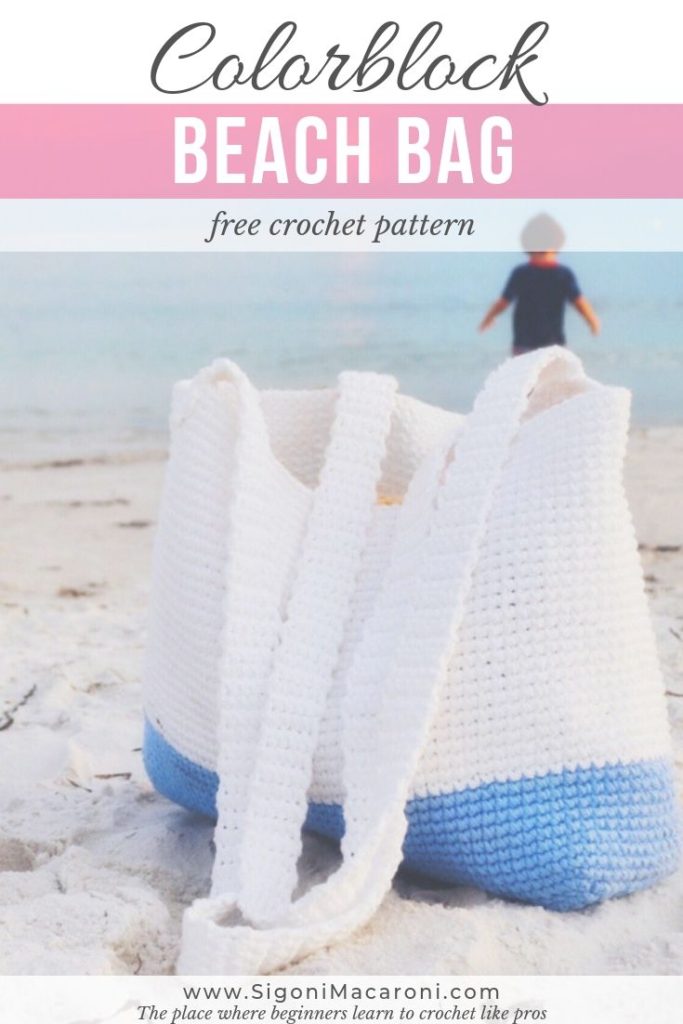 This post may contain affiliate links, please view my disclosure policy for details.
Pattern:
Get the ad-free, large print, printable PDF pattern HERE.
PIN this pattern to your Pinterest boards for later HERE.
---
Materials:
---
Abbreviations:
*All Sigoni Macaroni patterns are written in standard US terms *
Rep – Repeat
St(s) – Stitches
MC – Main Color
AC – Accent color
---
Dimensions
Length x Width x Depth: 15in x 4in (stretches) x 12in
---
Notes:
The Colorblock Beach Bag crochet pattern is worked by holding two strands of yarn throughout the entire pattern. To make things easier, I suggest holding a strand of yarn from each ball, versus using both ends of one ball.
I refer the main color and accent color as MC (main color) and AC (accent color) in this pattern. I will be referring to White as MC and Light Blue as AC
---
Time Crunch
Because we will be using the single crochet stitch to work the entire beach bag, it will take you a little longer to complete, however, you won't be disappointed when you're finished! I would say it took me around 6 hours total. I worked on this bag for about 2 hours a day for three days. It's the perfect couch project for those movie nights, that's for sure! It could take you a little longer or maybe even a little less, depending on how much time you have to dedicate!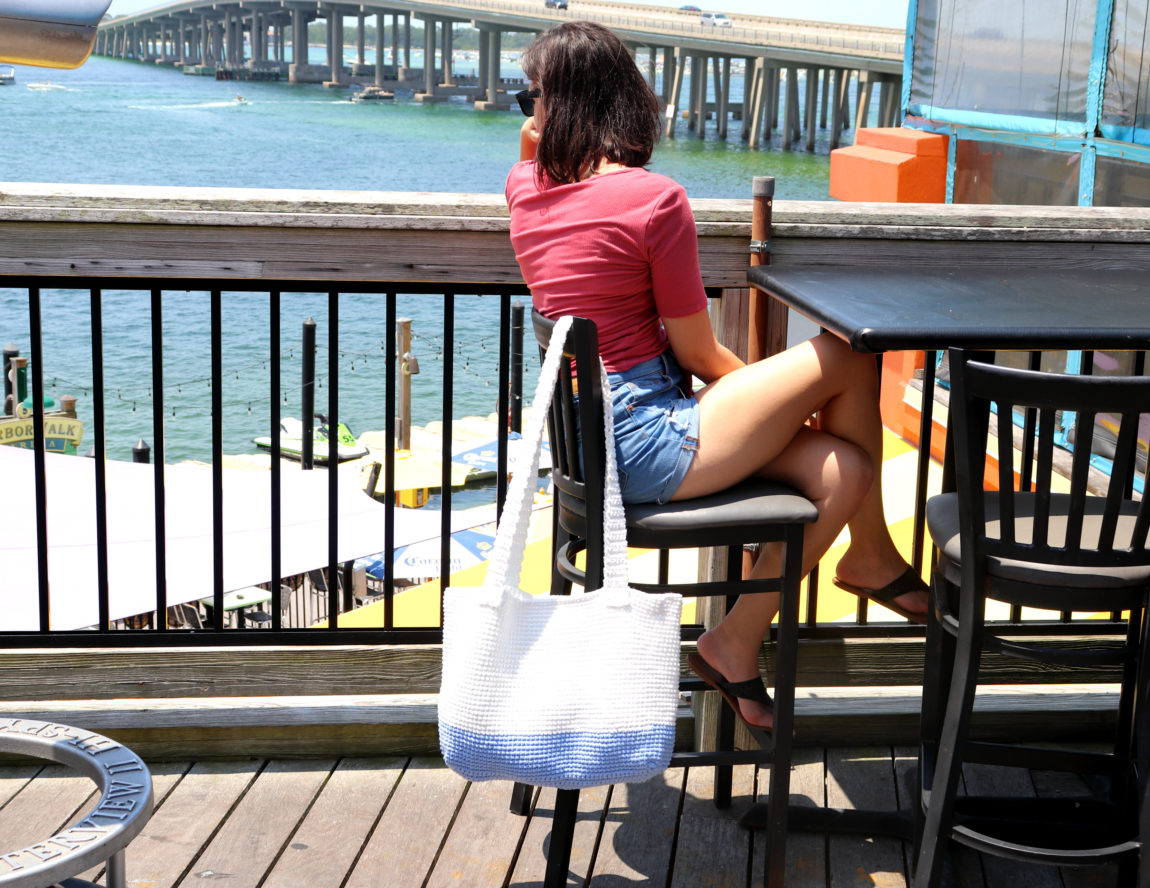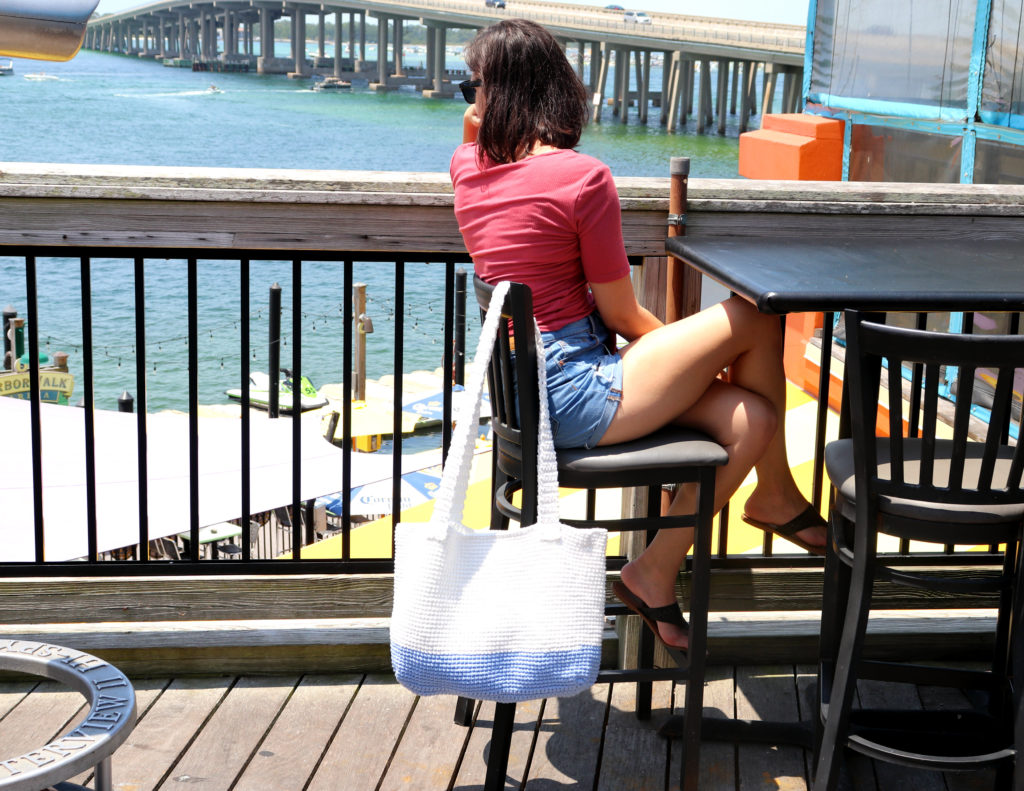 Colorblock Beach Bag Crochet Pattern
Holding two strands of AC
Row 1: Ch 48, sc in 2nd ch from hook and in each ch down. Ch 1, turn work.
Row 2: Sc in each st down row. Ch 1, turn work.
Rows 3-12: Rep Row 2
Round 13: Sc in each st down row, 3 sc in corner, turn work and sc evenly across the side, 3 sc in corner, sc in each st across foundation row, 3 sc in corner, sc evenly across next side, 2 sc in corner. Sl st to first sc.
From this row forward we will work in continuous rounds. Use a stitch marker to keep track of the first st of each round
Round 14: Sc in BLO of each stitch around.
Rounds 15-23: Sc in each st around.
Tie off AC and attach MC to last st worked.
Round 24-52: Sc in each st around.
Sl st to first st and tie off.
Straps: (Make 2)
With MC,
Row 1: Ch 6, sc in 2nd ch and in next 4 ch. Ch 1, turn work.
Row 2: Sc in each st down row. Ch 1, turn work.
Rows 3-98: Rep Row 2
Tie off work. Sew each strap end to the sides of the bag. Use the photo for reference.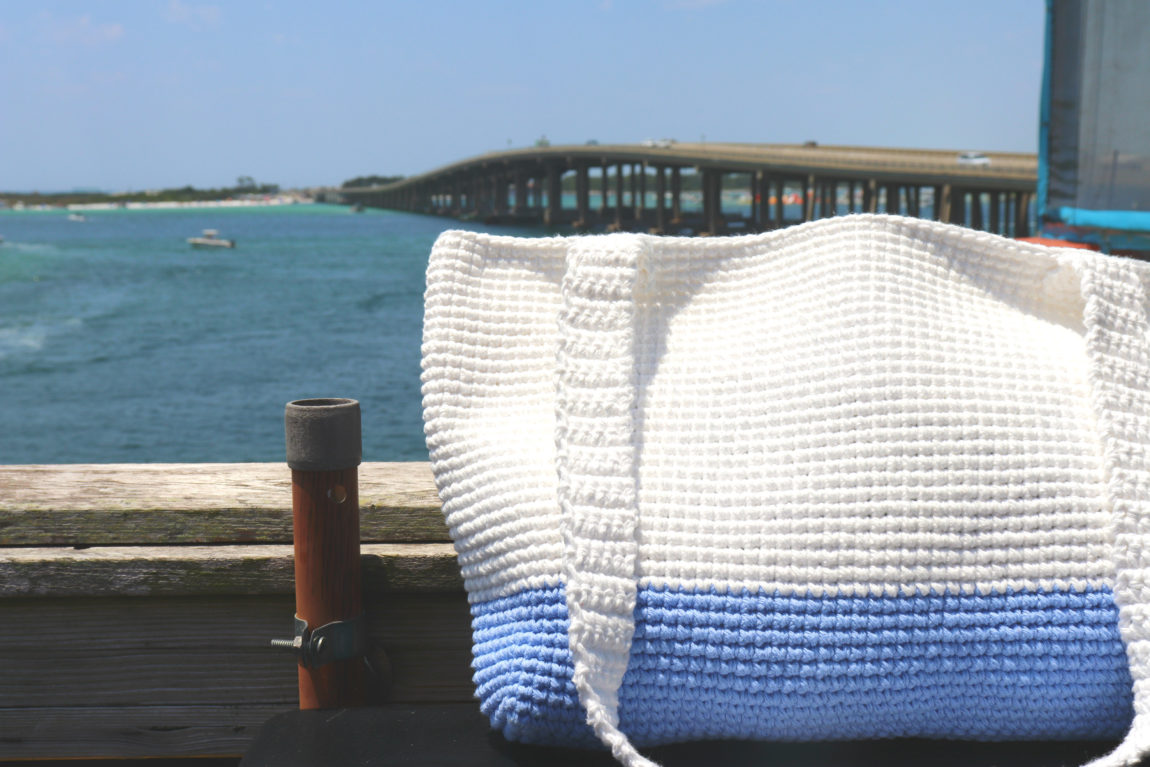 If you make your own Colorblock Beach Bag, I would love to see it! Snap a photo and tag me over on Facebook or Instagram! @sigonimacaroni <3
What colors did you choose?
This pattern is an original pattern by Sigoni of Sigoni Macaroni. Please do not claim this pattern as your own. If you wish to share this pattern, you may link to this pattern but please do not reprint it on your site. You may keep a copy for your own personal use but please DO NOT sell the pattern or distribute it.
You may sell products made from this pattern but please clearly credit the design to Sigoni Macaroni and provide a link to my blog, www.SigoniMacaroni.com. Thank you for your understanding!