How to Read Crochet Patterns for Beginners Part 1
Do you feel intimidated when you think about learning how to read crochet patterns? When I first started, I felt the same way. I promise it's not that bad! There are a few things you need to know and a few crochet terms you'll need to memorize. I'm going to explain each one and give you tips along the way. I promise you will leave today knowing exactly how to read crochet patterns. I'm talkin', a pattern reading pro!
If you've read the introduction to the Learn to Crochet the Easy Way series, you'll know that I started learning how to crochet through YouTube. I never went over introductory videos like the ones I've created for you because I was too eager to begin making. Although I'm happy with where I am now, it took me a while to get here. One of the things that really held me back was not realizing how important it was to learn how to read crochet patterns. You can't watch YouTube forever!
Because you're brand new to crochet, we're going to dive deep into reading written crochet patterns. I've divided this topic into two parts. Part 1 of How to Read Crochet Patterns will explain each section before you get to the actual pattern. Some crocheters skip the beginning of the pattern because they're just too excited to get started and they end up missing something vital to the pattern. Don't let this be you! These sections are just as important, if not more important, than the pattern so don't skip over it!
In Part 2, you will learn how to take action on the next pattern you see. I'm also going to include one of my first videos in order to further explain and work along with you.
Learn to Crochet the Easy Way
The Learn to Crochet the Easy Way series was created to make learning to crochet as easy as possible. If you haven't read the introduction to the series, you can do so here to find out what all it entails. At the bottom of this post you will also see each step I suggest you follow in order! Don't forget to really take the time to practice each stitch before you move onto the next.
If you don't already know, I've put together a free beginners guide that you should really check out! The free eBook provides 13 essential, detailed tips that a lot of beginners don't know and would truly benefit from! Get your free guide by signing up below!
---
How to Read Crochet Patterns
Difficulty
The first thing you will see when looking at a pattern is the difficulty level. Not all patterns have this, but I think it's nice for a crocheter to be able to anticipate how difficult a pattern will be before attempting it. If you're purchasing a pattern, the designer will usually let you know the difficulty level before you make the purchase.
Materials
The second note you will see is the materials list. This is the list of materials that are needed to complete the project in its entirety. This usually includes the type of yarn, hook size, scissors, tapestry needle, stitch marker if required, and so on.
It's important to look over the brand of yarn that was used along with the weight of that yarn. If for some reason you can't buy the same yarn the designer used to create the project, you should at least be sure to find a different brand in the same weight category. As long as you use the same weight yarn, you should be okay, but definitely create a gauge swatch to be sure. That way it turns out the same size as the designed piece.
Also, some patterns will include how many yards of yarn that is needed to complete the project. Use this information to ensure you have the correct amount needed, especially if you're going with a different yarn brand.
Abbreviations
The third and most important note are the abbreviations, or the "crochet lingo". Crochet patterns are written with abbreviations in order to make patterns short and to the point. If abbreviations weren't used, written crochet patterns would be paragraphs upon paragraphs long. That's not fun for anybody.
For example, "ch" is the abbreviated form for "chain stitch" and "sc" is abbreviated for "single crochet". Below you will see the abbreviations of the basic stitches along with the most common terms used to tell you what to do with those stitches.
If you'd like to see a more extensive list, you can find the full list of crochet abbreviations over on the Craft Yarn Council website. They have a chart that explains the difference between US and UK terms as well.
Gauge
I know, I know. If you've heard of gauge, you hate it. If you haven't heard of gauge, you're going to hate it. It's one of those things that you never want to do because you're too excited to start your project. I understand, I'm the same way. However, depending on your project it really is important to check your gauge. I would say it's the most important when you're crocheting a top or a cardigan.
To put it simply, gauge is a small crocheted swatch that you work up before you begin the pattern. Use the same hook size and yarn that you're planning on using for the pattern and complete the gauge swatch as it states in the notes. This ensures that your finished project will work up as the same size as the designer's finished item.
If you'd like me to dive deeper into gauge for a better explanation or how exactly to make a gauge swatch, let me know in the comments! For now, I suggest checking out Shannon's Designer Tips & Tricks class. In Lesson 4, he talks all about how to make a gauge swatch, how to calculate how many yards of yarn you need to complete a project, and more. His formula is so easy to understand and is one of the best classes for aspiring designers!
Measurements/Sizing:
In this section you will see the finished measurements of the finished project. Not every pattern includes this, but you will usually see it with clothing, blankets, baskets, etc; the projects where sizing is generally important.
This section is also used to explain how you can resize your finished project to fit you or whoever you're making it for. For example, with cardigans or tops you will see the measurements for multiple sizes and what you'll have to do differently to crochet a different size.
Notes
This notes section is basically for notes that don't have a specific category. Almost every pattern has some additional notes for you to know about. The notes can include important information on how to resize the project (if there isn't a specific resizing section), whether or not the chain counts as a stitch, how you'll finish the project, and any other important information the designer wants you to know.
US Terms vs. UK Terms
This isn't always clear on patterns, but it's something you should be aware of when you're picking your next project.
Did you know there was a difference between US and UK crochet terms? I happened to learn how to crochet through a UK designer so I knew the difference early on, but some people don't even know there's a difference. If you're one of them, I'm here to save the day!
Because designers don't always state whether the pattern is written in US or UK terms, sometimes it can leave you guessing. But before you waste a bunch of time stalking their page to see where they live in the world, there is one trick you can use to know for sure.
The UK doesn't use the term "single crochet". Over there, the single crochet is actually called "double crochet" and the "double crochet" is called "treble crochet" and so on.
Basically, if you see anywhere in the pattern that they're using the single crochet stitch, you'll immediately know that the pattern is written in US terms.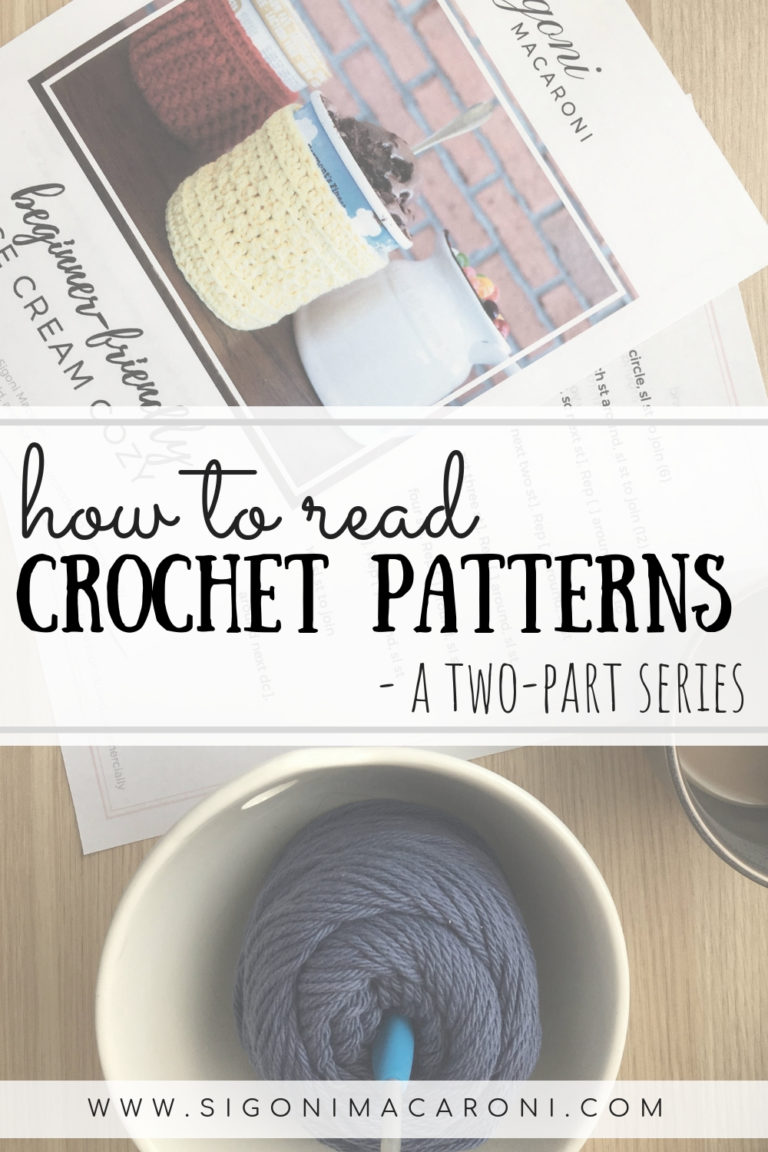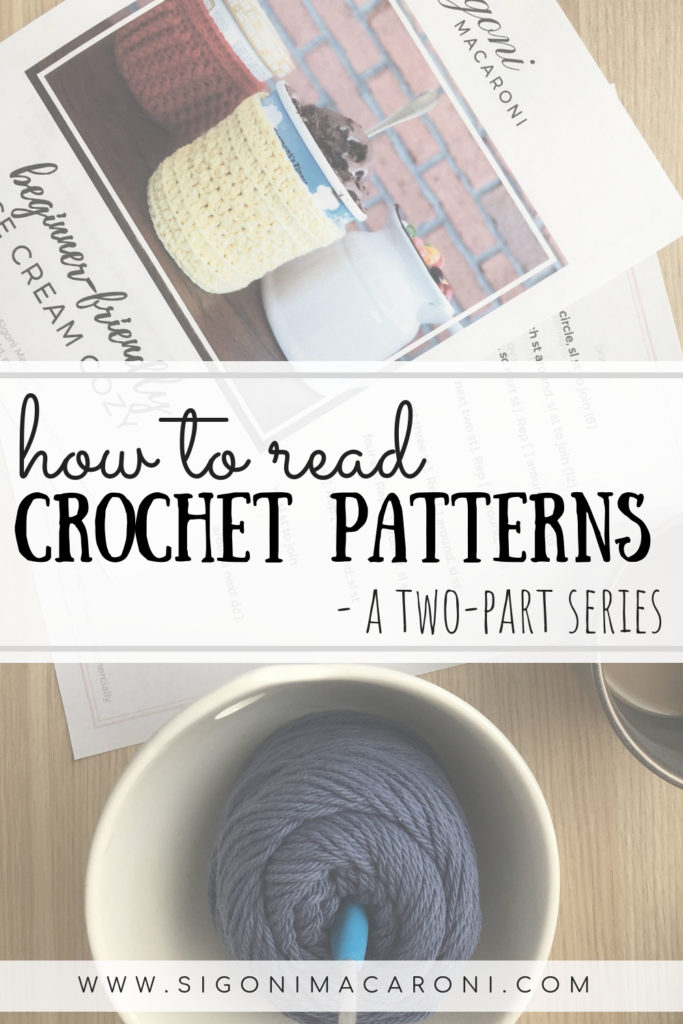 Learning how to read crochet patterns is a skill in itself. Nowadays, many people are learning through YouTube which is amazing. It's incredible to see how far we've come with technology and how so many of us can learn amazing skills just by watching videos over on YouTube. As I said, I learned how to crochet on YouTube as well so I'm all for it! But once you become more experienced in crochet, you'll want to start reading crochet patterns and creating on your own time! I hope Part 1 of How to Read Crochet Patterns for Beginners helped you better understand what goes into pattern reading.
I know this is already a LOT of information on how to read crochet patterns, but there's a little more you need to know! Scroll down to visit part 2 of How to Read Crochet Patterns for Beginners
Also, don't forget to sign up to my email list where I'll send you my most popular freebie, perfect for beginners AND access to the entire password-protected resource library.
Next in the Learn to Crochet the Easy Way Series:
---
The Crochet'dy Bunch Facebook Group
I created a Facebook Group just for you! We're calling ourselves the Crochet'dy Bunch and I would love for you to join. We have daily threads that include:
Motivational Mondays
Tip Tuesday
WIP Wednesday
Tutorial Thursday
Chit Chat Friday!
In this group we talk about all things crochet, dive deeper into tutorials, and share tons of laughs! Plus, there's a video tutorial for every picture tutorial. If you join the group and have any questions about this post or would like me to go over something I didn't cover, feel free to leave a question on the wall or send me a message!