10 Tips You NEED To Know When Crocheting With Go For Faux Thick And Quick Yarn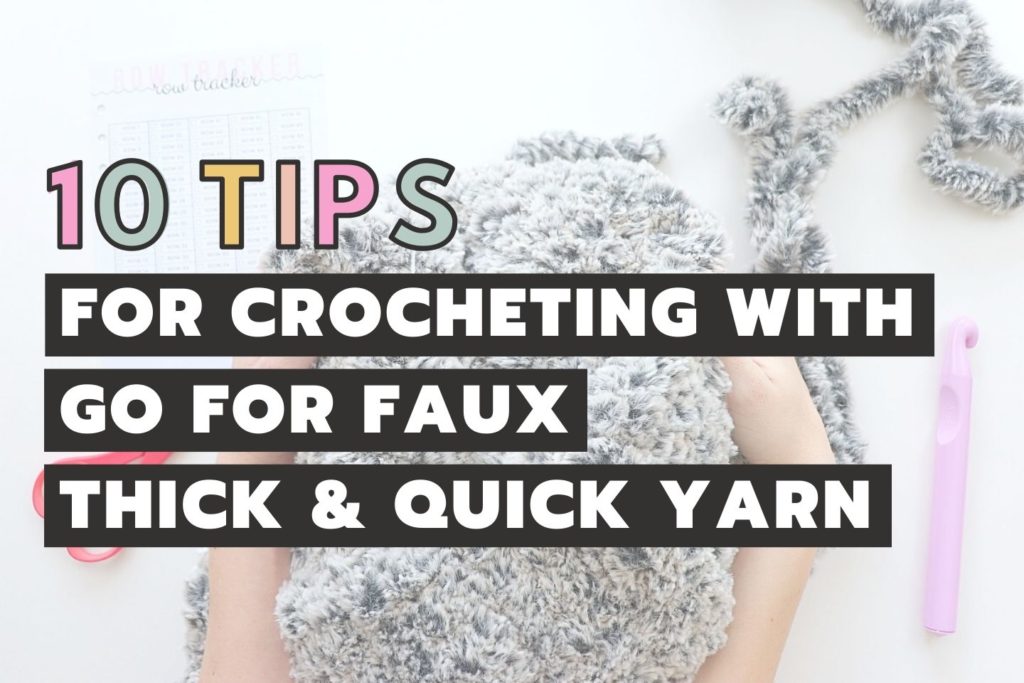 No matter your experience level, faux fur yarn can be intimidating. Especially if you start working with it completely unprepared like I did! But no matter the intimidation, you can't deny how gorgeous this fluffy yarn is. So let's go over 10 tips you NEED to know when crocheting with Lion Brand's Go for Faux Thick and Quick Yarn. That way you can feel a little more prepared the next time you try to use it.
After you read over these tips, pick up a couple skeins and try out one of the five free faux fur crochet patterns I've included at the bottom of this post!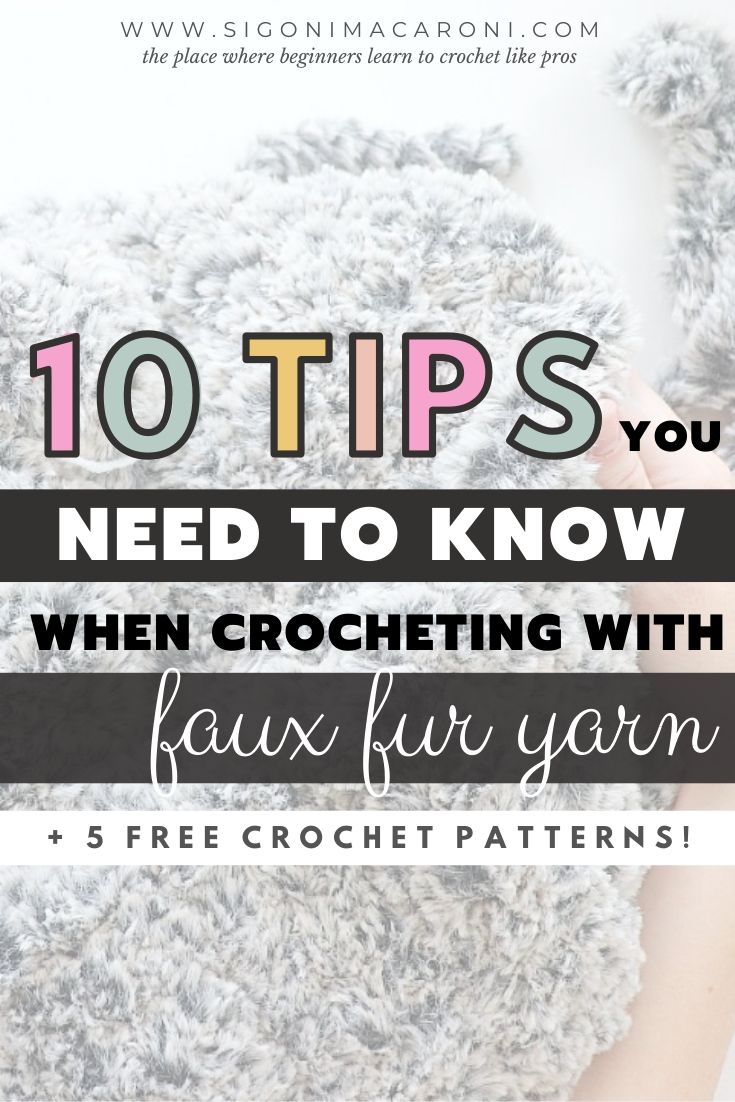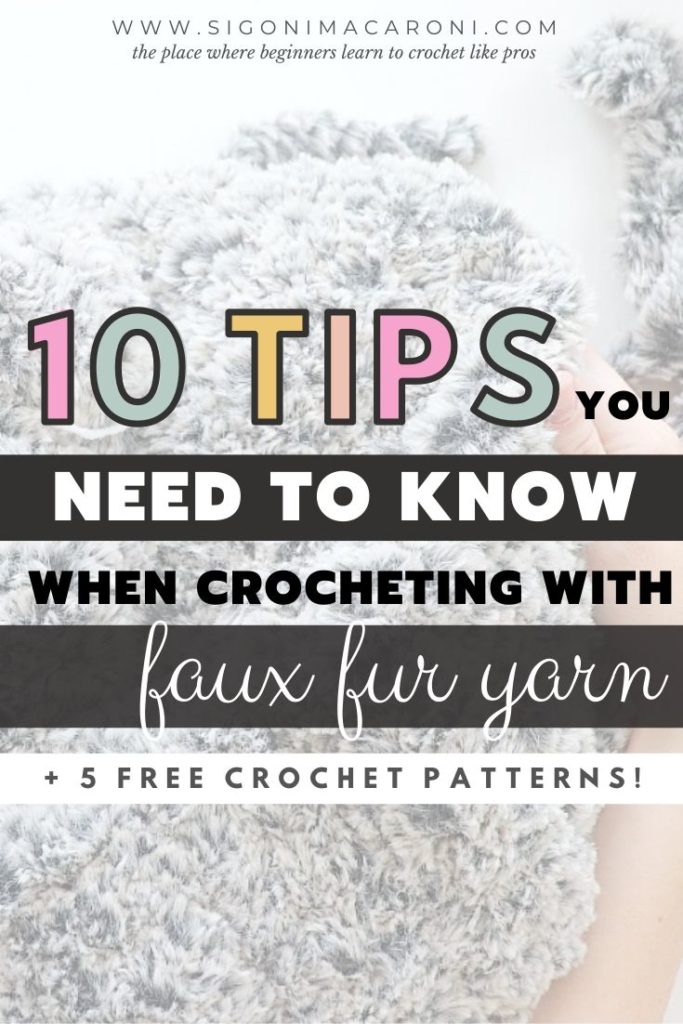 ---
This post contains affiliate links, please view my disclosure policy for details.
Why Go For Faux Thick And Quick?
Recently I was asked by Lion Brand Yarn to collaborate with them on a new project using Go for Faux Thick and Quick. As insanely exciting as this was, I had never worked with this yarn before and I was a tad terrified.
I had a really great idea in mind, but what I didn't realize was how much I was going to learn about faux fur yarn along the way and how I wish I looked at some tips before I got started. Not only was I designing something I've never designed, but I was using a yarn I had never used.
It sounds like a recipe for disaster now that I think about it…
But I think it turned out pretty good so no complaints here.
Although it was a pain in the butt to make these mistakes while I was trying to impress a brand, I'm glad I made them so that I can make it easier for you when you're ready to try faux fur!
These 10 tips for crocheting with Go for Faux Thick and Quick yarn should work equally well with other brands of faux fur yarn. The reason why this post is speaking to Go for Faux specifically is because it's the only brand I've personally used.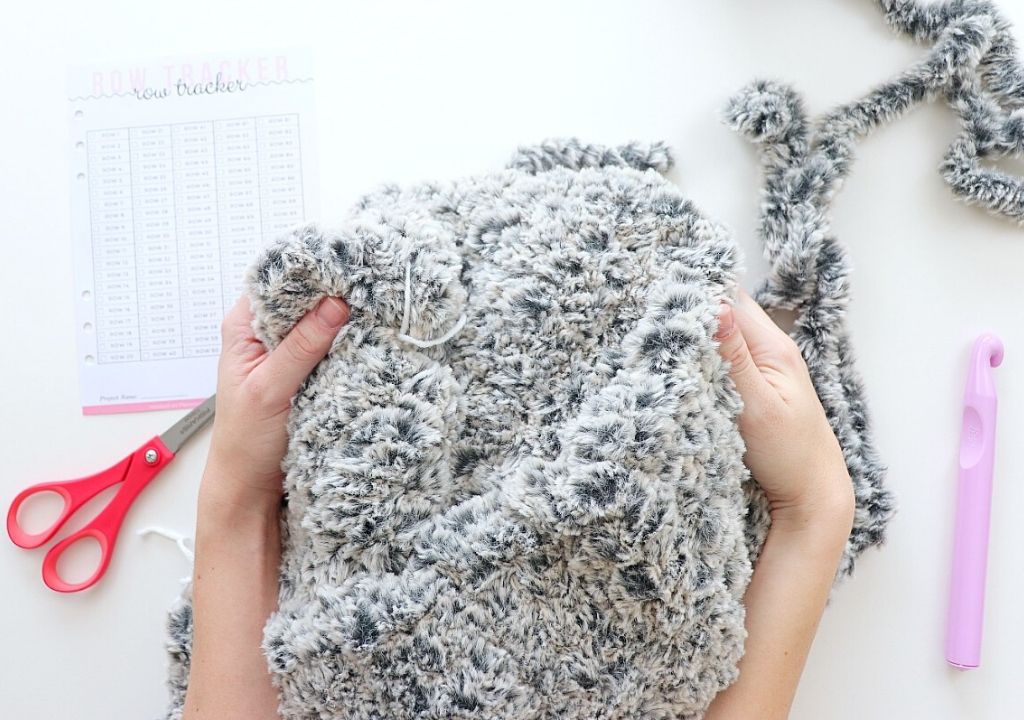 ---
10 Tips You NEED To Know When Crocheting With Go For Faux Thick And Quick Yarn
1. Use Your Fingers To Feel For The Next Stitch
You've probably heard this one before and you might be thinking,
"No way. It has to be harder than that."
But one of the things I really love about Go for Faux Thick and Quick is that it truly is easy to feel for the next stitch.
I'm not sure if it's because this yarn is a weight 7 or if it's how the yarn is made, but the stitches are quite easy to find. And that's good news for you!
---
2. Use The Suggested Hook Size
When it comes to novelty yarns like faux fur, it's important to stick with the hook size that's recommended. With a jumbo size yarn, you want to use a large hook.
When it comes to creating a fabric with drape, like garments or blankets, I normally like to go up a few hook sizes. However, because this yarn is so fluffy, drape isn't ever really an issue.
This yarn recommends a 19mm crochet hook and I think that is the perfect size after designing my own pattern with it.
---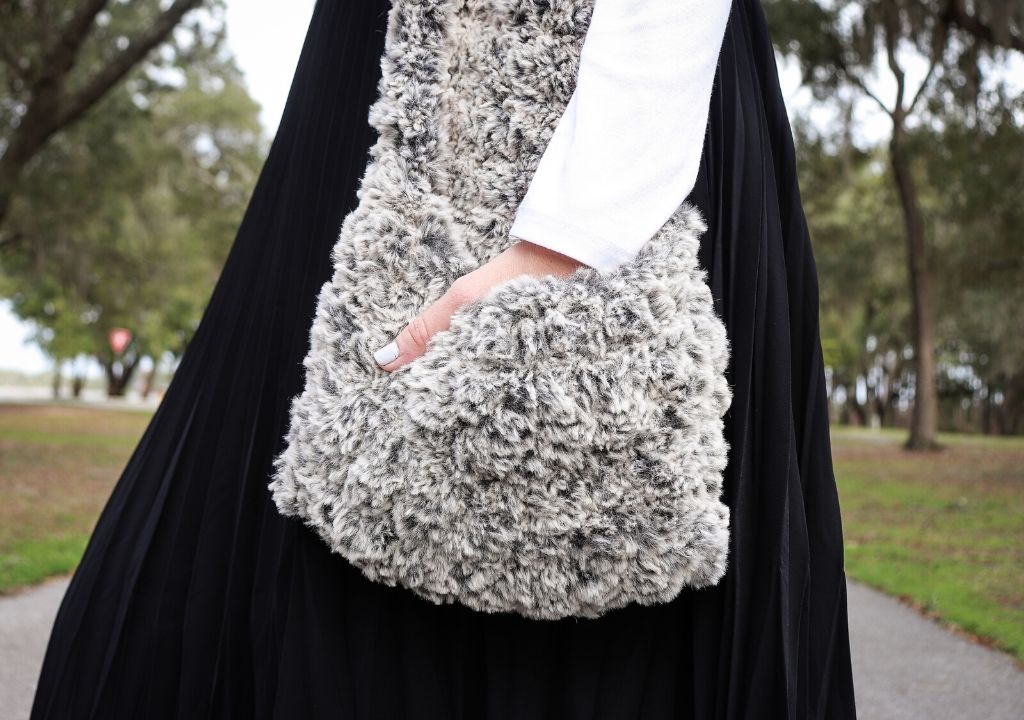 3. Use Simple Stitches
When working with this yarn, you're not going to be able to see your stitches (as you probably know). There's no point in making it complicated by using a fancy stitch pattern. You can use half double crochet or double crochet, but I highly recommend just using single crochet. It's easy and it works up just as quick.
---
4. Use A Row Tracker
When designing the Faux Fur Hooded Scarf, I had to start over three times because I couldn't count my rows when I was finished. Of course I wanted my pattern to be as accurate as possible so this was pretty frustrating. So I ended up doing two things.
The first thing I did that was really helpful was create a row tracker. This made my life so much easier because I could just mark off each row as I went.
---
5. Use Markers To Count Your Rows
Now as helpful as the row tracker was, I wanted to make sure I had a backup plan. Sometimes I get way too into a show and I'll forget to mark the end of a row- #squirrelsyndrome.
*lightbulb!*
"What if I mark the end of every fifth row with a stitch marker?"
Well, even my bigger stitch markers wouldn't fit…
*another lightbulb!*
"I'll just use some contrasting yarn!"
If you're working to a certain length where the rows aren't necessarily important, then don't worry about it. If you're working a pattern that has a set amount of rows, mark every few rows with a contrasting color of yarn.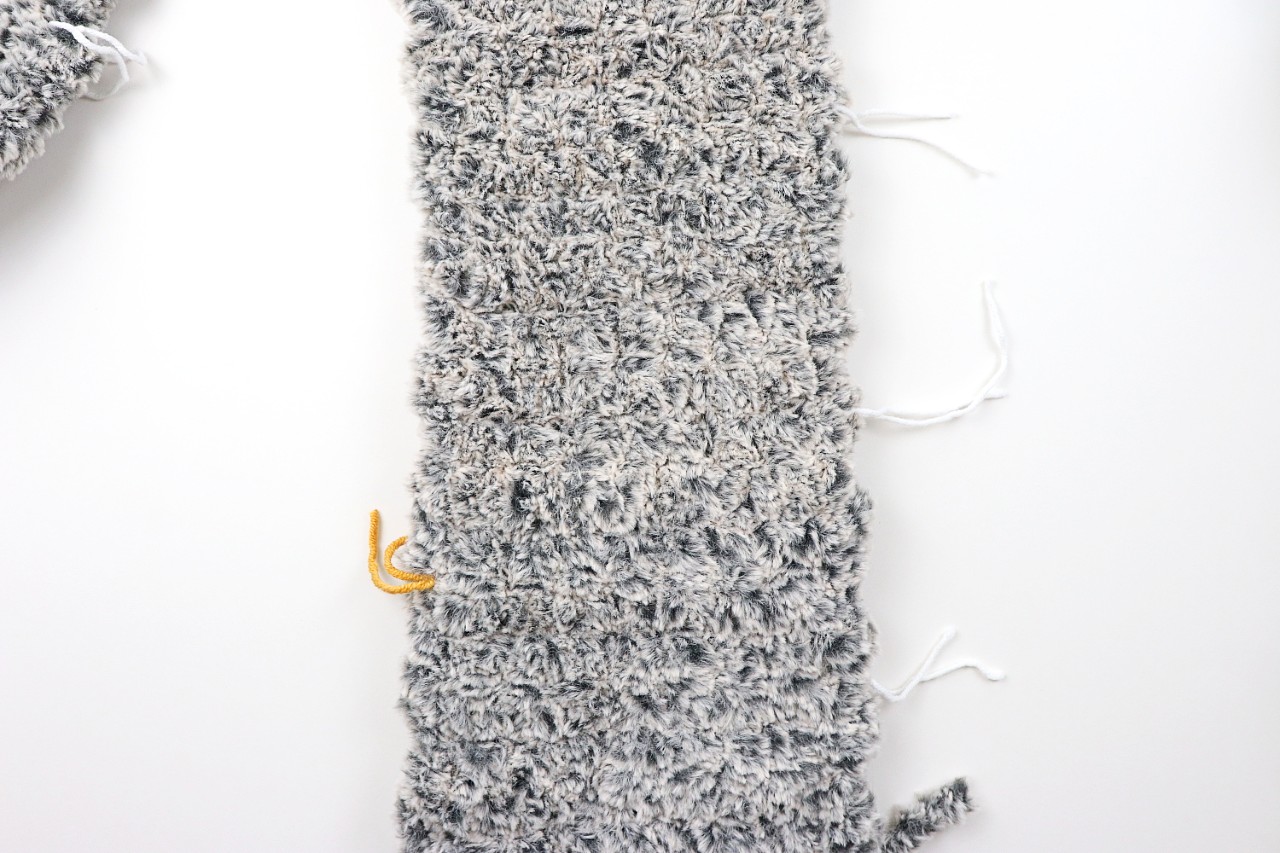 ---
6. Use A Stitch Marker To Mark Your First And Last Stitches
In the first tip on crocheting with Go for Faux yarn, I noted that it's easy to feel for your stitches. While I believe this is true, you might have a harder time with this. If you're struggling with feeling for your stitches, use a stitch marker or even a scrap piece of yarn to mark the first and last stitch.
I know I just said my larger stitch markers wouldn't fit around the ends of the rows, but you might have larger stitch markers. If you don't, you can always use bobby pins.
---
7. Count As You Go
It's always a good idea to count your stitches as you go or at least every few rows to make sure you have the correct stitch count. Yes sometimes there are just too many stitches and it becomes tedious, but luckily for us, faux fur (especially Go for Faux Thick and Quick) is a thicker yarn.
This means less stitches to count making it easier to count each row!
---
8. Use A Smaller Hook To Weave In Ends
After I finished the Faux Fur Hooded Scarf and I was ready to weave in the ends, I thought, "Easy peasy. This yarn is so fluffy you won't even be able to tell where the ends are!"
Well, I was wrong.
When I first weaved them in I was just tucking them between the holes of each stitch because that was the easy way. Turns out, because of the bulkiness of the faux fur, they easily come undone and you'll see bits of fluffy strands hanging out everywhere.
To fix this, I decided to weave in my ends with a smaller hook. In my case, I used a 9mm crochet hook and pulled the strands through the actual stitch, not through the holes in between each stitch. If you need more of a visual, I'll have a video coming out soon that will explain what it looks like when I do this.
---
9. Combine Novelty Yarn With Another Strand Of Yarn
One of the tricks I usually tell my beginners is that when working with novelty yarn, combine it with a regular strand of the same color. You can't really see the combination when your project is finished, but while you're working on it, it's a lot easier to see each stitch.
If you've never crocheted with multiple strands, it's really fun and you should absolutely try it out!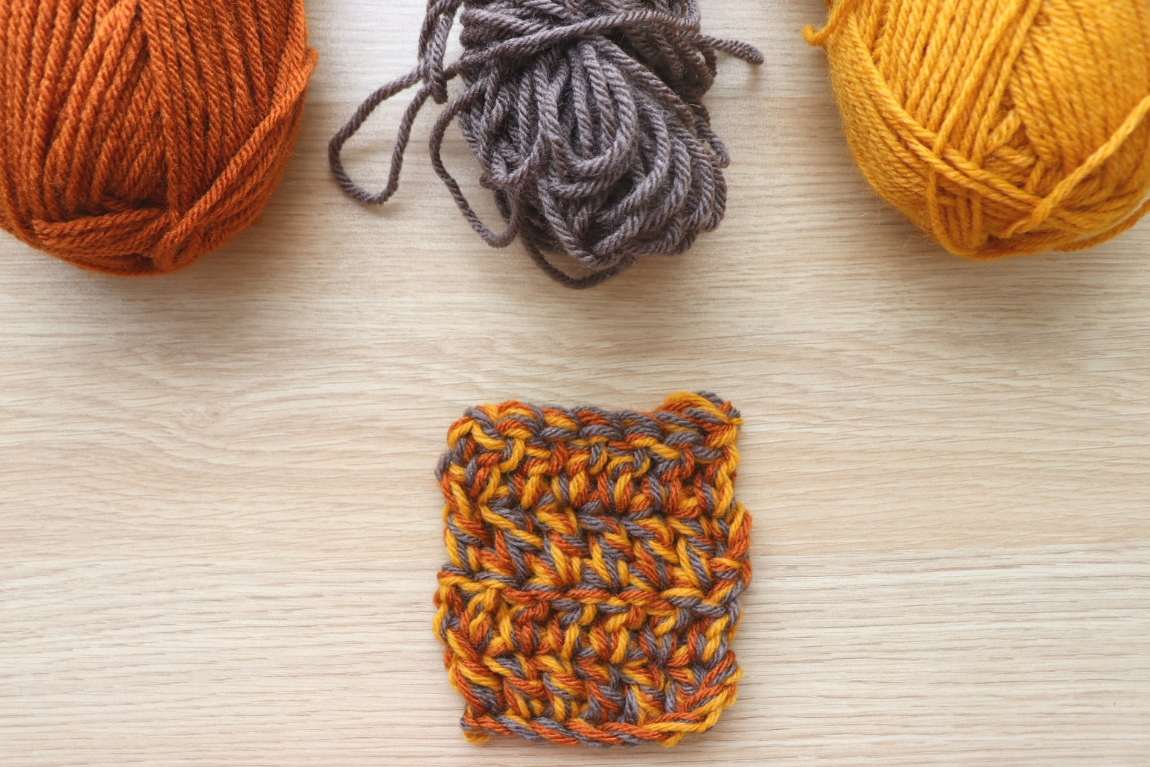 ---
10. Create A Swatch Before You Start
When you're working with a new yarn, especially a novelty yarn like faux fur, you should play with it a little bit before you get started on your actual project.
By creating a separate swatch, it gives you the chance to get a feel for the yarn, understand how to work with it, and any problems you might have.
---
Going Back Over the 10 Must-Know Tips When Crocheting With Go For Faux Thick And Quick
That's all of the tips I have for crocheting with Go for Faux Thick and Quick yarn. It's not as scary as it looks, but it's nice to be prepared!
Here's a recap of all the tips we learned today so try to remember these tips the next time you crochet with faux fur yarn:
use your fingers to feel for the next stitch
the suggested hook size is what you should use
use simple stitches
keep track of your rows with this row tracker
tie on a contrasting color of yarn to count your rows
use a stitch marker to mark your first and last stitch
count as you go
use a smaller hook to weave in ends
combine novelty yarn with another strand of yarn
create a swatch before you start
I hope these 10 tips for crocheting with Go for Faux Thick and Quick will help you start your next project using faux fur yarn feeling a little more prepared. Now speaking of starting your next crochet project, here are five free faux fur yarn crochet patterns for you.
---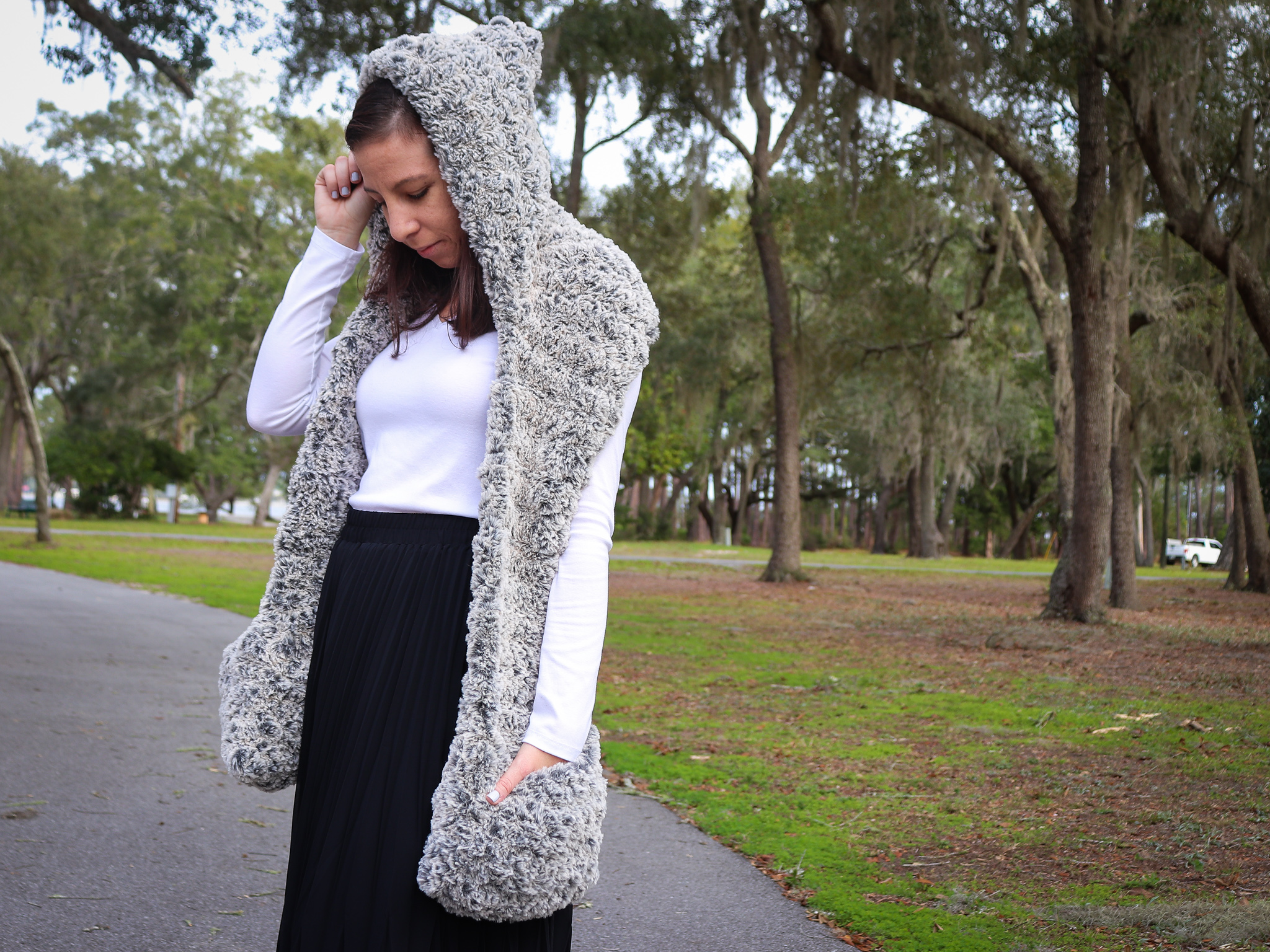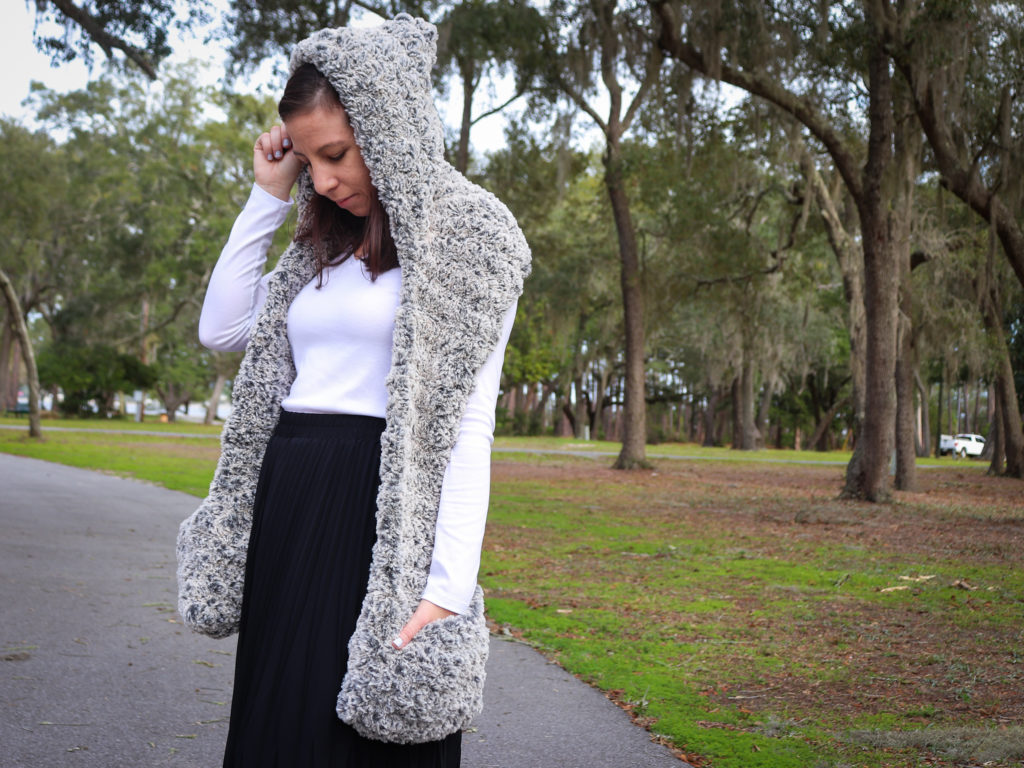 5 FREE Go For Faux Yarn Crochet Patterns
1. Faux Fur Hooded Scarf with Pockets
This faux fur hooded scarf is so soft, so warm, and you're going to want to stay wrapped up in it all winter long. This pattern uses Go for Faux Thick and Quick and it's the only pattern I've seen using the thick and quick yarn at the moment. It requires a 19mm hook and if you have a few hours to work on it, you could be done in a day!
2. Crossed Fur Headband Ear Warmer
The Crossed Fur Headband Ear Warmer by Mama in a Stitch is a really great pattern to start with because it's easy and quick to work up.
3. Convertible Hat/Cowl
How cool is this convertible hat/cowl?! I never would have thought to create something like this. It's genius. Plus, that fur laying across your ears in the winter… pure magic.
4. Luxe Faux Fur Cowl
I love this Luxe Faux Fur Cowl by All About Ami because it's furry on the outside and has gorgeous texture on the inside. Make this and your friends and family will think you bought it at the store!
5. Sallie Sloth
If amigurumi is your thing, you're going to love this pattern. This little sloth is so cute!