73+ Free Halloween Crochet Patterns (for spooky fun!)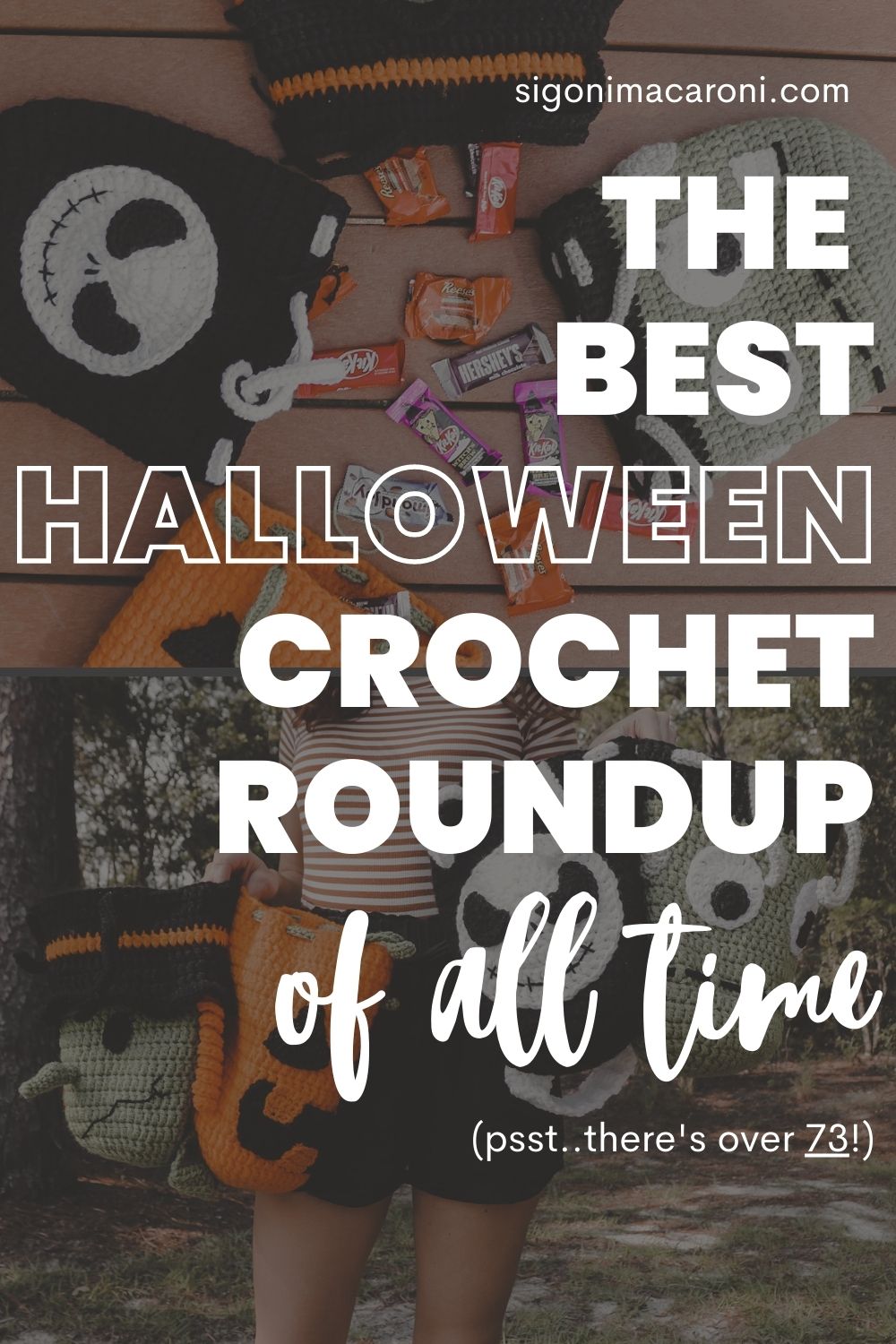 One of my favorite things about crochet is that you can make anything that you want. From toys to garments to accessories and some of the best holiday decor. Today I'm going to share 73+ of the best free halloween crochet patterns on the planet. Most of these are easy projects that are spooky and fun!
Go ahead and bulk up on some orange yarn! I hope it's your favorite color 😆
Halloween is my favorite holiday after Christmas (I know I'm not the only one who feels that way 🤪) Tell me your favorite holiday in the comments!
Whether you are going to a Halloween party or you just want to crochet black cats and little ghosts, you're going to love this roundup. There is a free pattern for every occasion.
I'm going to toot my own horn (and all of the designer's horns) and say that this is a list of the BEST Halloween crochet patterns of all time!
All of these fun Halloween crochet patterns use basic crochet stitches and will make the perfect addition to your home this spooky season. The best part? All 73+ patterns I'm sharing below are absolutely FREE Halloween crochet patterns.
Oh and one more thing. If you don't have a favorite crochet hook, I highly recommend Clover Amour crochet hooks. They are the BOMB diggity and they're currently on sale for half price.
At the end of the blog post you will find a list of FAQs that relate to each of these patterns. The answers to these frequently asked questions will help you feel more confident in crocheting each of these Halloween crochet patterns.
This post contains affiliate links, please view my disclosure policy for details.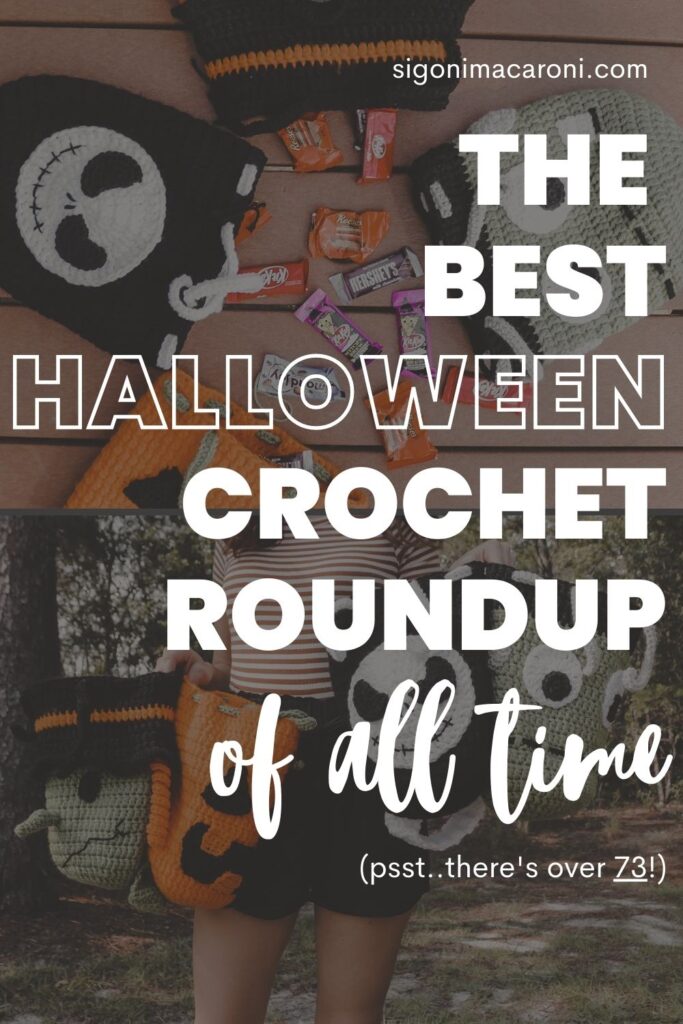 73+ FREE Halloween Crochet Patterns (for spooky fun!)
Each free crochet pattern is listed under a specific category. Look through them all, or skim through to find what you're looking for! Each category has at least one easy crochet pattern for beginners. Enjoy!
Crochet Halloween Hats
Frankenstein's Monster Hat

by With Alex

Black Cat Hat by Repeat Crafter Me
Harry Potter Sorting Hat by Crafty is Cool (because who wouldn't want to make one of these?!)
Cute Baby Monster Beanie by Raffamusa Designs
Crochet Pumpkin Hat Pattern by Jo to the World
Baby Shark Sun Hat by Jo to the World
Pumpkin Beanie by Han Jan Crochet
Crochet Animal Ears Headband by The Loopy Lamb
Frankenstein Crochet Hat by Sweet Potato 3
Monster Crochet Hat by Sweet Potato 3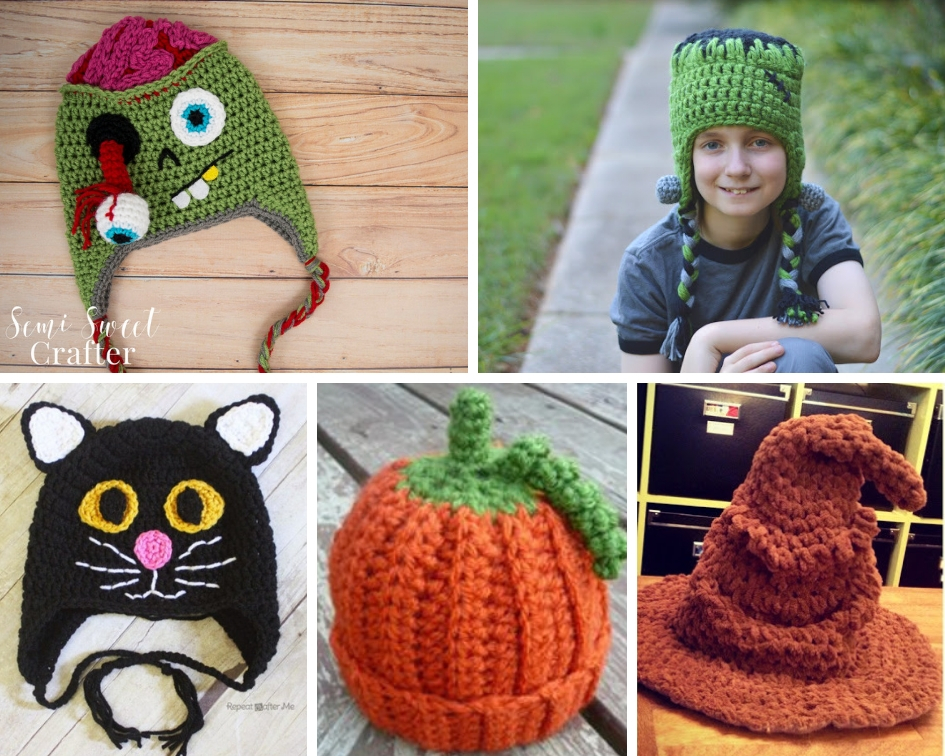 Halloween Crochet Pillows
Halloween Decorations for the House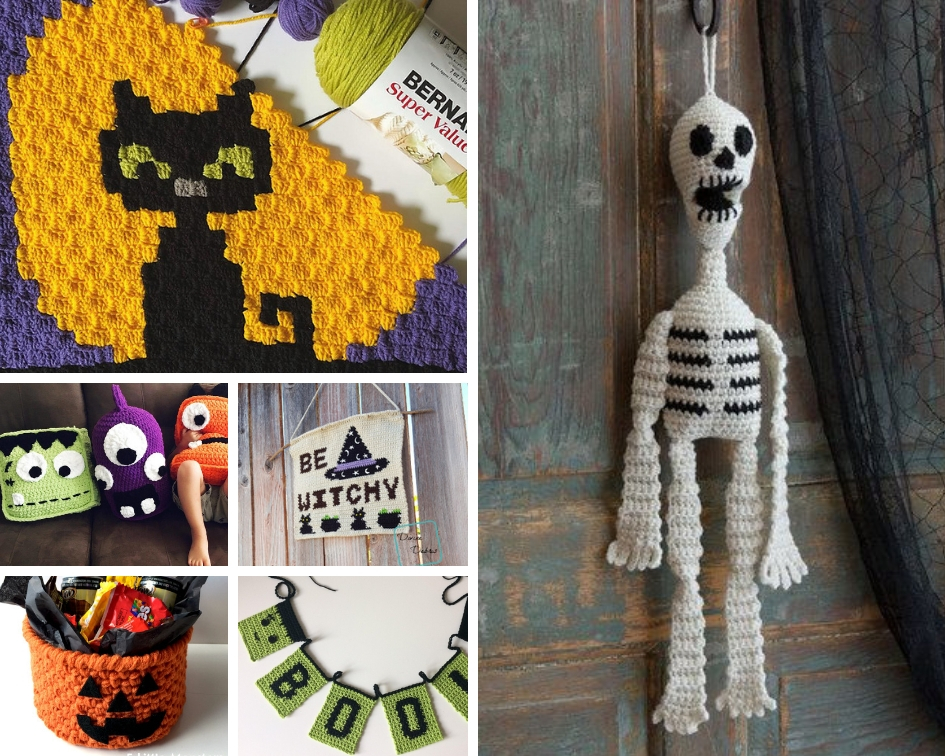 Spooky Decorations for the Kitchen/Dining Room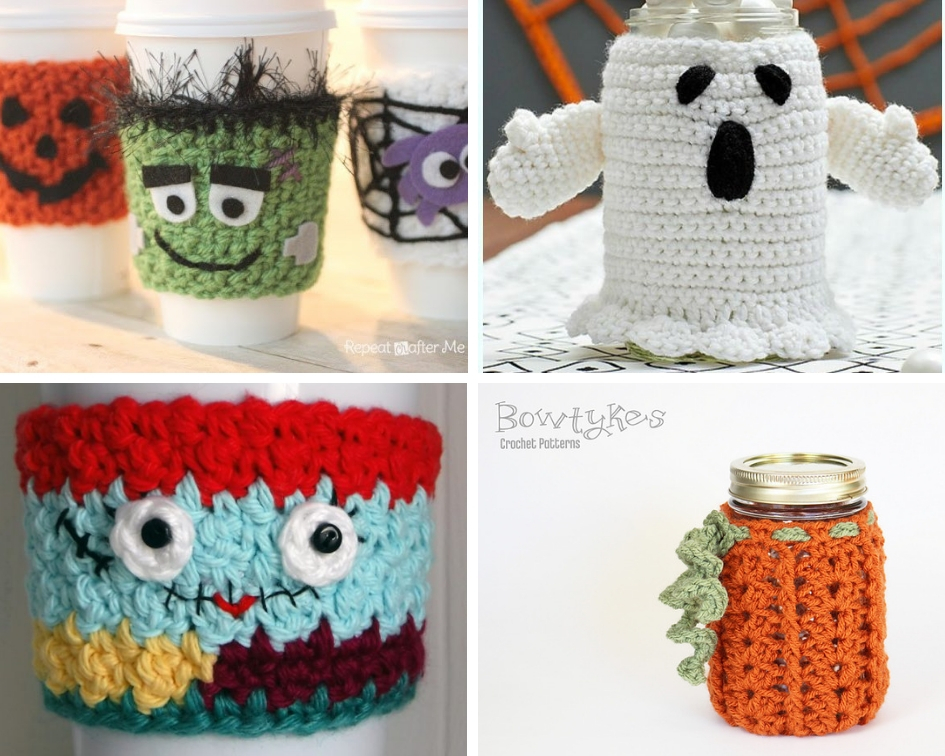 Crochet Halloween Amigurumi Pattern
If you're someone who doesn't mind spending a few bucks on a good crochet book, I highly recommend A Crochet World of Creepy Creatures and Cryptids.
It is perfect for Halloween and includes FORTY small-scale amigurumi patterns. And because these crochet creatures are on the smaller side, you're going to have a whole squad of spooky (and crazy cute) monsters in no time.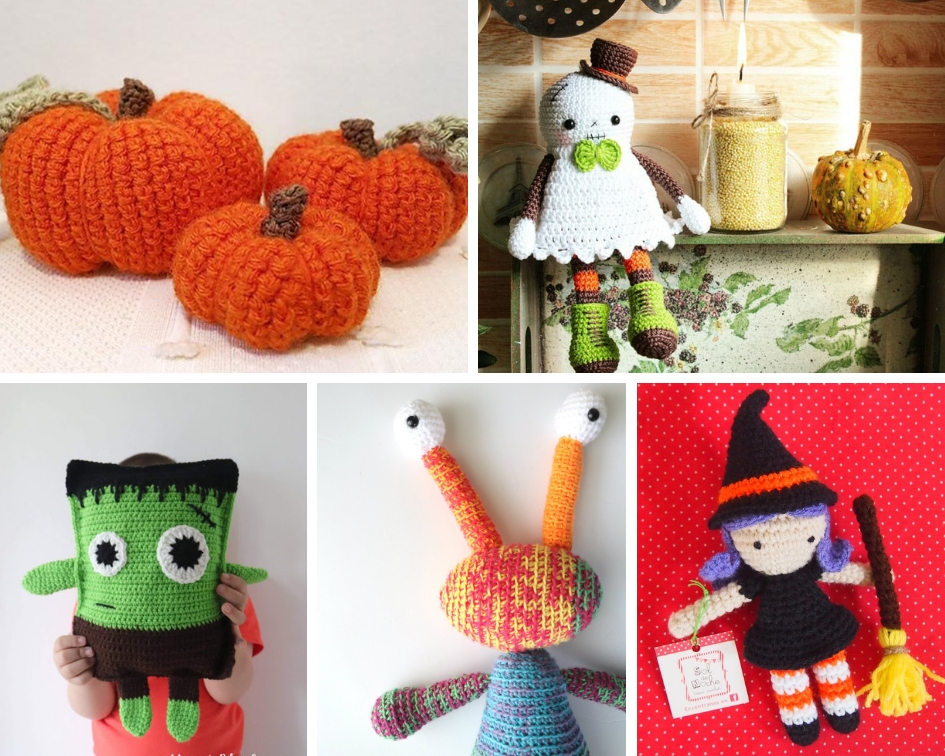 Halloween Crochet Accessories
Accessories can be many things. But first, let's talk about the most important one. You can't go trick or treating if you don't have a bag to fill up with candy, right?
I recently updated my crochet trick or treat bags and they are looking better than ever. You can find all four of them here.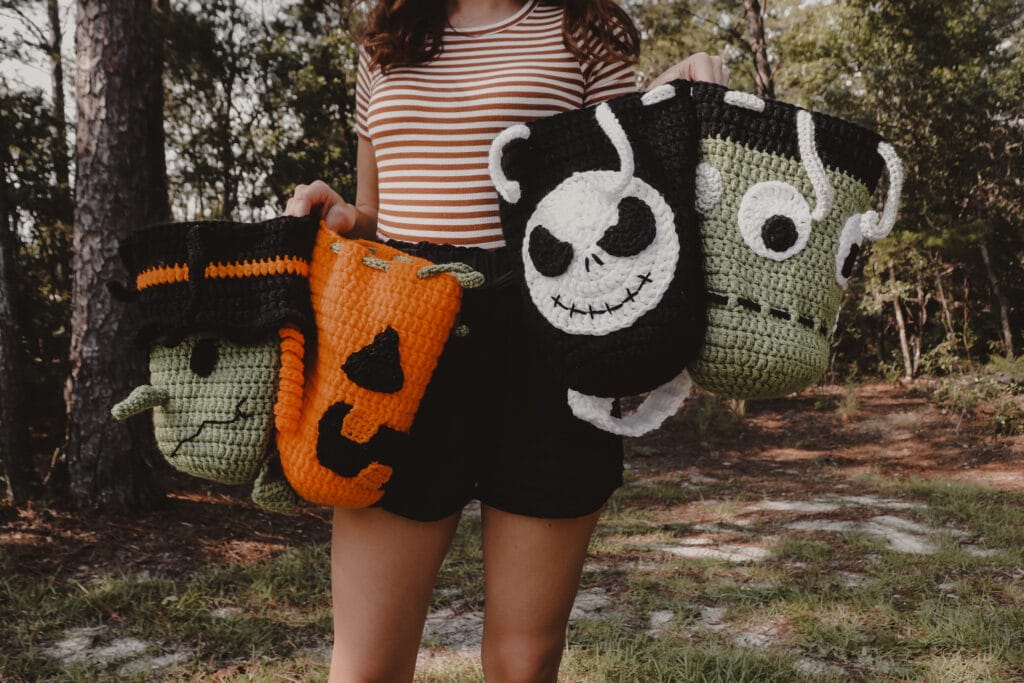 The rest of the Halloween crochet pattern accessories are just as good!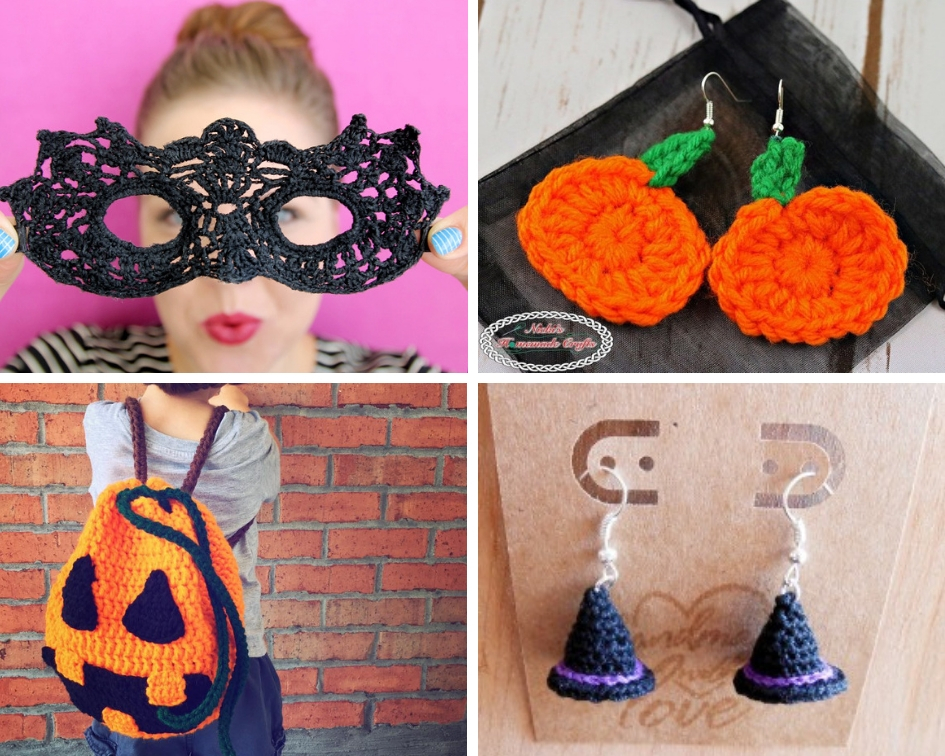 Crochet Halloween Costume Idea (Adults & Children)
Did you know the first thing I ever designed was my son's Halloween costume? Nothing makes you feel more accomplished than being able to crochet something you can wear. Especially if it's as fun and creative as these handmade Halloween costumes.
I also found a lot of GREAT Halloween crochet costume ideas for both adults and children over on Etsy.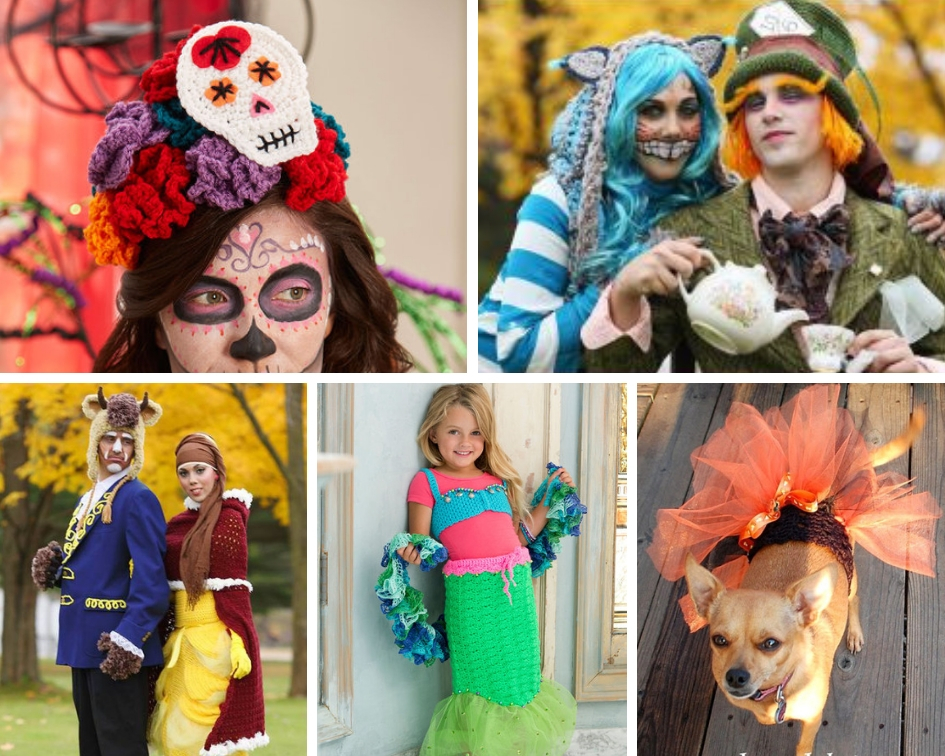 Now before you head off to make as many of these Halloween crochet patterns as possible, check out this list of FAQs. These are questions that are the most commonly asked when it comes to making Halloween crochet patterns. You might find something super useful!
Halloween Crochet Patterns FAQs
How do I crochet a magic circle?
Some of the Halloween crochet patterns on this list are amigurumi projects. Amigurumi projects often have you start by crocheting in the round. One way to start a project in the round is by creating a magic circle.
If you've never tried this, I absolutely recommend you give it a try. You can find a full video tutorial here.
However, please know that a magic circle isn't the only way to start a project in the round. That video I linked to also includes to alternatives to the magic circle. If you can't get the hang of the magic circle right away, try one of those methods instead.
How do you crochet Halloween bunting?
Halloween bunting is pretty much the same as any bunting! It all depends on the pattern you're working from. Most bunting patterns use simple stitches, but often a lot of color changes.
If you need help making seamless color changes, follow this tutorial.
If you're looking for a crochet Halloween bunting pattern, try the Candy Corn bunting listed under Halloween decorations for the house section above (it's number 7!)
There are also many ways to crochet halloween bunting without a pattern. Simply make your favorite Halloween decoration, make a bunch of small ones, attach them to a string, and hang them up!
You can do this with the mini pumpkin earrings or any of the coaster patterns you found in this post!
How do you crochet a Halloween pumpkin?
If you want to know how to crochet a Halloween pumpkin, you're in luck! There are sooo many crochet pumpkin patterns out there it's insane! And they are generally pretty easy to make.
You can find two crocheted Halloween pumpkin patterns in this post. They are numbers 8 and 14 under Halloween decorations for the house.
Besides those, most pumpkin patterns only require crocheting a rectangle and then sewing them together to form a pumpkin shape.
If you really like pumpkins, try making them with different stitches! It's a great way to enhance your crochet skills.
If you haven't already, scroll up to the Halloween crochet decorations section and you will find a few! Or you can do a quick search for Halloween crochet pumpkin on Google and you will find all kinds.
How do you crochet triangle eyes?
You probably won't believe how easy this is, but it's very simple.
To crochet triangle eyes, you will chain the length of the bottom part of the triangle. Then, using any of the basic stitches, you will crochet in each stitch across. In every other row you will decrease at each end.
If you want to see this in action, I have a full video and picture tutorial for this Pumpkin Candy Bag and all of his friends.
---
Did you enjoy this long list of free crochet Halloween patterns?! I hope you have so much fun making a cute Halloween decoration or two this Halloween season.
If you make any of these patterns, make sure you share the finished product over on social media. We would love to see! Share your crochet projects with me @sigonimacaroni on Instagram so I can see.
If you loved this roundup, you're bound to love another! Here are some of my favorites:
Easy Single Crochet Patterns
Autumn is Calling Crochet Roundup
Simple Double Crochet Projects
12 Days of Crochet Christmas
Sound interesting? Head to my crochet roundups archive to find your next favorite easy project!
What kinds of Halloween crochet patterns are you ready to start making?