This Crochet Infinity Scarf is quick and very easy to work up! It uses Wool Ease Thick and Quick yarn by Lion Brand which is a super bulky and soft acrylic/wool blend. Keep reading for the back story on why this beauty would be a great Christmas present. If you're just here for the pattern (you can't fool me), keep scrolling 😉
The very reason why I wanted to learn how to crochet was to create quick and cheap-ish presents for friends and family. It was almost Christmas and, being a single mom at the time, I didn't have too much money for presents. I've always been an artsy/craftsy type of person so I decided to hit up Joann Fabrics to look for a new hobby. I stared at the knitting needles because I learned to knit when I was 15, but remembering how I have absolutely no patience, I kept walking. I then saw some crochet books and some hooks and it just hit me. That's my calling, I thought.
At the time, I found this tutorial for a crochet infinity scarf on YouTube and this was the first item I ever made. I made them continuously in different colors until I had enough to give out as gifts. The pattern was quick to work up because it used super bulky yarn like this pattern does, but it was the kind of pattern where you chain a certain amount of times and then slip stitch to the first chain and work in the round. I've made plenty of scarves that way and they're great, but the way I'm about to show you is how I make most of mine now.
Instead of working in the round, we are going to be working the length of the scarf. This means we can make it any size we want and that's why I've given you four options to choose from just to help you along!
In this tutorial we will be working in the back loop to create this gorgeous raised texture that really makes this entire pattern. It's just as easy as making a double crochet, just different placement! If you have never crocheted into the front or back loops, I have a great tutorial for you over here.
This is seriously the easiest pattern. I mean, it's called the Quick and Easy Crochet Infinity Scarf for a reason. Working in the back loop of each stitch looks like it takes a lot of effort when it really doesn't! Plus, it only takes two hours or so to crochet! This makes it the perfect, last minute Christmas gift or maybe a "holy-crap-how-did-it-go from-70-to-40-over-night-I-could-really-use-a-scarf" kind of moment. #FloridaWeather
When the time comes to attach your second skein, I like to tie them together. I know a lot of people don't like to do this because it can look sloppy, depending, but with my little trick and this super bulky yarn, you can hardly notice.
When I tie the two ends together, I make sure there is a long enough end (about 3 inches) so that I can weave those ends in making it hardly noticeable. Then you're good to go and continue as you've been doing!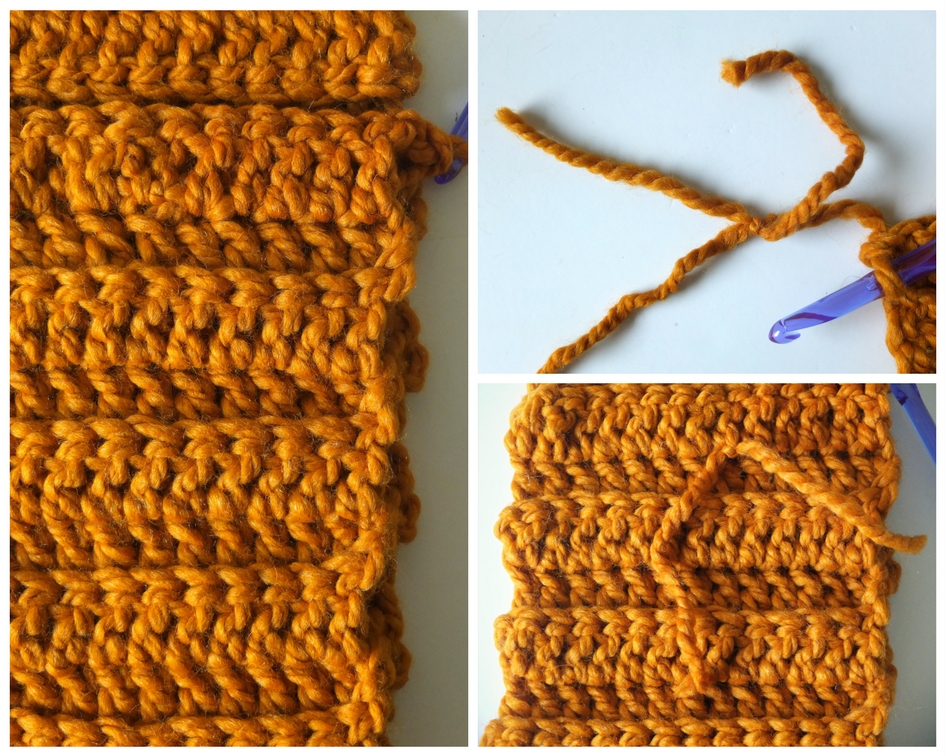 Having said that, you can attach your second skein however you prefer. If you don't like the way I do it that's totally fine!
This post may contain affiliate links, please view my disclosure policy for details.
Materials:
Abbreviations Used:
Sl st (slip stitch)
Ch (chain)
Sizing Options:
If you would like more of a cowl that hugs your neck to keep it cozy and warm, you will make the Extra Small size and you will stop at Row 49.
The Small will have 59 Rows.
And the Medium will have 65 Rows.
For the Large, you will use up both skeins of yarn, which will come to about 70 Rows total when leaving enough yarn to slip st the ends together.
Notes:
Ch 2 at beginning of round does NOT count as st
Quick and Easy Crochet Infinity Scarf
Ch 15
Row 1: Dc into the 3rd ch from the hook and in each ch down row. Ch 2 and turn work (13)
Row 2: Dc into the BLO of the first st and each st down row. Ch 2 and turn work.
Repeat row 2 until you reach your desired length. Refer to the above pictures for sizing options.
When you're ready to finish your scarf, fold both halves together being sure not to twist.
Ch 1, and sl st across. Tie off and weave in all ends.
I absolutely love this crochet infinity scarf because it is SO simple, but because we're working in the back loop you have that texture that makes it even more cozy and eye catching! Not only is this a great scarf to make for yourself this winter, but it's also the perfect quick and easy gift idea!
Comment below if you have any questions and don't forget to share your work with me! I'd love to see it. @sigonimacaroni on Instagram <3
This pattern is an original pattern by Sigoni of Sigoni Macaroni. Please do not claim this pattern as your own. If you wish to share this pattern, you may link to this pattern but please do not reprint it on your site. You may keep a copy for your own personal use but please DO NOT sell the pattern or distribute it.  
You may sell products made from this pattern but please clearly credit the design to me, Sigoni of Sigoni Macaroni, and provide a link to my blog www.SigoniMacaroni.com.  Permission is NOT granted for mass production or factory manufacturing of any kind.  Thank you for being respectful and for your understanding!