Cheaters Gingham Blanket Crochet Along | FREE PATTERN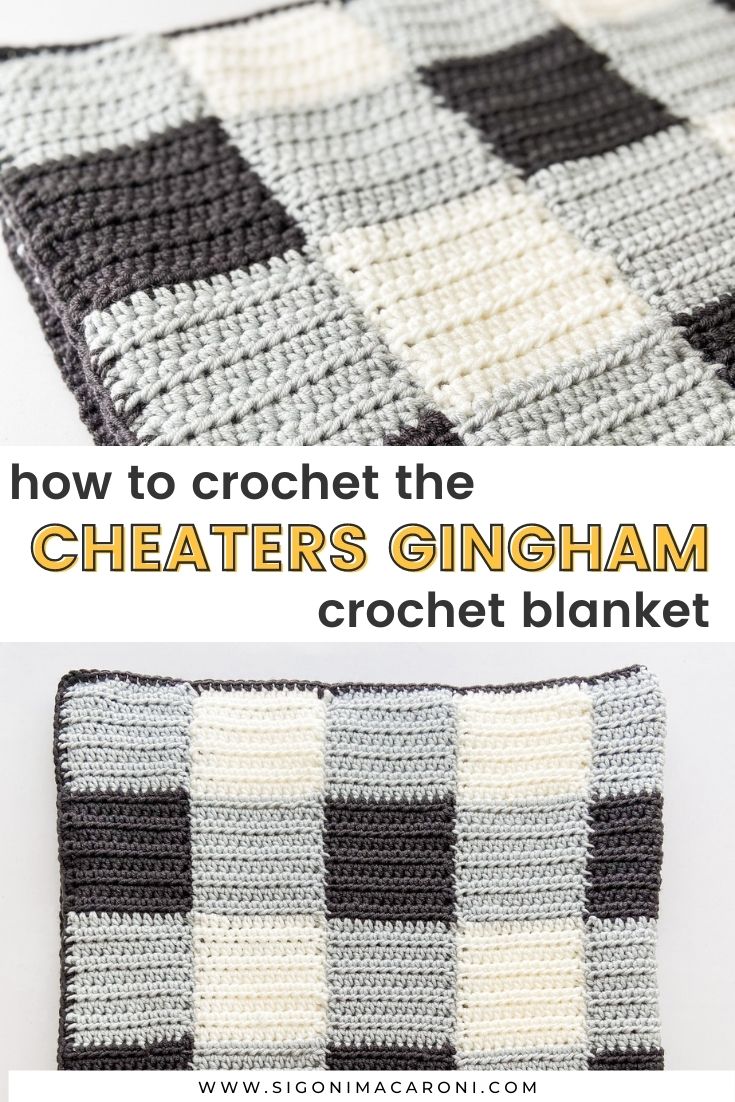 Have you ever wanted to make a crochet gingham blanket but didn't want the trouble of carrying double strands and switching colors down the row? Me too! I had a not-so-good experience that resulted in my new free pattern, the Cheaters Gingham Blanket. If you want to learn how to make a crochet gingham blanket the easy way, you're in the right place. I'm going to teach you how to construct this blanket in a unique way.. some would say the cheater's way.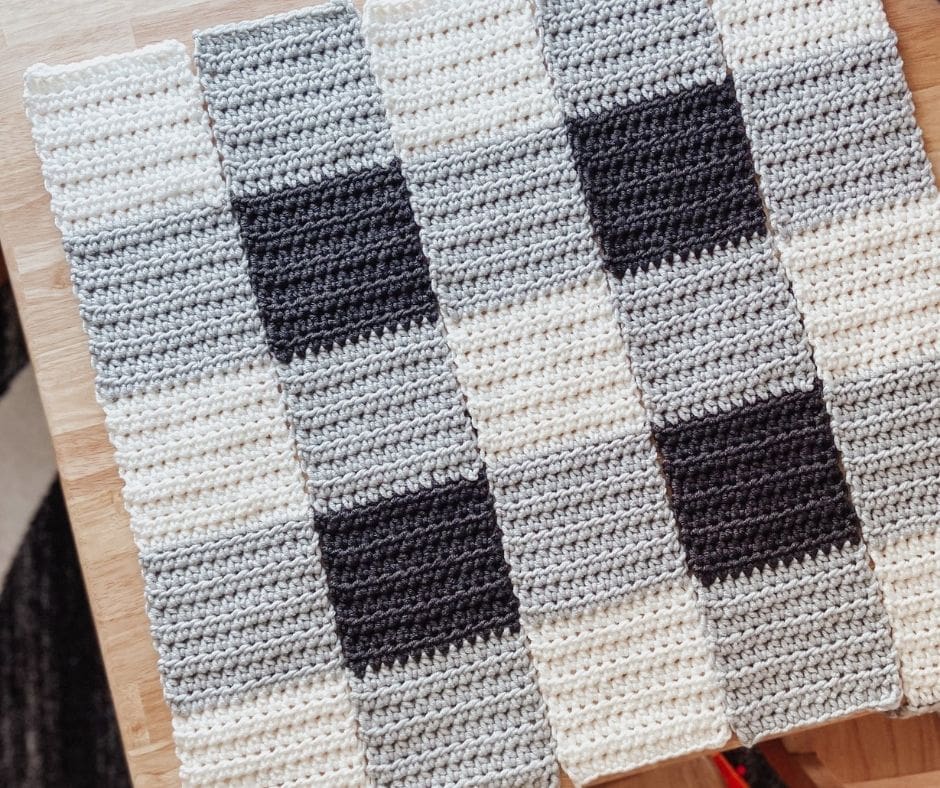 **Cheaters Gingham Blanket Crochet Pattern – 2021 UPDATE**
The Cheaters Gingham Blanket was first hosted as a crochet along in October of 2020. It was my very first crochet along and it was so much fun to see everyones progress as we went.
The pattern will always be free here on the blog, but there have been some changes to the pattern that I wanted to update here. The rest of the post will be read like it was written in 2020.
Update #1: The Materials
Unfortunately, the yarn I used to design the Cheaters Gingham Blanket was discontinued. 😭 However, the yarn can still be found in some places and I explain how you can find it in this video. If you can't find the yarn I used for this pattern, you will have to find a good substitute. I talk a little bit about where you can find the best substitute yarn in that video as well.
If you can find a bulky weight yarn (weight #5), that should work just fine. Gauge isn't too important for this pattern because it's a blanket which means it'll be okay if it's a little smaller or a little bit bigger than the original measurements.
If you would prefer to use a medium weight yarn, I have all of the information on how to resize using a medium weight yarn inside the premium PDF that you can purchase here.
Update #2: The CAL is no longer active
When I hosted this crochet along, we had hundreds of people making the Cheaters Gingham Blanket at one time. Now that the CAL is over, it's not something we're all working on and talking about.
It doesn't have to be an active CAL for it to be fun though! I decided to leave it set up like a crochet along in order to make it easier to work through. If you sign up to make the blanket CAL style, you will receive an email with all of the details and then one email a week with the next section of the pattern – 4 weeks total.
This way you will have all of the links and information you need upfront without having to search through the blog.
Your goal is to finish one section per week BUT it's absolutely not necessary so please don't feel frustrated if you fall behind. The goal is to keep it fun and to promise a new crochet gingham blanket by the end of the month. But we all have different schedules and times we're able to crochet so there's no rush.
Take your time and let it be fun!
Update #3: Color Alternatives
When I first put the Cheaters Gingham Blanket crochet along together, I also put together a list of color alternatives inside the PDF. I created those color alternatives specifically through Lion Brand's Color Made Easy.
Because this yarn was discontinued, you probably won't be able to find those exact colors but you can still use the chart to find similar colors. Or you can purchase the inexpensive PDF that has a chart to guide you in creating your own color combinations.
**end of update**
---
I'm hosting my first crochet along and I am so excited!
Like most things, this was thrown together at the last minute, but I think you're going to LOVE it.
If you know me well, you know I have to start off with the back story before I get to the details. so I'm going to take a minute to explain my horrific experience with making my first crochet gingham blanket the traditional way.
For those of you who want to head straight to the details, scroll down until you see "Gingham Blanket Crochet Along Details".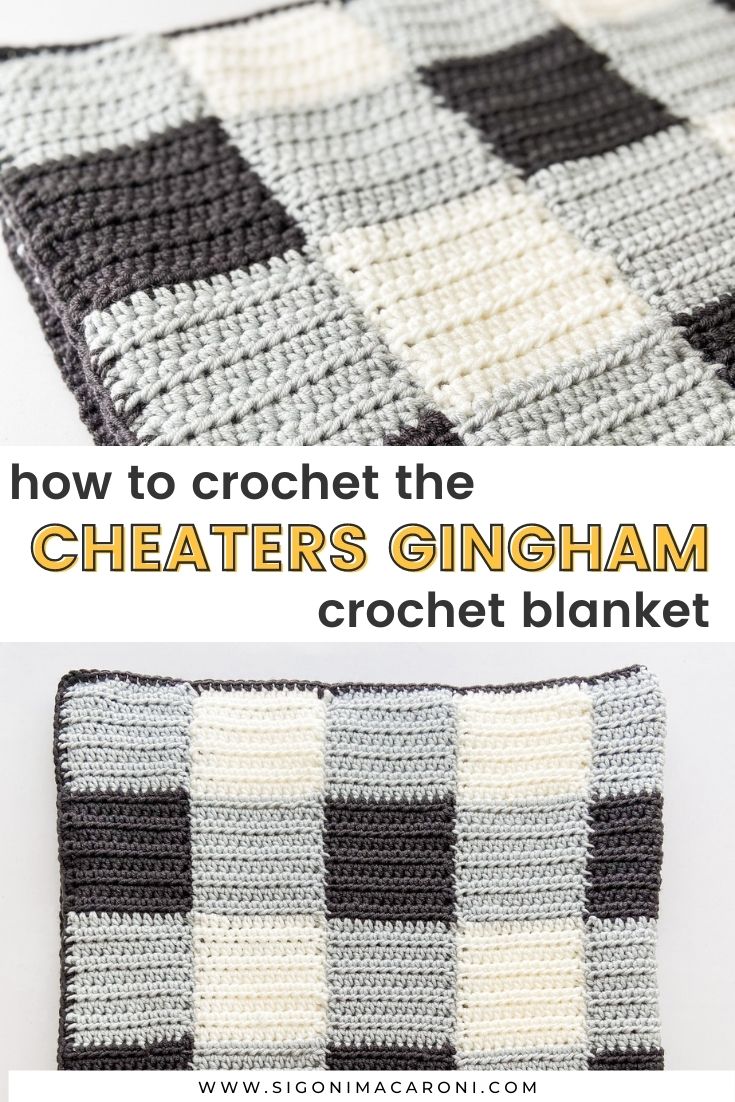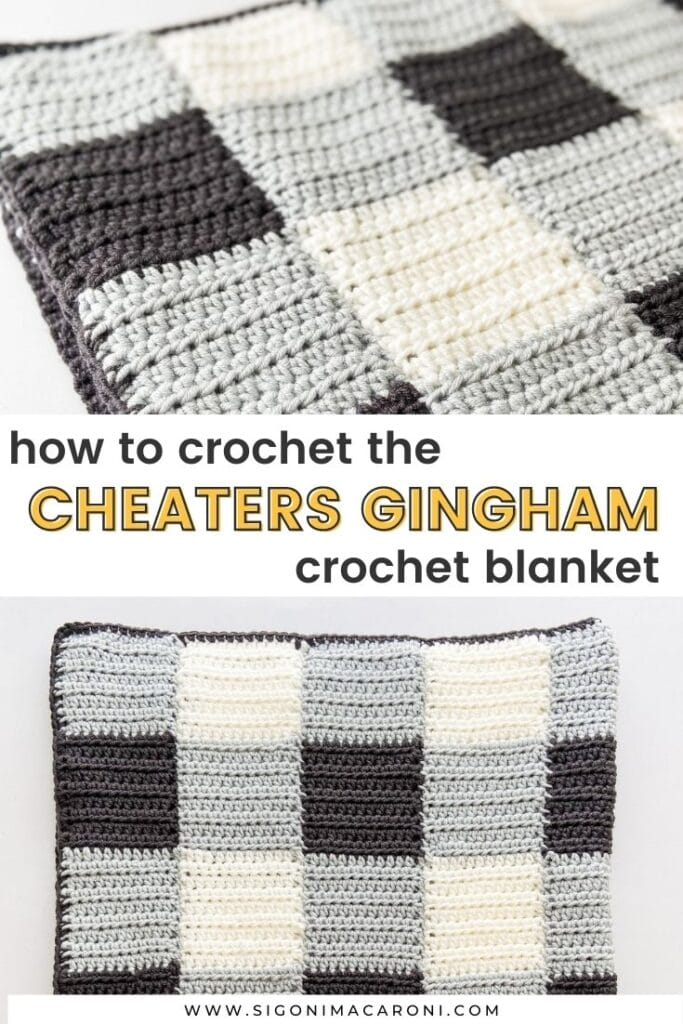 ---
The Story Behind The Cheaters Gingham Blanket
As much as I love the look of crochet gingham blankets, the stitch always intrigued me. Last year I made a beautiful crochet gingham blanket for my nephew and because I was using a new yarn and it was my first time trying the stitch, it ended up completely lopsided. Yeah. I could have cried.
My problem was of course my tension. I explained this a little in one of my more recent video tutorials. I realized that in the beginning I was getting the hand of the stitch so it was loose and holey. Then towards the middle/end of the blanket I started feeling more comfortable resulting in tighter, neater stitches.
That's what happened when you're too excited to start a project that you don't first make a test swatch. 🤦🏻‍♀️
But even after this crochet gingham blanket was a huge pain in the butt for me, I still love them! I, myself, love the look of the traditional, black-white-gray checkered gingham blanket. But there's a variety of colors that you can use to make these blankets look beautiful.
---
How does the Gingham Blanket Crochet Along work?
If you've never participated in a CAL before, let me do a quick overview.
CAL is short for crochet along. This means we will all crochet this blanket together! If you have any crochet friends, have them join so you can crochet together. The more the merrier!
Each week, starting on 10/10/20, I will send out a section of the pattern for you to work on for that week.
**Remember that this crochet along is no longer a live event, but you're more than welcome to treat it like a traditional CAL!**
If you would like to purchase the entire pattern up front, you can grab the printable PDF below and you'll have everything you need including the full pattern, materials, color alternatives, resizing information and other goodies.
Grab the full PDF on Etsy here
Grab the full PDF on Ravelry here
---
Gingham Blanket Crochet Along Details
Okay let's talk details now. Here's everything you need to know about the crochet gingham blanket CAL in a nutshell. Then sign up to receive the list of materials you'll need to get started!
Some of the links below are affiliate links. Please see my disclaimer for details.
| | |
| --- | --- |
| Project Type: | 45″ x 55″ Blanket |
| Skill Level: | Easy |
| Start Date: | October 10th |
| Project Length: | 4 weeks |
| Materials: | Sign up for details |
This crochet along will run from October 10th until October 31st for a total of 4 weeks.
I will release each section of the pattern each week on my blog for free every Saturday 10am (CST) – alternatively you can purchase the full PDF pattern ahead of time on Etsy or Ravelry
The yarn I recommend for this pattern is Lion Brand's Color Made Easy (chunky weight – #5)
My gauge for this pattern is: 12hdc x 9 rows = 5″ square
I will announce on Facebook and through my email list when I release each section of the pattern
Once the crochet along is over, everything will remain on my blog for free.
Each week will be accompanied by a video tutorial, along with the written pattern.
Share your progress in my Facebook group, the Crochet'dy Bunch with Sigoni Macaroni – I will upload a new thread every week so we can all share and see our progress in one place. Or you can tag me on Instagram @sigonimacaroni, I love seeing all your work – it's the best part of this crochet along!
If you have questions, you may post in the Crochet'dy Bunch Facebook group or email me [email protected]
Yarn substitution and resizing will be explained more below.
---
Frequently Asked Questions
How is the blanket made?
First things first, we are making a gingham style blanket. It is made by crocheting one panel at a time and then sewing them together in the end.
The pattern of this blanket is important too when it comes to choosing color. I chose traditional gingham colors for my blanket (shade, birch, coal) but within the pattern I will refer to them as:
Shade (Color A)
Coal (Color B)
Birch (Color C)
That way if you chose different colors, you won't get confused on which colors you should be using. Within the download I sent out when you signed up, I included alternative color options. Those colors weren't labeled with colors A-C so I updated them to show the correct letter.
You can find the full pattern, color alternatives, schematics, and resizing information within the PDF download.
Grab your copy of the PDF here
---
Can I use medium weight yarn to make this blanket?
Yes, you can absolutely make this blanket using medium weight yarn. The only thing is that because I used a bulky (#5) yarn, if you follow the instructions exactly, your blanket will turn out smaller and it will take longer.
However, it's easy to resize!
If you want each of your squares to be 5 inches, like the ones in the original design, create a swatch with the yarn and hook you're planning to use and figure out how many stitches and rows you will need in order to make it a 5 inch square.
I went ahead and did this myself using Red Heart Super Saver. Using a 6mm crochet hook and starting with a chain of 17, my gauge was: 15 st x 12 rows = 5″ square
See if my gauge matches up with yours and use this pattern to make each of your panels, changing your yarn color every 12 rows.
---
Can I turn this into a baby blanket instead?
Yes you can but you'll have to be conscious of the gingham pattern we're making. My recommendation is to turn it into a 35″ x 35″ square. This way it's a lot smaller, but you aren't compromising the look of the pattern (like a white & gray panel on the left side but a black and gray panel all the way on the right – if that makes sense).
Use the blank baby blanket schematic within the download to plan out the look of your blanket before you start. If you'd like to make it smaller than 35″ x 35″, note that each square represents 5 inches.
---
Can I use a different brand of yarn?
Yes of course!
I tested this out with a few of my bulky weight yarns and I think Bernat Velvet and Red Heart Hygge would work beautifully, but you can choose any brand you'd like.
I'm not familiar with every brand out there or the yarn standards for each country, but all that really matters is that you choose a yarn soft enough for a blanket and if you want the blanket to be the same size, check your gauge.
*A note on gauge: Because we're working on a blanket gauge isn't too important so don't get caught up in trying to match it perfectly. We all crochet differently.
---
Do I have to make it gingham style?
Yes, this CAL is called the Cheaters Gingham Blanket CAL, but that doesn't mean you HAVE to make a gingham style blanket. Crocheting is about being creative! Choose any colors you'd like and if you choose to go this route, I can't wait to see where your creativity takes you!
You could even turn it into a scrap blanket project 😉
Like I said previously, I created a blanket template within the download for you to go crazy and add any colors you'd like. This way you'll have it all laid out in front of you when you're ready to get started on your blanket.
I hope I was able to answer these questions to your liking and that you're now even more excited to start.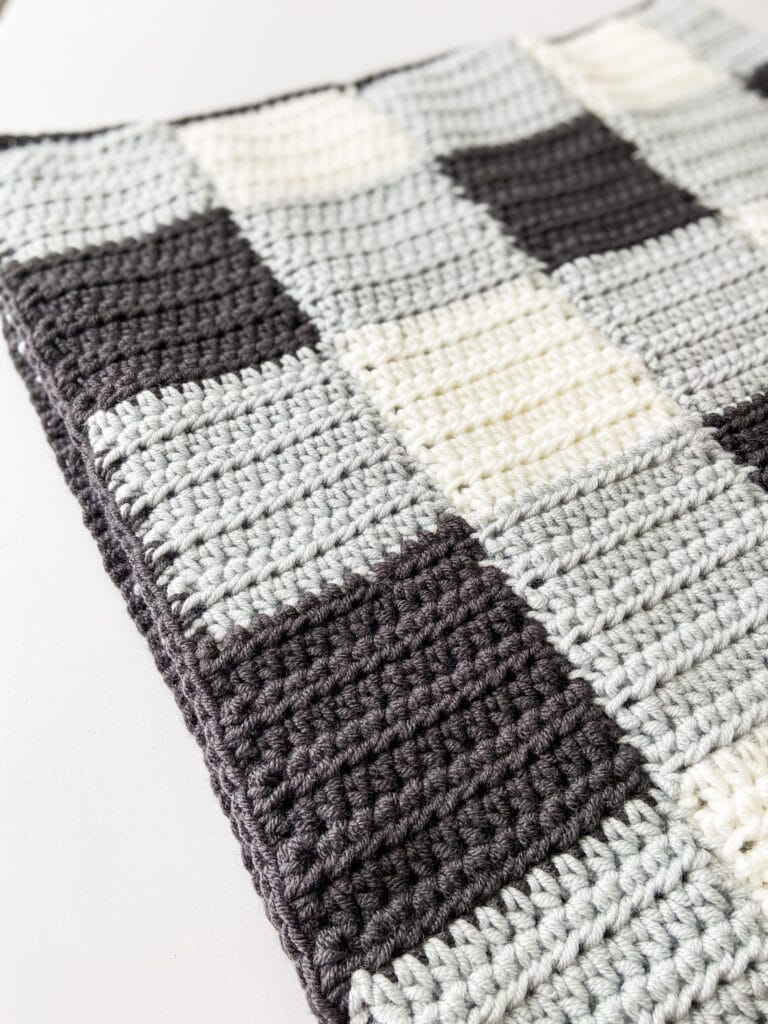 ---
Pattern Sections/Assignment For Each Week
Find each section of the crochet gingham blanket pattern below. There are four sections total to complete the blanket.
These links will be updated with a new post each week (Saturday @ 10am CST) for the next section of the pattern. If you don't want to wait – purchase the entire pattern here on Ravelry!
Be sure to spread the news and tell all your crochet friends to join us in this Gingham Blanket Crochet Along! The more the merrier!