Cheaters Gingham Blanket Crochet Along – Week 4
This post hardly needs an introduction. We are finally finishing our Gingham Blankets today! This crochet along has been so much fun and I have loved seeing all of your progress photos. After you finish going through today's tutorial, I would love love love for you to share your finished projects with me! But before you do that, let's learn how to crochet a single crochet border around the Cheaters Gingham Blanket Crochet Along pattern.
THIS PATTERN RELEASE IS FOR THE FOURTH SECTION OF THE CHEATERS GINGHAM BLANKET CROCHET ALONG. IF YOU HAVEN'T HEARD ABOUT THE CAL AND YOU WANT TO START FRESH, FIND EVERYTHING YOU NEED TO KNOW HERE.
---
Cheaters Gingham Blanket CAL – Week 4 Assignment
Today's final assignment is all about creating a single crochet border around the Cheaters Gingham Blanket. Because there's already so much going on with our blanket, a simple single crochet border is the perfect finishing touch.
I chose to use black for my border, but if you don't want to use black, you can choose any color.
---
Important note:
The first time I created this blanket, I had enough yarn to create the border and then more. But for some reason when I made a second blanket, I ran out of yarn just short of finishing which is really disappointing 😔
I hope that you don't run into this problem, but if you do you can use any black yarn in your stash (if that's the color you're using for your border). If you don't have any bulky black yarn, you can double up on a medium weight yarn and that should work just to get your border on there.
---
Want to snag the entire pattern ahead of time? Use the code "GINGHAM" on Etsy or Ravelry to get 25% off until 11/7.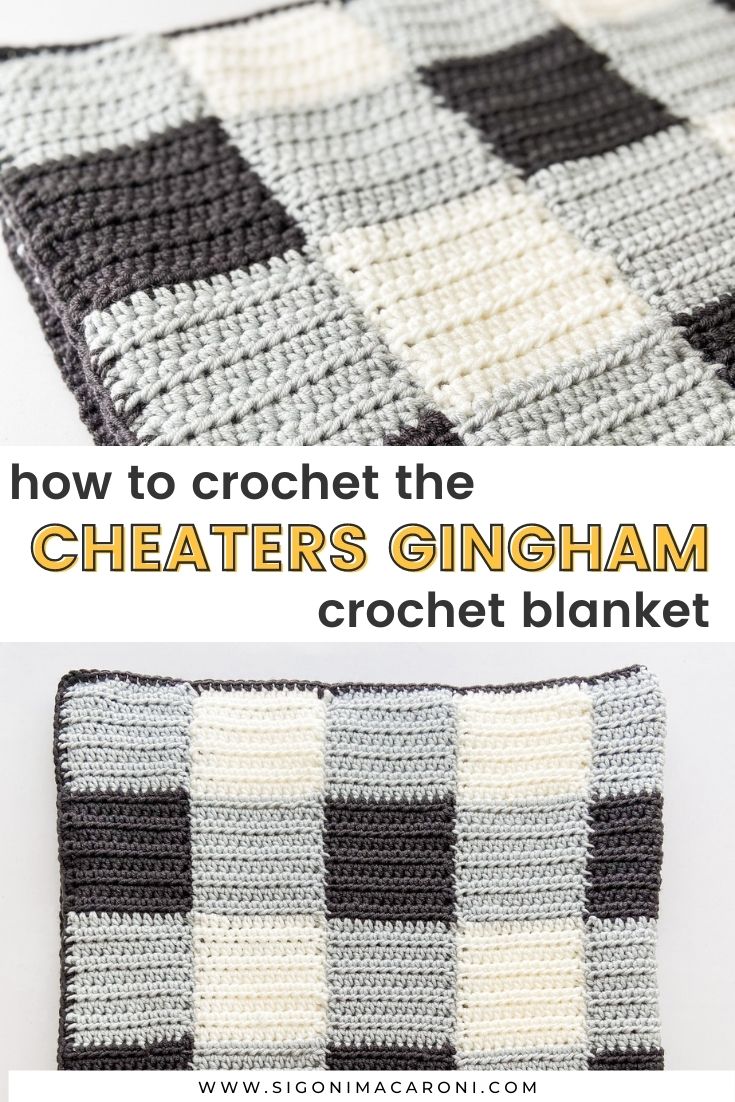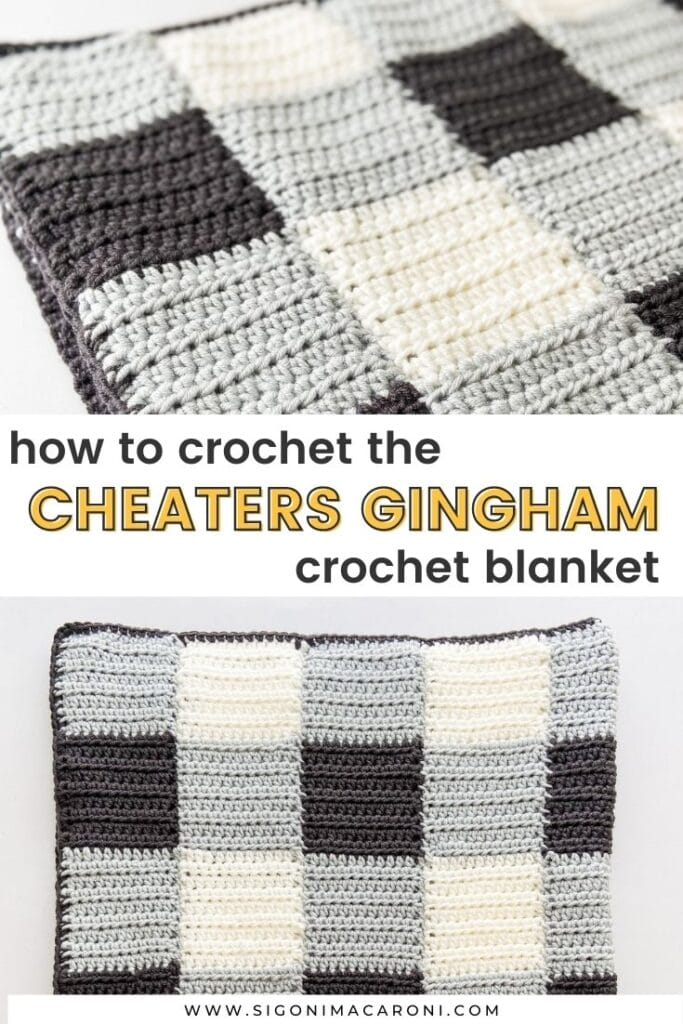 ---
Cheaters Gingham Blanket CAL – Week 4 Pattern
Some of the links below are affiliate links. Please see my disclaimer for details.
Get the ad-free, full printable PDF pattern (on Etsy) HERE.
Add to your Ravelry Queue HERE.
PIN this pattern to your Pinterest boards for later HERE.
SIGN UP FOR MY NEWSLETTER TO RECEIVE DISCOUNTS ON THE PDF DOWNLOAD FOR EACH NEW PATTERN.. & A WHOLE LOT MORE 😉
---
Materials Needed:
Lion Brand's Color Made Easy in Coal (or whichever yarn you chose for the border)
---
Helpful Tutorials
---
Cheaters Gingham Blanket CAL – Week 4 Border Instructions
After all of your panels are joined together, lay your blanket out on a table or a bed in front of you to make sure the right side is facing up.
Attach Color B in the top right corner. Ch 1, sc into the same stitch and each stitch across the top row.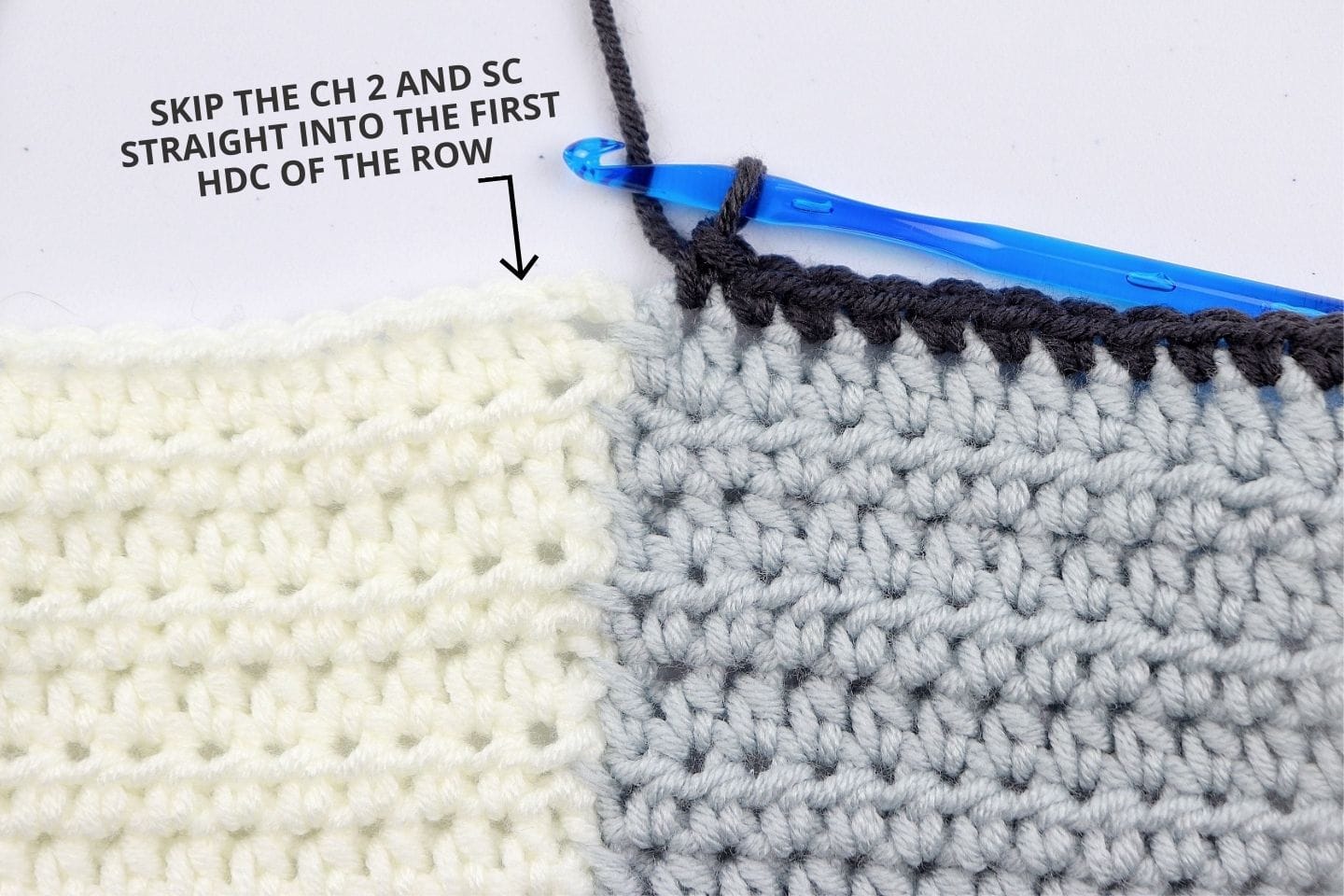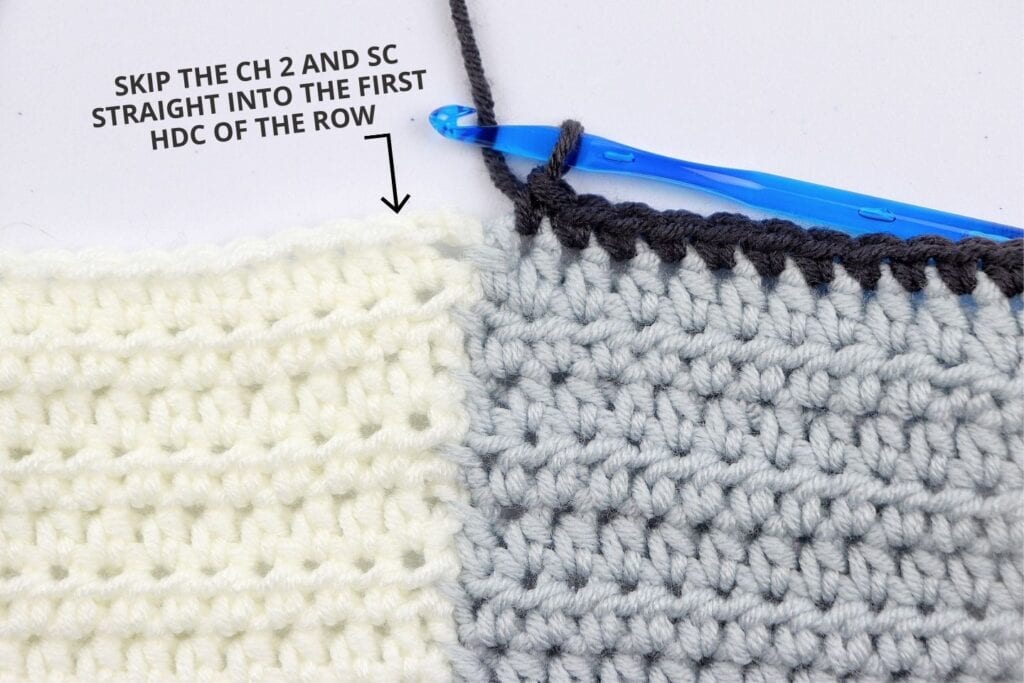 When you reach the corner, place 2sc in last st, turn to work along the side of the blanket and place 2sc around the first st at the end of that top row.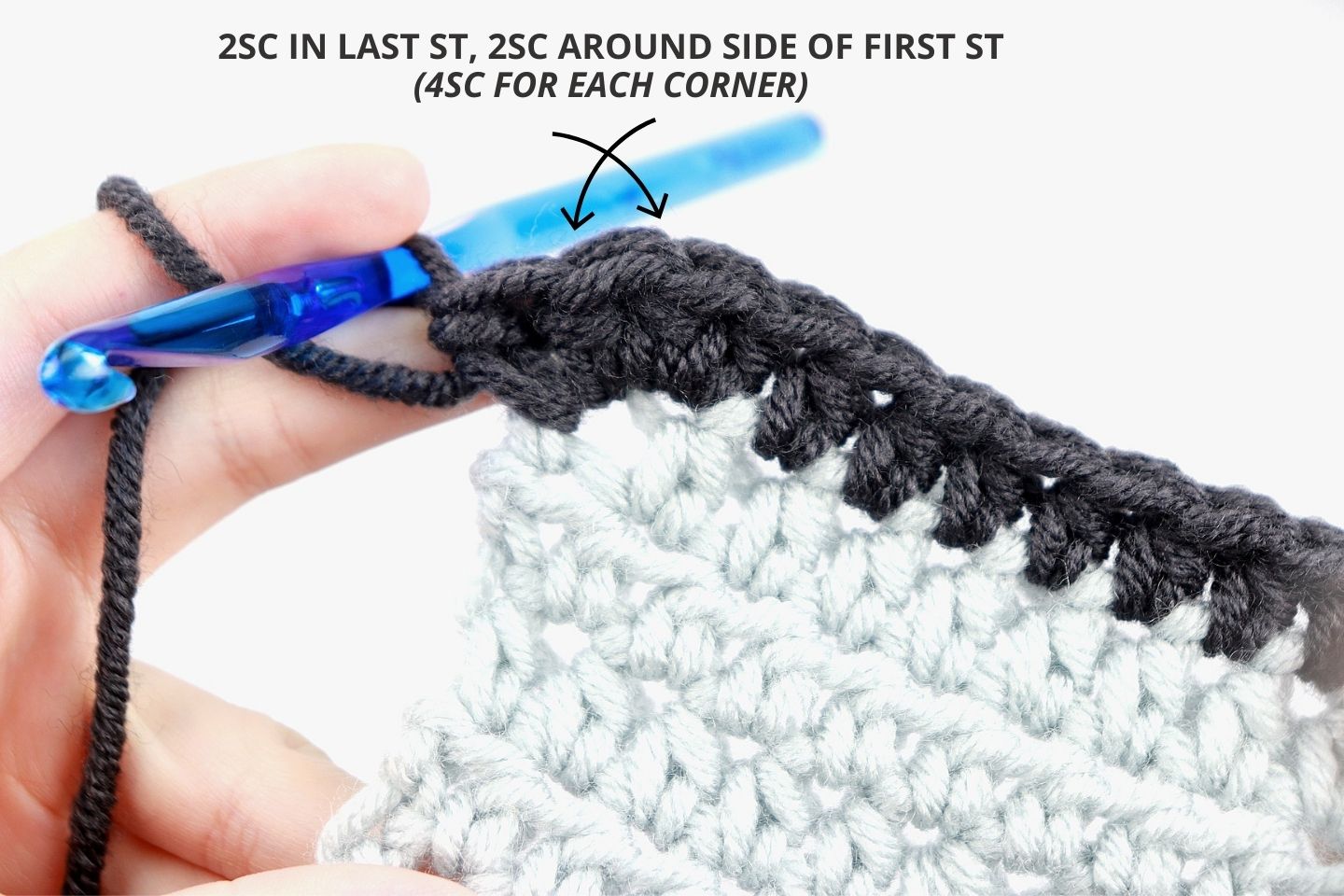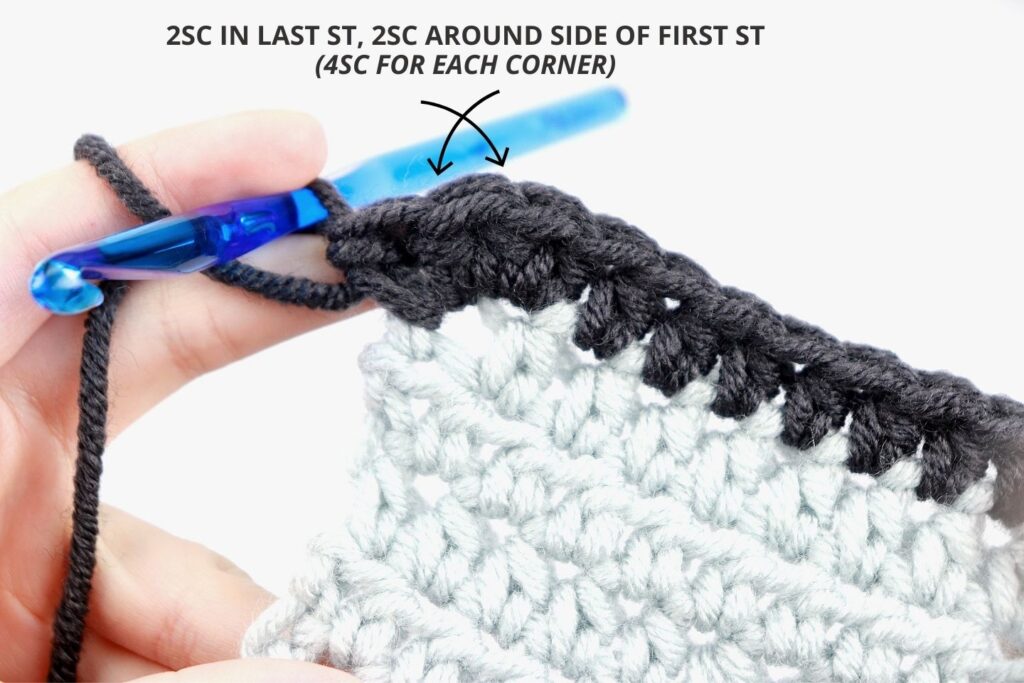 Sc evenly across the edge of the blanket – there should be 13 sc along the side of each square
Continue single crocheting around entire blanket using this pattern, placing 4 sc in each corner. Sl st to first sc to join.
---
Cheaters Gingham Blanket CAL – Week 4 Wrap Up
Thanks so much for joining me for Week 4 and for the entire Gingham Blanket Crochet Along! I am still blown away by the amount of crocheters that have joined us and I cannot wait to see all of your finished blanket photos!
–> Share your photos as projects on Ravelry.
–> Share your photos on Instagram @sigonimacaroni and using the hashtag #ginghamcrochetalong and/or #sigonimacaroni so I dont miss them! Ill be sharing as many as I can in my stories.
–> Ask questions in the Facebook group if you need to and add your photos to our weekly thread!
And lastly, share this pattern with your friends so they can feel just as accomplished in making a gorgeous, chunky crochet gingham blanket.