How to Crochet a Blanket for Beginners: How Much Yarn Do You Need?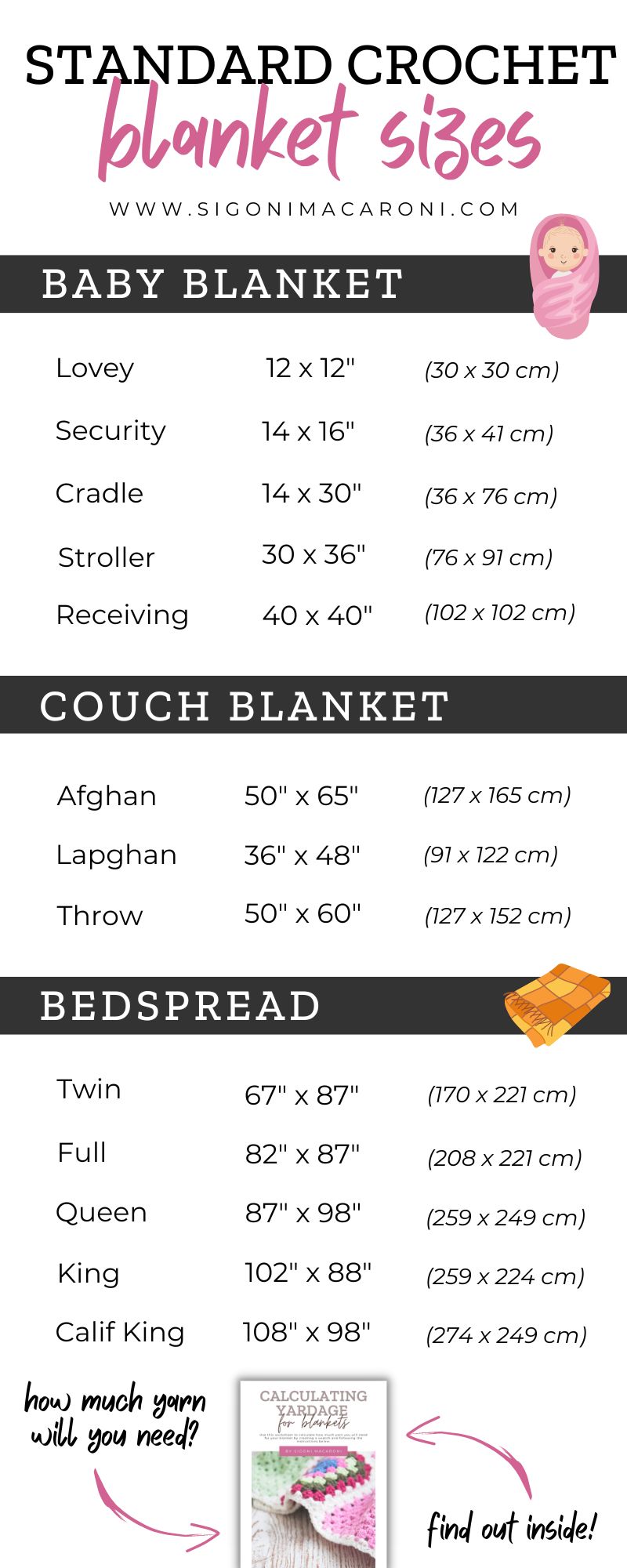 You want to know how to crochet a blanket… but you also want full control of the process. Maybe you don't want to use the same yarn another designer used, so you need to know how much yarn you'll need of your own. Or maybe you want to design your own blanket from scratch. Today I'm going to share how to crochet a blanket from scratch. This includes: standard crochet blanket sizes, yarn choices, resizing stitch multiples, how to determine the yardage you need, and lots more!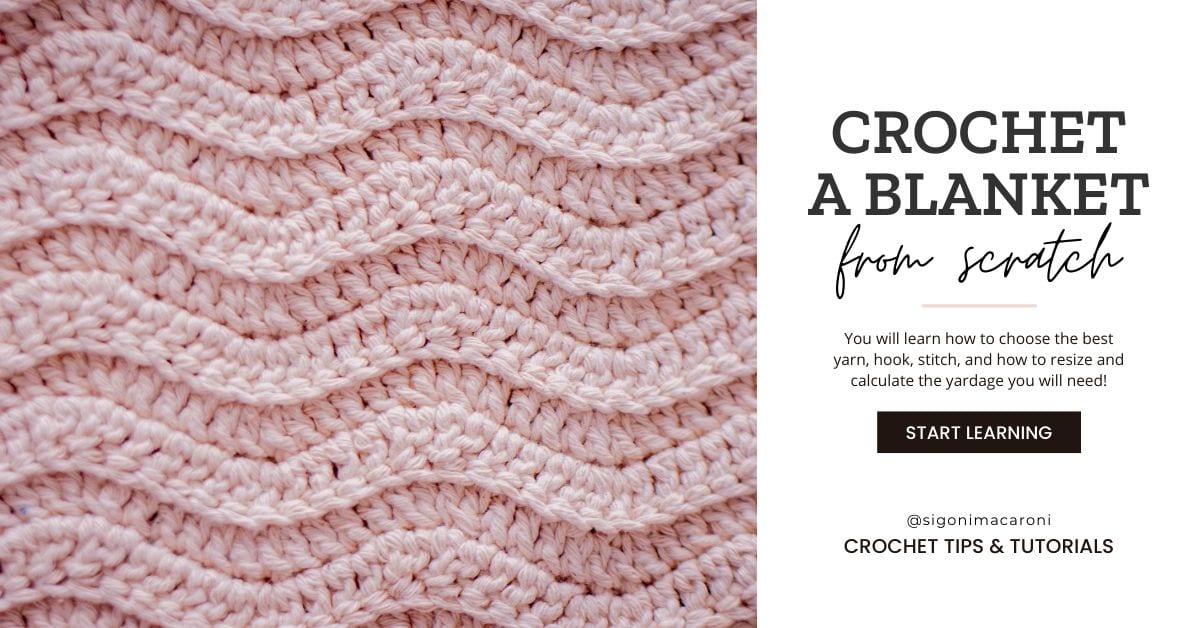 Because this post is a lengthy one (jam packed with great information!) I've created a table of contents for you to scroll through below.
How much yarn do you need to crochet a blanket?
This is one of the most commonly asked questions in all of the crochet community. As much as I wish I could tell you an exact answer, it's not that simple.
However, there is a way to find out how much yarn you will need and I will explain everything in this post.
But first, the amount of yarn you need to crochet a blanket depends on a number of factors.
desired blanket size
weight of yarn
crochet

hook size

and the stitch you choose
Another thing to consider is if you are a tight or loose crocheter because that will affect the amount of yardage as well. Learn more about that here.
Standard Crochet Blanket Sizes
The first thing we'll talk about is standard crochet blanket sizes.
When it comes to the size of your blanket, you can really make a blanket any size you'd like. There are no rules.
All you have to do is create a starting chain that measures your desired width and then start stitching. Once you reach your desired length, tie off your work and end it there.
While that's all there is to it, I know it's easier to have some standard crochet blanket sizes to choose from.
I'm going to share some common blanket sizes below, but I'm also going to share a little bit about what exactly they mean.
Even after having two kids I had no idea why each of these is called what they're called. So I wanted to provide some insight in case you felt the same way.
Then after I hit you with some knowledge, you will be able to choose the best size blanket for your situation. You learn something new every day, right?
Here are some of the most common sizes based on who you're making your crochet blanket for. Each of these measurements below are listed in inches.
Crochet Baby Blanket Sizes
Lovey Blanket: 12″ x 12" – a lovey is a cuddly blanket the baby can hold onto while sleeping or play with when awake
Security Blanket: 14″ x 16″ – some call these "baby's first blanket" and this size typically becomes a keepsake for the family
Cradle Blanket: 14″ x 30″ – after the baby is a year old, it's okay for them to sleep with a blanket. This is the perfect size when it comes to that time.
Stroller Blanket: 30″ x 36″ – this type of blanket is big enough to cover a baby or toddler, but small enough to fit inside a stroller without getting stuck in the wheels. These blankets are great for early morning or evening strolls in chilly weather.
Receiving Blanket: 40″ x 40″ – receiving blankets are bigger blankets that are often used when the baby is first born. Typically they're used for things that wouldn't necessarily suit crochet blankets (like swaddling or as a diaper changing pad). But these blankets can also be used as nursing covers and as baby gets older. Receiving blankets are usually very lightweight and made of cloth. If you're going for this same style, I would use a thinner yarn like a weight #2.
Crochet Couch Blanket Sizes
There are different types of crochet couch blankets and I'm going to answer your next question before you even ask it.
What's the difference between a lap blanket, a throw blanket, and an afghan?
An

afghan

is, by definition, a knitted or crocheted blanket. And the name originated in Afghanistan, which you might have guessed. Afghans don't have an exact size because they're made to fit whatever the maker is making it for. However, the most common blanket size for afghans is 50″ x 65″.
A

lap blanket

(also know as a lapghan) is a smaller version of an afghan and used to cover your lap rather than a full sized bed. Crochet lapghans are commonly around 36″ x 48″.
Throw blankets are more for decoration purposes but of course they can also be used like lapghans. The standard throw blanket size is 50″ x 60″, but you will see a variety of different sizes for this one.
Remember that these measurements I'm giving are in inches.
When making any of these kinds of blankets, remember that it doesn't have to be these exact dimensions. It's okay for them to be different sizes especially if you're trying to create the right size for a specific person.
For example, if you're crocheting a blanket for a super tall family member, make sure you make it long enough so their toes don't stick out at the end!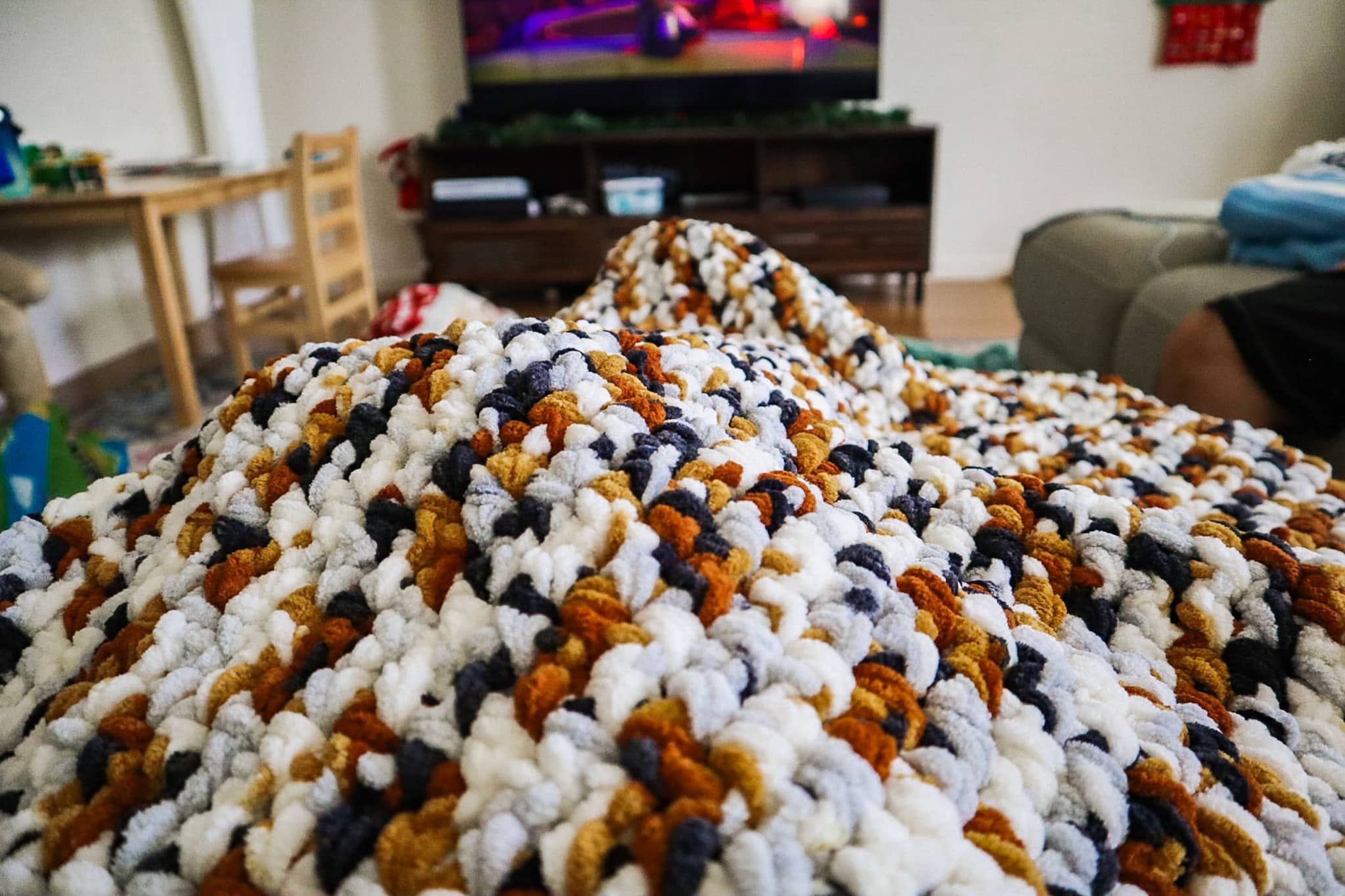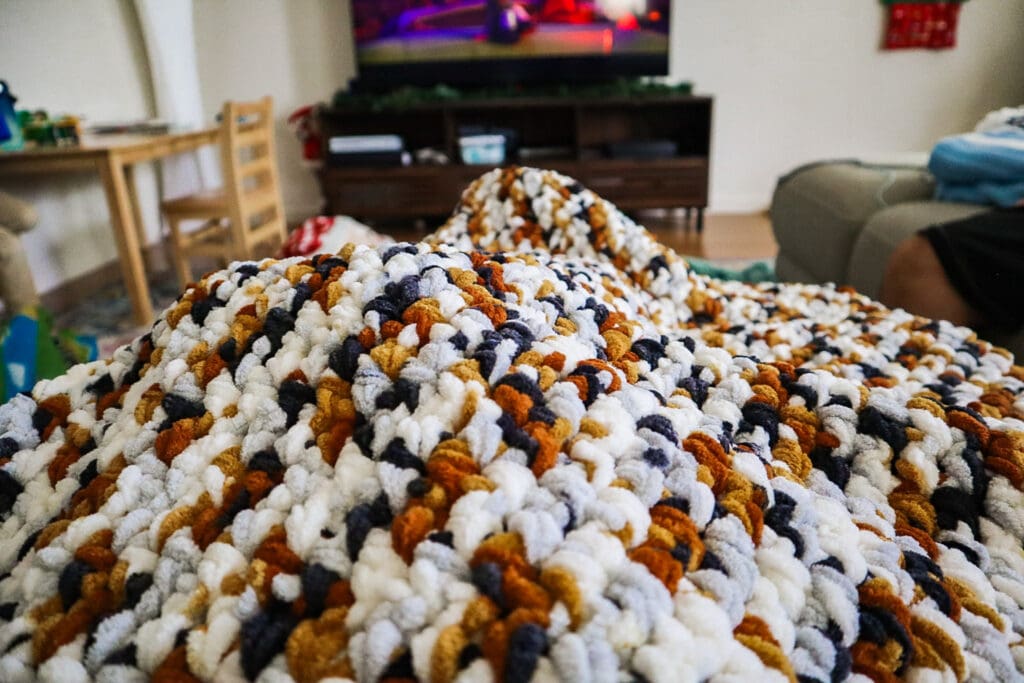 Crochet Bedspread Blanket Sizes
When it comes to crocheting a blanket for a bedspread, you'll want to think about two things.
The size of the bed
The amount of drape you would like over the edge of the bed
I like the explanation that Amerisleep.com uses when comparing standard bed sizes with comforter sizes. Thinking about it this way is a great starting point if you'd like to create more of a comforter for your bed.
The measurements below will give you a blanket that covers the bed completely and gives you extra drape on both sides of the bed as well as at the bottom.
Here are some examples from the chart on their website.
Twin Size Mattress: typically 38″ x 75″ – to crochet a blanket that will completely cover your bed, make your blanket approximately 67 inches wide to 87 inches long
Full Size Mattress: typically 54″ x 75″ – crocheted blanket should be approximately 82″ x 87″
Queen Size Mattress: typically 60″ x 80″ – crocheted blanket should be approximately 87″ x 98″
King Size Mattress: typically 76″ x 80″ – crocheted blanket should be approximately 102″ x 88″
California King Mattress: typically 72″ x 84″ – crocheted blanket should be approximately 108″ x 98″
Please remember: These do 

not

 have to be exact measurements, but could somewhere along these lines.
If you're curious why the blanket sizes are so much larger than the mattress size, it's because you have to account for the drape. These size blankets will cover the bed completely and give you extra inches on both sides of the bed as well as at the bottom.
After you decide what size blanket you will be making, you then need to think about your yarn choices.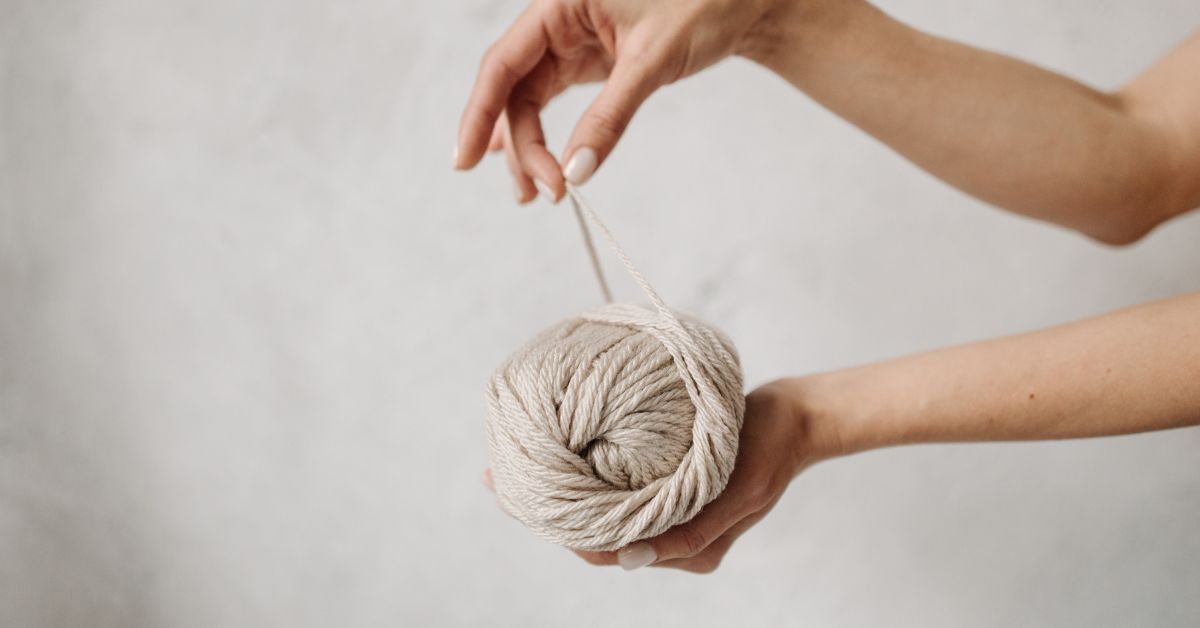 What weight of yarn will you use?
As you may know, there are 7 different weight categories according to the Craft Yarn Council. Crochet blankets can be made using any of these yarn weights.
I personally believe the best yarn to use for blankets are weight 2 to weight 6. If you don't know much about the different yarn types and weights, read this post that talks all about yarn.
A weight 2 (fine yarn) would require the most yardage and would take a longer amount of time. This type of yarn would make a beautiful lightweight blanket, especially for babies.
A weight 5 (bulky yarn) would require less yardage and would work up quicker but would also make a heavier blanket.
It all depends on the look and feel you're going for, as well as the recipient of the blanket.
Every time I go to make a blanket, I look at this chart (shown below) that was created by Lion Brand. They also have a cup that they sell on their website that offers the same chart.
You can use this chart as an estimate for how much yarn you will need to crochet a blanket or any of these other projects.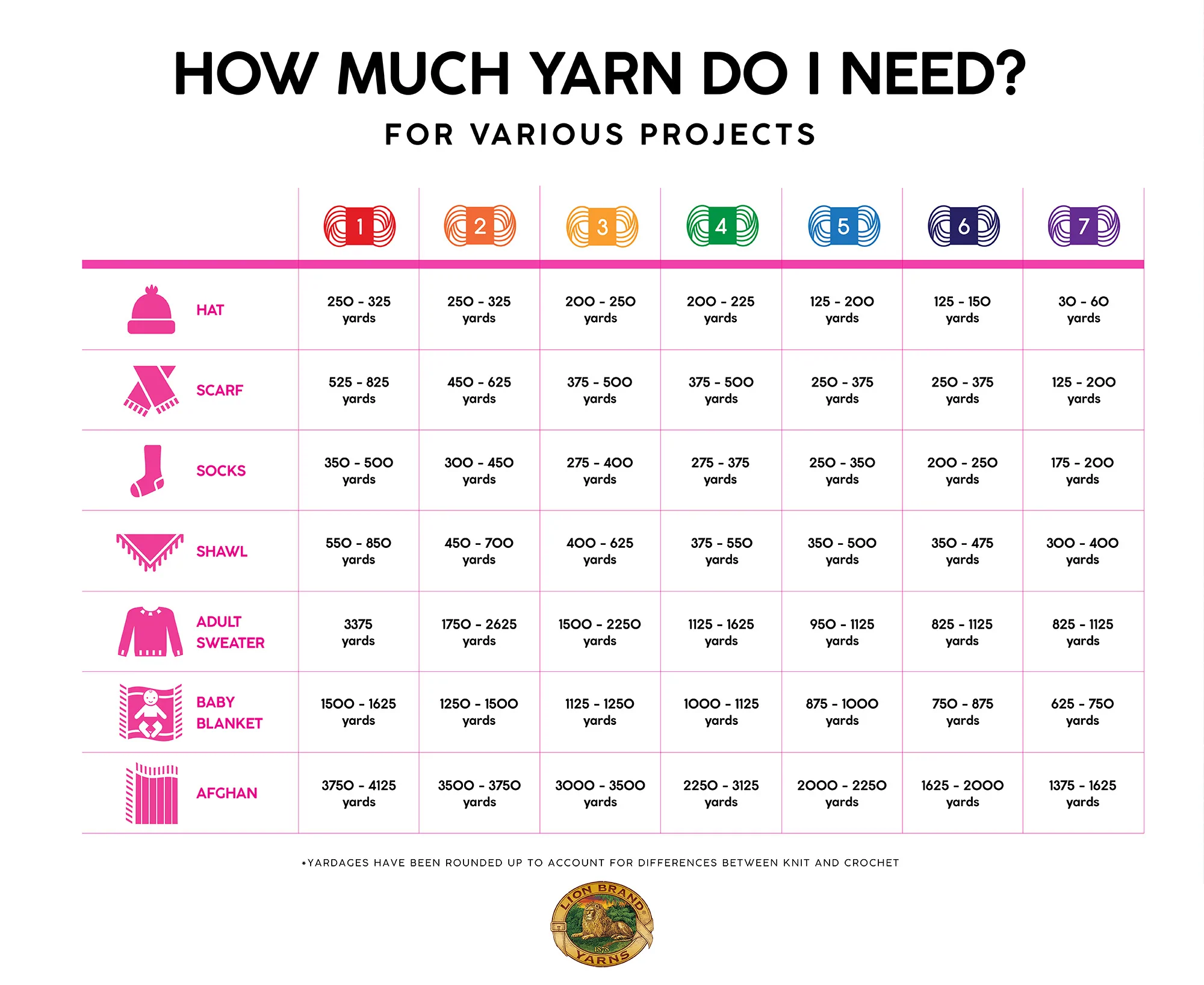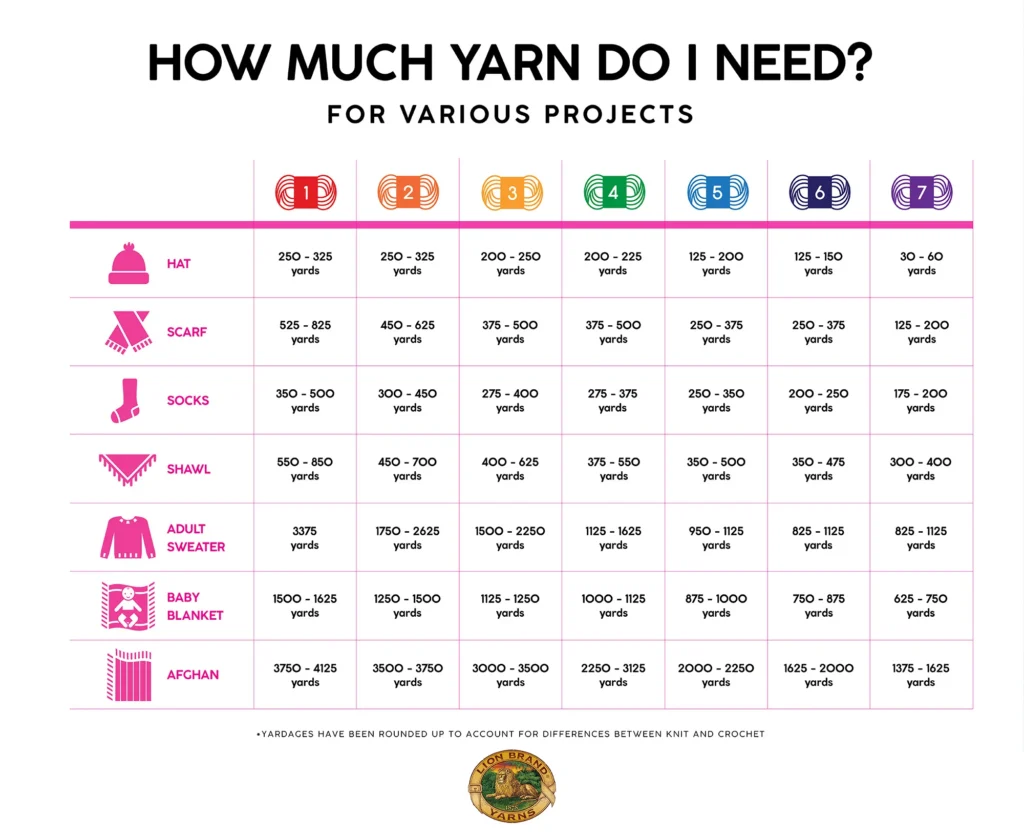 Bookmark this page or download this PDF on their website so you can look it up anytime you need to reference it.
What size crochet hook will you use?
Of course, the hook size will have everything to do with the yarn weight you choose. When you look on the label of any skein of yarn, you will find a recommended hook size.
Here is a general rule that I've always used for my blankets.
The reason why I always go higher, is because it makes the fabric a lot more breathable. If you use a hook size that is too small, the fabric will become stiff. No one wants a stiff, scratchy blanket!
Before you begin making your blanket, you'll want to do some experimenting. If you'd like, you can start with my rule of using a hook size two sizes larger.
Create a small swatch (about 5 inches) and see how you feel about the fabric you just created. Ask yourself these questions:
Does it feel too stiff and tight? Try the next size up and see how it feels then. If you still don't like the feel, keep going up until you like the look and feel of your swatch.
Are your stitches too loose and less defined? Go down a hook size and try again. Continue to go down in hook sizes until you like the look and feel of your swatch.
Pro tip: Going up or down a hook size goes by half a millimeter. For example, if you're using a 4mm hook and your swatch is too stiff, you will go up to a 4.5mm. If your swatch is too loose, go down to a 3.5mm.
You'll also want to consider is if you are a tight or loose crocheter. I talk all about how to find this out and different ways to hold your yarn in this tutorial. Head over there if you're unsure if you fall into that category.
One more thing to note is the type of hook you are using. My absolute favorite hooks to use are Clover Amour. Ever since I started using them 5 years ago, they've helped me to crochet faster and the yarn glides through the hook easily. I highly recommend them if they're in your budget.
Once you have your yarn and your hook, you'll need to decide on a stitch.
What crochet stitch will you use?
If you're going to be following a specific pattern, you probably already know the stitch you will be using. In that case, you can move on to the section titled "calculating the yardage you will need".
If you're not following a pattern, you can find many different crochet stitches on Youtube, Pinterest, and in books. Books are my favorite place to look because they're easy to find and save. Here are some of my favorite crochet stitch dictionaries.
Now before you get into those books, there's something you might want to know. You'll notice that all of the stitches in these types of books mention a stitch multiple.
What are stitch multiples and why are they important?
Stitch multiples are the number of chains you need in order to complete the stitch pattern. This is important to follow because if you don't use the correct amount of chains, the stitch pattern won't work. You will either end up with too many chains or too little at the end of the row.
So how do we make sure we're chaining the correct amount?
I'm going to take the Granny Stripe Stitch as an example.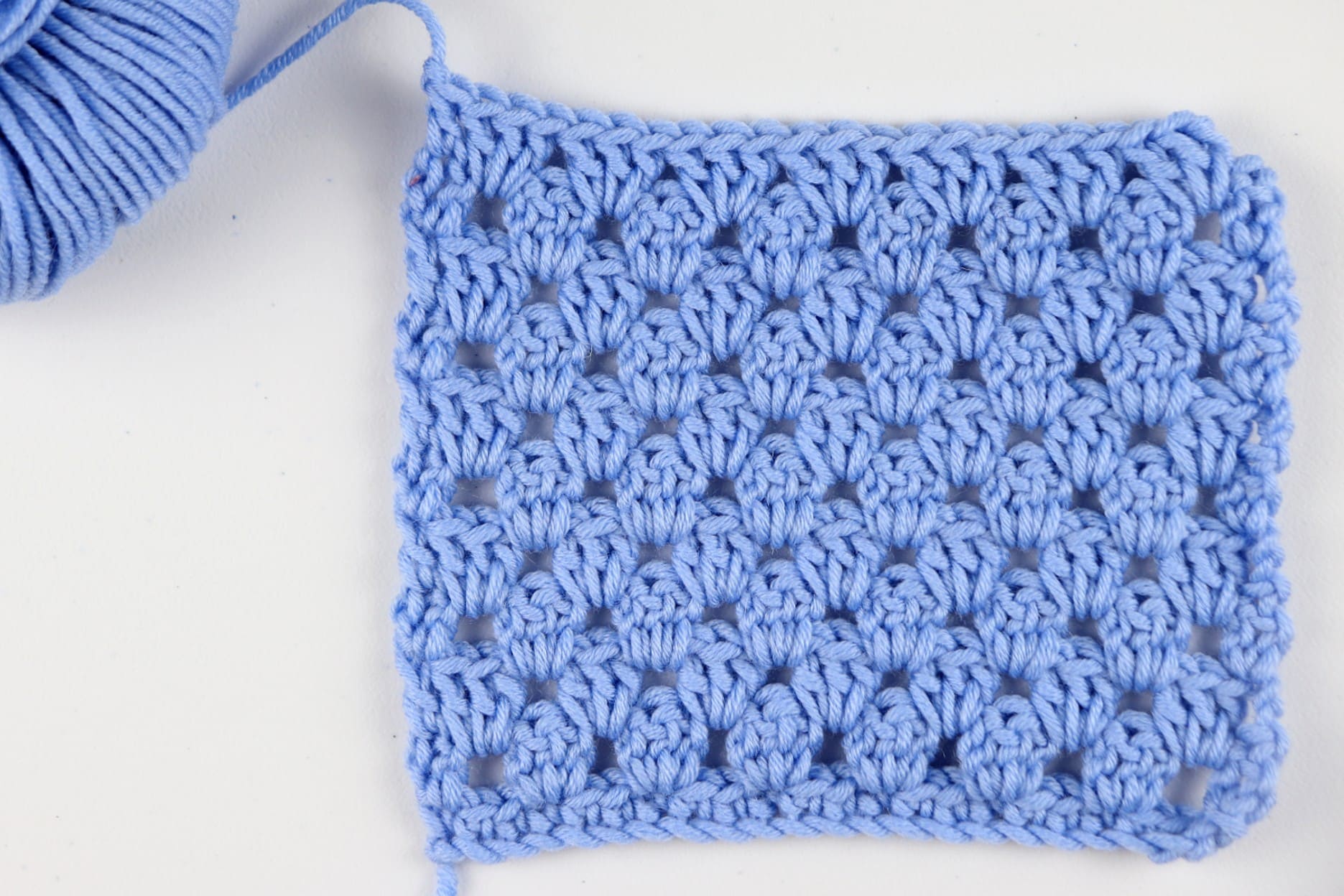 The Granny Stripe Stitch as a stitch multiple of 3 + 2. For this stitch, your foundation chain should equal a multiple of 3. This means you will chain in multiples of 3 until you reach your desired width. Once you reach your desired width you will add two more chains to the end.
That is the most basic explanation and if you want more examples and photos you can find 4 more examples in this post.
If this is your first time crocheting a blanket or designing your own, I recommend starting with one of the basic stitches. Using a basic stitch like single crochet or double crochet, you can chain as many as you want until you're happy with the width. With the basic stitches, there isn't a specific multiple because you're just using the same stitch.
Now that we're done learning about stitch multiples let's talk about how they play a role in your crochet blanket size.
Save yourself a headache, grab this ebook!
Get access to 5 math formulas that will calculate how much yarn you will need and how to resize ANY stitch multiple with this 29-page ebook!
Calculating the yardage you will need
To figure out how many skeins of yarn you will need for your crochet blanket, you will want to have your yarn, hook size, and desired stitch ready to go. That's everything we've already talked about today.
You will also need a tape measure and a kitchen scale to complete this formula.
Once you're ready, follow the steps below.
Create a gauge swatch that is at least 5 inches by 5 inches. Follow this tutorial for a more step by step process on creating a gauge swatch.
Measure your gauge as explained in the post above (there is also a video tutorial) and write down the number of stitches you have in 4 inches.
Weigh your swatch on a kitchen scale and write down the number of grams.
Find the square inches of your swatch by multiplying the swatch width and height.
Find the grams of yarn per square inch by dividing the swatch weight by the swatch square inches
Multiply the desired length and width for your blanket to find the area.
Multiply the area of your blanket (step 6) by the grams of yarn per square inch (step 5). This will give you the total grams of yarn needed for the blanket.
Take a look at the label of the yarn you're using and write down how many grams are in one skein – if it's not listed, you can weigh the whole skein on the scale.
Divide the total grams of yarn for the blanket (step 7) by the grams of yarn per ball/skein (step 8)
This will tell you how many balls of yarn you need to buy in order to make the blanket! If you don't end up with a whole number, always round up.
I know these steps sound like a lot, but if you follow this formula it will work 100%. If you need a better visual, I've put together a 29 page ebook on crocheting blankets, including math worksheets for calculating yardage and resizing stitch multiples!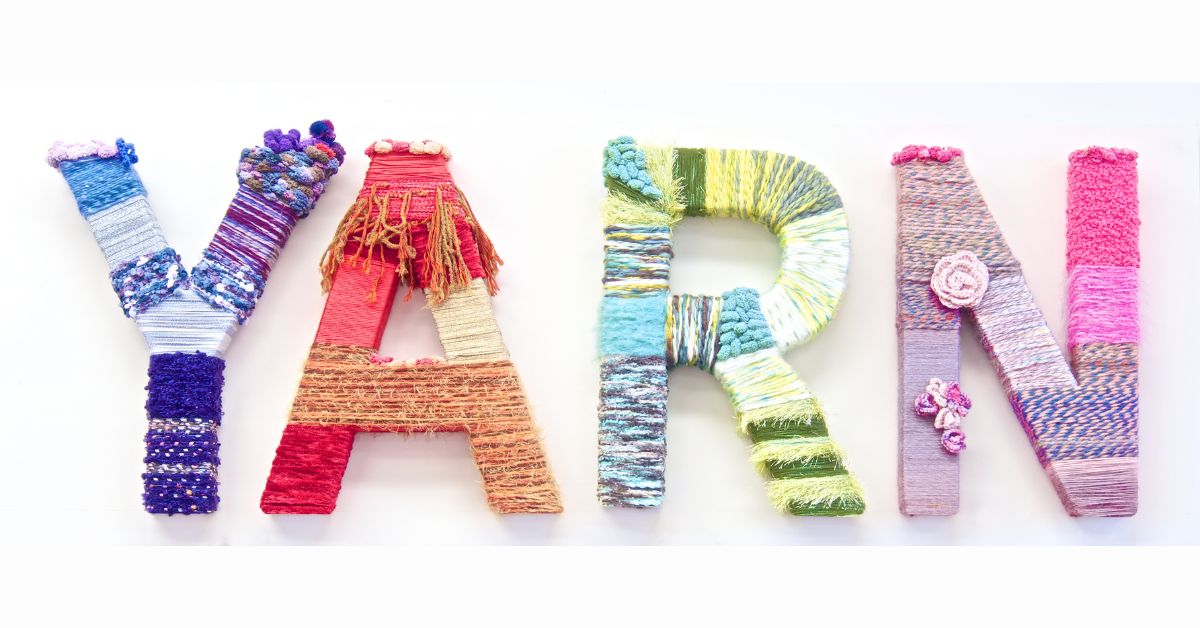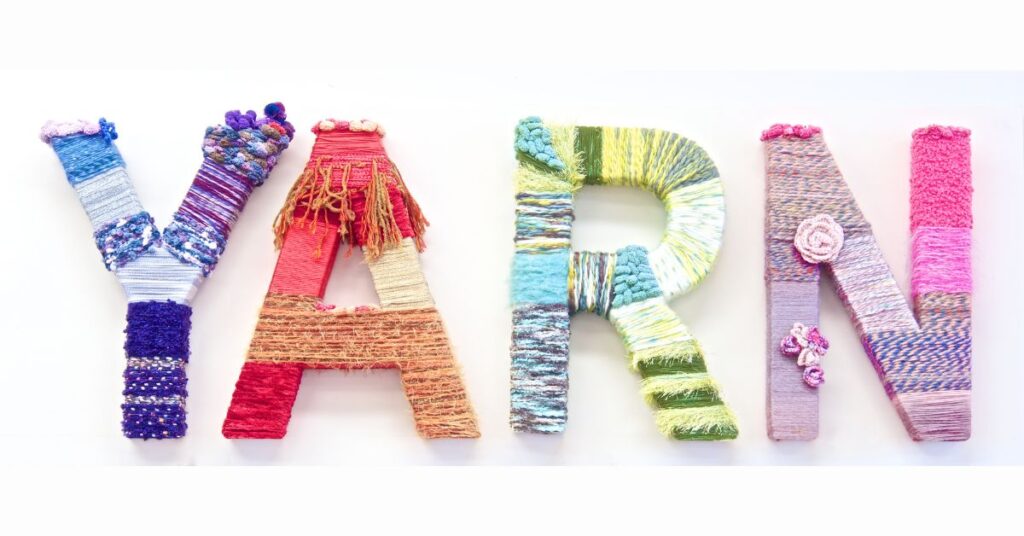 Additional Yarn Buying Tips
Here are a few more things to consider before you start buying yarn for your next crochet blanket project.
Yarn Eating Stitches
Some stitches are yarn eaters. This means they use more yarn than others. Stitches like this include:
the crocodile stitch
waffle stitch
bobble stitches
and the basketweave stitch
Those are just a few examples. You'll know a stitch is a yarn eater if it has a lot of texture.
In the end, if you want your blanket to be more budget friendly, I recommend staying away from yarn-eating stitches like this.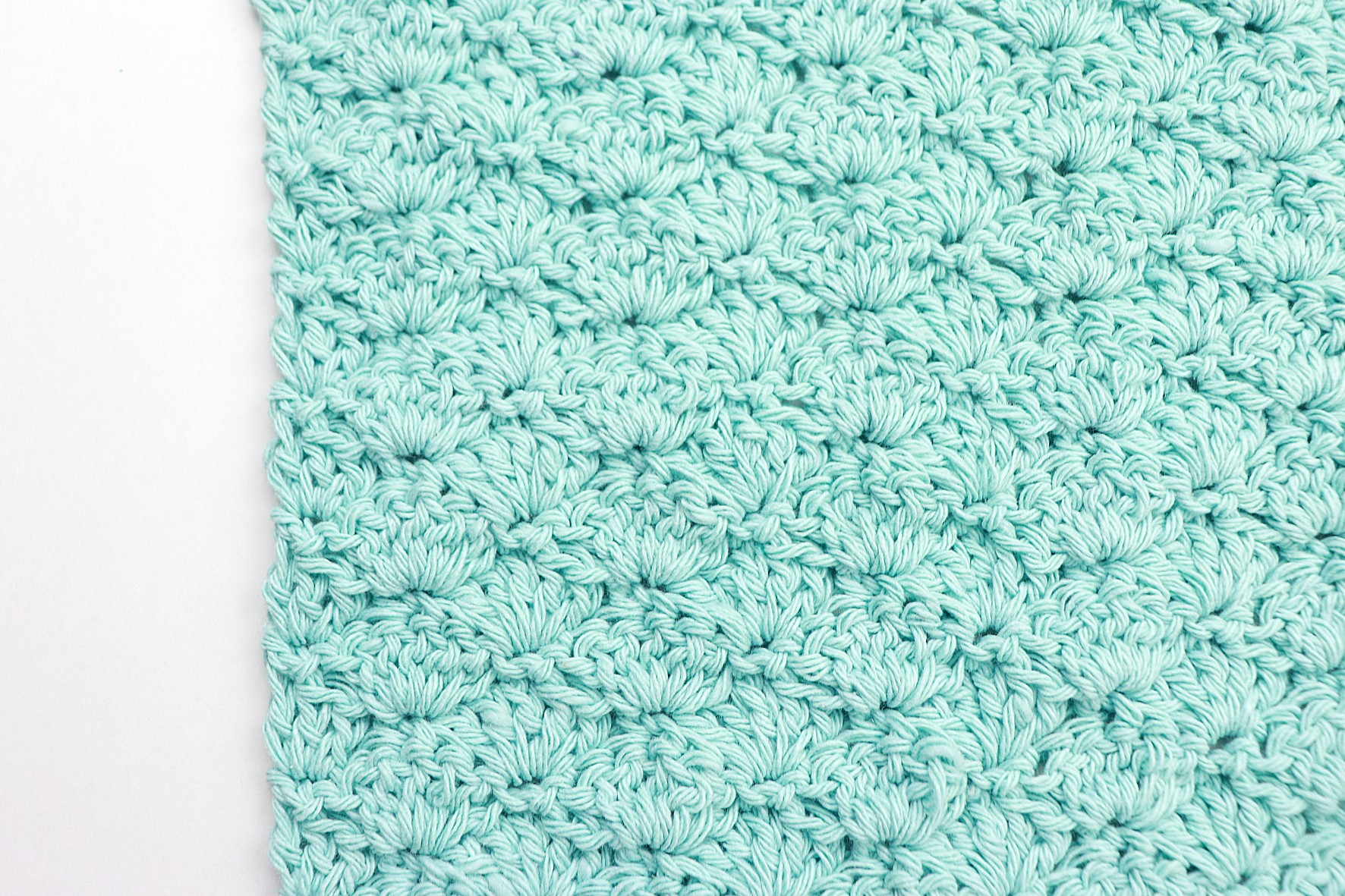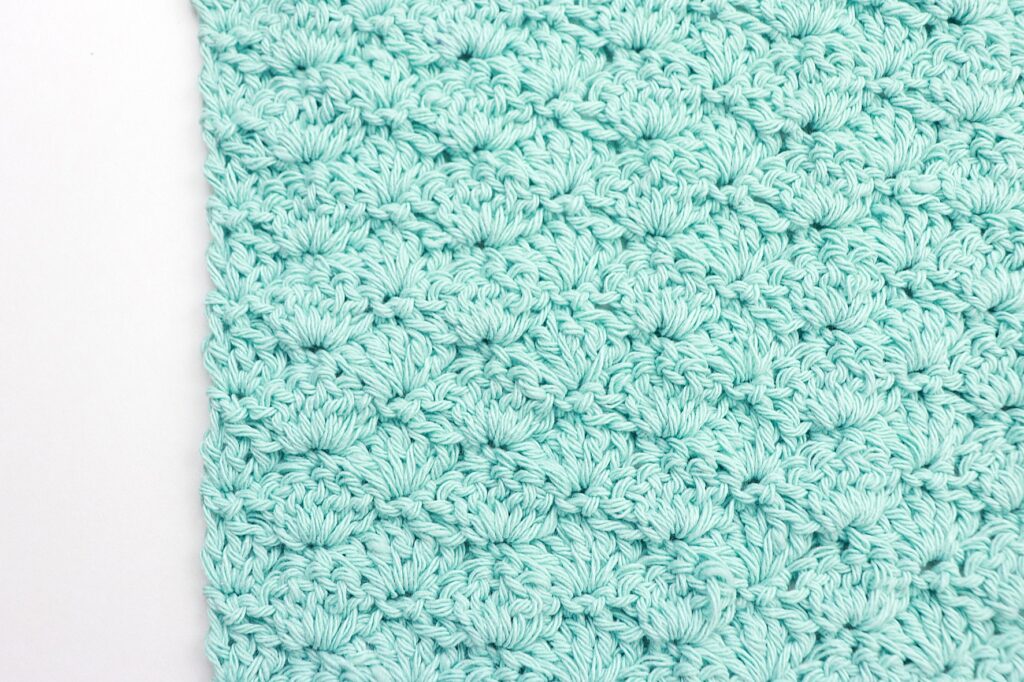 Blanket Borders
The next thing you'll want to consider when purchasing yarn is if you are planning to add a border around your blanket.
If you are planning to add a border, you'll want to make sure you have enough yarn left over to finish with the border. If you're unsure, grab another skein just in case.
Personally, I'm not a huge border person. I don't think they're necessary unless you're making a baby blanket and the main attraction is the border. I've seen lots of pretty baby blankets that look this way.
A simple single crochet border could also help if your finished blanket has uneven edges.
Here are some of my favorite books that include really pretty borders you can use for your blanket.
---
How to Crochet a Blanket from Scratch: FAQs
Now we are finally reaching the end of this tutorial. We already talked about lots of tips on how to crochet a blanket, including:
the standard crochet blanket sizes
yarn weight
hook sizes
stitches & stitch multiples
how many yards of yarn you will need
and we just covered borders
But you still might have some questions. Here are some answers to the most common questions I receive about crocheting blankets. If you have any additional questions, leave them in the comments below.
You can also join the Facebook group and share your photos and questions there.
Can you crochet a blanket as a beginner?
This is the most common question and my answer is yes, of course! You can absolutely crochet a blanket as a beginner.
In fact, I think blankets are one of the best patterns to try as your first crochet project. Keep reading for some more tips on which stitches to use as a beginner.
What is the easiest stitch for crocheting a blanket?
The easiest stitch for crocheting a blanket pattern is any of the basic stitches. I recommend using the double crochet because it works up faster than any of the other basic stitches.
If you want a free pattern to follow for that, I have 3 beautiful blankets that use this stitch with different color choices. These are all super easy blankets, but the color changes will give you that "wow" factor.
If you would rather something with a little more texture, you can try some of these beginner friendly blanket stitches.
By the way, if you are someone who needs instant gratification, I recommend starting with a baby blanket or lapghan rather than a full size blanket. That way you finish your project faster and see just how amazing you are at crochet!
What is the best yarn for crochet blankets?
There are many, many, MANY yarns out there that would make great blankets. I talk all about how to choose the best yarn for blankets in this post.
My personal favorite is I Love This Yarn! This is a 100% acrylic worsted weight yarn. But you can only find it at Hobby Lobby.
Here are some of the best yarns for crochet blankets (in my opinion):
You'll also want to consider who it's for. If you're making a blanket for a baby, a thinner yarn is the best way to go. I would use a soft acrylic or a cotton blend like Oh Baby Organic (listed above).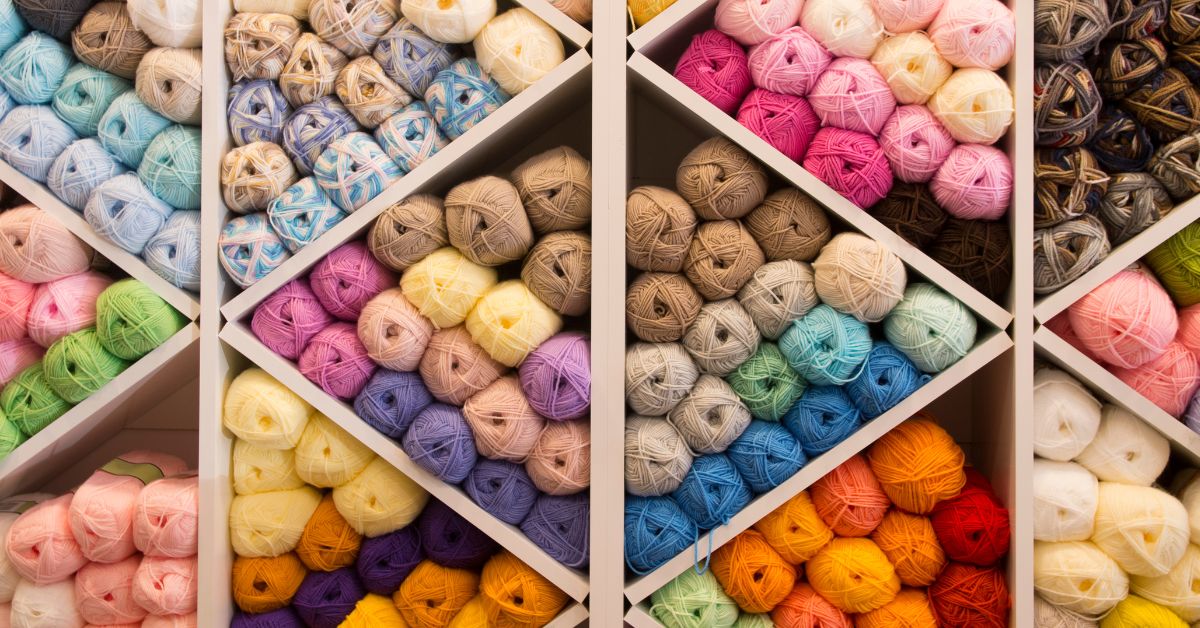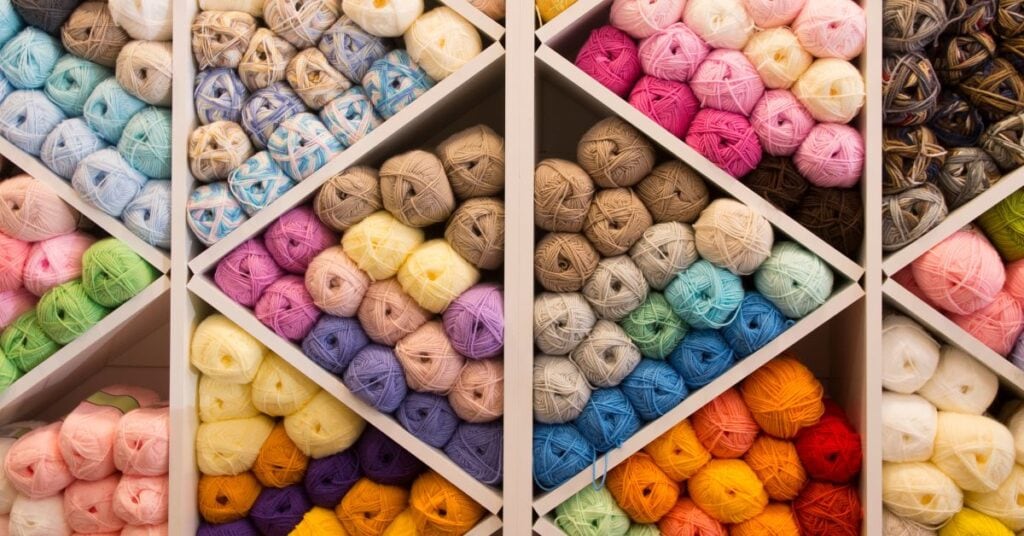 How to Crochet a Blanket from Scratch: Summary
That was a lengthy one! I hope you found this article super helpful for learning how to crochet a blanket from scratch. In this post we talked about:
the standard crochet blanket sizes
choosing yarn and yarn weight
using different crochet hook sizes
crochet stitches & stitch multiples
how much yarn you will need to crochet a blanket
creating borders
and answered your most frequently asked questions about making blankets.
If you found this post helpful I would love for you to pin it to your Pinterest boards or share it with your friends!
Are you ready to start making a blanket? I have quite a few patterns for you to choose from and they're all beginner friendly!
In the comments, let me know what your biggest takeaway was from this post. Happy crocheting!