Mandala Monsters Crochet Pattern Collection [Lookbook]
Do you have a hard time buying gifts for the children in your life? The Mandala Monsters Crochet Pattern Collection is about to solve all of your problems. I wanted to explain everything I was feeling about this collection from the reason I started it to the purpose of the yarn I chose, and each monster's backstory!
I am beyond excited to be releasing my very first crochet pattern collection and I hope you love these monsters as much as I do. It's almost Halloween which makes it the perfect time to create your monsters, gift them out or show them off! There are five crochet monsters within this collection so you have plenty of options. But why not make them all?!
One of the most rewarding things about crochet is being able to handmake something for someone and seeing their face when you gift it out. It truly is priceless and fills me with joy. Not only is it great to see your friends or customers faces light up, but it's even better when the kids get excited.
When I make something for my son he gets overly excited and I just know he truly loves it (after all, kids are extremely blunt). A few months ago, I designed my first amigurumi pattern, Eyeballs the Amigurumi Monster. My son loves monsters and after designing Eyeballs, he's asked me over 100 times to make him more. Well, his wish is my command!
Below you can read the backstory behind each Mandala Monster as well as fun photos of our trip to the park!
The Collection
Because my son wanted me to make so many monsters, it brought about the idea of creating collections. The first one had to be a collection of monsters and because next month is Halloween, I thought it would be perfect!
Within this collection you will find five crochet monster patterns and one of those patterns will be free. I chose the free pattern by taking a poll over on my Instagram account and asking you which monster you liked best! This was a tough contest! The votes were nearly tied the entire time. The monster who won by one vote was String Bean!
If you love each of these monsters and you'd like to purchase the rest of the Mandala Monster Crochet Patterns, you can find them here. These crochet patterns will be available to purchase individually or as the entire collection for 25% off!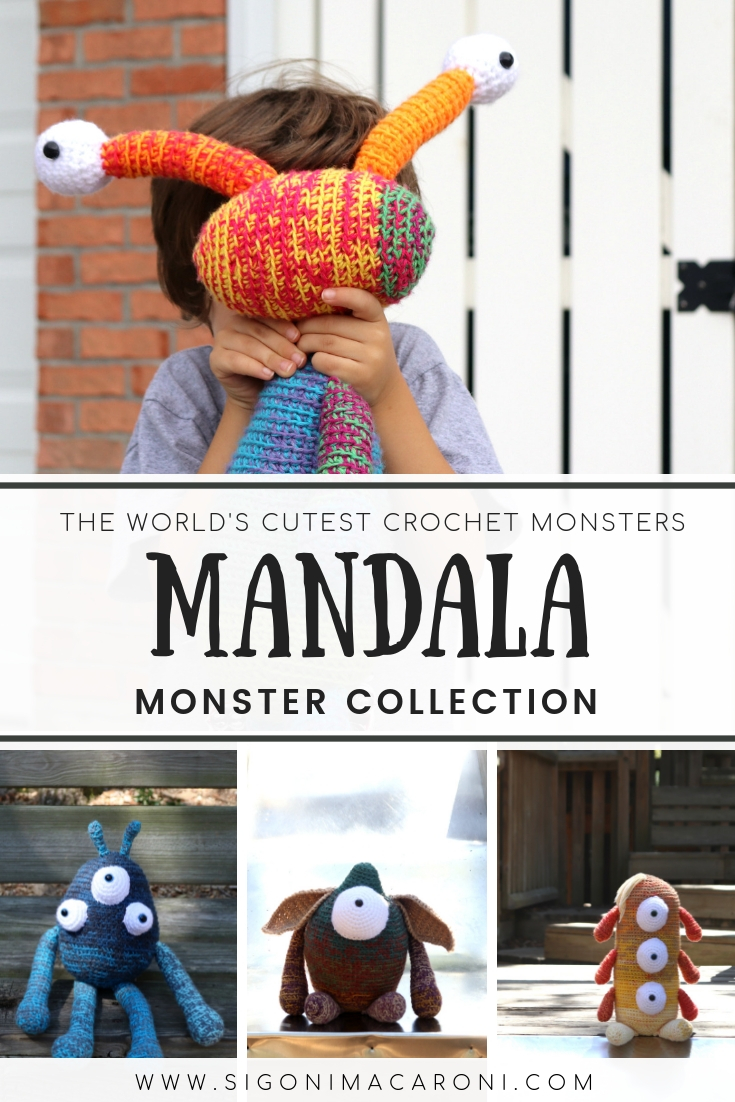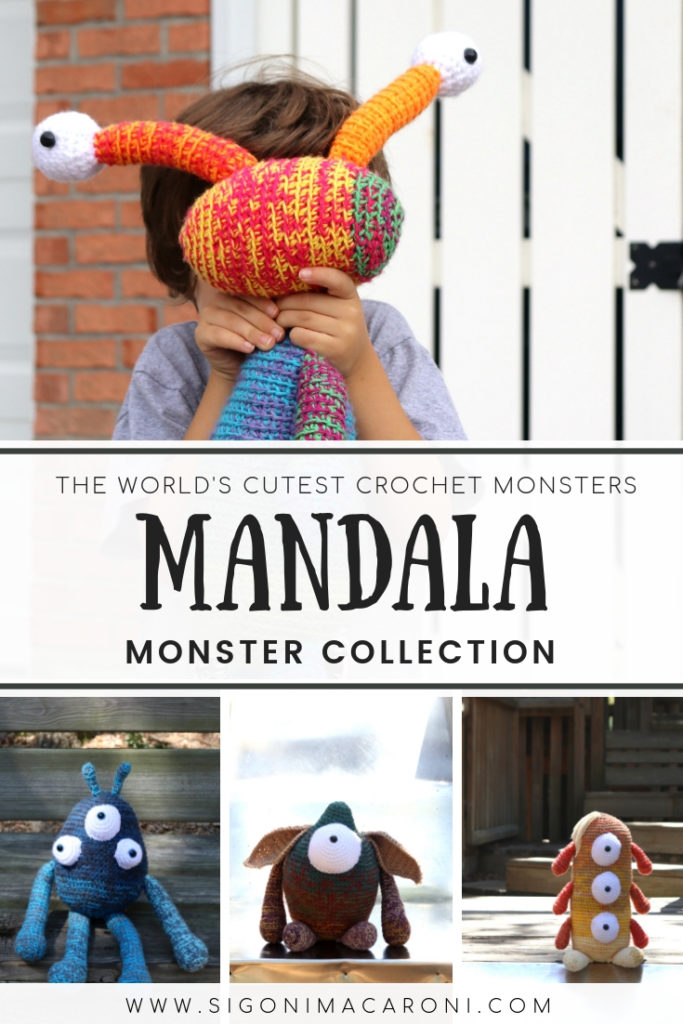 This post may contain affiliate links, please view my disclosure policy for details.
The Yarn
Each of these Mandala Monsters were designed using Lion Brand Mandala, holding two strands, and working in the back loop.
Lion Brand Mandala is a weight 3 yarn and can be substituted with any other weight 3 yarn, but I highly suggest using Mandala (or Cupcake!). Even though these patterns are worked while holding 2 strands, the finished monster is so soft and perfect for all of the snuggles.
Techniques Used
Have you seen the colors on these guys?!
I decided to crochet holding two strands of yarn for two reasons. The first reason is because Lion Brand Mandala is a weight 3 yarn and I didn't want to have to use a tiny hook to create them. The second reason is because I knew that some of these colorways were super drastic (especially the one I used for String Bean). By holding two strands, one from the inside of the skein and the other from the outside, it made an even more drastic colorway.
Monsters aren't meant to be perfect. They're meant to look silly, make kids giggle, and have crazy colors. Mandala offers the perfect color options for this and the best part? Not one monster will be exactly alike.
All of my Mandala Monster Crochet Patterns are worked in the back loop only except for some body parts that I explain in the notes of each pattern. By working in the back loop it makes it easier to mark your rows, it makes your stitches tighter so the polyfil doesn't stick out, and it gives each monster a ribbed effect that looks really interesting.
If you do not wish to work in the back loop, you don't have to. But I do suggest sizing down to a 4.5mm crochet hook instead of a 5mm.
The Construction
There is no particular order to making these monster parts and that is why each monster will be different! Create them in order of which colors you have and if you want the body to be a specific color and so on. However do not let perfection get the best of you. Remember, these monsters aren't meant to be perfect. As Kim Werker says, "Make it Mighty Ugly."
When I was designing String Bean, I was really bummed at first because I did not like that his head was a completely different color than his body. I thought it was too drastic. Then I told myself what I just told you, that monsters aren't supposed to look perfect, so I kept it the way it was and I'm so happy with that decision. String Bean is SO goofy looking and that is the best part!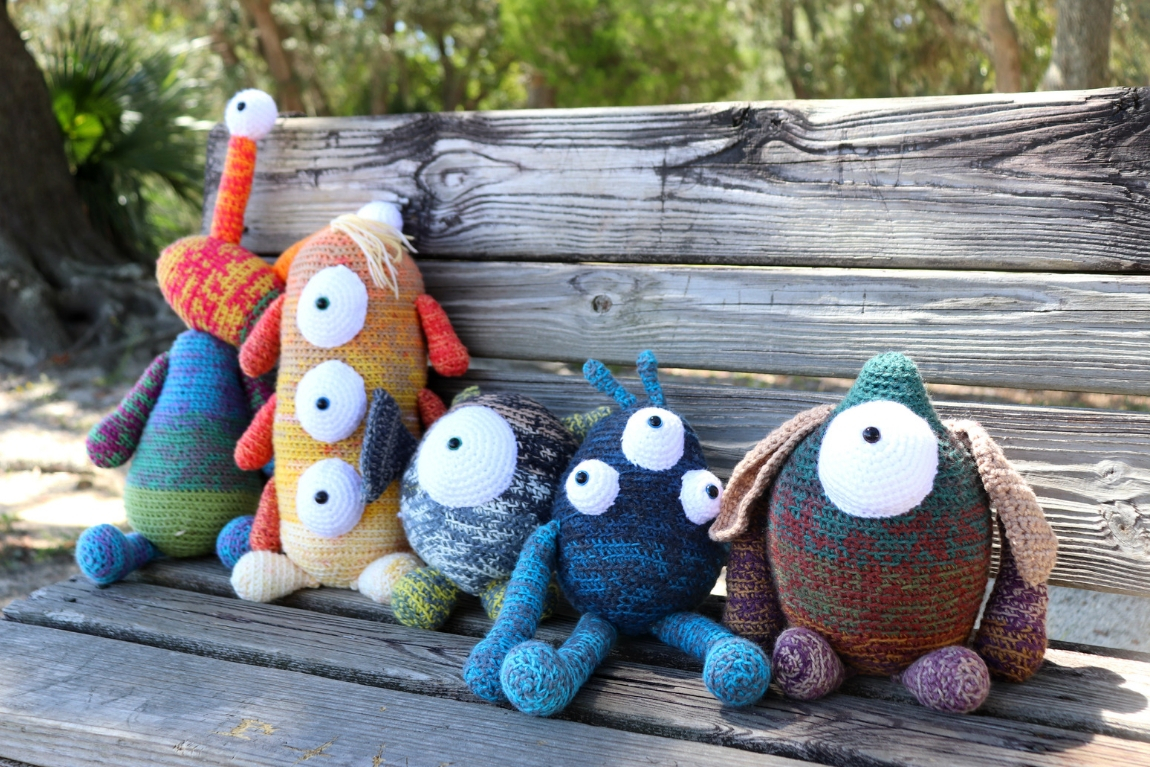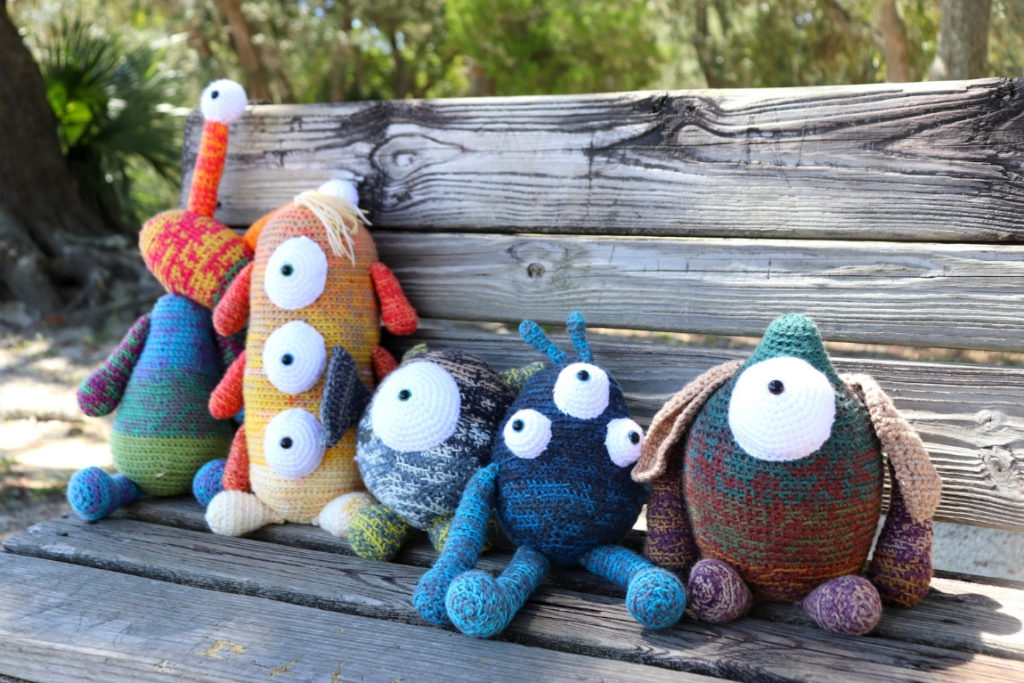 Mandala Monster Crochet Pattern Collection Lookbook
Today's Mandala Monster Crochet Pattern Collection Lookbook showcases each of the monsters, their backstory on how fun and different they are, and what it looks like to take them on a trip to the park!
Warlock
Skill Level: Easy
Warlock is a very serious, grouchy fellow with a dry sense of humor, but he tries his hardest to have a little fun.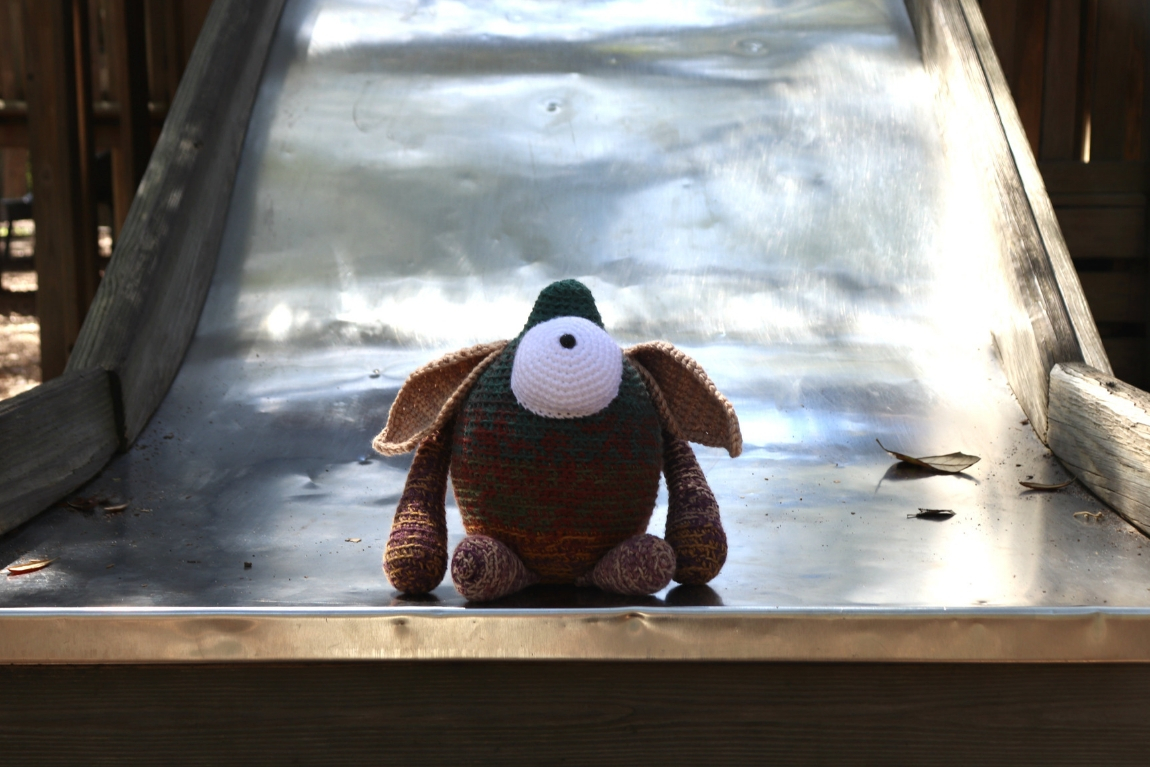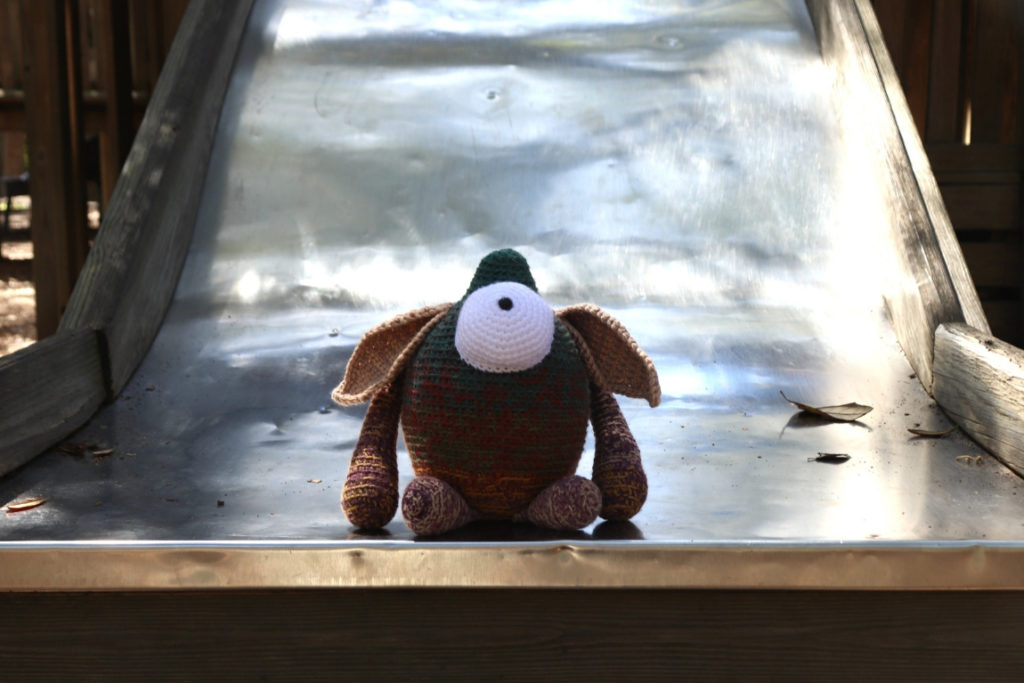 He secretly loves all the attention he's been getting, especially from his little preschooler friend.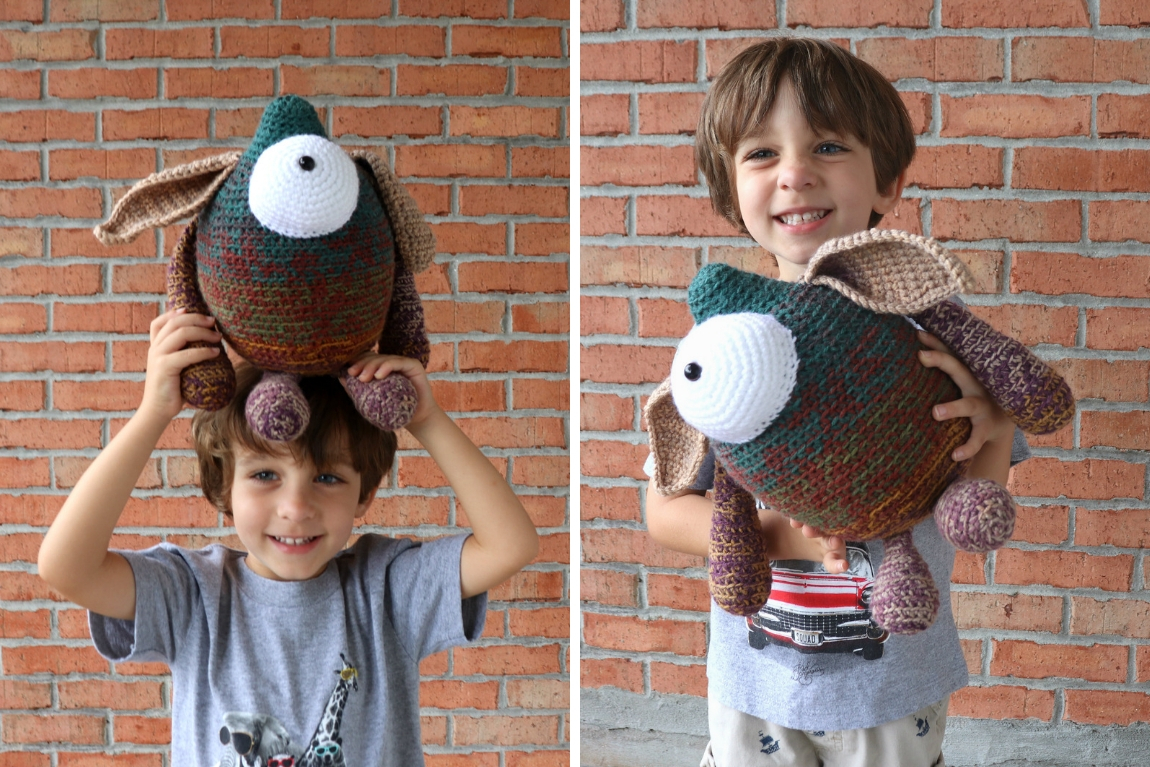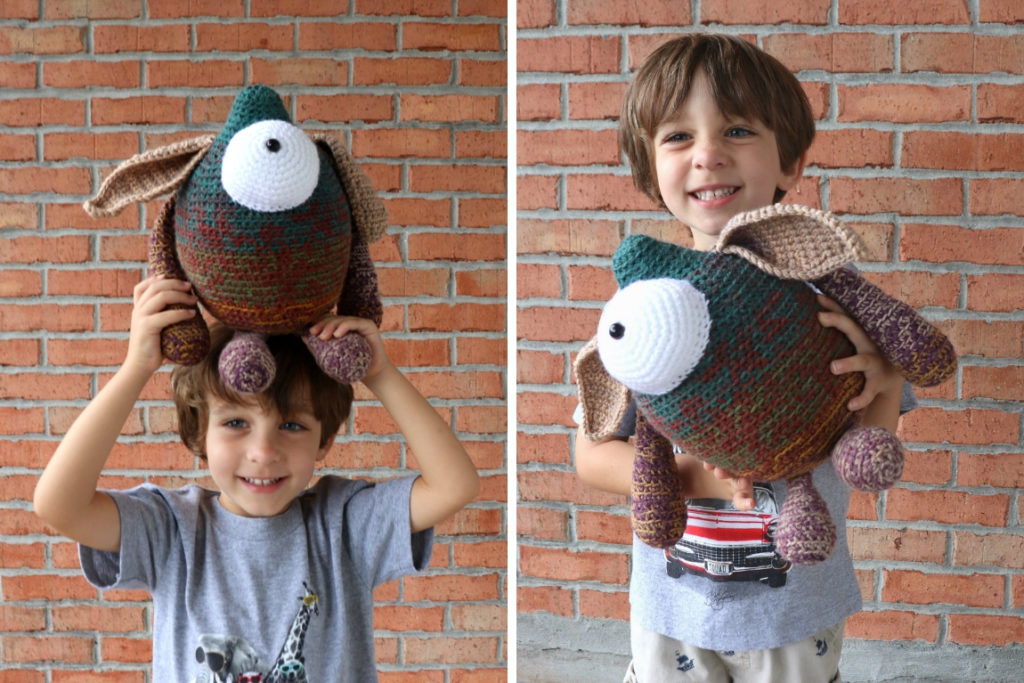 Sometimes he says he wishes he had teeth so he could scare off the other monsters, but he would never even hurt a fly. He doesn't want you to know he cares, but when you give him a biiiig huge it warms his heart (he's kind of like the grinch!).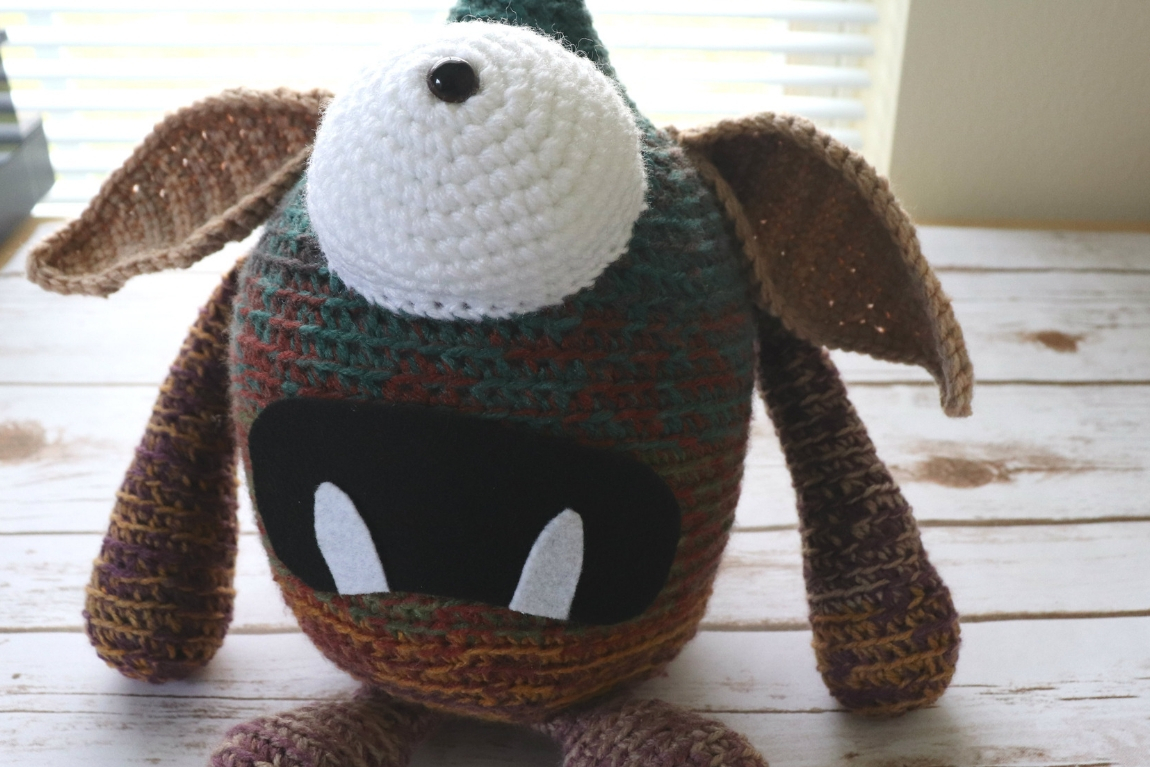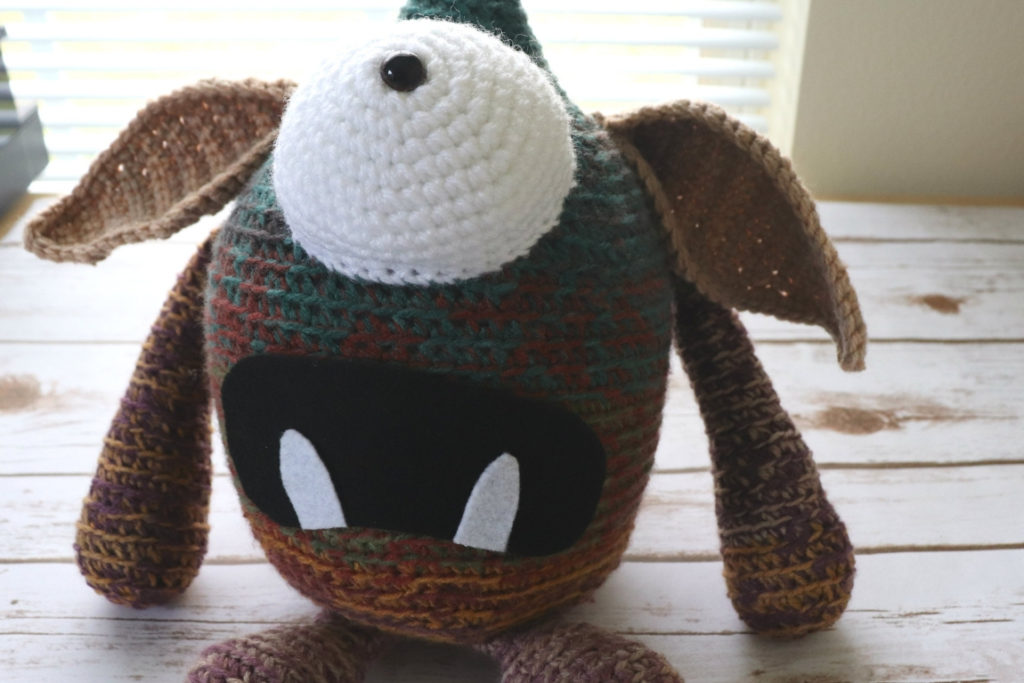 Banana
Skill Level: Easy
You may be confused by the name Banana, since there are three monsters in one. But we just say Banana for short. Let me explain.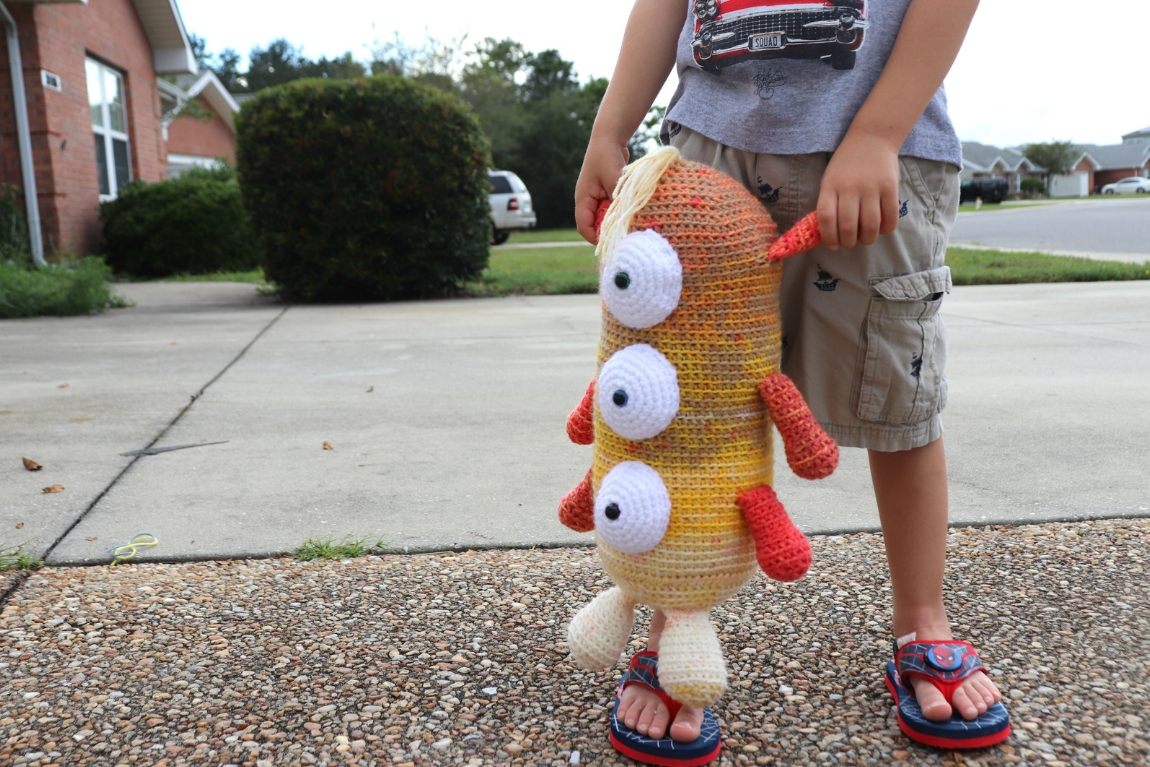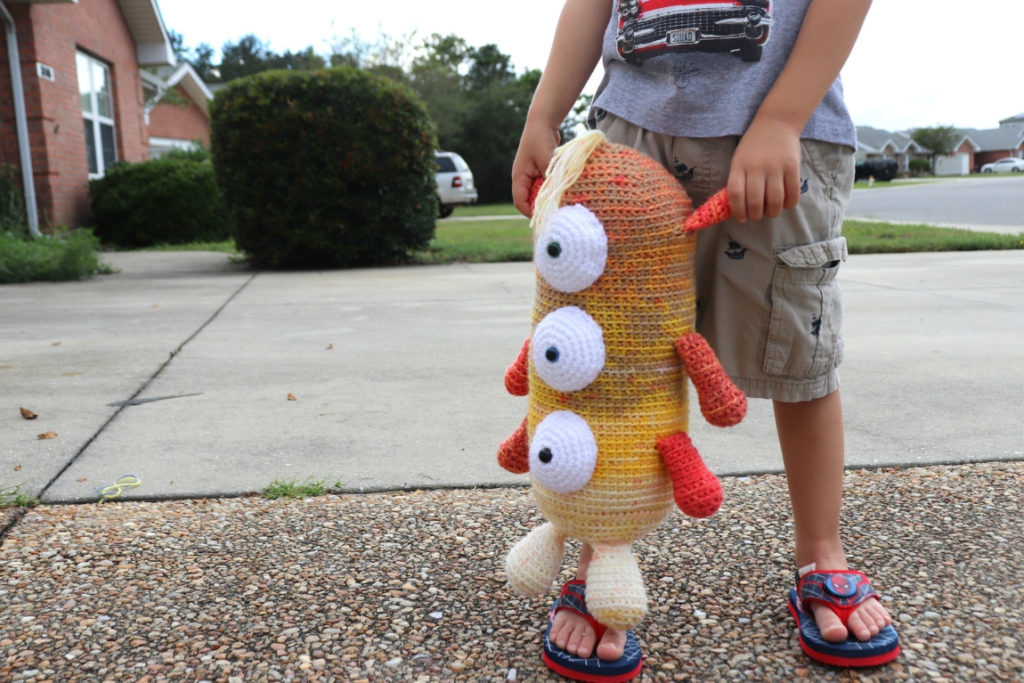 Banana is short for Ba, Nan, and Nuh. Ba is on the top with his pretty green eye and a combover that he is extremely proud of. He likes to grease it down and whip it around like Elvis.
Nan is the monster sandwiched in between with his little blue eye and two arms. He doesn't have much control over their body so he very much loves to wave his arms around as much as he can just to feel important.
Nuh is the bottom monster who has the most control since he has those little feet and his two arms. Sometimes it's hard for him to walk around because it feels like he's carrying 100 pounds on his head, but he manages.
I chose to create Banana with three different eye colors to show that he has three different personalities. When my little one saw the color that he was, he instantly thought of a banana and that's how his name came about. Little did I know, it was the perfect name to turn into three different names! I chose to add the combover to give them an extra bit of character.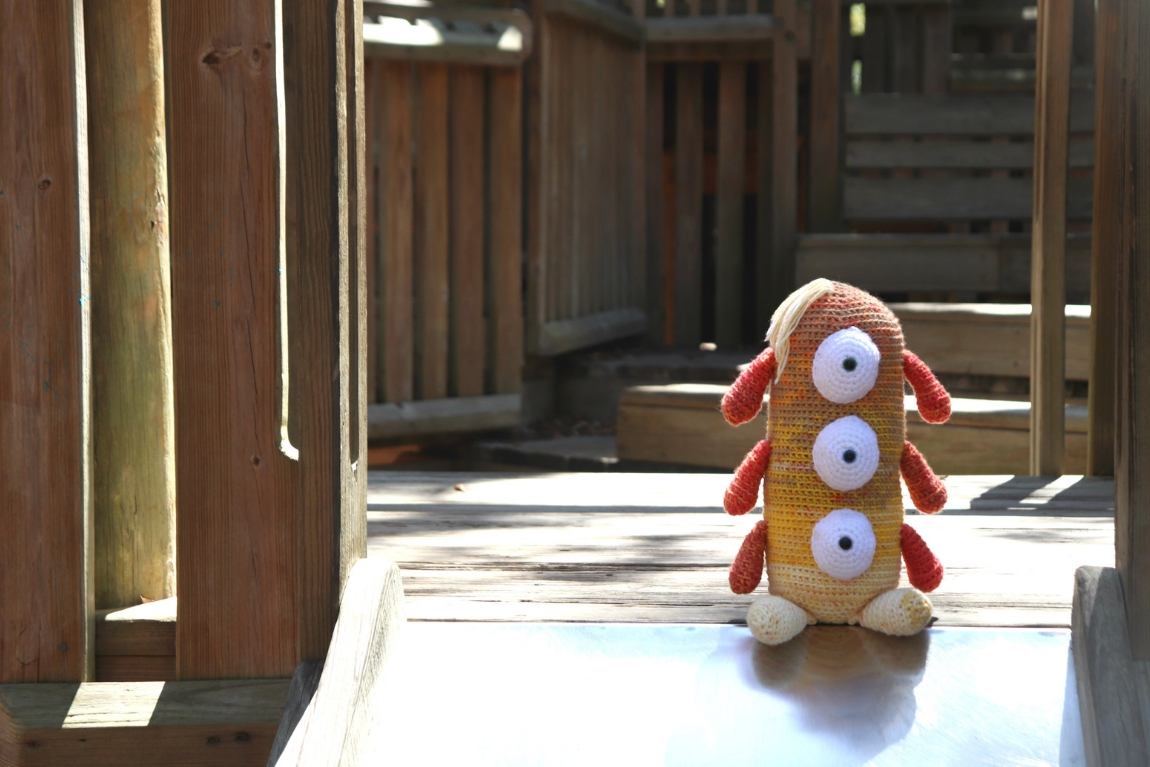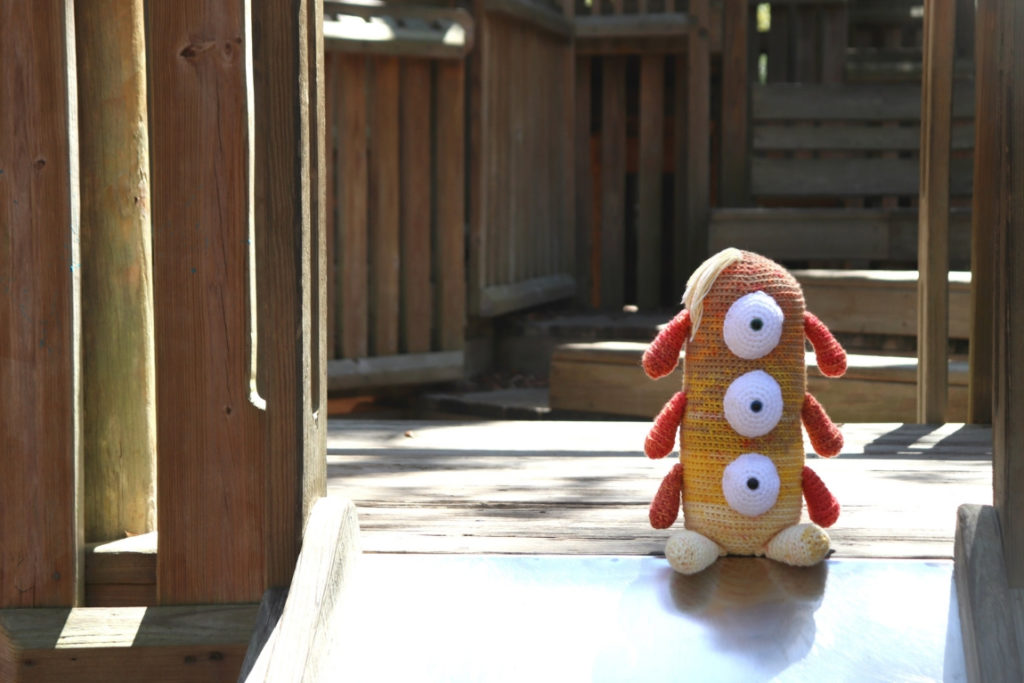 Triclops
Skill Level: Easy
From the top of his antennas to the bottom of his tippy toes, he is a sensitive sweetheart. He gives the best hugs with his long arms and would do anything to put a smile on your face.
He loves to go to the park and watch his monster friends play and have a good time. Sometimes they're able to convince him to play along, but he doesn't like getting dirty much.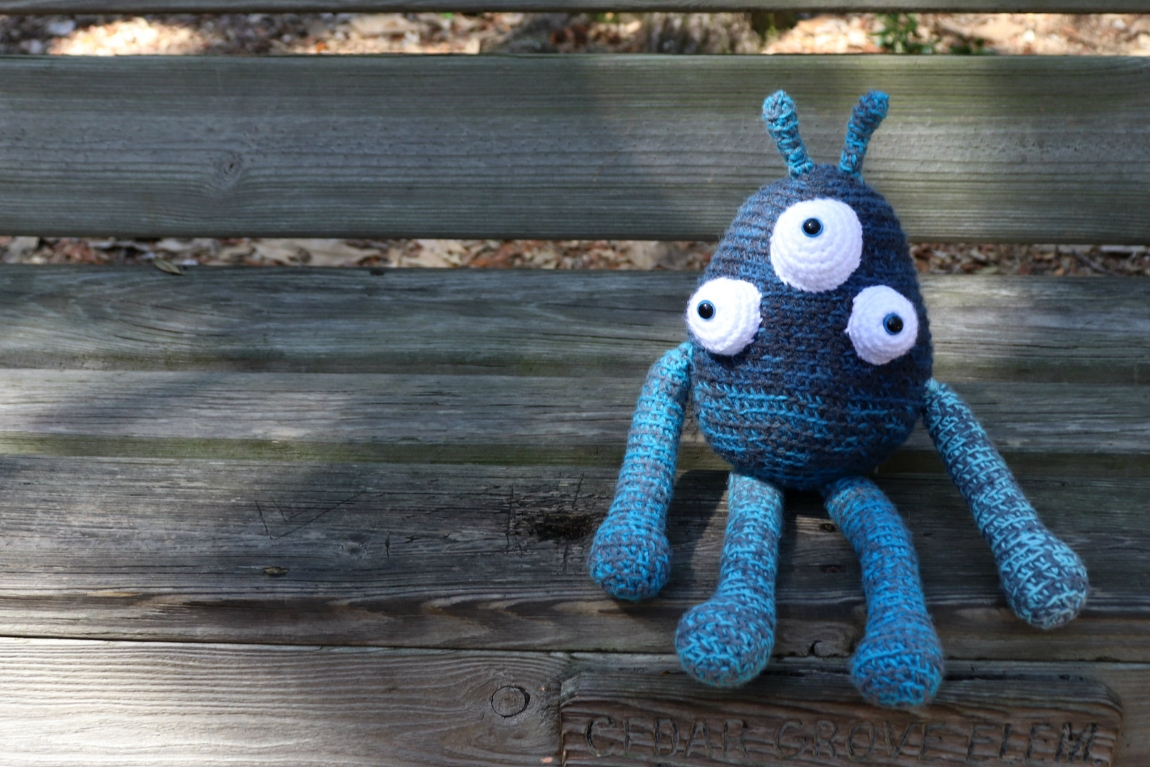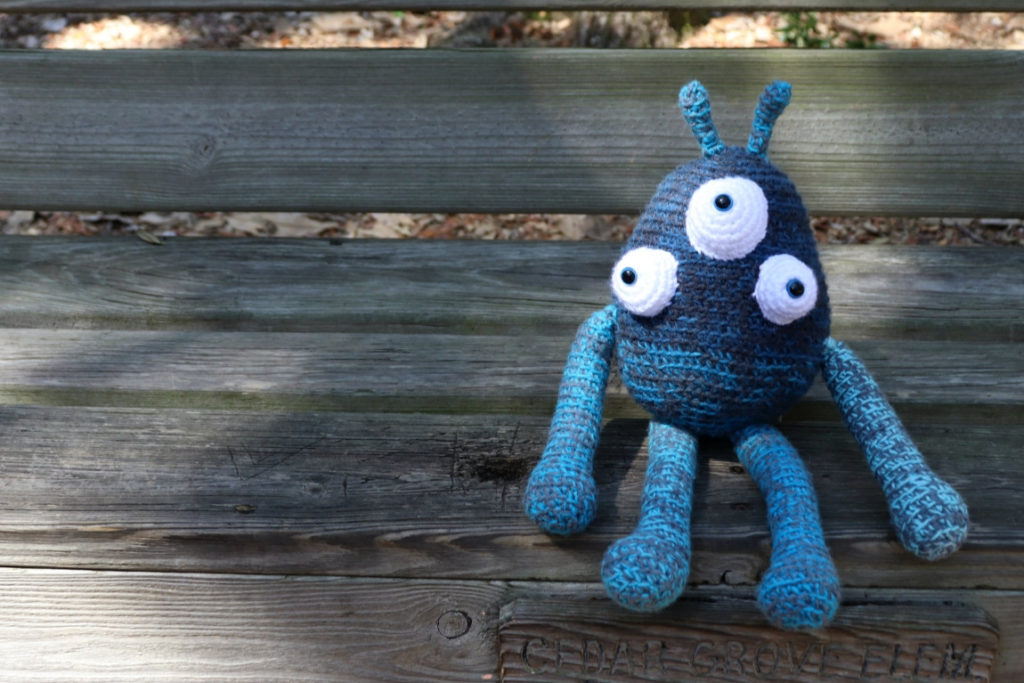 Triclops was the hardest monster to name because nothing was coming to me like the other four names did. He sat here nameless for a good while until the day I announced the voting. I was talking to my husband, bouncing ideas off of him and ignoring him when he would throw out non-monstery names like Jimmy. I started googling Monster names and came across Cyclops. "But Cyclops is a monster with one eye, not three," I thought. Then… LIGHTBULB. "I'll name him TRIclops!" And so his name was born.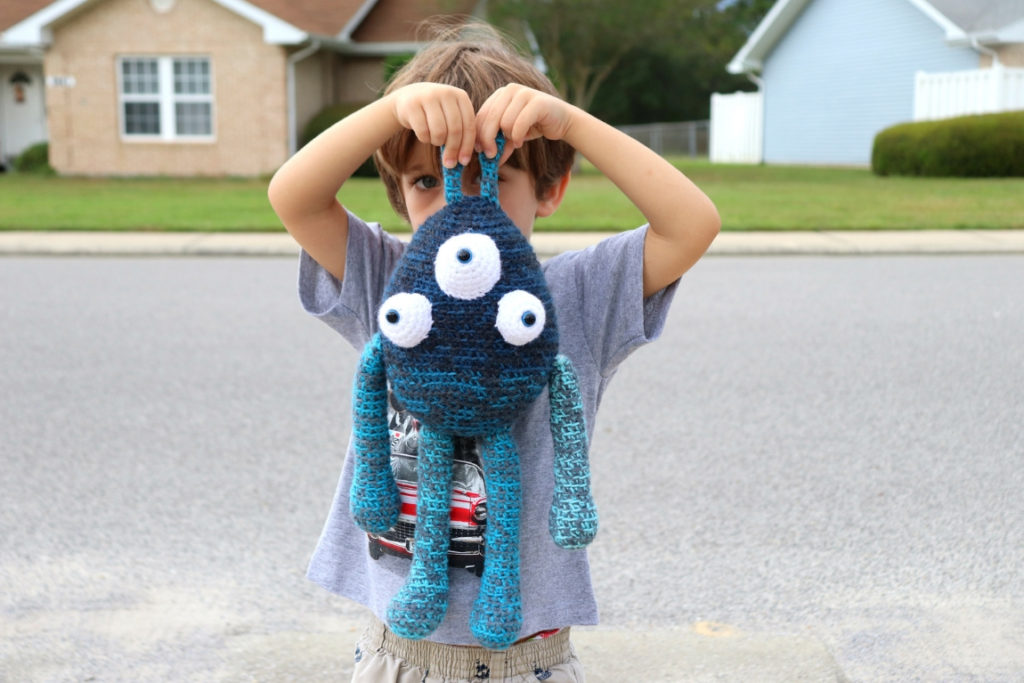 String Bean
Skill Level: Easy
Now String Bean here was the fan favorite over on Instagram, but it was a really tight race. He only won by one vote!
String Bean is extremely outgoing even being the most unique looking monster out of the bunch. He's always excited, positive, and will bring you out from being down in the dumps in an instant. He's goofy and the life of the monster party!
He was the first monster I created in this collection and he was so happy that I was making him some more friends! Since then, he's been the first to introduce himself to each new monster and really helps the shy ones (*cough cough* Triclops) to have fun and be themselves.
Find the free pattern for String Bean here!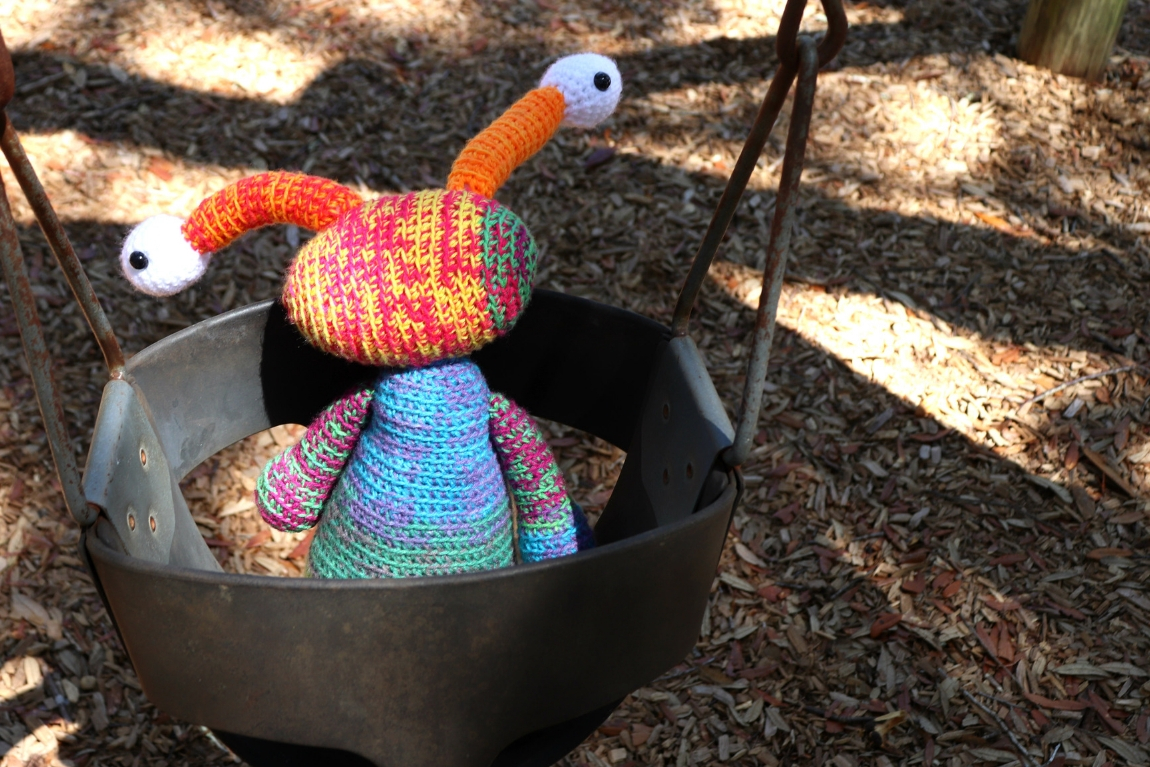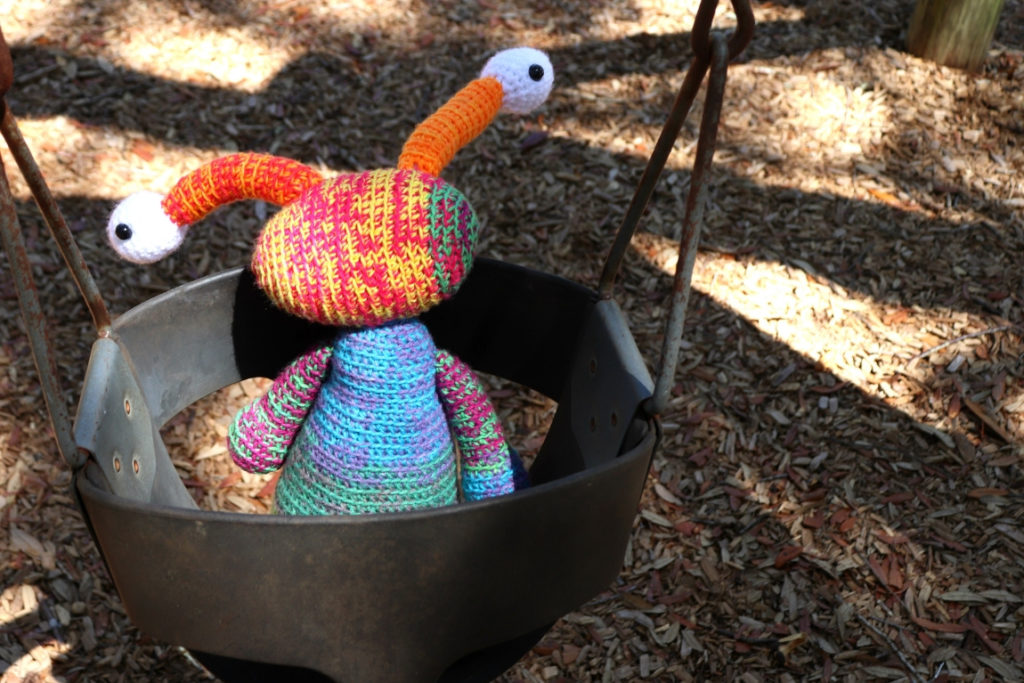 Vamp
Skill Level: Easy
My son calls him Vampire, my niece thinks he's an owl. I would say that he's a mixture of both. He's very to himself and loves to fly around at night and sleep during the day. So you could say that he's like a "vampire" bat or a "night owl" as they say.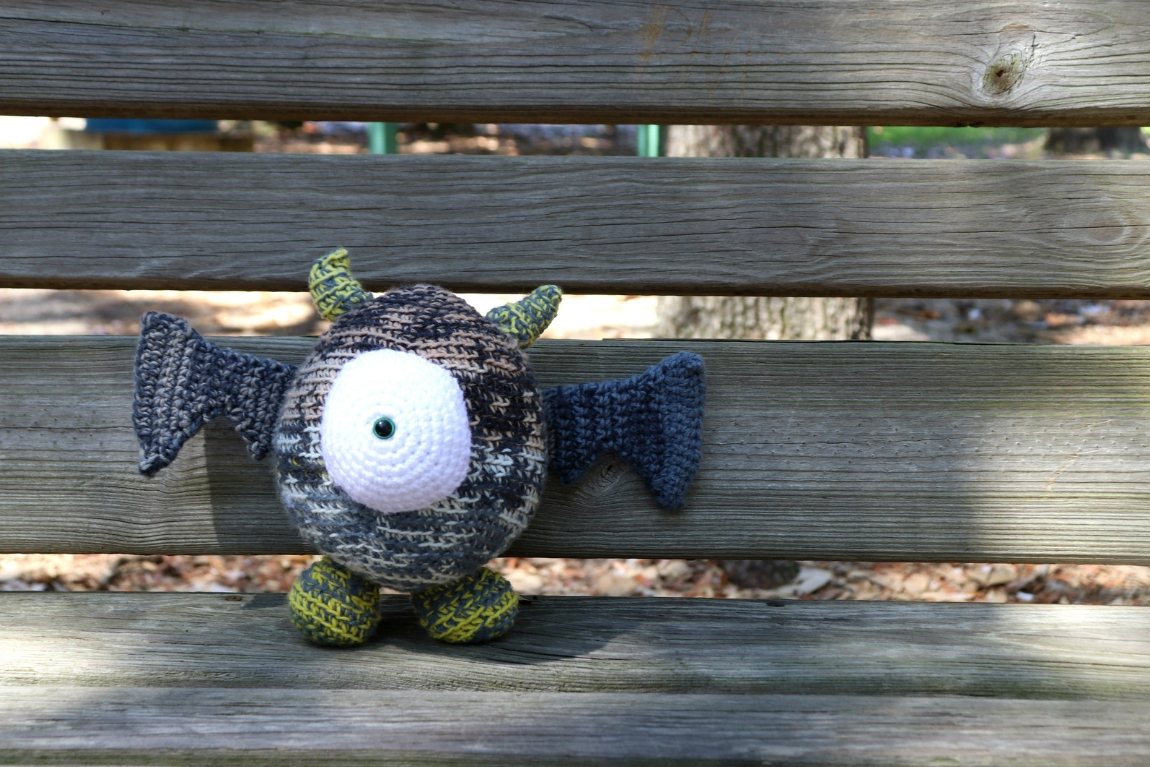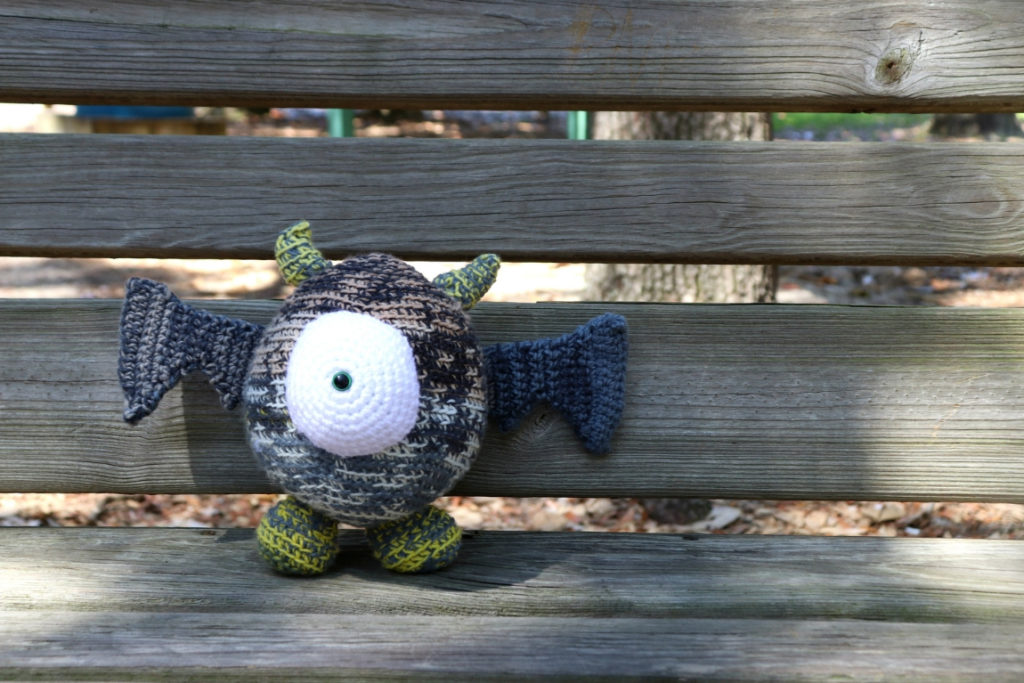 He'll sit in the trees under the moonlight and nature watch all night, just enjoying the moment. During the day he sleeps and Vamp hates when the other monsters disrupt his sleep!
He's super sweet just like the rest of them and although he likes to fly around at night, he spends most of his time protecting his friend Jonah while he sleeps.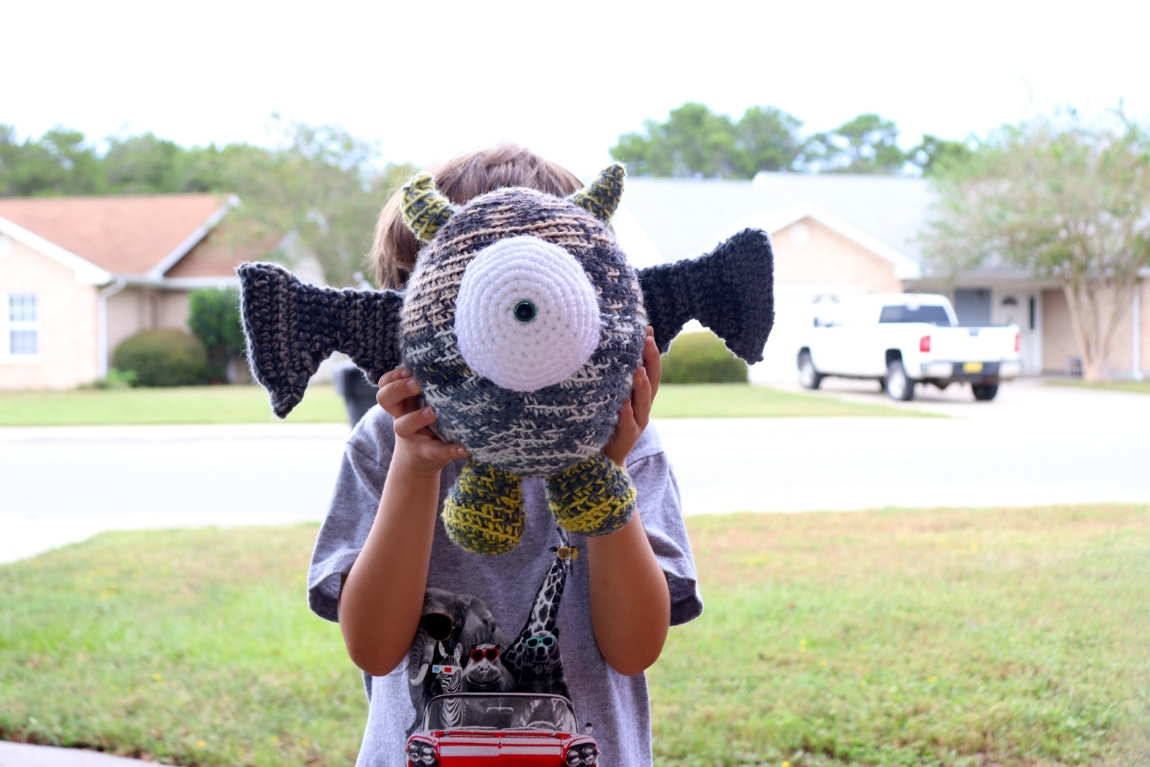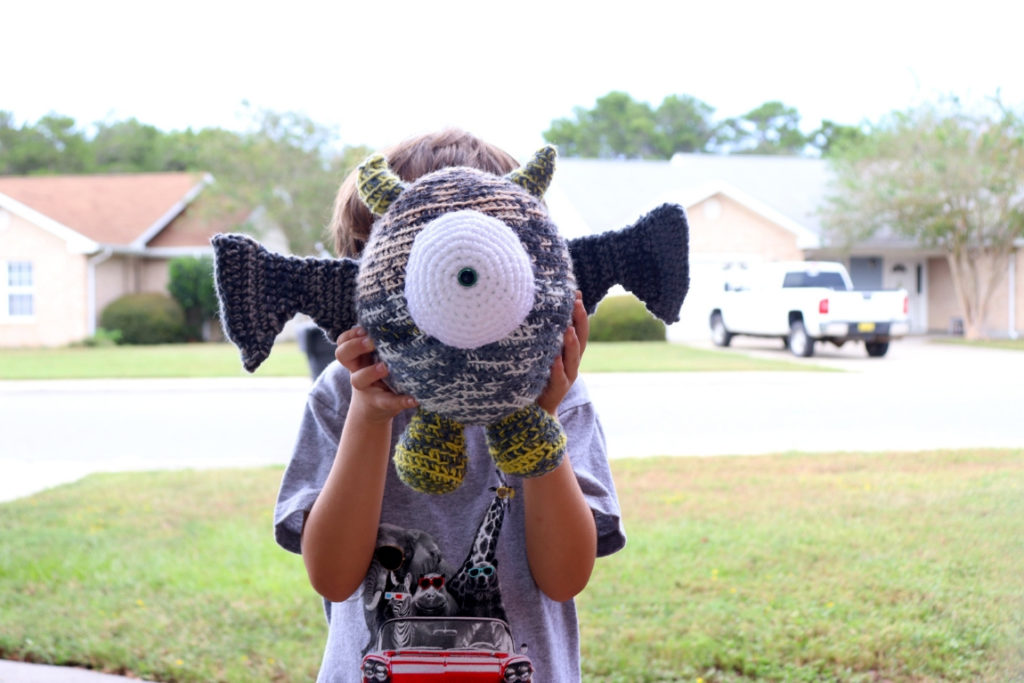 Get 25% off the entire collection of beautifully formatted PDFs here!
I hope you love the Mandala Monsters Crochet Pattern Collection as much as I do!
Thank you so much for your continued support. Let me know if you have any questions about these patterns and be sure to show me when you're finished with yours! I cannot wait to see. Tag me over on Instagram @sigonimacaroni and use the hashtag #mandalamonsters