Tunisian Crochet is all the rage right now! Have you tried it yet? Today I'm going to give you the Tunisian Crochet Basics for beginners. We'll start with the back story behind Tunisian crochet, go over some tips to help you through your first project, and then you'll find great resources where you can learn even more!
I first learned of Tunisian Crochet through Brittany of B.Hooked. She put together a wonderful Tunisian Washcloth Series and I was in awe by the look of the fabric. I started doing more research on Tunisian Crochet and realized that there aren't that many resources out there, which intrigued me even more. When Brittany announced that her Craftsy class, Tunisian Crochet for Beginners, launched I knew I had to check it out.
Like most people who try Tunisian Crochet, I became obsessed! I purchased the best book ever, Tunisian Crochet Workshop by Michelle Robinson and starting digging further. If you thought there were endless possibilities with crochet, wait until you learn this technique! The kinds of designs you can create, especially the ones in this book, are immaculate.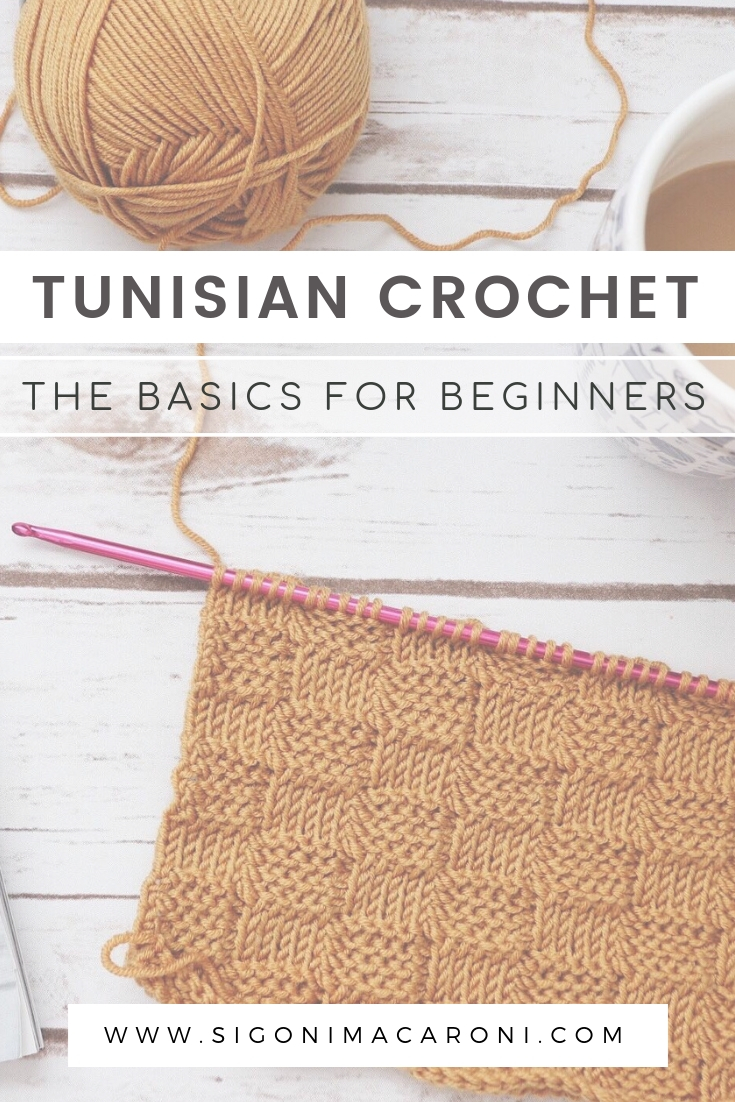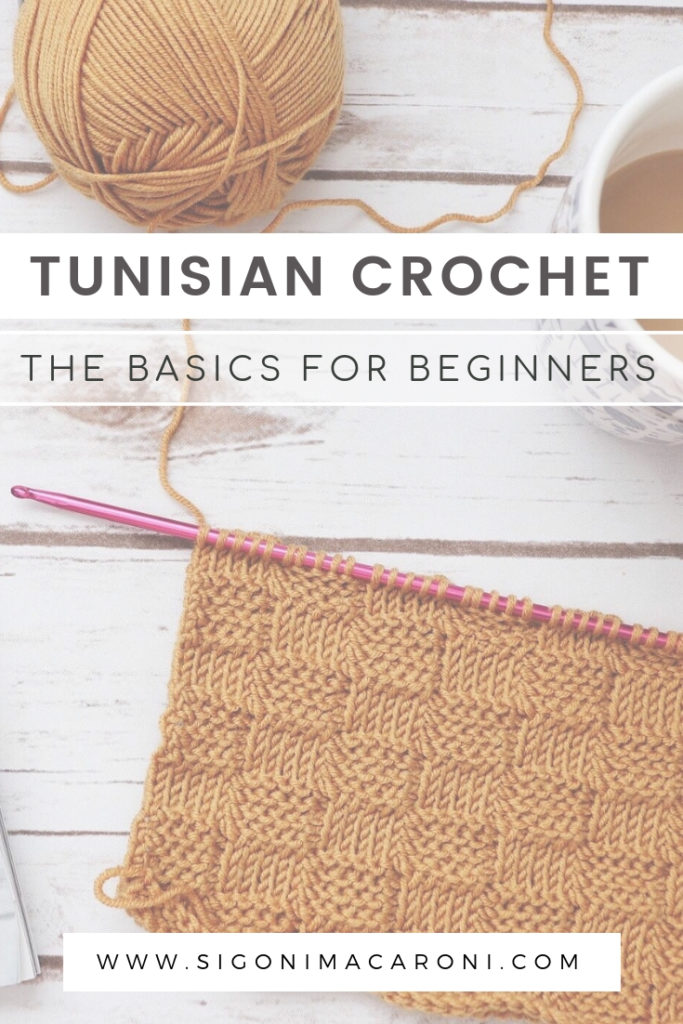 This post may contain affiliate links, please view my disclosure policy for details.
Tunisian Crochet Basics for Beginners
What is Tunisian Crochet?
Tunisian Crochet is also known as Afghan Crochet. One of the first traces of this technique was in a printed publication back in 1858! Although its named Tunisian crochet, there is no connection with the craft in the country of Tunisia. The origin of this technique is not completely known, but it appeared in England around 1860.
Tunisian Crochet is a cross between knitting and crocheting. You will be using a crochet hook, but it's extra long like a knitting needle and you will be working with multiple loops on your hook instead of just one. You don't need to be a knitter or a crocheter to learn this craft, although it might make things a little easier if you already know how to hold your hook and yarn. It has a whole array of different stitches and techniques in and of itself.
There are a few basic stitches that, just like crochet, you can combine to create other stitches and textures. Tunisian Crochet Workshop has a great variety of basic stitches and ways to combine them to create others.
Basic Tunisian Tools
You can tell Tunisian crochet is clearly different than traditional crochet just by looking at it. The stitches are different, there's a longer hook, and loads of loops on said hook. There are a few tools that you need in order to get started with Tunisian crochet. Some of the tools are required while others are optional, but necessary depending on the project you're working on.
In a nutshell, these tools are:
Rigid Tunisian Hook (about 12-14 inches long)
Interchangeable Hooks
Double-Ended Crochet Hook
Crochet Hook
Blocking Board & T-Pins
Yarn Bobbins
Stitch Markers
Tapestry Needle
Let's talk more about those hooks.
Rigid Tunisian Hook
I mentioned earlier that Tunisian crochet hooks are longer than traditional crochet hooks. This is because you will be working with many loops on your hook. They also have a stopper at the end so that the many loops don't fall off! These can be called Tunisian or "Afghan" Hooks.
There are a few different kinds of hooks to choose from. Most of my tunisian hooks are the rigid aluminum hooks you see below. These are very affordable and the loops slide easily along the hook which is why they are my go-to hooks. These hooks however are not suitable for larger projects like blankets or shawls. Which brings me to the next hook type.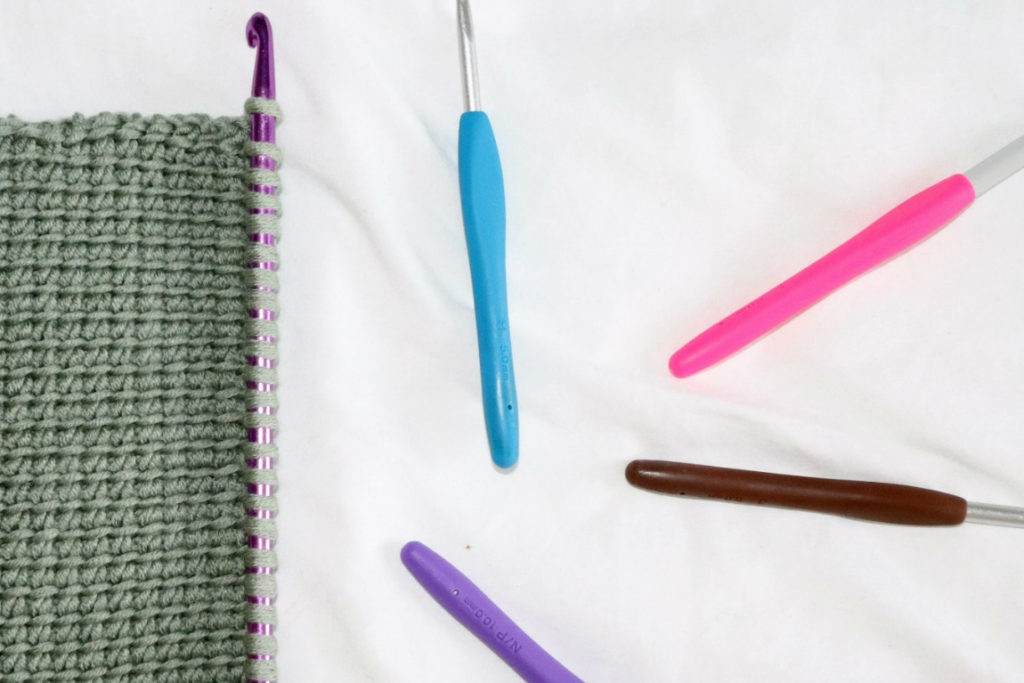 Interchangeable Hooks
The interchangeable hooks are generally the same size as a traditional crochet hook, but they have fastening device at the end that allows you to switch out the cables. The cables you can purchase separately, but you can also pick up an entire pack of various hook sizes and cable length. These hooks are most used for larger projects like blankets because of the ability to change the length of the cable.
Double-Ended Crochet Hook
Ever wondered what a double-ended crochet hook was used for? Now you know! They're used for Tunisian crochet in the round. Be careful when purchasing these though. If you're wanting to work in the round, make sure both ends are the same size. Sometimes you will see double-ended crochet hooks with two different sizes.
Crochet Hook
As long as your crochet hook doesn't have a handle and you're working a small project with only a few stitches, you can use a traditional crochet hook. My favorite ones are the plastic Susan Bates hooks.
Blocking Board and T-Pins
These are both used when you're finished with your project and you're ready to block it. If you continue reading, you'll see that I talk about the fabric of Tunisian crochet tends to curl quite frequently. Blocking your work is the best way to fix this problem. I highly recommend the foam blocking boards that have a grid to make it easy to line up your work evenly. And don't forget to grab the t-pins that don't rust!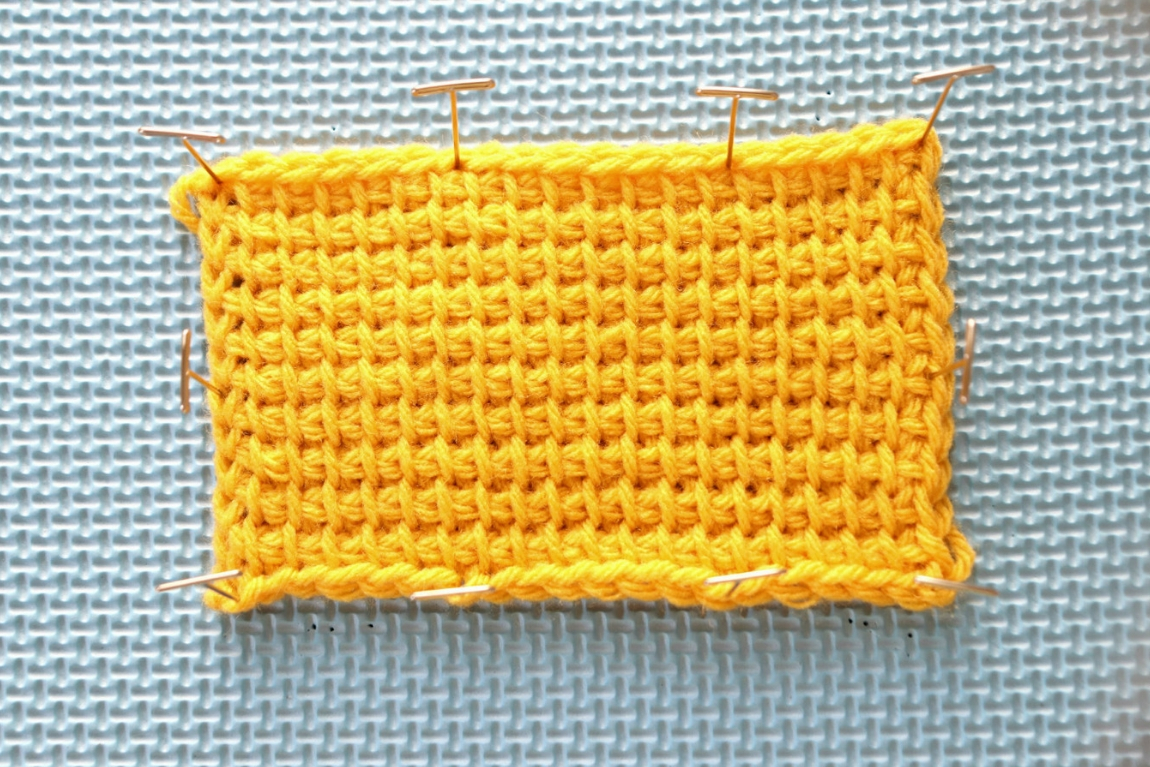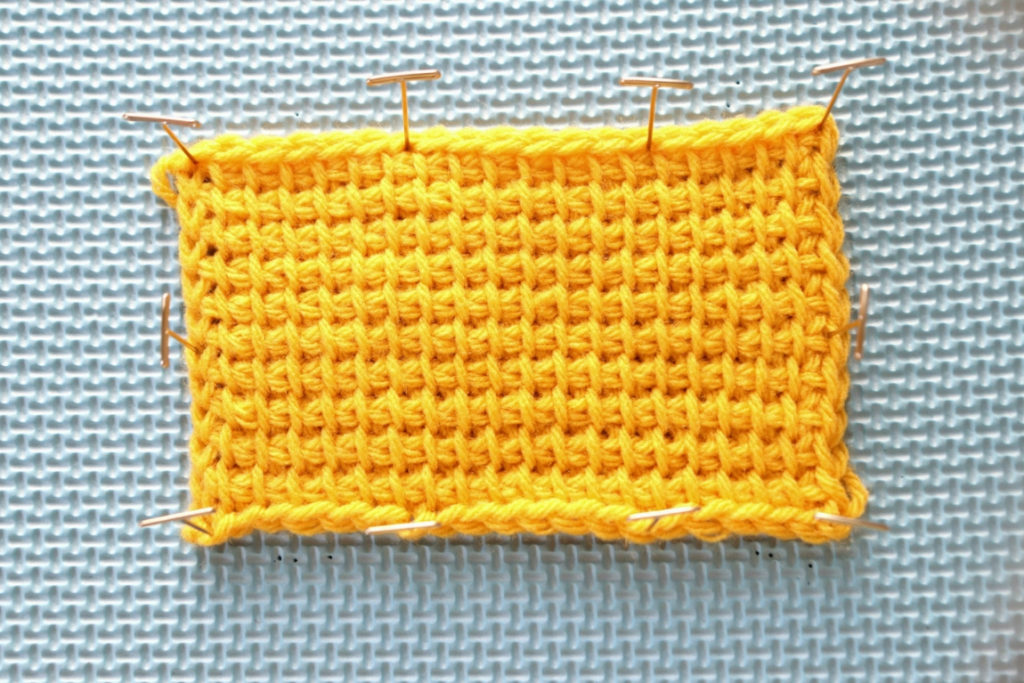 Yarn Bobbins
Yarn bobbins are used when you're working on a project that requires multiple colors. These make managing your yarn a lot easier! Wrap as much yarn around your bobbin that you think you'll need and simply carry it along with you as you go.
Stitch Markers & Tapestry Needles
These are both important in traditional crochet, as you know, and for the same reason they're also important in Tunisian Crochet. Make sure you have a few stitch markers on hand for your next project just in case. My favorite tapestry needles are the ones with the bent tip!
The Fabric
You may notice that lot of the Tunisian crochet stitches look very similar to knitted fabric. If you've always wanted to create a knitted look, but you hate using two needles, then you have to try this!
The fabric created is more dense than a crocheted fabric which is one of the reasons it requires a larger hook than recommended on a yarn label. Check the yarn label to see what hook size they suggest and use one that is two sizes larger. For example, if the yarn label suggests a 5mm crochet hook, you should start with a 6mm Tunisian or "afghan" crochet hook.
One pesky problem that's hard to avoid with Tunisian crochet is curling. If your work starts curling excessively at the beginning, know that it's nothing you're doing wrong. Depending on the type of stitch, it's almost unavoidable. However, there are a few ways to tame the curl.
Use a larger hook
Wet block your work when you're finished
Create a crocheted border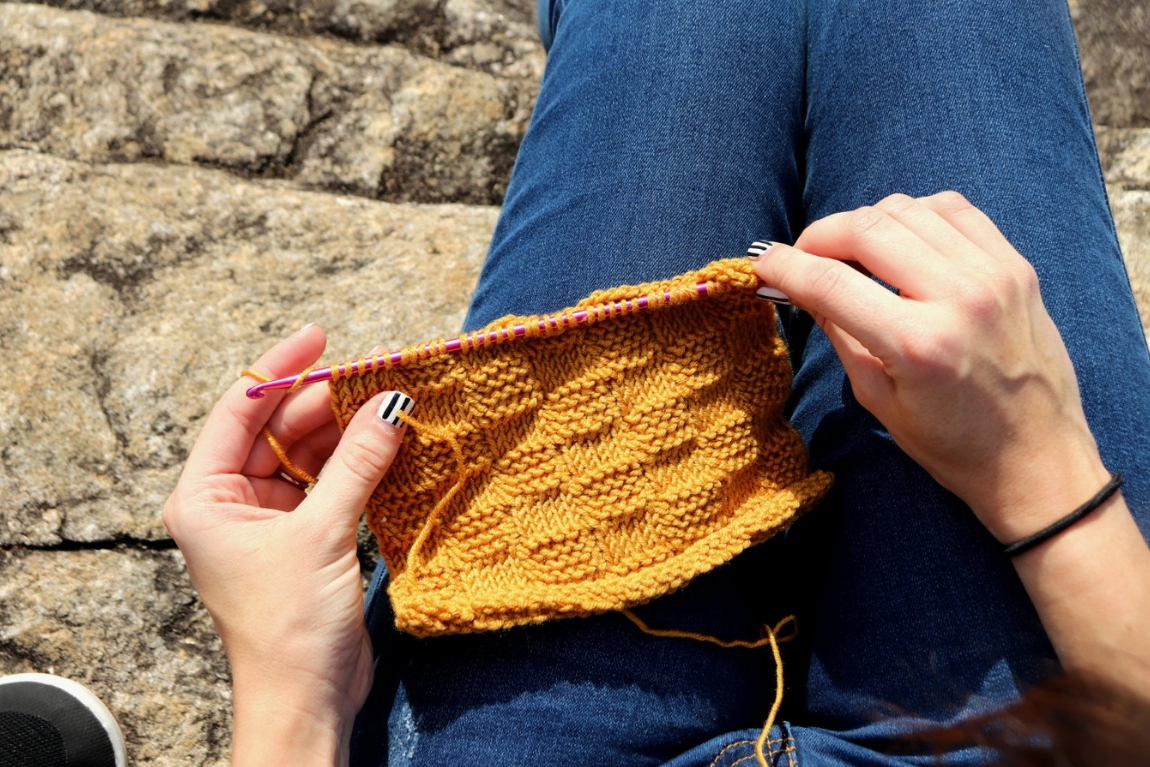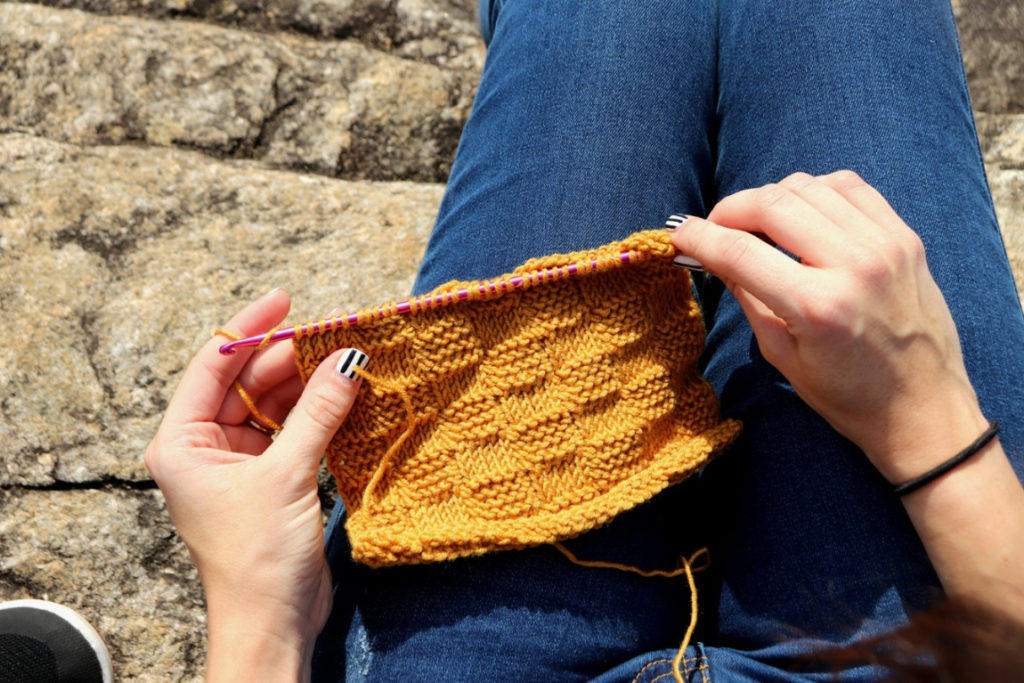 Tips and Tricks to Working with Tunisian Crochet
With crochet you're used to turning your work after each row, however, with Tunisian crochet you will not be turning your work. Tunisian Crochet consists of a forward pass and a return pass that counts as one row. The foundation row for every Tunisian project is the same except for the number of chains you begin with.
Because we'll be working without turning our rows, our finished projects are likely to have curled ends on either side of our work. This can also cause our work to be slanted to the right or left depending on whether we're right or left handed. Again, both of these pesky problems can be fixed by wet-blocking your finished project.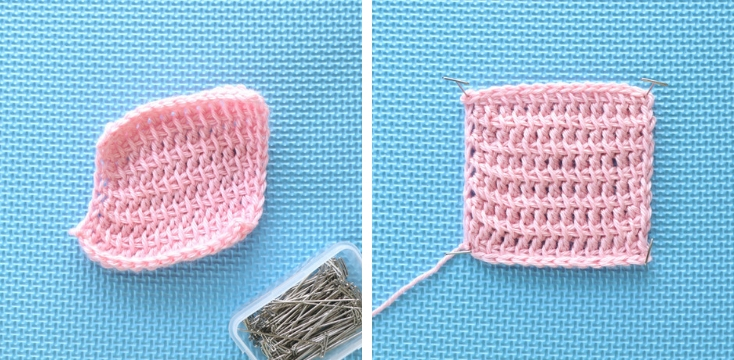 Further Tips and Resources
There really aren't that many free Tunisian Crochet Tutorials out there, but the more I dive into Tunisian, the more free content I'll be able to send your way.
Here are a few resources that I found that dive more in depth:
You can watch the above Tunisian class (and others!) for free by signing up for Bluprint's 7-Day Free Trial.
In a Nutshell..
Tunisian Crochet is officially my weekend craft. I love that with crochet there are endless techniques for you to learn and Tunisian crochet has got to be my favorite thus far. I have always loved the look of knitted fabric and now I can create a similar look with Tunisian! Although using a longer hook is something to get used to, it doesn't take much time to get the hang of it. The motion that Tunisian crochet brings is very relaxing. I hope you loved learning these Tunisian crochet basics for beginners and if you did, learn the Tunisian Simple Stitch with me!