Operation Warm Up Panama City – #850Strong
If you haven't heard, there was a hurricane in October of 2018 that completely devastated Panama City, Mexico Beach, and surrounding areas. My family is one of many that were displaced by the storm, but because we are military I feel like we got the easy way out. After being in a hotel for a month and a half, we were moved to another base.The families who own homes that were destroyed, aren't that lucky and all I want to do is help. After much though, I realized there is something I can do and that is why I started Operation Warm Up Panama City.
If you want to read more about the hurricane and see photos of the devastation, I'll be writing a separate post about it soon. Today is going to be all about the cause and what we as makers can do to help.
One month after impact…
There are still so many people without homes and have no choice than to live in shelters or in tents. These people are families like yours and mine. Men, women, children, and pets forced to live outside, in the cold, with hardly any food. A friend of mine is a teacher and explained that one of her students told her the only food they eat all day is from the school lunch. Then he walks "home" to a tent outside of the school. The sad thing is, this isn't the only child who has complained about not having enough food or a place to go.
There is one shelter open at a high school, but only until the end of the year. But some people aren't going to the shelter. Instead, there are so many people living in tents that the news is starting to call it Tent City. Tent City is filled with families and individuals who have lost their homes as well as first responders and volunteers who choose to stay there to continue helping the community. One thing to remember is that, yes these people are in Florida but that doesn't mean it's warm in the winter. These people are sleeping in tents when the temperatures have been dropping to 40 degrees Fahrenheit.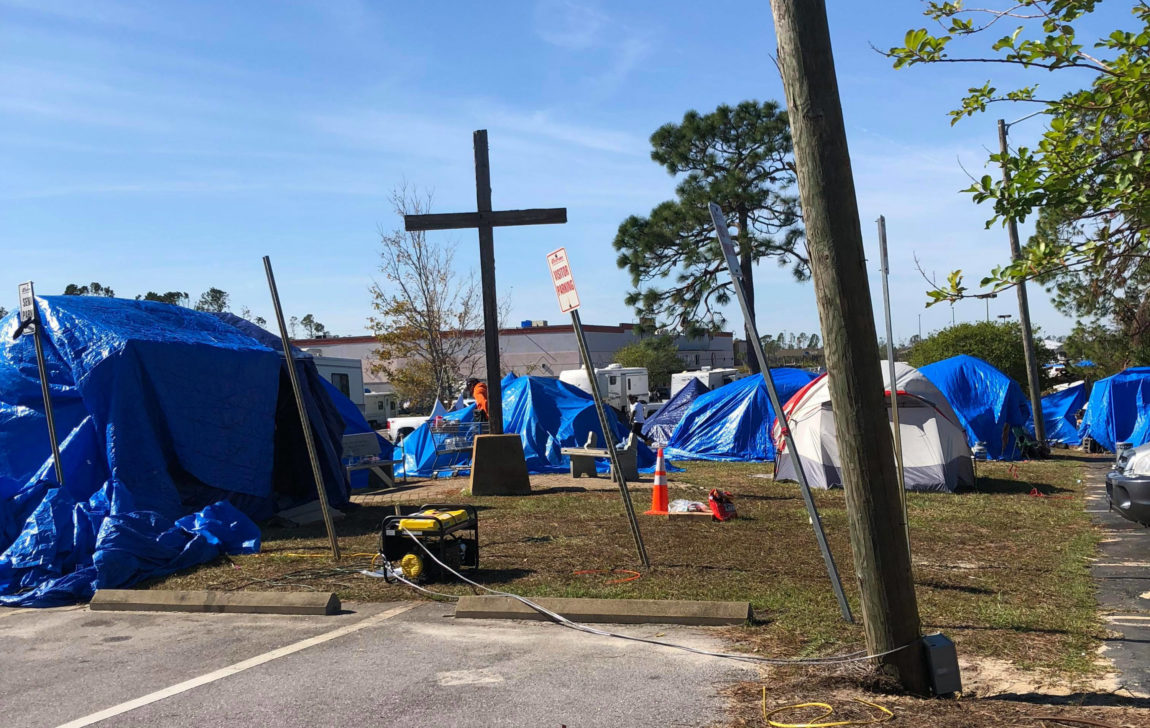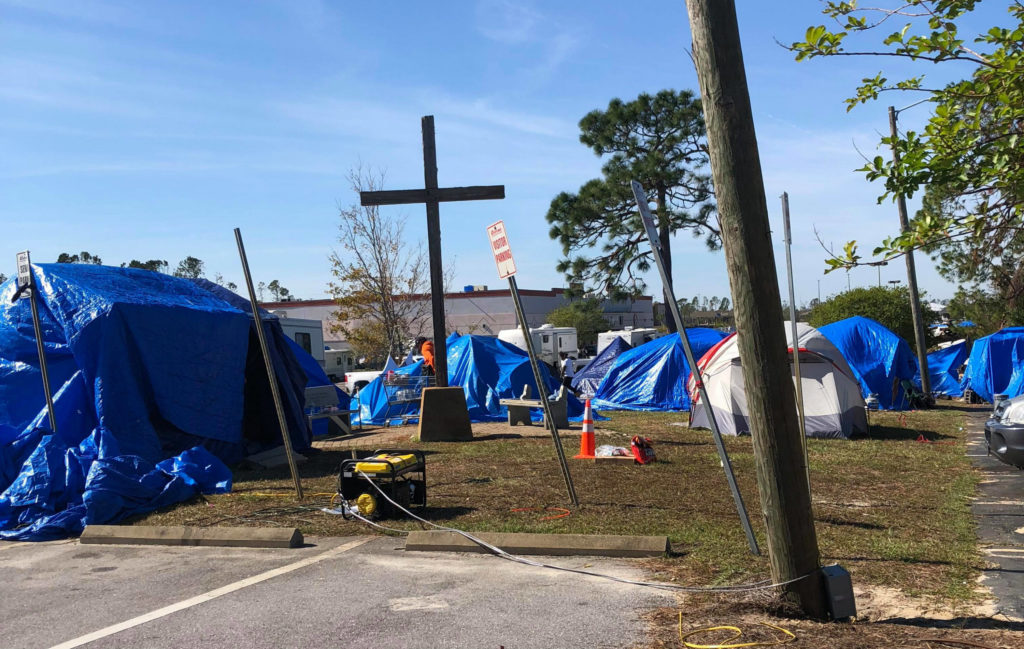 Operation Warm Up Panama City – #850Strong
As I stated previously, we are a military family so we have been on evacuation orders since October 10th and still to this day, November 17th. We've been staying in another state for the duration of our evacuation orders, but have traveled back to our home in Panama City several times to salvage the items we can from our home.
Each time we return to Panama City, it is heart wrenching. The entire city is destroyed and although there's been a month of cleanup, there is still so much devastation. It kills me each time we return and I feel like there's nothing I can do to help my community. The more thought I put into it, the more I realized I can do something. I can reach out to you amazing makers to do what you do best and that is to create beautiful handmade gifts for others.
Tent City
If Tent City is still happening by the time I go to deliver, then this is where I will be delivering all of your amazing handmade items. If there aren't many people left in Tent City, I will go directly to the main shelter at the high school and hand deliver them myself.
Not only will I be hand delivering these gifts but I am also going to be baking a ton of goods and helping the city with their Christmas events. I will also be wrapping each item so that it feels more like Christmas for each of the recipients! Every penny made from each pattern sold in my Etsy account will be put straight into this cause.
How can you help?
There are many organizations and churches helping our city in many different ways. I've reached out to a few, but because they're received so many physical donations they're now only asking for cash. I completely understand this because they're trying to help people in the long run, but that's not my goal here.
The reason why I wanted to put this together is because we are in the midst of the holidays. This is such a devastating time for everyone involved and I wanted to find a way to put a smile on someone's face and remind them that they're not alone. They need to know that there are people out there who are thinking and praying for them every day.
How to Participate and What You Can Make
First, head over to the event I created and choose "going" if you're planning on sending in an item. This way I'll know how many items to expect. You will also receive a notification in case there are any announcements.
Second, invite your friends! If you know someone who loves to knit or crochet, ask them if they'd like to send in an item for a good cause.
I would love if you could donate handmade items (knit or crochet) that will really warm someone up. These items can be:
Hats
Scarves
Mittens
Ear warmers
Even blankets if you wish!
You can choose to make them for men, women, children, or for an entire family. You can also make one, two, three, or even four items! It's completely up to you and how much of your precious time you're able to donate. Just be sure to let me know what kind of item and for who so that I can sort them accordingly.
One more thing. I would absolutely love (and so would they) if you provided your own handwritten note with your item. This is completely voluntary, but I think it would mean SO much to someone. It doesn't have to be long. An example could be that you're thinking about them and hoping they find some sort of relief soon.
What's the deadline?
The deadline to have your items shipped is December 10th. I understand that this is only about three weeks from today and we are in the midst of the holidays, but if you can only make one item that is more than enough. If you are in the UK, you may not be able to mail in your item in time. Another way you can contribute to the cause is to purchase one of my patterns from my Etsy shop. 100% of my pattern sales from now through December 10th are going straight to the victims in need.
Where should I send my items?
I am in the process of creating a P.O. Box specifically for this drive in order to receive your handmade items. (Check back soon for the mailing address or send me an email at [email protected] if you can't find it) The reason why I'm asking that they're sent to me is because the mail system in Lynn Haven and Panama City is not operating effectively. In some places, hundreds of peoples mail are being held in a large facility and they have to wait an hour for someone to find their mail. Honestly, it's a mess, but they're doing the best they possibly can.
Once these items are sent to me; I will sort through them to make sure I give them to the right people, count how many I've received, make sure each gift has a handwritten note, wrap them up if they're not already, and on Friday December 14th I will head down and deliver them! I will continuously update you through my Instagram account so be sure to follow me to see updates!
Other ways to help
Donating a handmade item isn't the only way you can help support the cause. There are many different companies that are helping those affected and I've done my research to make sure the money is going straight to those who need it.
Thank you so much for showing interest in helping my community. It means the world to me and I know it will to them as well. Don't forget to share this with your friends if you think they'd be interested in joining in! My goal of this drive is to receive 100 items! Do you think we can do that?