Trinity Slouch Beanie – Free Crochet Pattern
This past month and a half has been crazy to say the least. I know I haven't posted in a while, but I'm not going to explain why here. It would be WAY too long and deserves it's own separate post. Today we're going to talk about the Trinity Slouchy Beanie and why I've decided after a year of being a paid pattern, it deserves to be set free.
The Hurricane
If you're on my email list, you know that my family and my community was severely impacted by Hurricane Michael. Our home was destroyed along with many others, leaving us living in a hotel for over a month. Because we are a military family, we got off easy. The Air Force has done such an amazing job taking care of us and we couldn't be more grateful. Unfortunately, there are many people who aren't that lucky.
While the hurricane is happening, it's pretty much national news. Everyone waits and watches while it happens. Then the news shows the immediate destruction when it's all over. What the news doesn't show is how communities are affected long term and a lot of people forget about the hundreds of thousands of people who are still being affected. From now until December 10th, 2018, 100% of my pattern sales will be donated directly to this cause.
Because of Hurricane Michael, there are still so many people without homes. Read more about Tent City and Operation Warm Up Panama City here.
Materials:
1 ball Yarn Bee Soft and Sleek in Mauve (5 oz, 258 yds, 100% acrylic, weight 4) – If you don't have access to Hobby Lobby's yarn, 2 balls of Vanna's Choice or any of the thicker medium weight yarn would work great!)
Worsted weight yarn (#4) for the pom pom
Large Clover Pom Pom Maker (optional)
Abbreviations Used:
*All Sigoni Macaroni patterns are written in standard US terms*
Ch – Chain
Sc – Single Crochet
Sc2tog – Single crochet two stitches together: Insert hook into indicated st, yo pull up loop. Insert hook into next st, yo pull up loop. You should have 3 loops on your hook. Yo pull through all 3 loops.
Hdc – Half double crochet
BLO – Back loop only
Rep – Repeat
St(s) – Stitches
Yo – Yarn over
Sp – Space
Sl st – Slip Stitch
Notes:
This beanie is worked from the bottom up. You will start with the brim of the beanie, fold in half and sew together, then working in the round until you reach the top.
Ch 1 at the beginning of the row does not count as a stitch.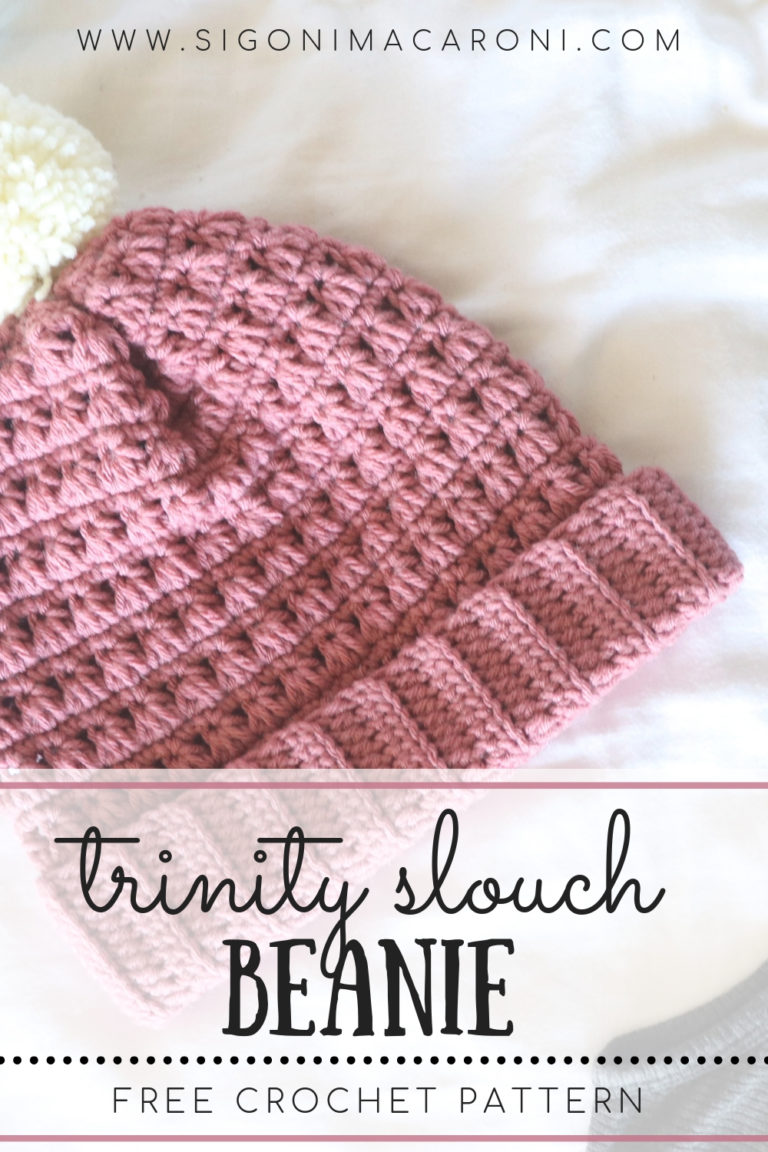 Trinity Slouch Beanie Crochet Pattern
Brim
Row 1: Ch 18, Hdc in 2nd ch from hook and each ch down row. (17)
Row 2: Ch 1, Hdc in the BLO of the first st and each st across. (17)
Rows 3-40: Rep Row 2
Your work should measure approximately 18 inches.
Fold both halves together and sl st across to join the rows.
Turn your work 90 degrees in order to work along the side of your rows.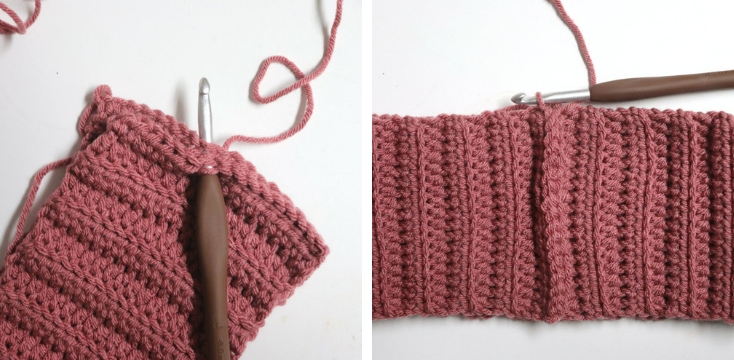 Beanie
Round 1: Ch 1, Sc 60 evenly around brim. Sl st to first st. (60)
Round 2: Ch 2, yo insert hook into base of ch, yo pull up loop, [yo insert hook into next st, yo and pull up loop]. Rep [ ] once more. Yo pull though all 7 loops on your hook. **Ch 2, yo insert hook into same st as last, yo pull up loop. Rep [ ] twice. Yo pull though all 7 loops on your hook. Rep ** around to the last st. Ch 2, hdc in last st. Sl st to first st.
Round 3: Ch 1, sc in first st, sc top of trinity st, [sc next ch-2 sp, sc top of trinity st] Rep [ ] to last ch-2 sp. 2 sc last ch-2 sp (60)
Rep Rounds 2 and 3 alternatively until you have 19 rounds.
Round 20: Sc2tog all around, sl st to first st (30)
Round 21: Rep Round 20 (15)
Tie off leaving long tail. Weave your end in and out of each of the remaining stitches and pull tight to close. Weave in your ends.
Make your beanie even cuter by attaching a pom pom! Then show me your beanies with #trinityslouch. I can't wait to see your creations!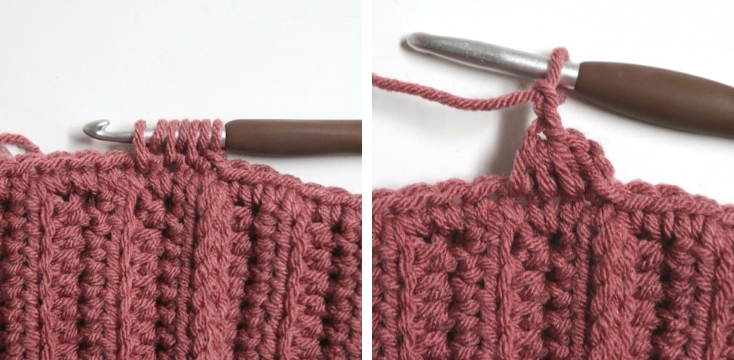 If you created your beanie to donate to someone for Operation Warm Up Panama City, check out that post to find out where to send it. Feel free to email me at [email protected] if you have any questions.