Crocheting with Multiple Strands of Yarn + 11 Quick Tips
Crocheting with multiple strands of yarn is a great technique to try and has many benefits! You can create your own colorways, use it as a substitute for yarn you don't have, or even experiment using yarns of different weights! It can also be used to create a sturdier fabric, like with my Colorblock Beach Bag. Try something new and learn this interesting technique with me. You might even get addicted!
If you haven't noticed, a lot of my patterns consist of crocheting holding two strands of yarn at once. As a beginner this may sound intimidating, but we're going to go over some tips and fun techniques to try right now.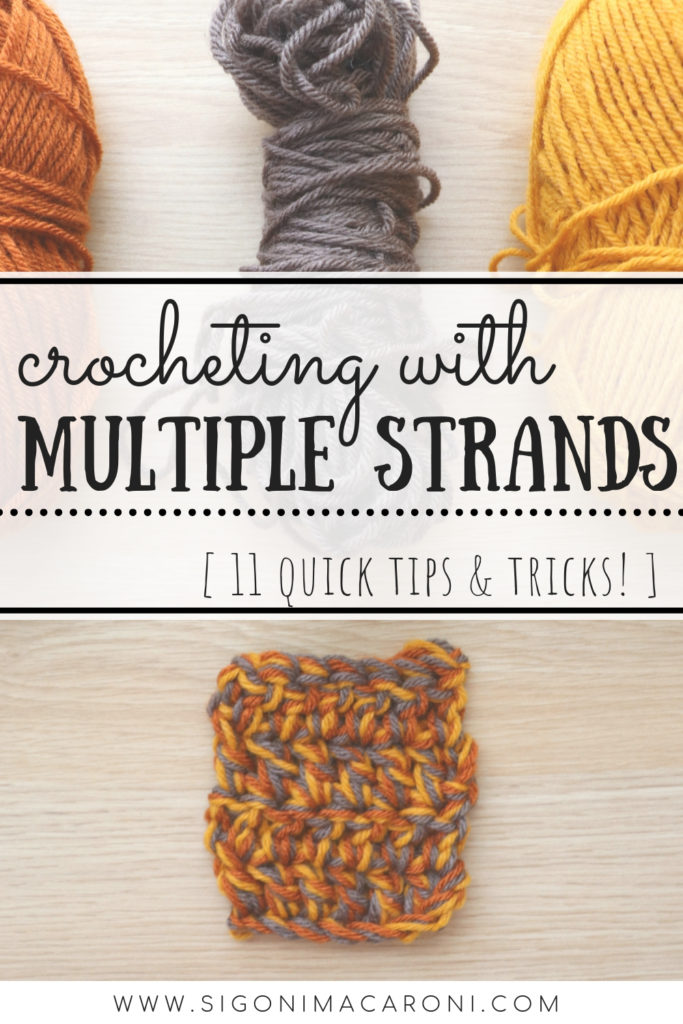 First, let's ask ourselves the obvious question.
Why use multiple strands?
There are several reasons why I love crocheting with multiple strands of yarn. Here are a few to summarize, but I will continue to go more in depth throughout the post.
You can create your own colorways! For example, holding four strands of different shades of blue might just create a serene, ocean-like blanket! (Hm..I might have to give that a go…

🤔)

It creates a sturdier fabric. For the Colorblock Beach Bag, I used two strands of cotton yarn. Because that fiber is more dense, it made the beach bag a lot sturdier. It's great especially when you know you'll be carrying a lot of items in that bag.
You can use it as a substitute for a yarn weight that you don't have in your stash. Let's say you want to work on a pattern that requires a bulky weight yarn but you don't have any in your stash. You can always double up on a lighter weight to achieve a similar (or even better!) project. Of course remember to check your gauge!
Experimenting! Isn't this the best part? With crochet, the possibilities are endless. Try experimenting with different yarn weights, hook sizes, fibers, etc. and maybe you'll end up designing your first pattern!
---
Crocheting with Multiple Strands of Yarn – 11 Quick Tips
1. Pull from the Center of a Skein
When using 2 or more skeins, pull from the center of the skein rather than the outside end. Pulling from the center of the ball helps each of your strands come out smoothly. Pulling from the outside (unless your skein is wound up and in a yarn bowl) will have each skein bouncing around, getting tangled without fail.
2. Hook Size When Using 2 Different Weights
When working with two or more strands of yarn that are of different weights, use the hook size recommended on the label of the largest weight.
3. Use Both Ends from One Ball
When working on a smaller project that requires one ball of yarn (all in the same color), buying two skeins isn't necessary. You can hold both the end from the center of the skein and the end from the outside of the same skein without the ball tangling up on itself.
4. Yarn Bowls are your BEST Friend!
Using separate yarn bowls will keep your strands from tangling. You can purchase one from amazon like the two that I have or you can yarn hack away with one of these tutorials.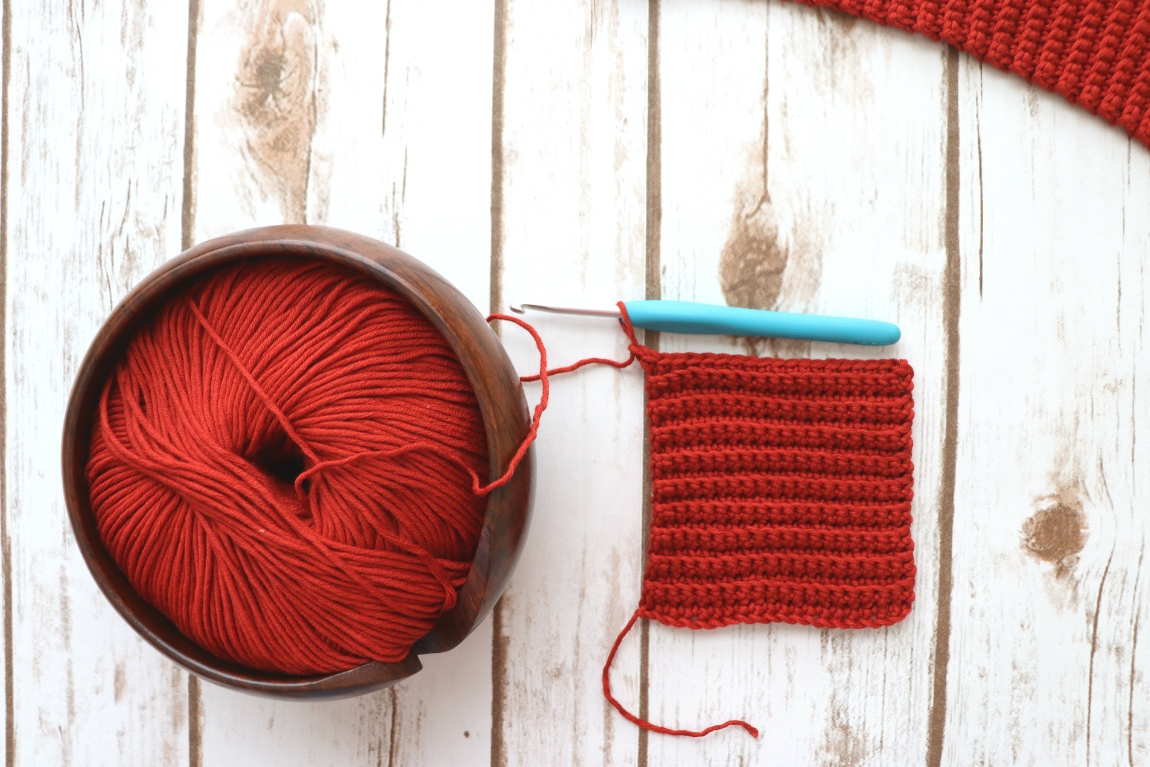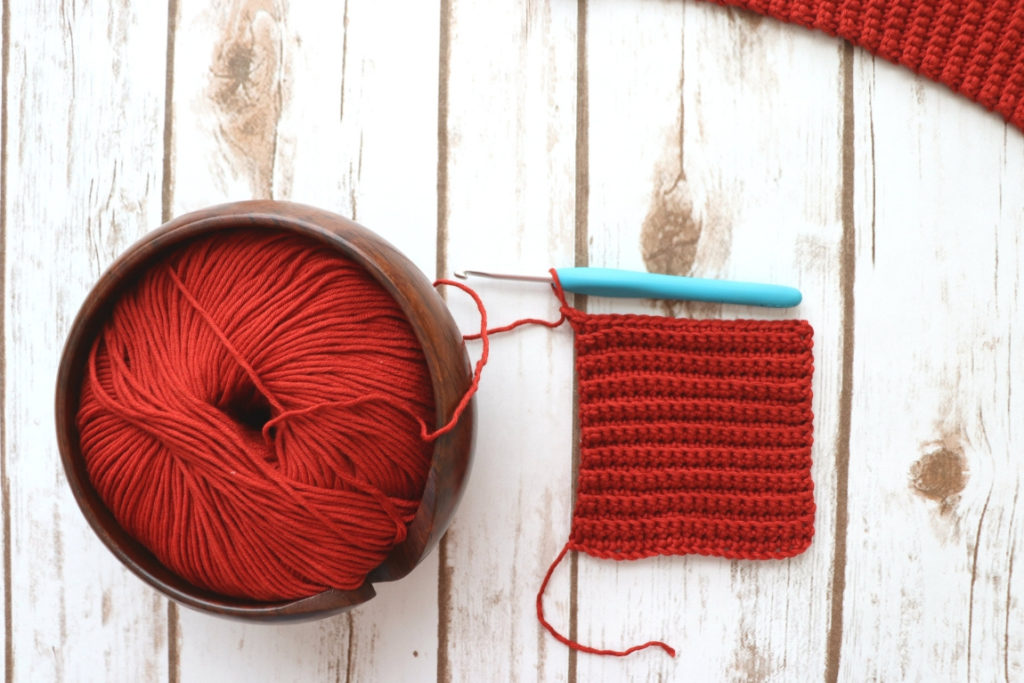 5. Give Yourself Breaks When Needed
Using multiple strands of yarn puts a little more pressure on your hands as you crochet. Make sure you're using a larger hook. The tighter your stitches, the more you will strain, especially when you're using a tougher fiber like cotton.
6. Keep an Eye on Your Tension
You should be crocheting with these two strands like they are one in the same. If one of your strands is loose while the other is being pulled tight, it will show up in your work. Also, make sure you're grabbing all of your strands every time you create a new stitch.
7. Need Help Using Novelty Yarns?
You know those novelty yarns that are super fluffy, making it hard to see your stitches? I just learned of a genius trick! Pair your fluffy yarn with a regular strand of yarn in the same (or different!) color and work your stitches that way. By adding in your normal strand, it makes the stitches visible while also letting that novelty yarn do it's job of making your fabric look unique. I show this technique in the video located at the bottom of this post (skip to 00:05:16).
8. Swatch it up!
Make sure you're going to love the color choice of a few different yarns together by creating a swatch first. Especially before you start a large project! A few different colors may look gorgeous apart, but together they could look hideous. We don't want that.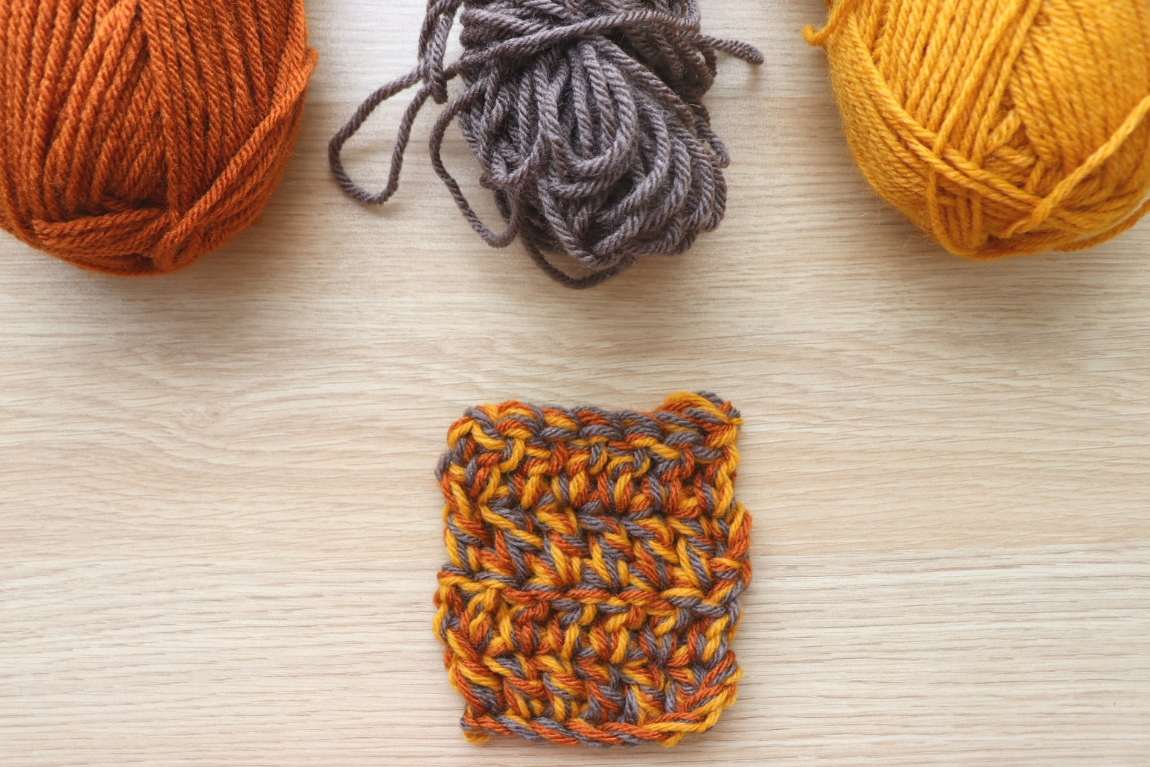 9. Ribbit, Ribbit!
Be careful when frogging your work. If you don't pull all of the strands at the same time, it could get stuck or tangle your work. Nothing too serious, but it can be frustrating especially when using the double crochet stitch.
10. Use a Larger Hook Size Than Recommended
Crocheting with multiple strands of yarn creates a bulkier fabric, meaning you will have to use a larger hook size than suggested on the yarn label. For example, if your medium weight yarn suggests using a 5mm hook and you're working with two strands, I would use a 5.5 or 6mm crochet hook. It's all personal preference and what you think looks best! Experiment to see what you like.
11. Practice, practice, practice!
Everything requires practice. You may not get it the first time, but the more you practice the easier it will come. The first time I tried this technique, I thought it looked impossible but I kept trying because I really liked the look. Now, as you probably know, I use this technique in a LOT of my patterns (shown below)!
I hope you enjoyed these quick tips for crocheting with multiple strands of yarn! I hope you give this technique a try. There are a list of benefits from creating your own colorways to substituting yarn and just plain experimentation! By learning how to crocheting with multiple strands, you could be well on your way to designing your own pattern or creating unique gift for a loved one.
What do you say? Are you going to try it? Show me your makes by tagging me on Instagram @sigonimacaroni! I would love to see them.
Don't forget to check out the video below that covers the above tips as well as the tutorial for crocheting with multiple strands of yarn. Then subscribe to my channel and join us in the Crochet'dy Bunch Facebook Group for weekly tips and video tutorials!
You can skip ahead to the tutorial section at

00:08:39
Sigoni Macaroni Crochet Patterns using Multiple Strands of Yarn
Halloween Trick or Treat Bags