21 Healthy Breakfast Recipes for Picky Toddlers
*Updated: 1/8/18
Is your Toddler a Picky Eater? It can be frustrating when your child refuses to eat and you have no idea what to make them because you've already tried 10 other things. Since Breakfast is the most important meal of the day, I put together this list of 21 Healthy Breakfast Recipes for Picky Toddlers. I hope to make it easier for you to choose healthy meals your toddler will love, all in one place!
Toddlers are the hardest little suckers to cook for! You make them one meal and they love it. So you make it again a few days later and they say, "Ew Mommy this is GROSS!" You look at them like they crazy and say, "Child you just ate this same thing a few days ago and you scarfed it down like you had never seen food before!" Then there's times where they'll stare at it, roll it around on their plate, chug their juice rather than take a bite of their food, or just plain say, "I don't like it" BEFORE they even try it! And THEN there are times where they just won't eat at all, so you to start worrying about them not getting enough nutrition. Does any of this sound familiar to you?
[bctt tweet="Toddlers are the hardest little suckers to cook for!" username="Sigonimacaroni"]
I put together this LONG list of breakfast ideas because, as we already cleared up, TODDLERS ARE PICKY EATERS. If you make one of these recipes today, he/she will not like it tomorrow. Luckily each of these recipes are delicious AND healthy so there's a good chance your child will love each and every one of them. (Ha! Probably not. But we can hope.)
I've tested quite a few of these guys and my
extremely
picky toddler has loved all of them so far. We're still working on cooking the rest of them up. His favorite is the Banana Blueberry Fritters! I cooked some up today and paired it with some Vanilla Yogurt and Granola!
Also, a few of these recipes belong to some of the Food Bloggers who have contributed their eCookbooks to the Ultimate Healthy Meal Planning Bundle! If you haven't heard of this bundle I'll briefly mention it at the bottom of this post! Or you can check out my Facebook page where I have been highlighting one Food Blogger a day who has contributed to the bundle!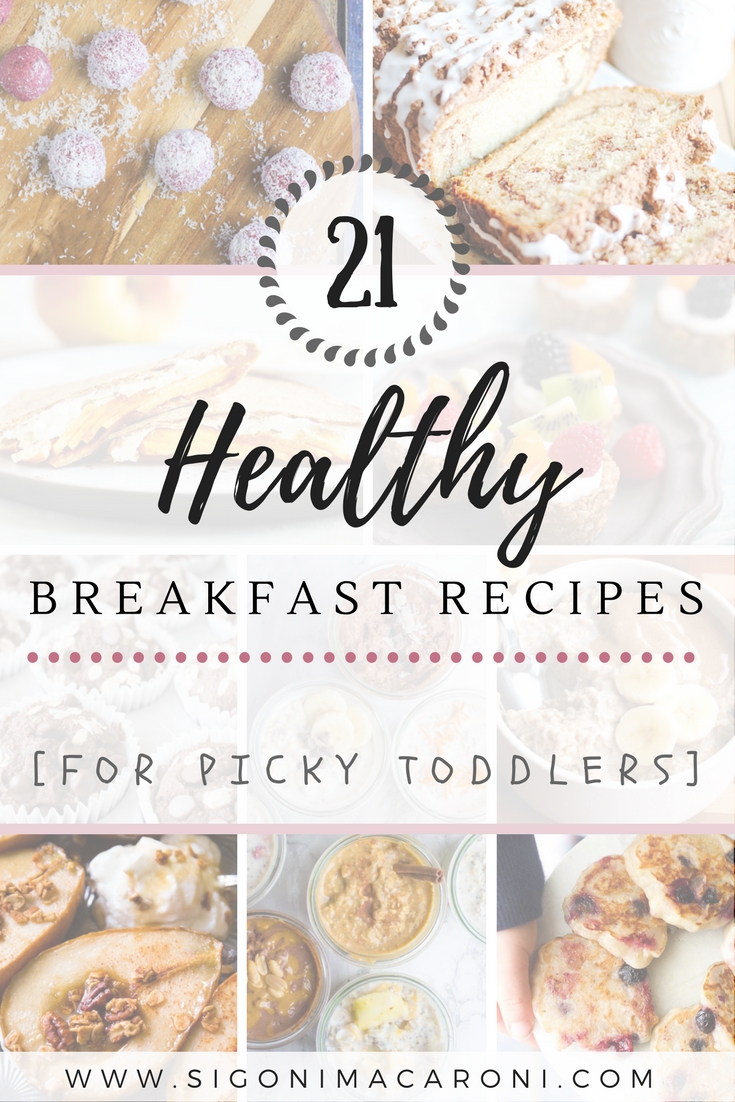 This post uses affiliate links, which means I may make a small commission on products purchased through links clicked on this post at no extra cost to you. This helps keep this site running, so thank you for your support in this way!
21 Healthy Breakfast Recipes for Picky Toddlers
**BONUS
If for some reason your toddler STILL will not eat any of these, smoothies are a GREAT way for them to get an extra nutritional boost! My son hates blueberries and since blueberries are brain boosters, I really try to push them on him. He refuses every time no matter how I serve them. (EXCEPT in the Banana Blueberry Fritters, actually. He ate about 5 of them before he realized they were blueberries! Haha! Then, of course, he refused to eat the last one on his plate.) Anyway, my point is you can add ingredients your kids wouldn't normally eat without them even knowing!
Here are some smoothies I recommend!
As you could see from my notes above, some of these Food Bloggers are the same Food Bloggers that contributed to the Ultimate Healthy Meal Planning Bundle! This Meal Planning Bundle is no longer available, however, I have bought my fair share of Baby & Toddler Cookbooks and my favorites are listed below!
I hope you AND your toddler enjoy these 21 Healthy Breakfast Recipes! Meal prepping is also a great way to prepare breakfast, lunch, and dinner for your whole family! Do you meal prep? I have a few tips on how Meal Prepping saves a LOT of time if you're interested!
How do you please your Picky Toddler? What are their favorite meals?
This isn't breakfast related, but my son's all-time favorite meal is Grilled Cheese and Salad! Haha!