11 Crochet Secrets | Things I've Learned Over The Past 4 Years
Learning how to crochet has been one of the highlights of my life. I've learned a lot about myself and the craft itself over the past four years. Today I wanted to share 11 crochet secrets I wish I knew when I first started. I wanted to share these crochet secrets in hopes that you learn from my mistakes and start crocheting with a more optimistic mindset.
Before I found crochet, I wasn't in a very good place.
I couldn't handle the stress of having a physically and mentally demanding job, working week days and weekends, paying for two different daycares. On top of that, I was having to leave that job multiple times a week because of my then two year old's chronic asthma at the time.
What I did have though, was my amazing, supportive husband (who was actually my boyfriend at the time) who urged me to quit my job so I could stay home and do the things I truly loved: Being home with our little one and starting my own business.
Not only did it change me personally, but I've learned a few crochet secrets in the past four years as well. Let's talk about these secrets so that you can avoid these mistakes and learn in the best way possible!
These 11 crochet secrets came from

Week 5

of the Limitless Crochet Everyday project! Head over there for more encouragement and tips for when you're first learning how to crochet.
---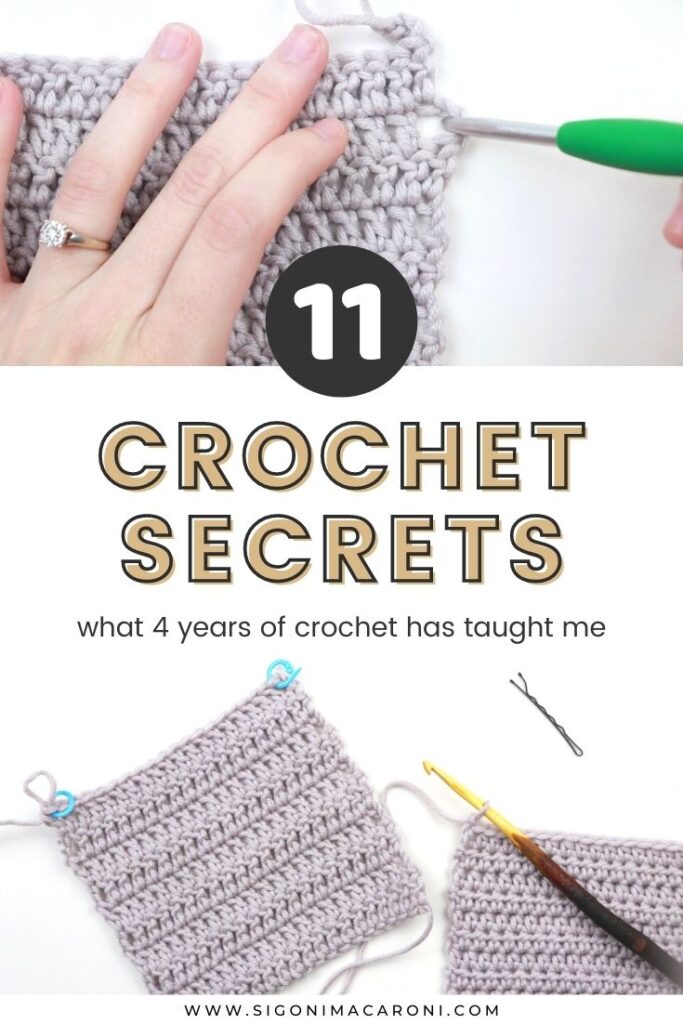 ---
11 Crochet Secrets | Things I've Learned Over The Past 4 Years
I have learned many many secrets about crochet over the past four years, but today I'm only going to cover 11 of them. I'm hoping that these tips will help encourage you to have a more optimistic mindset when learning how to crochet.
When you're first learning it can feel overwhelming. But I'm going to try my best to make you feel as comfortable as possible! You got this!
Now let's talk about these 11 crochet secrets.
---
Crochet Secret #1:

The more you crochet, the more you learn

You may or may not be tired of me saying "the more you crochet, the better you'll get", but it's true! It's really about learning more about the craft and that is what helps you to get better.

It is so amazing to me how many things you can do with just a hook and some yarn.

By crocheting a variety of different projects, you learn many different things. Things like:
the construction of a project
different stitch variations
how different types of yarn drape better than others
that you can use a 10mm hook with a lightweight yarn if that's what you want to do
and so much more!
Did you know there are three different ways you can make a hat?
There are also multiple ways to make garments and blankets and amigurumi. And that's exactly why I put together the Limitless Crochet Everyday project!
Many people want to learn how to crochet so they can make blankets and hats and scarves. And that is all so wonderful, but I'm here to tell you that you don't have to stop there.
You can literally make anything you want and I promise to show you how.
---
Crochet Secret #2:

Turning chains are what you make them, as long as you understand them

Ugh, turning chains. When I first started crocheting, this was more frustrating to me than tension.

I couldn't for the life of me find someone who could explain turning chains to me. Everywhere I looked, someone said something different. It wasn't until I crocheted a hundred different things that I started to understand them.

The reason why turning chains are so contradicting is because designers can do whatever they want with their pattern. But the pattern is written assuming you already understand turning chains and what they mean.

If this is something you've been struggling with, read through this post and share it with anyone else who's been struggling.

I promise it will clear everything up – if not, leave a comment below with any questions.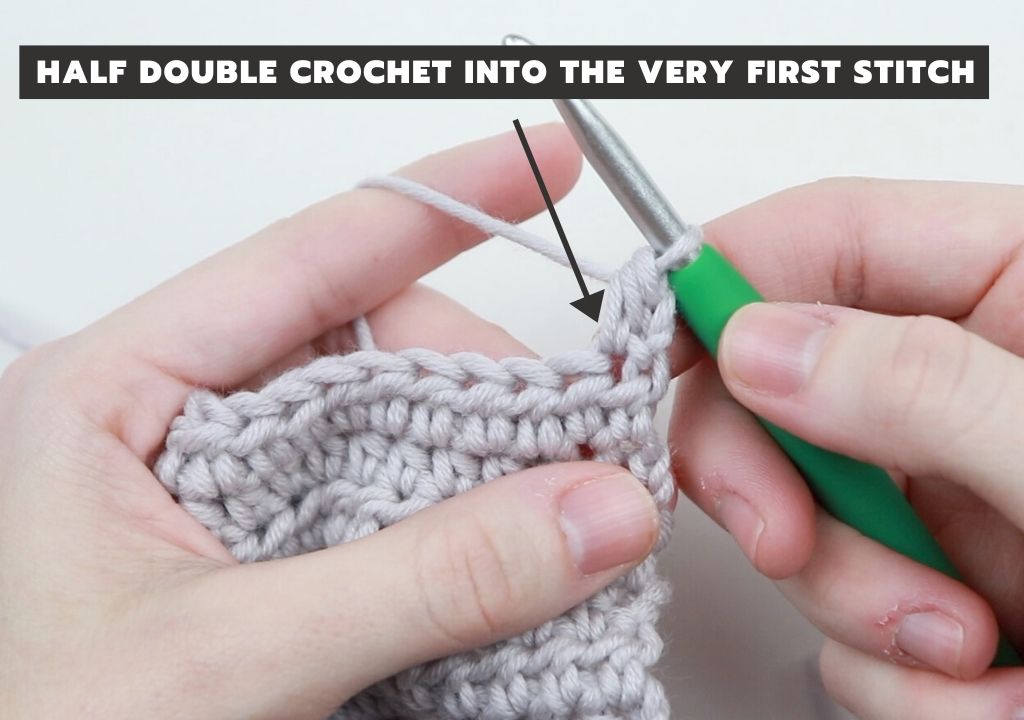 ---
Crochet Secret #3:

Clover Amour crochet hooks are worth the price

I know I've already mentioned this a few times these past few weeks, but this is one of the things I've learned over the years so I thought I would share it again.

The first year I learned how to crochet, all I used were aluminum hooks. These worked great for me and I never really had any problems. But I was always so curious as to why Clover Amour hooks were so much more expensive.. so naturally, I had to try one out.

I bought one hook in my most-used size because buying the whole pack was obviously out of the question.

I remember the moment I tried it for the first time. I was sitting in bed with my husband. He was reading a book and I just started my project. After the first row I looked over at him with my eyes wide, and said "no friggin way!".

I can't even explain how much of a difference these hooks make. My stitches are so much smoother. The yarn just glides through. They are simply amazing.

So that's all I've used for the past 3 years now. When I lose a hook, because that's bound to happen, I try one of my backup aluminum hooks but my hands are so used to Clover that I can't use them anymore!

I recommended them inside the Crochet'dy Bunch Facebook Group a few years ago and it resulted in this really funny conversation that cracks me up every time I read it. 🤣 You could probably find more conversations like these in the group too!

Like I said, I never had any problems with aluminum hooks. I'm not telling you to switch if that's what's working for you. Just sharing my personal experience!

If you are interested though, you can find them in my Amazon Store under "Beginner Essentials".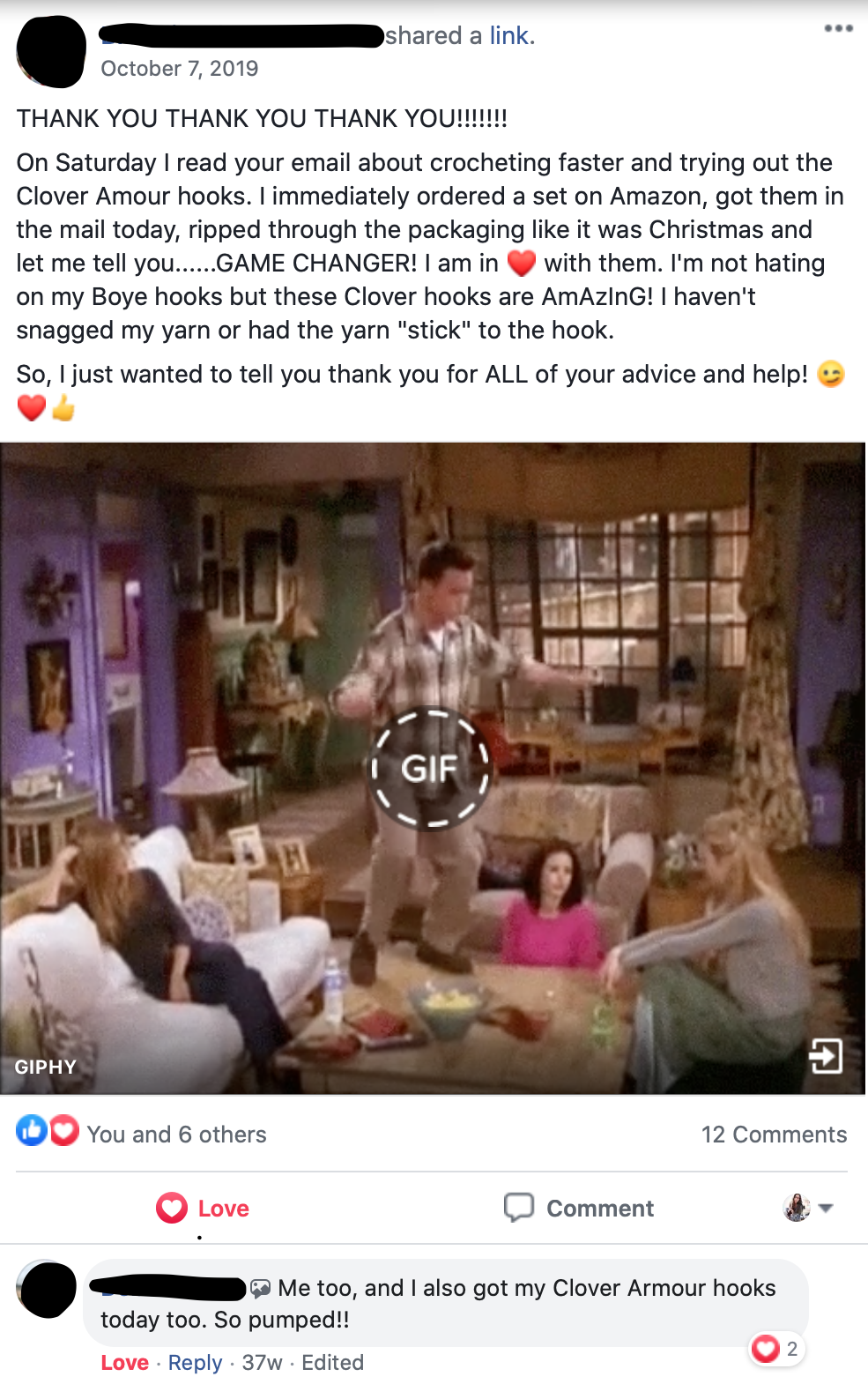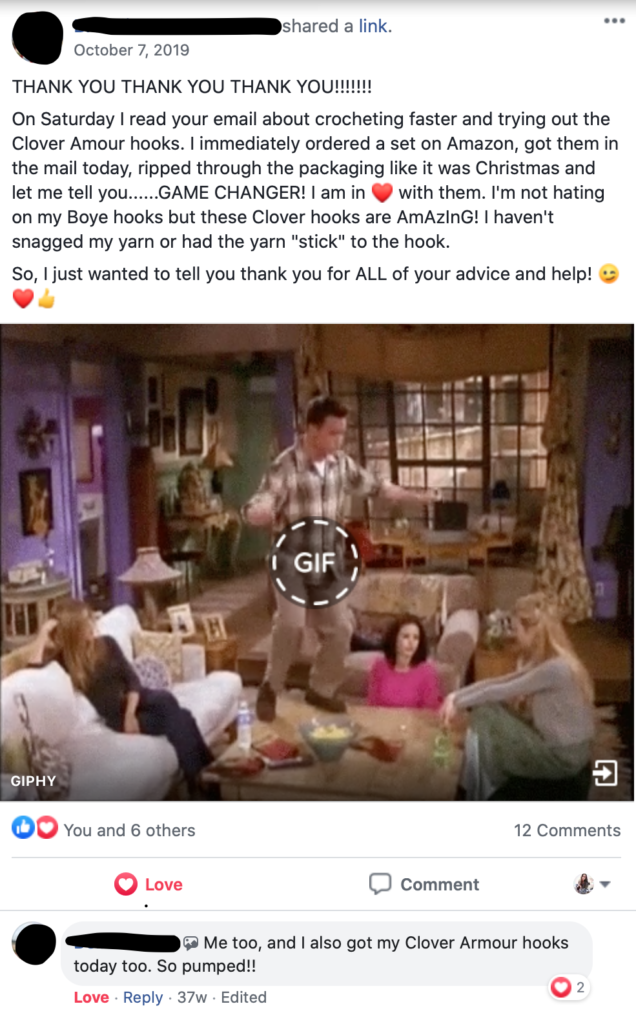 ---
Crochet Secret #4:

If you can't find a tutorial, make it up as you go

There is no wrong way. Let me repeat that. There is no wrong way!

Along the way you will come across things that you're not sure about. There will be certain things you won't be able to Google or find a tutorial for. That's your cue to wing it!

If you really want to make something, but can't find a pattern, make it up as you go! Buy a crochet stitch dictionary and go to town. Same goes for any other issue you come across. That's how I started designing.

And speaking of that…
---
Crochet Secret #5:

Anyone can design

You don't have to go to a certain school or take a certain class to become a designer. When you create a project off the top of your head without using a pattern, then you are a designer.

I have this thing where I ALWAYS have to follow the rules.

When I cook dinner, whether it's a new dish we're trying or the same dish we've had a hundred times, I have to follow the recipe to a T. I can't deviate or I feel like the entire recipe is ruined 😂

My husband, on the other hand, throws things in that don't belong and mixes things that shouldn't be mixed and it drives me nuts!

My point is, I never in a million years thought I would become a designer.

But the more I crocheted, the more I stopped being able to follow patterns without changing something because I liked it better another way. And the more I did that, the more comfortable I felt going off the deep end and creating what I wanted to create.

Before I started really designing, it was around Halloween time. When I was a kid my mom always handmade our costumes and I wanted to do the same. So I decided to crochet a costume for my son and that was my very first design (see it below).

That's when I knew that crochet was the only craft that truly made me feel creative.

So if you want to design, do it! And here are some more tips on designing. They're more silly than practical, but if you have any questions about designing, just comment down below!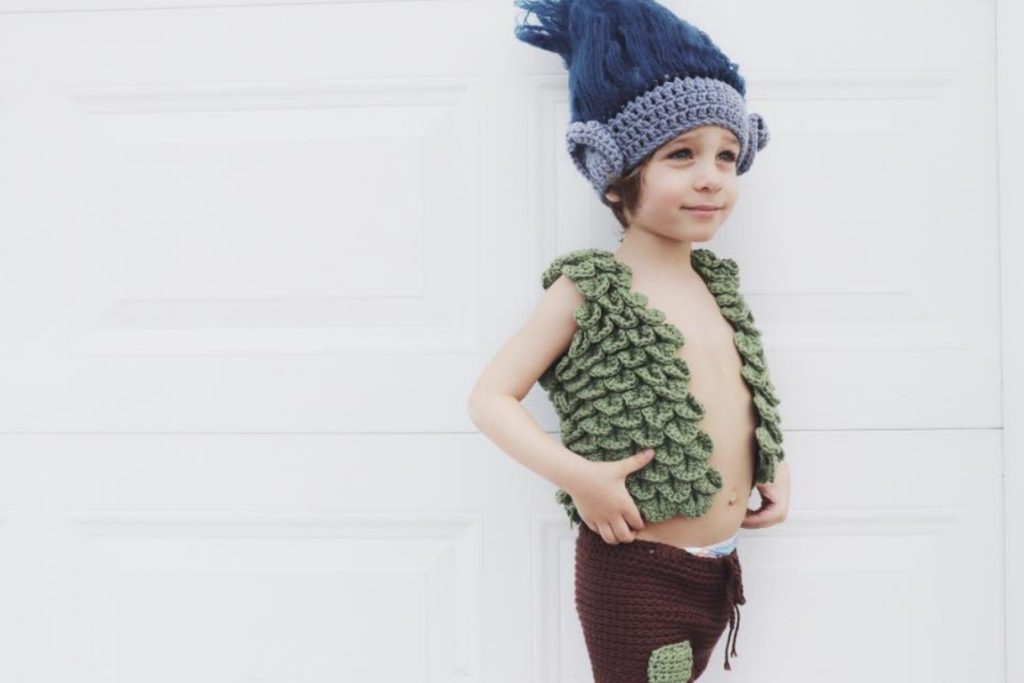 ---
Crochet Secret #6:

Youtube has great free resources in moderation

Like a lot of you, I learned how to crochet through YouTube. I was so thankful to have all of these free videos at my fingertips and that's one of the reasons why I started my own YouTube channel!

And while YouTube is a really great resource for tips and free patterns, it's not the best when you're someone who wants to learn step by step from the very beginning.

It took me a long time to get where I am today because, with YouTube, I just followed along.

I didn't actually learn the reason behind each new technique or style or stitch pattern. The only way I learned was by creating hundreds of different projects.

YouTube has great absolute beginner tutorials, but if you're not learning everything from one particular person, things can get contradicting. And I really disliked not having someone to go to to answer my many questions.

Side note: That's why I created the Learn To Crochet Masterclass. So you could learn the right way from the start so you can make beautiful things faster without feeling confused about what you're doing.

Of course you will learn a lot from personal experience, but I created my course to set you in the right direction with all the tools you need.

This class is perfect for you if you're just starting out or if you've started but are still confused about some of the basics.
---
Crochet Secret #7:

Do NOT crochet in the car

Ugh, I don't even like thinking about this. Before that horrible day when I decided to crochet in the car, I never had car sickness or motion sickness of any kind.

I heard that crocheting in the car could cause it, but didn't think I'd be affected because I never had any issues before.

Boy was I wrong!

Here's the story: One day we went to visit my parents who live about 5 hours away. I decided that this time in the car would be a great time to finish one of my projects! 🙄

15 minutes into the trip, I started working on my project…5 minutes later, I started feeling nauseous.

I felt so sick that I had to tell my husband to pull over. Then for the rest of the 4 1/2 hour ride, I felt more nauseous than I did during both of my pregnancies.

Horrible. Just horrible.

Of course this might not be the case for you, but I will never try it again 😂
---
Crochet Secret #8:

Weave in ends as you go

Oh my gosh, there is nothing worse than weaving in ends!

The other day someone in the Facebook group posted a photo of her temperature blanket with HUNDREDS of strands untouched (you know who you are 😉). The thought of weaving in those ends gives me anxiety.

If you came to my house and went through all of my finished projects, you will notice that almost all of them still have ends that need to be woven in 😅

In fact, my husband just asked me the other day why I always leave them hanging. My response? The moment I tie off my work on the last row, I'm done. Don't judge me.

That's why I learned to weave in my ends as I go. I'll talk about this more next month when we cover project making, but I highly suggest doing this if you have the same problem.

Sometimes I'll give myself a row number and once I reach that row, I'll take a break from the crocheting part and stop to weave in some ends.

If I don't do this, my ends will never be woven in.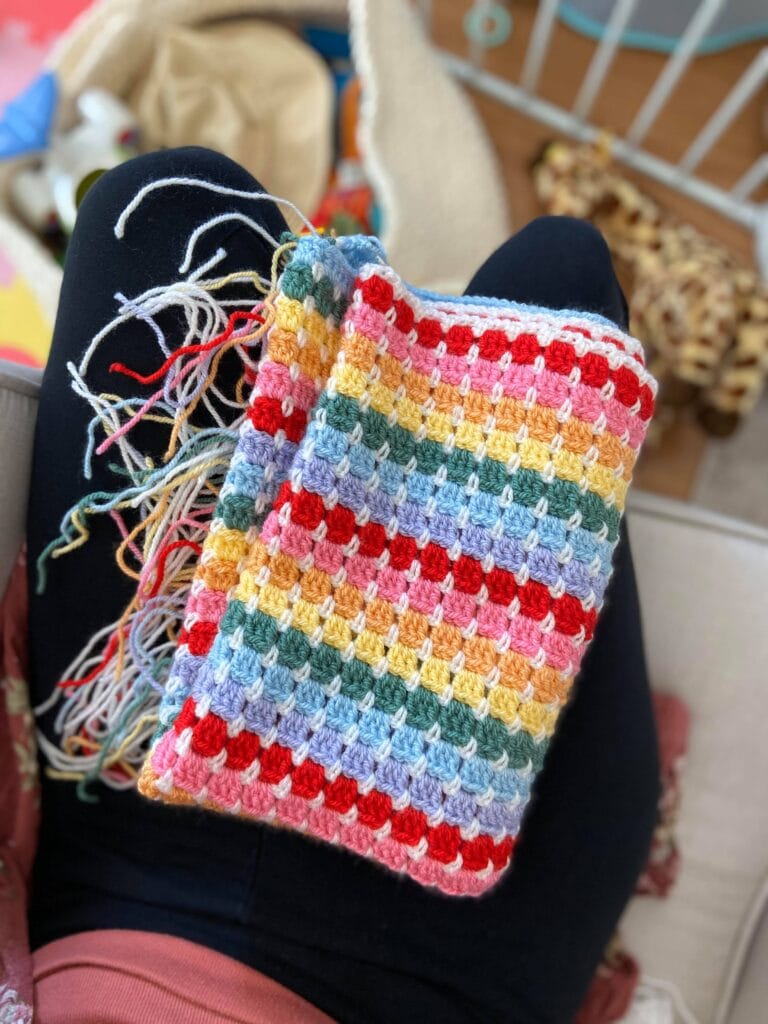 ---
Crochet Secret #9:

Tension affects you in all stages of your journey

A few weeks ago, I posted a photo of a blanket I made for my mother-in-law that took me 3 years to make (see it below). And I talked about how much of a difference there was from the squares I completed a year ago compared to today.

I created one "Sunshine" panel years ago and another "Sunshine" panel a few months ago and the first one I made was significantly larger than my newer one. There was so much of a difference that I had to scrap it and make another!

And that wasn't the only panel like that. But because I made so many panels previously, I wasn't going to restart the whole blanket so I just crossed my fingers and prayed that it would work out.

And it did!

I don't know what made my tension change so much, but that just goes to show that the more you crochet, the more you evolve.

Many things affect tension. It could be the hook you're using or even your mood that day. Things change.

The most important thing to do is understand tension and what you should do if you're crocheting too tight or too loose.

If tension is something you struggle with, watch the video I released last week.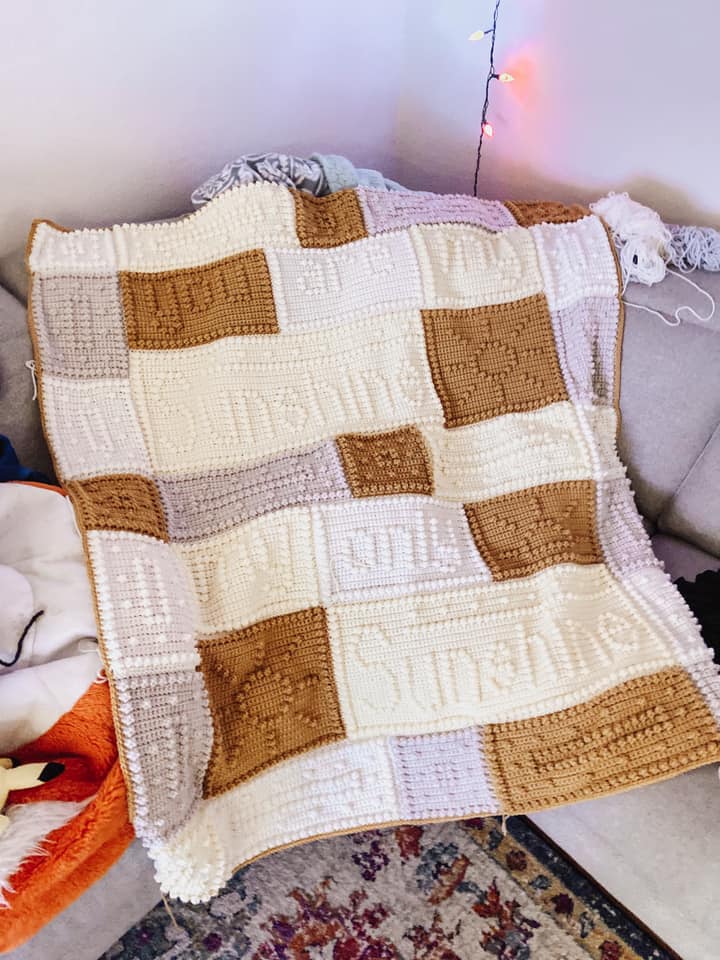 ---
---
Crochet Secret #10:

Losing your crojo is a real thing

Have you ever heard someone say they lost their crojo? If you haven't, crojo means crochet mojo. It can go one of three ways.
When you're working on a project for a long time and you're just feeling beat. You don't want to work on it anymore because it's boring or repetitive or you've just lost interest.
When you desperately want to make something, but you can't find a pattern that really speaks to you so you feel lost.
When you've been making one thing after another and you want to keep making, but you just can't bring yourself to do it. And then you get mad at yourself for not wanting to!
These are three different ways you can feel when you lose your crojo.
In the beginning, I thought I would never lose my crojo. "Crochet is my life and I'm obsessed and I love making", is what I said. But sometimes you need a break and that's okay!
Crochet takes up a lot of time and mental capacity. Especially if you're like me and you get stuck in the black hole of Pinterest and just want to make all the things! But of course we don't have time to make all the things and then we start feeling overwhelmed.
So what I've learned is to plan out my projects at the beginning of the year for all the people I want to make things for and I put them inside my planner. I don't always get to them and sometimes I'll change the patterns up, but it helps me to stay focused on the things I want to make.
If you need help planning out your projects, I have a free video training showing you exactly how I do it.
---
Crochet Secret #11:

Frogging is GOOD

Out of all of the crochet secrets, this one is probably the most important.

Frogging is not a bad thing.

Is it frustrating? Yes.

Can it feel like a waste of time? Yes.

Does it diminish your confidence? Yeah, I get it.

But just know that EVERYONE frogs their work. It doesn't matter if they've been crocheting for 5 days or 50 years.

Frogging doesn't mean you're inexperienced, it means you're learning. But the thing is, we're always learning. That's why I started LCE. To really show you all of the possibilities.

Learn from your mistakes, build confidence by creating more projects, and the next time you have to frog your work, ask yourself, "What did I learn?" Stop looking at your unravelled yarn as a waste of time and take it as a "what not to do next time."

Last week I released a new video talking about the common mistakes that I see and how to fix them. A LOT of the video is dedicated to encouraging you to embrace frogging and to not give up. If you're feeling frustrated, go give it a watch👇🏼👇🏼❤️
I hope these 11 crochet secrets help you to learn from the mistakes I made and that you start off on the right foot. If you have any questions about these secrets or about crochet in general, leave them in the comments below!
Do you have any crochet secrets to share?