Ready to learn how to crochet like a pro?
If you are, you are in the best place to learn or refine those skills. This Learn to Crochet Masterclass will teach you everything you need to know about the basics and beyond. By the end of this class, you will be able to make THOUSANDS of future projects.
Welcome to the Learn to Crochet Masterclass
I've put together this FREE Learn to Crochet Masterclass so you can become a pro in no time! You will learn the basics of crochet and beyond with TEN video lessons and TWO beginner friendly projects. Whether you're an absolute beginner or you've tried and failed, this Learn To Crochet Masterclass is for you.
Ready to change your life?
Learning to crochet can feel overwhelming, especially when starting by yourself.
here's how this class will help.
No more wondering, "What should I learn next?" because this class will take you step by step from the beginning to creating your first project.
Every single lesson includes a picture and video tutorial to further enhance your understanding of each stitch and lesson.
I know how hard it can be to find left handed tutorials. That's why I've made sure to create a left handed tutorial for every stitch and pattern.
But you know what?
I've been in your shoes.. and there is a better way!
I am passionate about helping you learn to crochet in the easiest way possible.
I know all too well how frustrating it can be to teach yourself how to crochet without having anyone to actually walk you through it or ask questions. I've been there.
It took me years to get where I am today, but I have learned so many things along the way. It is my goal to teach you how to crochet in the easiest (and funnest!) way possible. I strive to create easy to understand tutorials and I want nothing more than to see you succeed. Let's do this!
Introducing
Learn to Crochet Masterclass
You can enjoy this masterclass in two ways. The first way is the FREE way! I decided to make this course free so that everyone has the opportunity to learn. But I also created a 70+ page ebook to go along with this course that will help enhance your understanding of each lesson. You can learn more about each option and the benefits below.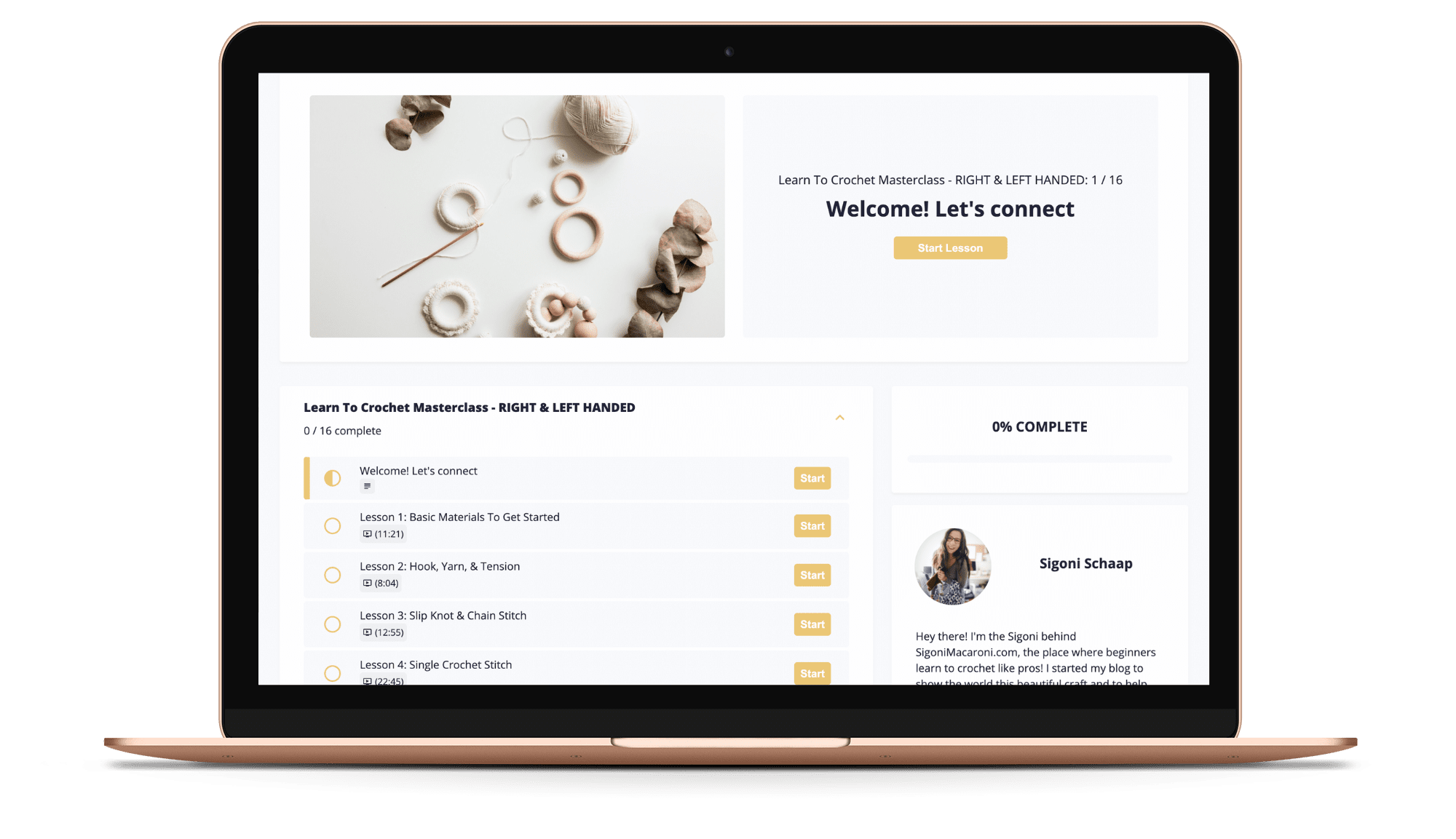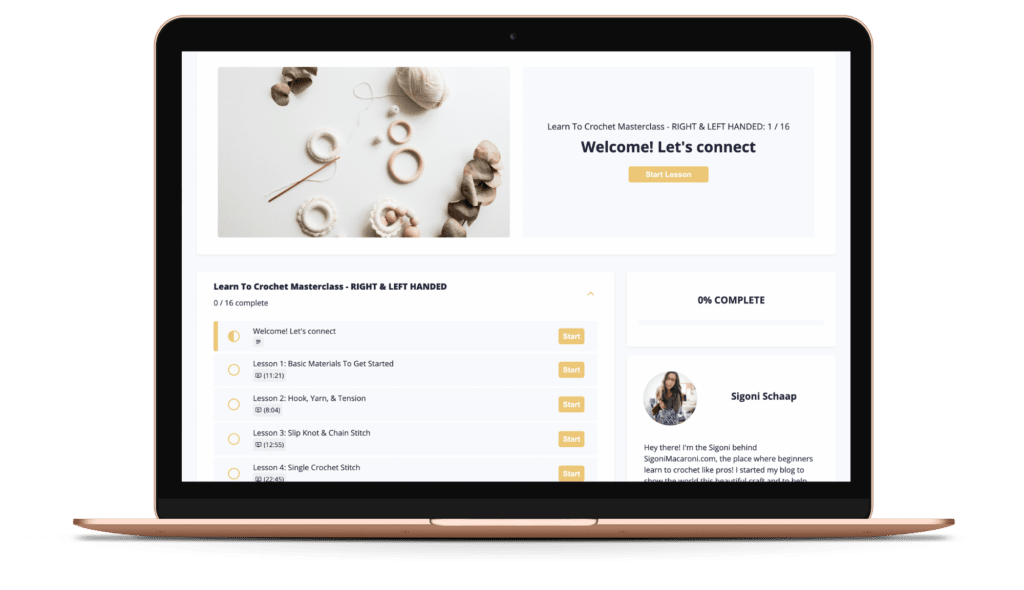 Let's get down to business
Here is what we cover…
Module one
Before you get started
The first few lessons will start off by sharing everything you need before you get started with crochet. We will cover all of the supplies needed, plus some additional supplies that are optional but very helpful. We will also talk about tension and how to hold your hook and yarn. Even before you have all of your supplies together, it's important to understand how tension works so you know exactly what to expect.
Module Two
The Basic Stitches
Did you know that there are only 4 basic stitches that make up HUNDREDS of different stitch patterns? You will learn each one of these stitches inside the class and this will this set you up with the building blocks to create thousands of future projects!
Module Three
Reading Crochet Patterns
There is a lot to understand about reading crochet patterns. We will cover the basics of reading and understanding patterns, but practice is the best way to learn. In this module we will go over common abbreviations, terms, and this is also where you will make your very first project!
Module four
Crocheting in the Round
This module will open you up to the opportunity of making EVEN MORE amazing projects. There are some projects you can only make by crocheting in the round. For example; amigurumi, some hats, baskets, bags, rugs, and so many others. After learning a few different ways to crochet in the round, you will be able to make every type of project.
Module five
Problem Solving
Even after learning all there is to know about crochet, there are still going to be times where we make mistakes. This module will teach you about several of the most common mistakes and how to fix them. You will also learn how to keep your edges straight, which is another common frustration. And lastly, we will talk about some additional ways to adjust your tension.
"This not only brought me a meditative hobby, but a sense of confidence and self worth."
marie s.
$0
Free Class
14 video lessons WITH ADS
Hosted on Youtube
Access to our Facebook group
–
–
–
–
–
–
–
$25
One time Payment
14 video lessons AD-FREE
Hosted on the Teachable platform
Access to our Facebook group
70+ page Masterclass eBook, which includes:
Picture tutorials for every stitch (right & left handed)
Additional help with achieving straight edges
Handy reference guides
BONUS: Starlight Infinity Scarf PDF Pattern
BONUS: Common Mistakes & How To Fix Them training
BONUS: Plan Your Projects Like a PRO training