Simple Scrubby Dishcloth Crochet Pattern for Beginners
One of the most popular patterns for beginners are washcloths! Why? Because they're quick to work up and a great way to practice new stitches. Plus, you can give them away as gifts or use around your own home! The Simple Scrubby Dishcloth Crochet Pattern is one of the five best crochet washcloth patterns for beginners. Why? Because not only are we making something useful, we're putting our new skills to the test! With the Simple Scrubby Dishcloth Crochet Pattern, we'll be practicing the half double crochet and working with double strands.
It doesn't look very beginner friendly at first glance, but let me explain.
What will I learn through this pattern?
I put together this washcloth series as a way for crochet beginners to practice the basics, but also come away with something valuable.
The Simple Scrubby Dishcloth only uses half double crochet stitches, but with a twist. It will also help you practice holding double strands, which is such a beneficial technique to learn! If you'd rather see a video tutorial of using multiple strands in action before you start this pattern, watch the video at the end of this tutorial (skip to 00:08:35). You can also head over to the tutorial to learn 11 quick tips.
When you first saw this pattern, you probably thought, "Um lady, this is not beginner friendly." Not only are we using a fuzzy "novelty" yarn, but we're also crocheting with double strands. These are two things that I specifically say not to do as a beginner, BUT I wanted each of these washcloth/dishcloth patterns to test you.
I tell you to stay away from novelty yarns because it's hard to see your stitches. However, when you pair it with a regular strand of cotton yarn, it makes it 10 times easier to see your stitches, plus you get that gorgeous scrubby look!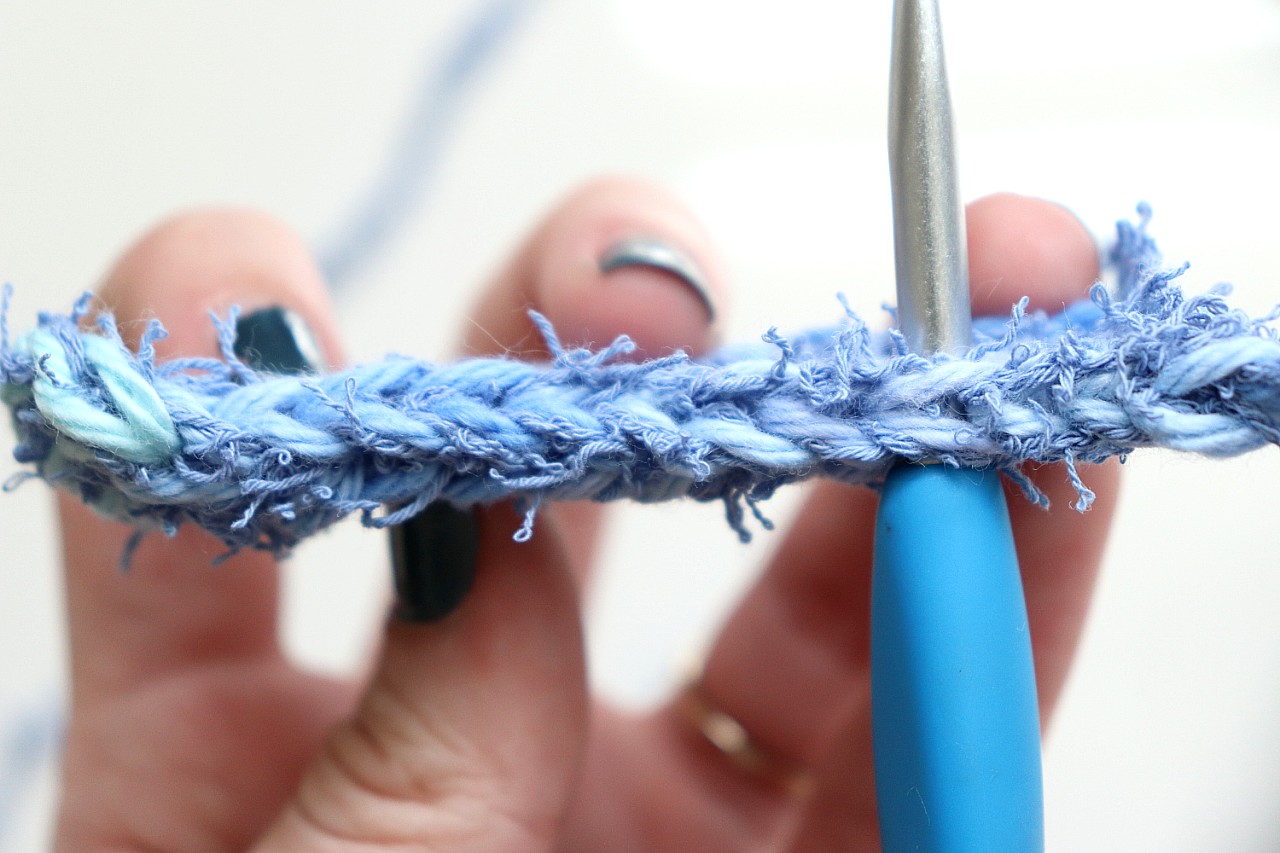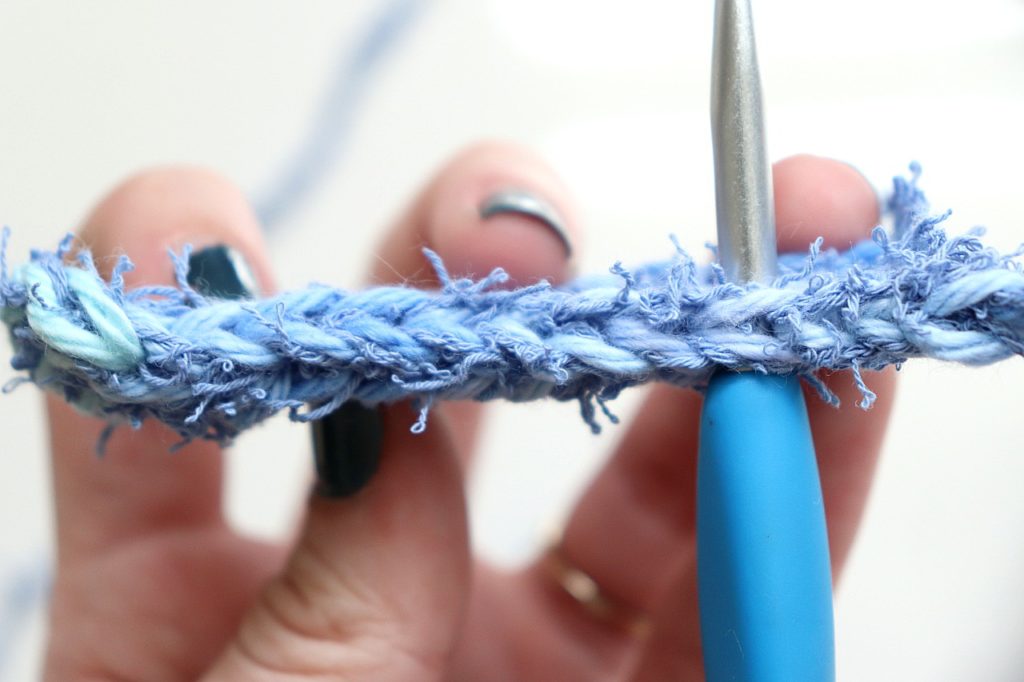 Give it a try and let me know in the comments what you think. If you're having trouble with the half double crochet stitch, feel free to chain the same amount and try the single crochet or double crochet! Possibilities are endless and there are no rules.
If you haven't learned the half double crochet stitch or you want to read up on using multiple strands, you can find both tutorials below.
---
About the Beginner Washcloth Series
As I mentioned previously, I designed a set of these washcloths to help you practice the basic stitches as well as a few other skills. If you want to check out the rest of the patterns, you can find each of them listed below:
In the original post where I introduce each of the patterns, I also go over a long list of alternative yarns you can use. You'll hear me repeat a few times that cotton yarn is the best yarn to use when making washcloths. Head over to that post now to read more about the many different yarns you can choose from.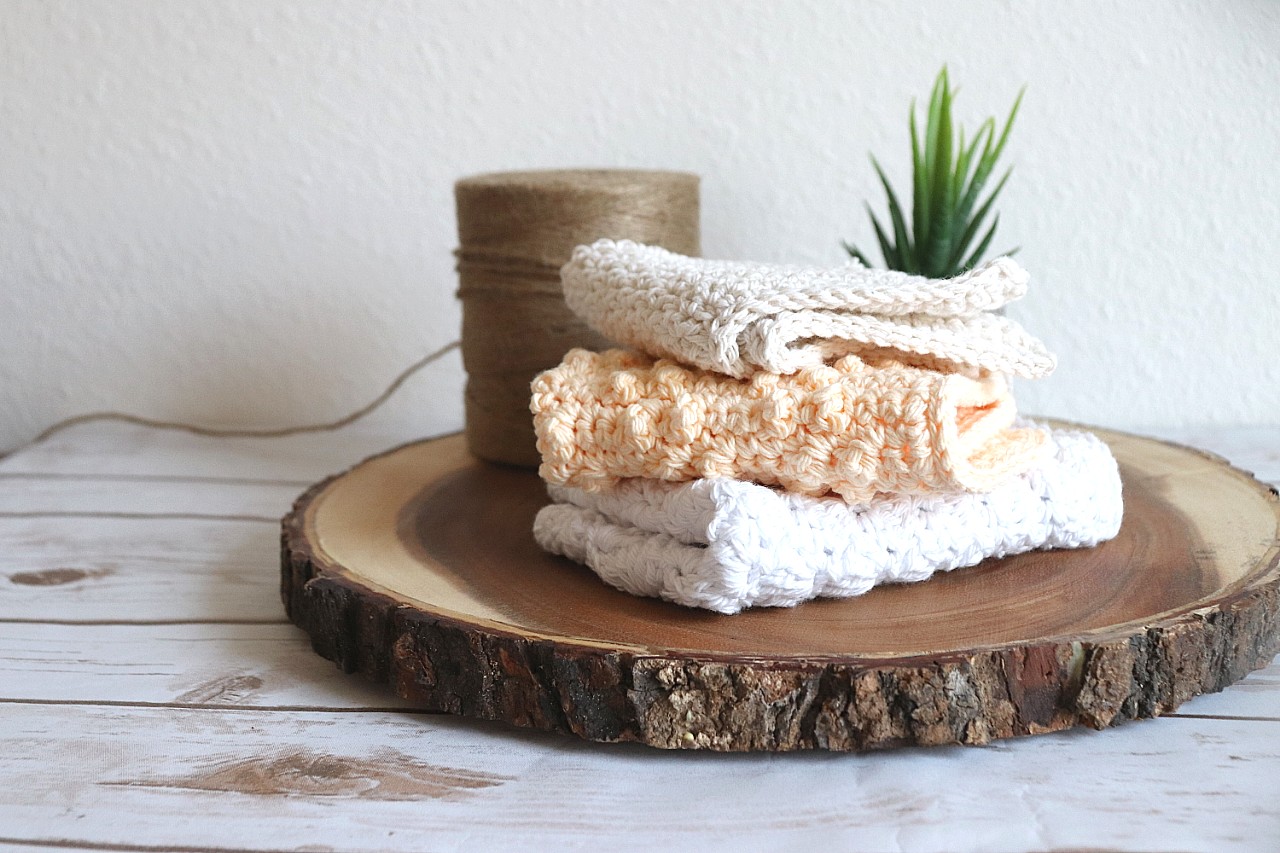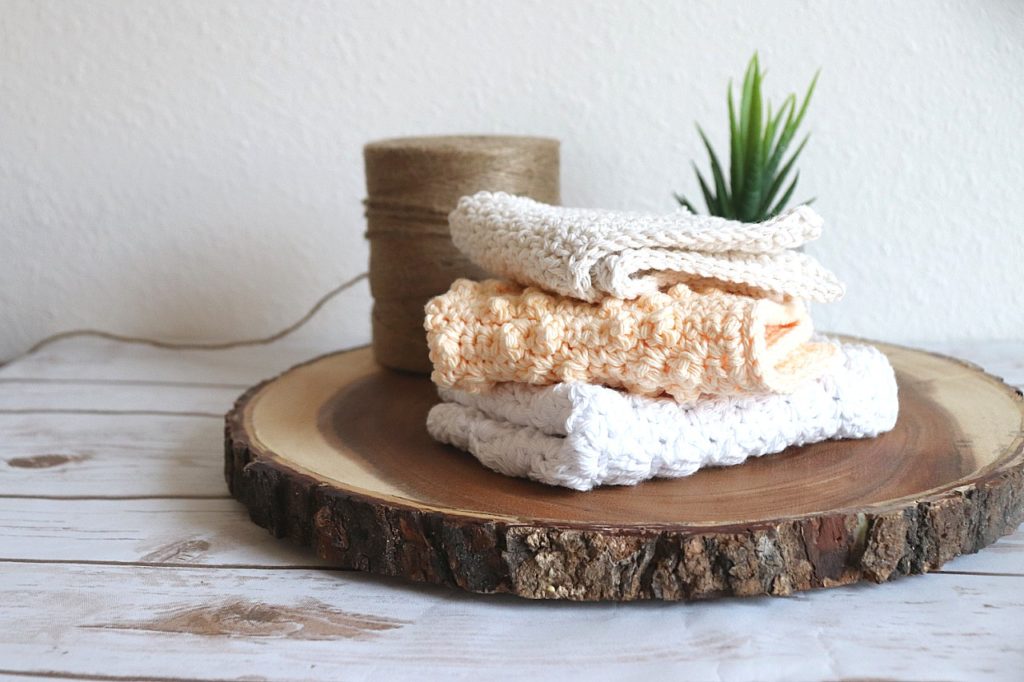 ---
This post may contain affiliate links, please view my disclosure policy for details.
Simple Scrubby Dishcloth Crochet Pattern
It's time to start practicing those beginner basics! Are you ready? There are a few things you need to know before you get started and they'll each have their own section below.
Stitches/Techniques Used:
---
How to Resize your Washcloth:
Chain any amount until you reach your desired length, then continue with pattern.
---
Yarn Substitution:
When making your own washcloths, it's best to use 100% cotton yarn. This is explained deeper in the post about all five washcloths, but I will list a few of my favorite cotton yarns below. If you don't want to use 100% cotton, at least find something with a cotton blend.
---
Materials Used:
---
Abbreviations Used:
Ch – chain stitch
Hdc – half double crochet
St – stitch
Rep – repeat
| | |
| --- | --- |
| US TERMS | UK TERMS |
| half double crochet (hdc) | half treble (htr) |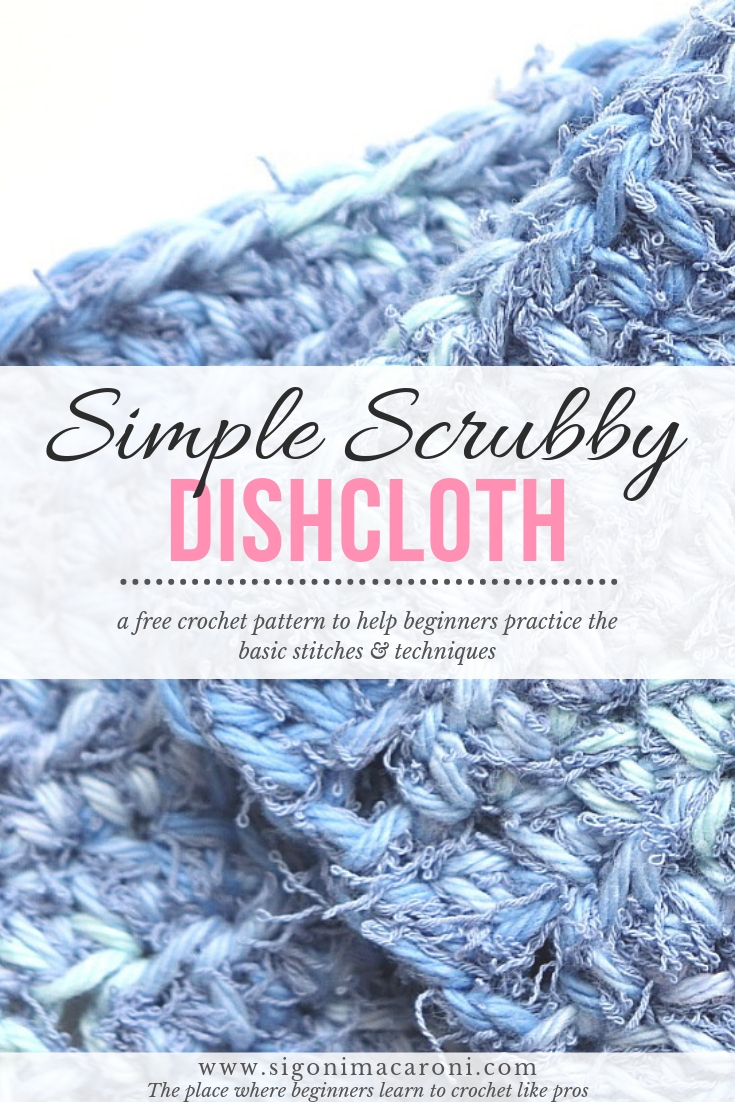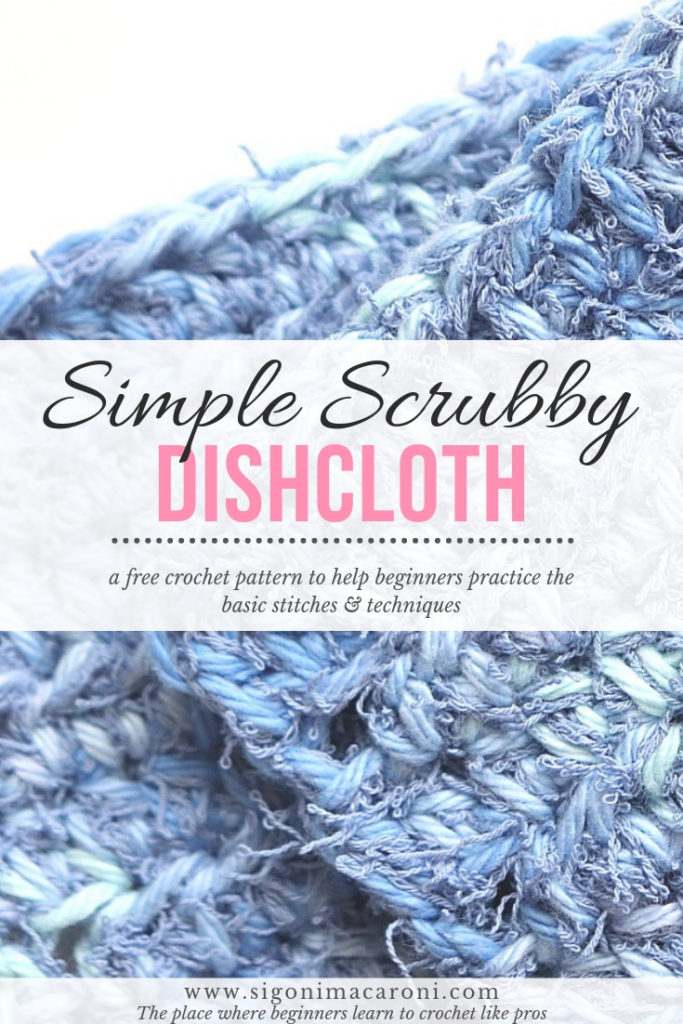 ---
Pattern:
Holding one strand from each skein,
Row 1: Ch 31, hdc 3rd ch from hook and each ch down row (30)
Rows 2-18 : Ch 1, hdc in each st across (30)
If you're having a hard time counting your rows, continue working until your washcloth measures around 8 inches (or you can keep going if you would prefer a larger dishcloth!)
This particular crochet washcloth pattern was designed to help you practice the half double crochet and crocheting with multiple strands! If you're having trouble working with the Scrubby Cotton yarn, feel free to create this pattern just using Scrubbie Smoothie. It would still be a great way to practice the half double crochet stitch!
If you're struggling with using the Scrubby Cotton but you're determined to make it happen, watch the video below. You will learn much more than how to crochet with multiple strands. You will also learn the benefits, a ton of tips, and the many possibilities it can bring!
If you'd like to practice more of the basic crochet stitches and techniques, check out the other four quick & pretty crochet washcloth patterns! Each of them has a different stitch or technique for you to learn and by the end, you'll start feeling like a pro!