Spring Meadow Baby Blanket Crochet Pattern
The Spring Meadow Baby Blanket Crochet Pattern is a free, beginner-friendly pattern with so many possibilities. Don't let the colors fool you. Just because I used girly colors for my design, doesn't mean you can't make this crochet baby blanket for a boy! This crochet pattern is gender neutral because it was inspired by this gorgeous Paintbox Yarn color pack by LoveCrochet. They have a variety of color packs and you can also create your own colorways by choosing 5 balls of any color. This crochet baby blanket pattern is easy and a great way to have some fun with color!
I have to start out by saying this blanket is so beautiful and so soft! It was designed using the Moss Stitch, which is a great stitch to use for baby blankets. It's light and airy, but cozy and comfortable. The design was inspired by the gorgeous Paintbox Yarn color packs by LoveCrochet. I love using Paintbox Yarn because they have such a great collection of colors and again, this blanket turned out to be so soft, I may even make one to fit our queen-size bed!
Before we dive into the pattern, I wanted to tell you the funny back story behind it as well as some tips on sizing, timing, and yarn substitution.
---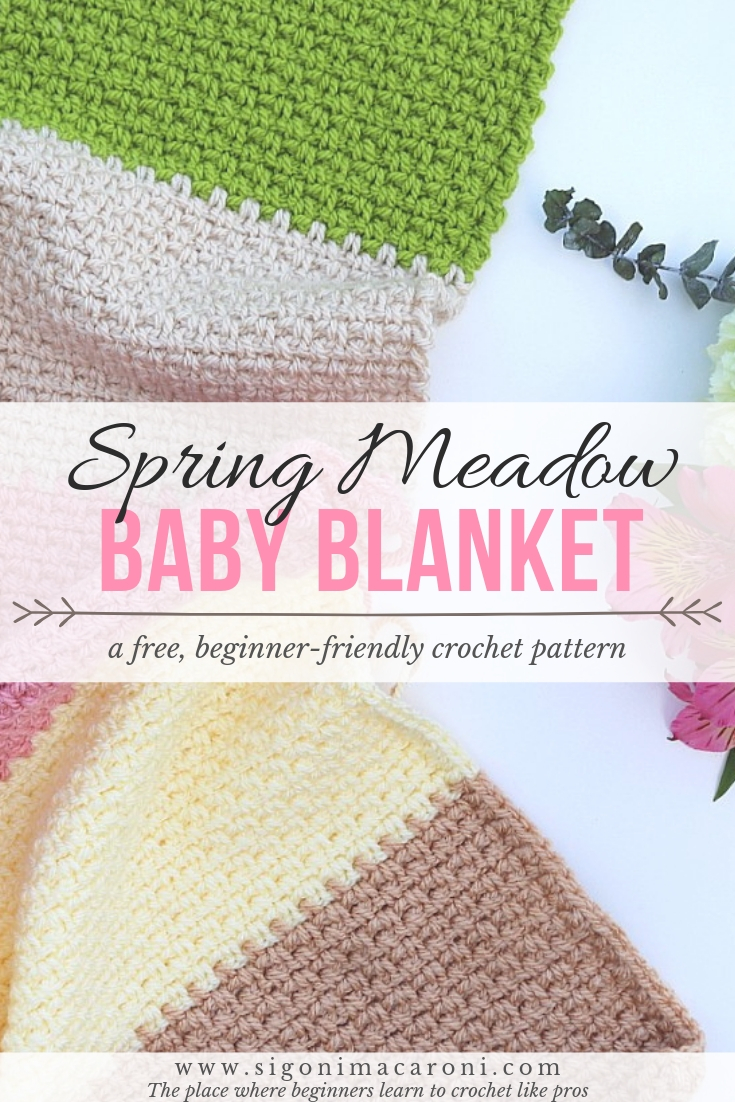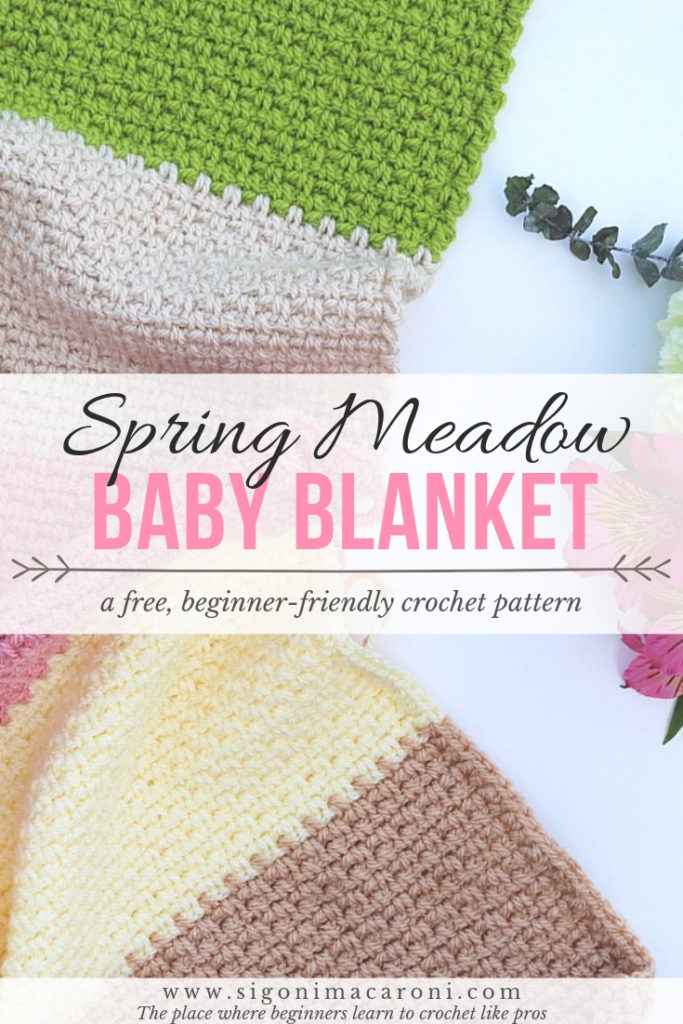 ---
The idea behind the Spring Meadow Baby Blanket Crochet Pattern
In case you're reading this way in the future, as of May 2019, we are currently pregnant with our second child! With my first, I was pretty nauseous in the beginning and I of course expected the same with this one. But boy, was it WAY worse than my first! I also experienced terrible migraines for weeks. In every way, this pregnancy has been completely different that my first.
After going through a horrible first trimester, my husband and I were 100% expecting this one to be a girl. We only had a girl name picked out, we only looked at girl clothes and girl things, and we (literally) mentally prepared for having a teenage girl in the future. That's when I started designing this pattern.
I saw this beautiful color pack from LoveCrochet and I thought, "This would make a beautiful baby blanket for this crazy little lady in my belly."
Well, as you may have guessed, we had a gender reveal party and found out he is indeed a boy! Honestly, I should have known because I've always believed I was destined to be a boy mom.
Moral of the story: every pregnancy is different!
So although I probably won't give this gorgeous blanket to my sweet little boy, I will 100% create make him another blanket using this pattern with some new colors. Luckily, PaintBox Yarn has such a great color selection!
---
About the Yarn
This post may contain affiliate links, please view my disclosure policy for details.
As I've stated a few times now, I purchased a color pack by Paintbox Yarns through the LoveCrochet website. The color pack was named Spring Meadow, hence the name of the pattern. I love Paintbox Yarn and I think they are one of the best yarns to use for baby blankets. But there are a few other options you can choose if you'd rather run to your local craft store versus purchasing online.
This yarn happens to be on sale right now! Snag some for about $2 a skein
Some yarns similar to Paintbox Yarn is:
If you're not familiar with how to change colors in crochet, I highly suggest checking out that tutorial. It's quite simple and sounds a lot more intimidating than it really is, I promise.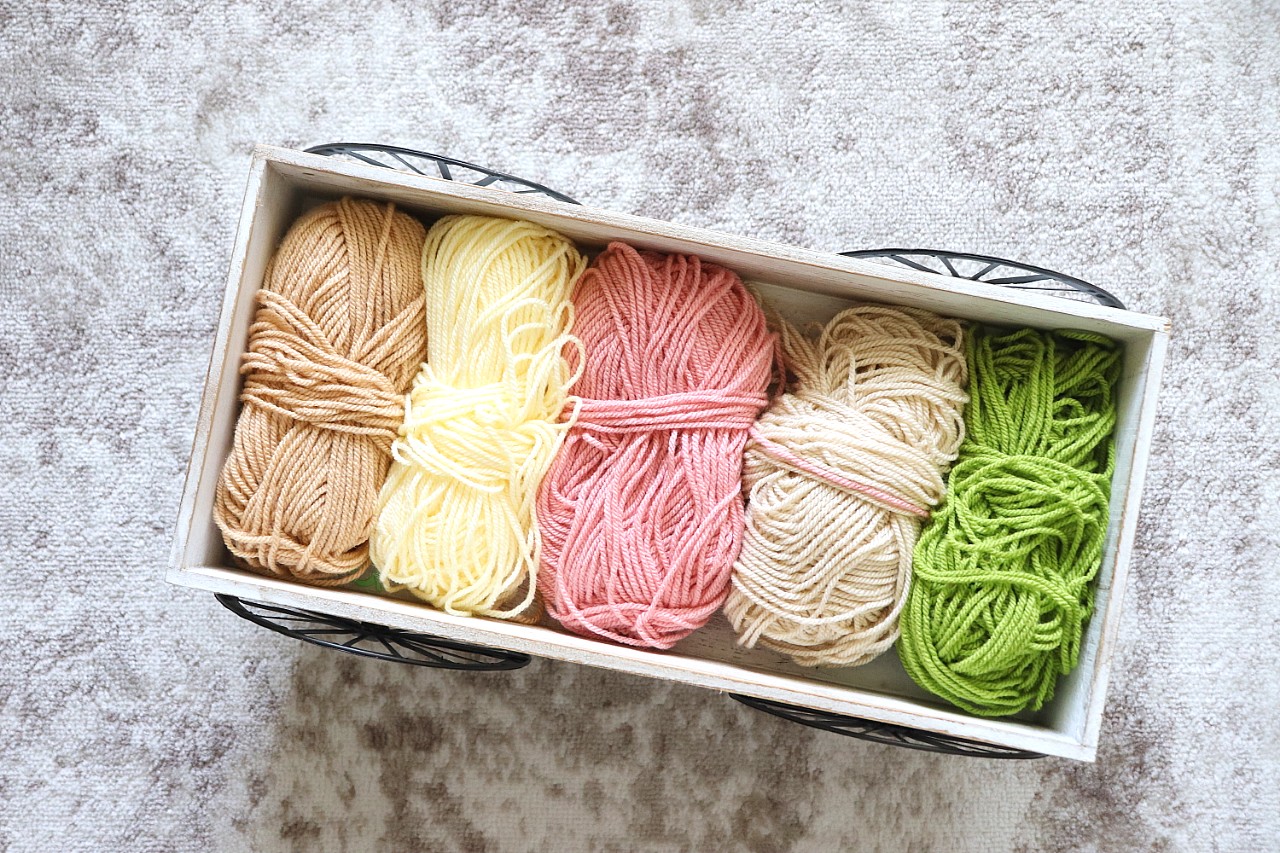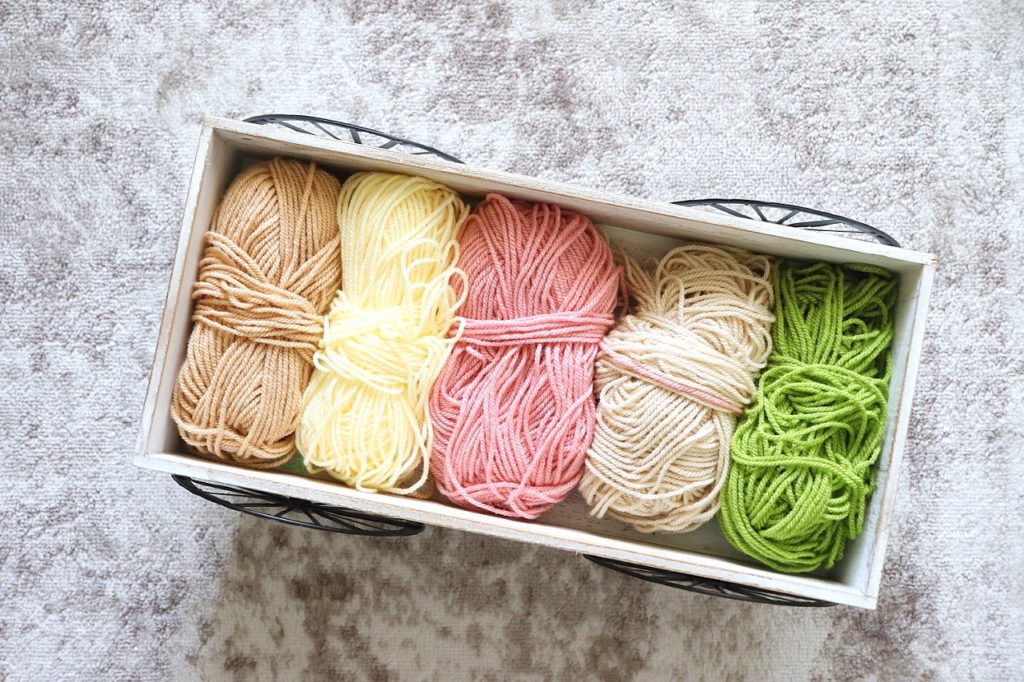 ---
How long does it take to crochet this baby blanket?
The time it takes to crochet a blanket varies on a number of things. It depends on how fast you crochet, how much time you have to dedicate to working on it, the stitch you're using, and the size of the yarn and hook you choose.
For this particular design, I used Paintbox Yarn Aran and a 6mm crochet hook. The stitch used is the Moss Stitch and although it's primarily single crochet, it works up a lot quicker than what you'd expect (that means you may even be able to create this blanket last minute as a baby shower gift!)
The Moss Stitch is a wonderful stitch because you're working in the chain spaces and not the actual stitch. This makes the pattern go by a lot quicker and easier. It's also a great pattern to work on when binge watching a Netflix series or a couple of movies.
---
Crochet Baby Blanket Sizing
This design measures 28 inches long by 18 inches wide. But blankets come in many different sizes from baby to lapghans to king-size. You may want to make something bigger or smaller depending on your situation.
Baby blankets themselves come in all kinds of shapes and sizes as well. Below you will see a chart of typical baby blanket sizes and you can choose yours accordingly.
Baby Blanket Size Guide
| | |
| --- | --- |
| Type | Size |
| Receiving Blankets | 18-inch square to a 36-inch square |
| Crib Blankets | 40 inches by 60 inches |
| Multi-Use Blankets | 30 to 40 inches |
To resize your crochet baby blanket, chain any even number until you reach your desired length. Then continue working Row 1 of the pattern.
Okay, I think it's about time we get to the pattern!
---
Spring Meadow Baby Blanket Crochet Pattern
Get the easy-to-read, ad-free printable PDF pattern HERE.

PDF includes: Picture tutorial, materials used, resizing information, & helpful tutorials

PIN this pattern to your Pinterest boards for later HERE.
---
Materials Used:
---
Abbreviations Used:
Single Crochet (sc)
Chain (ch)
Chain space (ch-sp)
| | |
| --- | --- |
| US TERMS | UK TERMS |
| single crochet (sc) | double crochet (dc) |
---
Helpful Tutorials:
---
Notes:
Each color is referred to as a different letter in the pattern. Depending on the colors you choose, this will be up to you. If you chose to use the same colors I did, here is the color key:
Color A: Lime Green
Color B: Vanilla Cream
Color C: Blush Pink
Color D: Banana Cream
Color E: Light Caramel
---
Pattern:
Using Color A, Ch 76
Row 1: Sc 2nd ch from hook, *ch 1, Sk next ch, sc next st. Rep * to end
Row 2: Ch 1, sk first sc, sc next ch 1 sp, *ch 1, Sc next ch 1 sp. Rep * to end. Ch 1, Sc last st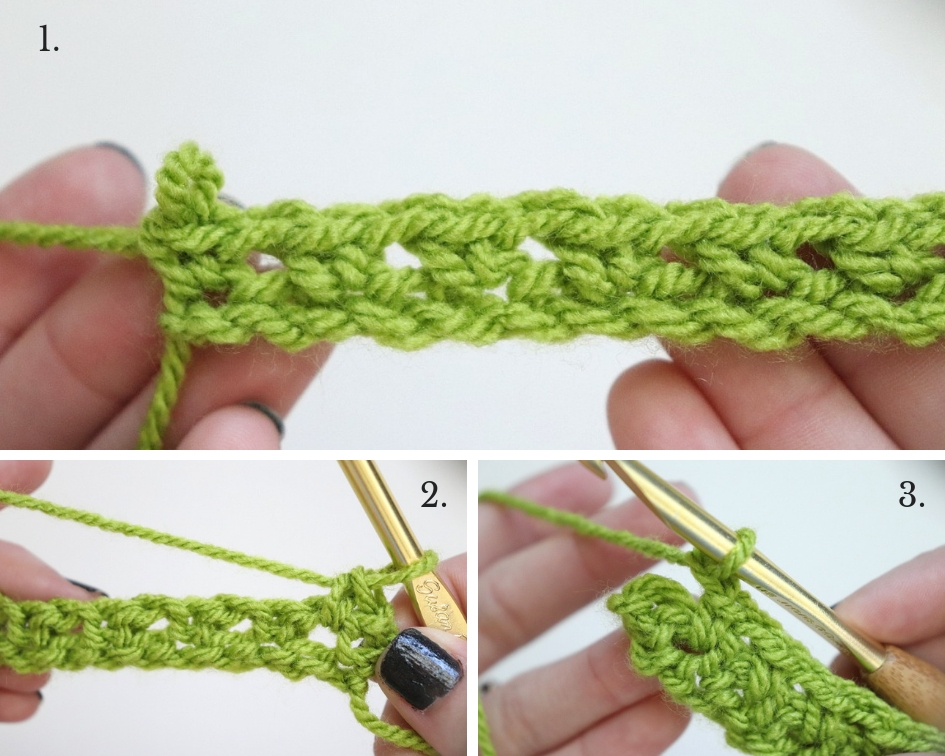 Rows 3-23: Rep row 2
Rows 24-46: Using Color B, Rep row 2
Rows 47-69: Using Color C, Rep row 2
Rows 70-92: Using Color D, Rep row 2
Rows 93-115: Using Color E, Rep row 2
Tie off yarn and weave in ends.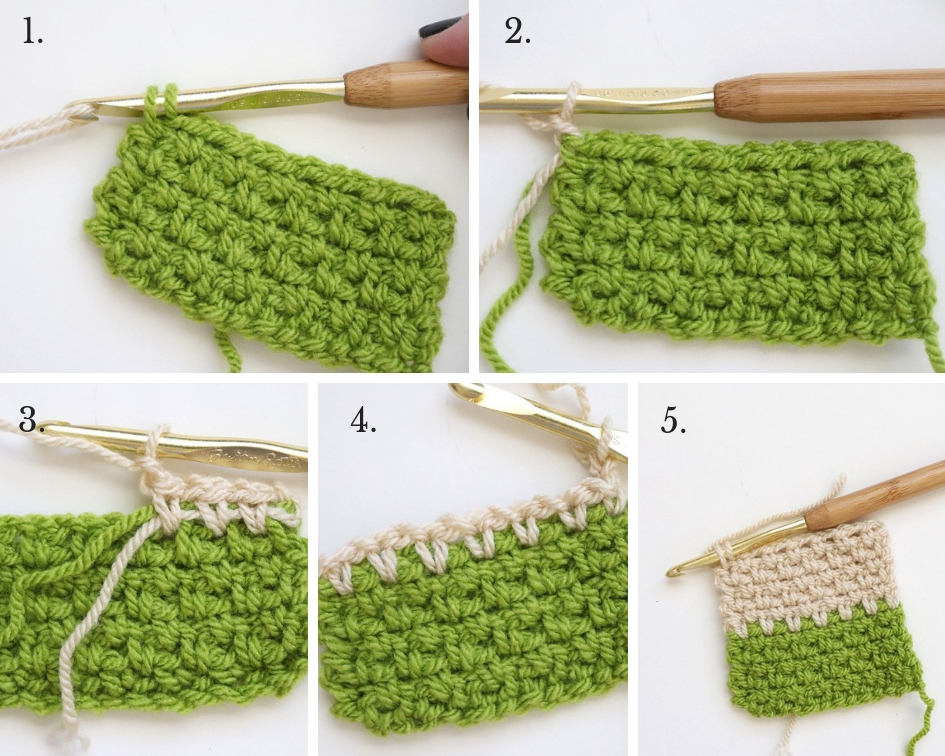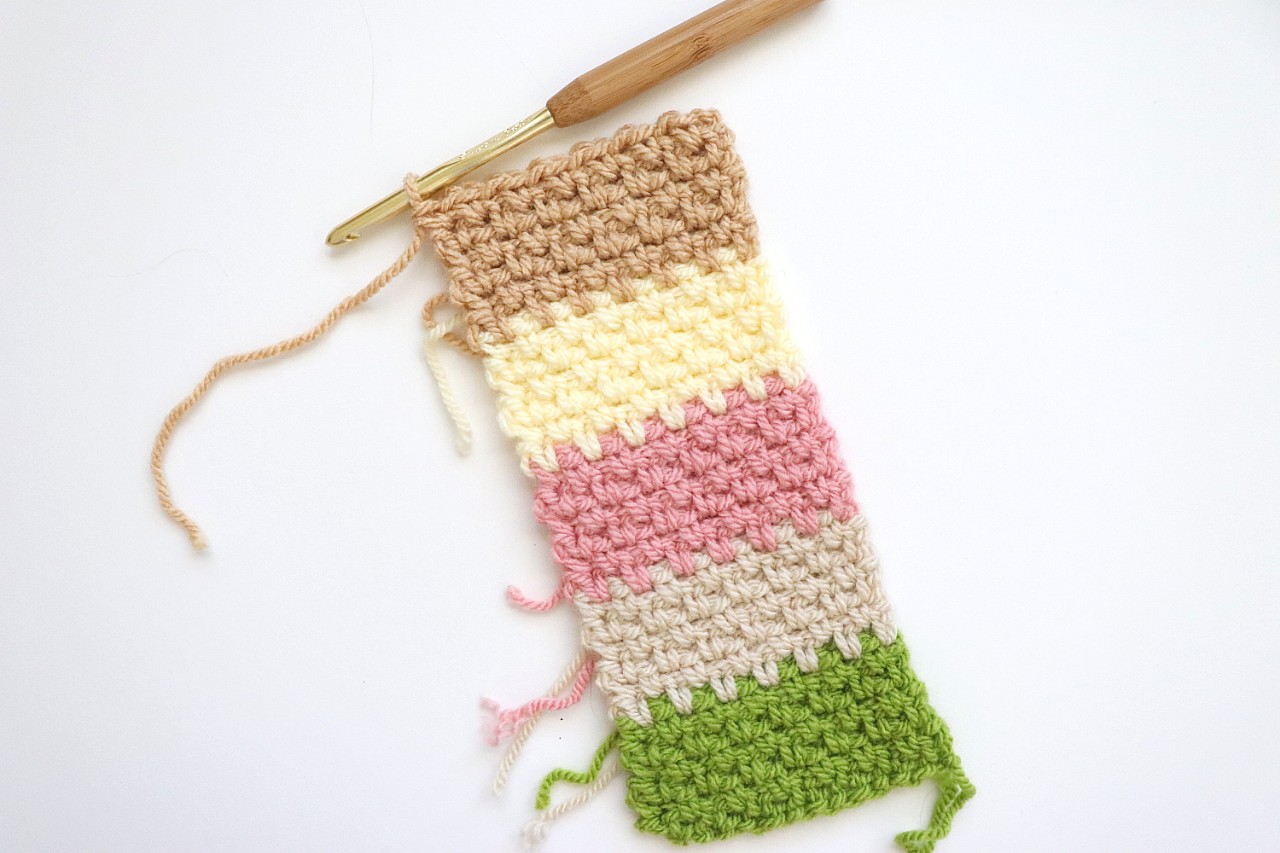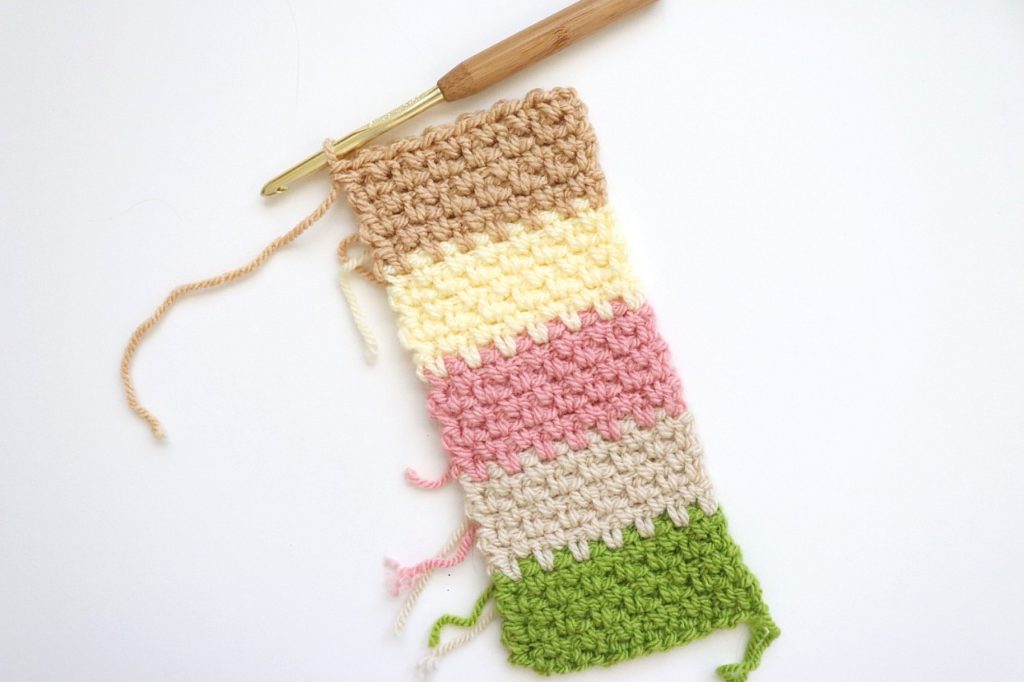 ---
I hope you loved creating the Spring Meadow Crochet Baby Blanket Pattern! This free, beginner-friendly crochet pattern has so many possibilities with color and size and I can't wait to see what you came up with.
Who did you make this blanket for?
What colors did you end up picking?
Leave me a comment below because I would love to know! Also, tag me in your photos over on Instagram @sigonimacaroni.
---
This pattern is an original pattern by Sigoni of Sigoni Macaroni. Please do not claim this pattern as your own. If you wish to share this pattern, you may link to this pattern but please do not reprint it on your site. You may keep a copy for your own personal use but please DO NOT sell the pattern or distribute it.
You may sell products made from this pattern but please clearly credit the design to me and provide a link to my blog www.SigoniMacaroni.com. Thank you for being respectful and for your understanding!