Budget-Friendly Crochet Subscription Box Review: Darn Good Yarn of the Month
Subscription boxes have always been my weakness. When I was presented with the opportunity to review the Darn Good Yarn of the Month Crochet Subscription Box, I didn't hesitate to accept! Darn Good Yarn of the Month is the most budget-friendly crochet subscription box I've come across, but for all the right reasons. It also has the most unique supplies. Plus, the story behind this company is one-of-a-kind. You're going to want to support this small business as much as I do by the end of this review.
Before you continue, spoiler alert! I'm going to reveal everything I received in my first subscription box. You may or may not receive the same items if you choose to purchase.
Also, full disclosure: I have received the Darn Good Yarn of the Month subscription box for free in return for my honest review. All thoughts and opinions expressed are my own and not influenced by Darn Good Yarn in any way. I would never recommend a product that I don't absolutely love.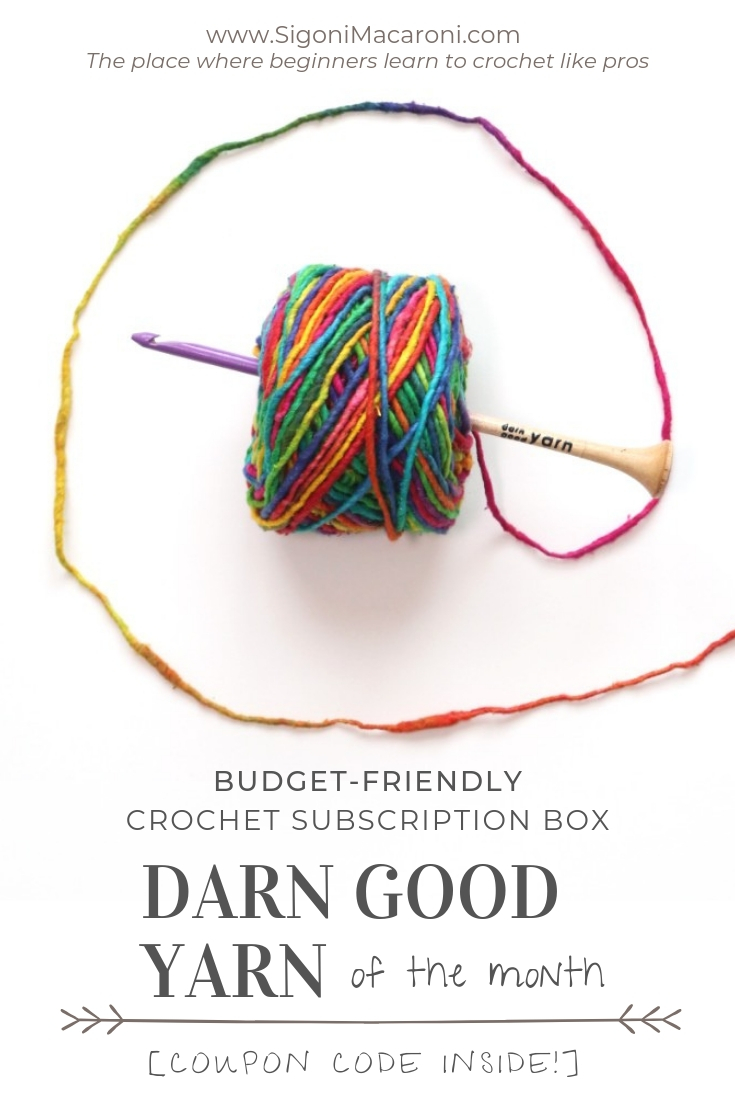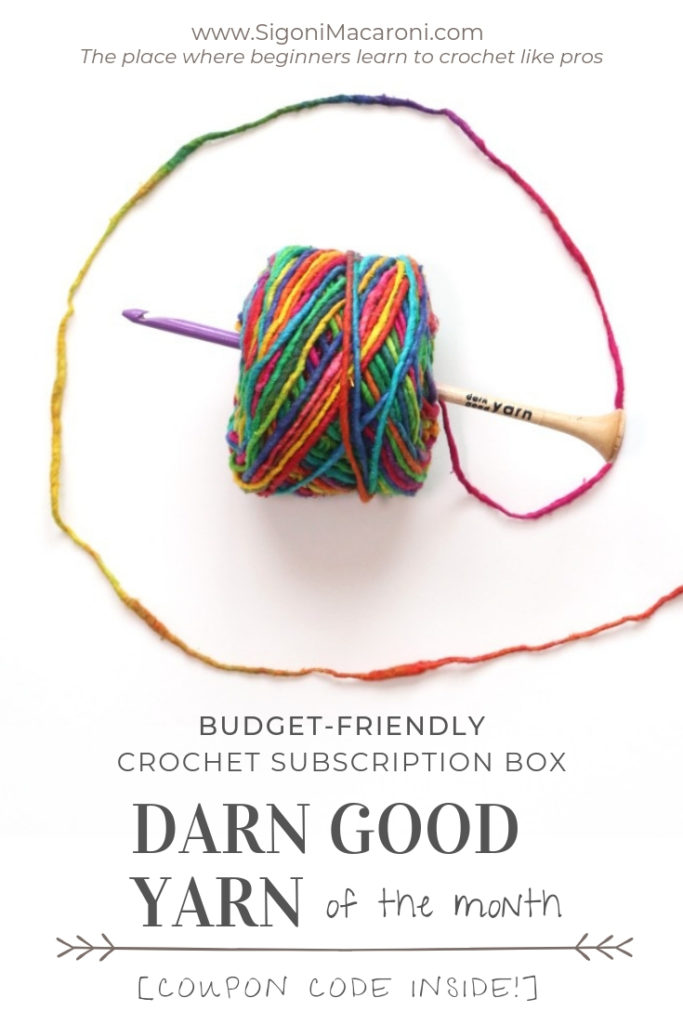 ---
A Second Chance for Darn Good Yarn of the Month
I want to start this review off by being completely honest.
I purchased this subscription box with my own money a few years ago because I was really intrigued by how this company operates.
They have an amazing story behind them, something that I will get into later, but that is one of the reasons why I chose to sign up for their subscription box. Another reason is because this box is hella inexpensive.
Unfortunately, though, I was disappointed when I received my first Darn Good Yarn of the Month box. There were a few things that I just didn't like.
The subscription box didn't come in a box. It came in a poly mailer.
The pattern was folded in half on a piece of printer paper and the text was uneven; it just didn't look very professional.
The yarn smelled weird. I gave it the benefit of the doubt because I knew it was a recycled yarn, but it smelled so bad that my fingers started to smell and I couldn't bring myself to use it.
I contacted their customer service to express my disappointment and they were very courteous. They sent me a new skein, but for some reason that one smelled just as bad. Needless to say, I never ended up making anything with their yarn.
I truly was disappointed because I wanted so badly to support them as a company. Sadly, I just wasn't happy with their subscription box at the time.
Although I was disappointed a few years ago, keep reading to learn more about their company and why they've completely changed my mind this time around.
There's so much to know and I promise you won't be disappointed.
---
The New & Improved Darn Good Yarn
Over the years, Darn Good Yarn has started to become more and more popular. After doing some research, I started to see how much they've improved their company as a whole. This is one of the reasons why I knew I loved this company to begin with.
Running a small business takes hard work and perseverance. Instead of shutting down or taking offense when they received a bad review, they listened to their customers and made drastic changes.
They have come a long way in their 10 years of business and I couldn't be more proud to support a small business with such motivation to help those in need.
---
About Darn Good Yarn & Their Mission
Darn Good Yarn started as a one-woman show and grew to be something incredible. The founder, Nicole, made it her mission to show the world this quirky, recycled silk yarn, while also creating jobs for many women in Nepal and India.
In her interview with Sarah Green, Nicole explained that before she started Darn Good Yarn, these hard-working women (who were lucky if they were able to work even three months a year), only made around $2 a day. She said:
"Today, craftswomen from Nepal and India distribute quality yarn and goods worldwide. They have all-year round jobs and earn between $13 and $16 a day. We at Darn Good Yarn are all really proud to have helped those women become autonomous and self-reliant. They've gained economic independence and are able to provide for their families, get food and proper medical care, as well as educate their children."

Source: Sarah Green – Creating an ethical company: Interview with Nicole Snow

If you want to learn more of the backstory behind Darn Good Yarn, you can listen to Episode 11 of the Unconventional Path Podcast where they also interviewed with Nicole.
---
Budget-Friendly Crochet Subscription Box: Darn Good Yarn of the Month
How Budget-Friendly is Budget-Friendly?
Have you noticed that I haven't mentioned the price yet? I want the reason you choose to purchase to be because of the story behind the company, not their price tag.
If you choose to try out their subscription or one of the many other products they offer, you're supporting more than just a small business.
With that out of the way though, I'll tell you. This budget-friendly crochet subscription box is only $10!
Did your jaw just drop?
Normally, you see these types of subscription boxes priced from $30-$50, but not this one!
Now that we know the price tag, let's find out what's in the box.
What's in the Darn Good Yarn of the Month Box?
To put it short and simply:
yarn
a welcome booklet
and a mystery gift!
I would also like to say that the subscription now comes in a box and not a poly mailer. I was very excited to see that they changed that.
The Welcome Booklet
This little booklet starts by sharing their small business mission. It also starts with a welcome note from the founder of Darn Good Yarn.
She gives a few tips on how best to block your finished project, since the fiber type is 100% reclaimed silk (more on that later).
I'm not sure if the introduction with blocking tips is included with every box because it was specific to this yarn, but it very well might be and I thought that it was a nice touch.
The booklet then goes on to explain the type of yarn and the mystery gift that you received with your subscription box.
There is also both a knit and crochet pattern within the booklet, which is great because you can choose which one you would like to do.
In the end, there are instructions on when you're next box will ship out, how to skip or cancel, and the explanation of Karma Reward Points!
What are those? They are points that you can redeem for "gift cards, swag, and much more!" Which is pretty amazing if you ask me!
The Yarn
The first thing that I noticed about the yarn is that it was already wound up into a cake. This was honestly a relief. As much as I love purchasing hand-dyed yarn, it can be tedious to wind up from hank to yarn cake.
The second thing I noticed was how good it smelled! Remember I mentioned the not-so-good smell when I purchased it a few years ago? Well, they've redeemed themselves!
Just by looking at it, you can tell it's not a typical fiber you would find at a local craft store. The ball I received is a worsted weight roving silk yarn. It is 100% reclaimed silk and hand-dyed by their partners in India!
The yarn itself has a different feel than you may be used to so it may take a few extra minutes to get a handle on it. I didn't have a problem with it when I started. It's just different, which I love!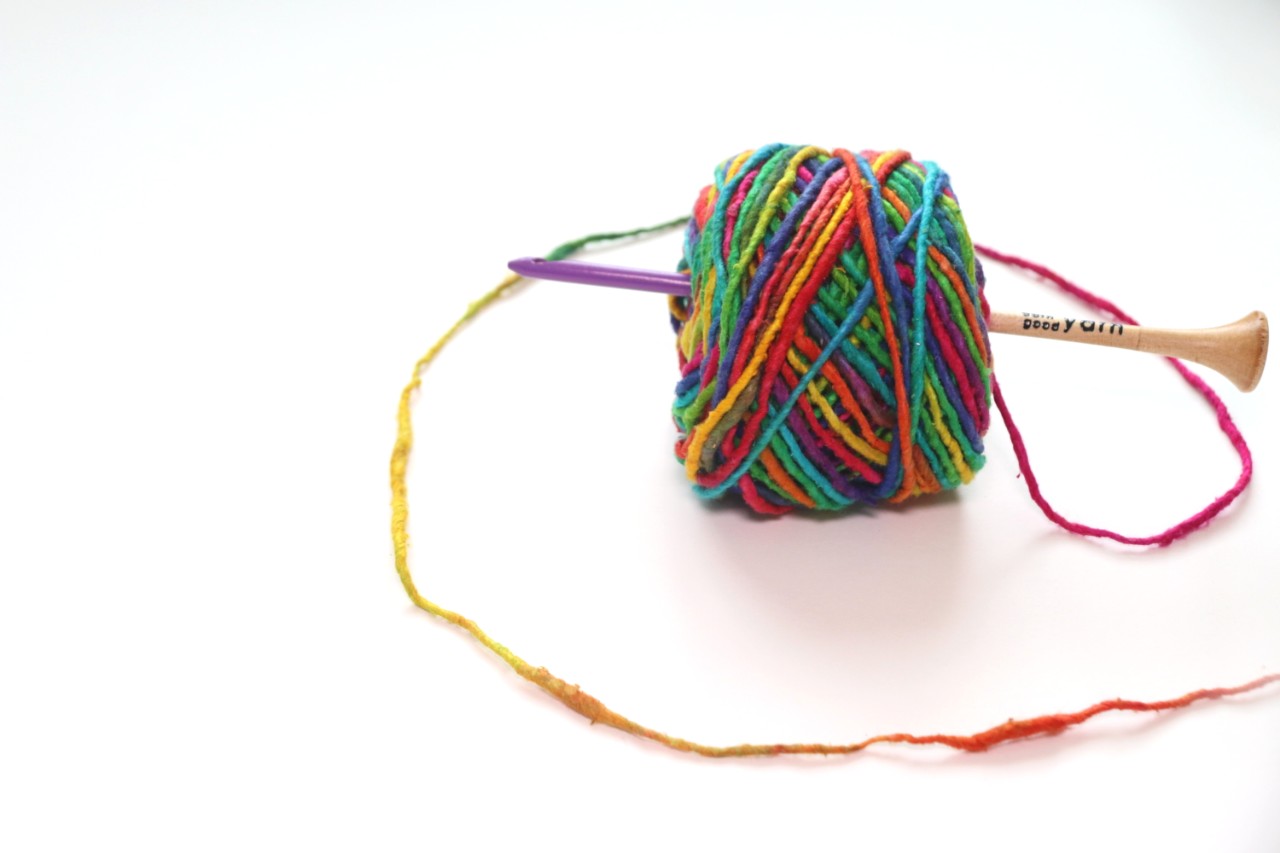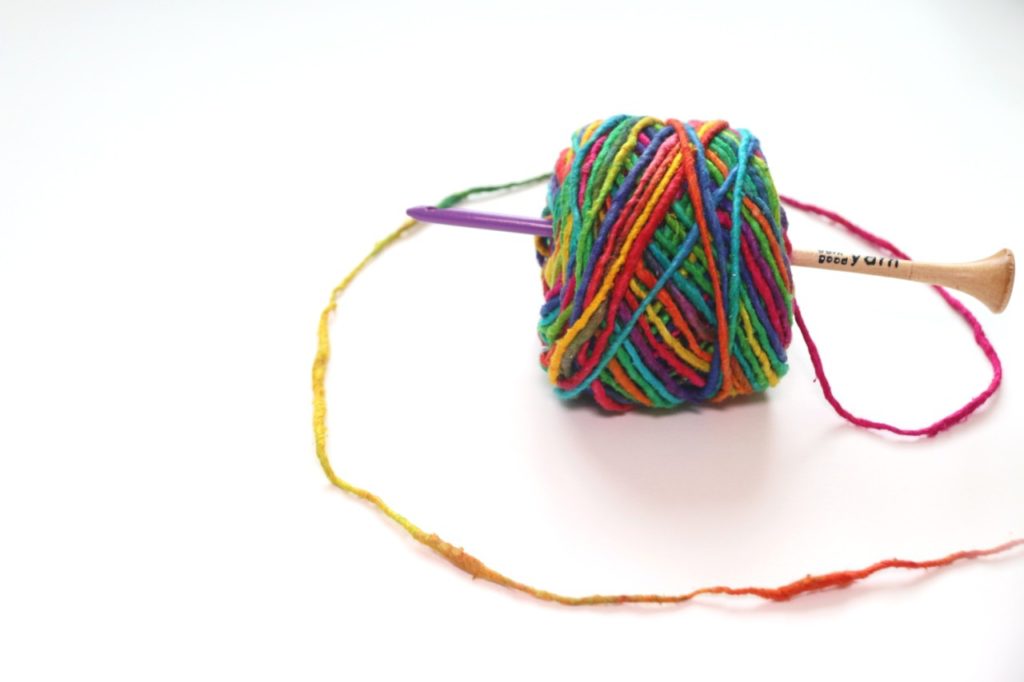 The Mystery Gift
For this box, my mystery gift was actually more of mystery gifts. I received a 5mm crochet hook and a pair of 5mm knitting needles, both made of wood. Not only do I really love the dip-dye look of this set, but they are also very well made.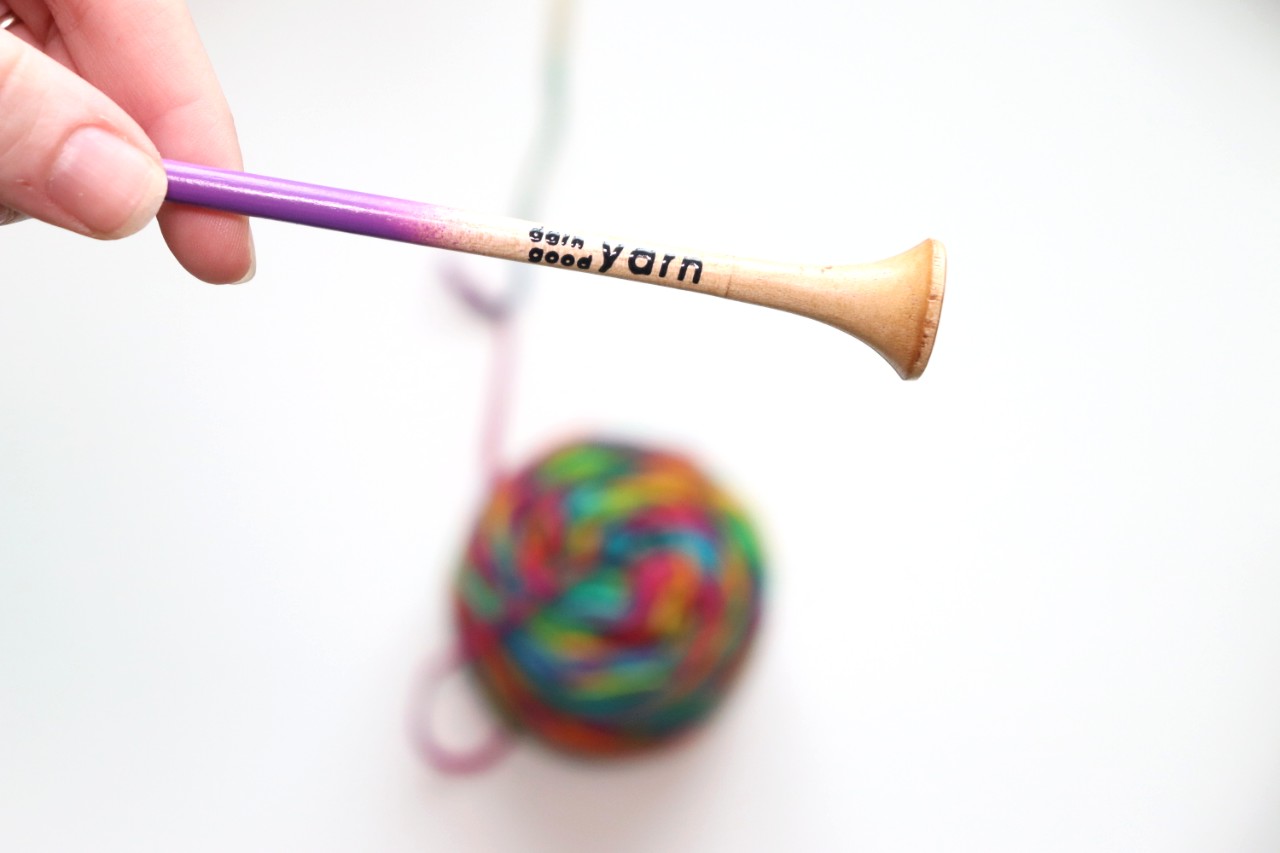 The Pattern
My box came with both a knit and a crochet pattern! Of course, I chose crochet because knitting personally drives my brain crazy.
The pattern was super simple and it was very easy to read. The only issue I had was that I ran out of yarn a row short of what the pattern said. However, it still looks great to me.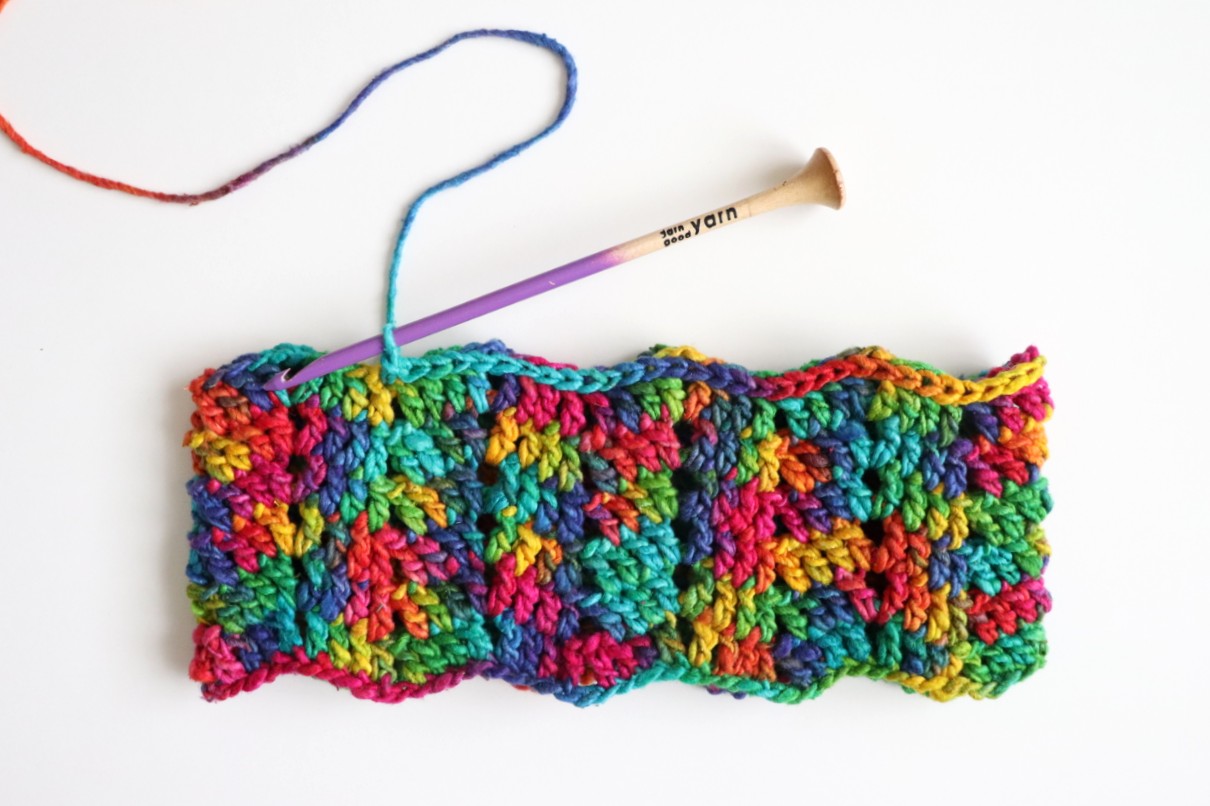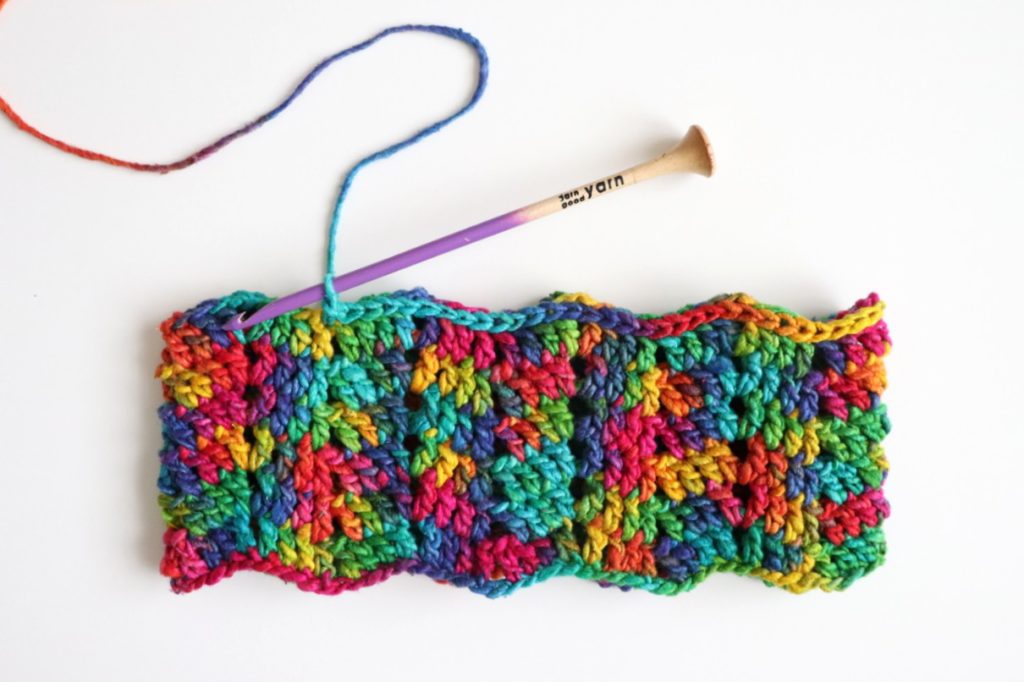 ---
How Do I Sign Up for a Darn Good Yarn of the Month Box?
Easy peasy! Head over to their website and choose "Subscriptions" in the menu bar. There you will find the option to choose your subscription box.
What else do they offer?
Not only does Darn Good Yarn have this amazing budget-friendly subscription box, but they also sell many products on their website. Most of these products are also made by their partners in India and Nepal.
Some of my favorite products that they sell are their yarn bowls and Sari skirts. They offer both ceramic and wooden yarn bowls from simple to beautifully artistic.
Then there's their #DoDarnGood Sari Skirt – They're so pretty.
As a victim of domestic violence myself, this truly speaks to my heart. Again, Darn Good Yarn proves that they are all about improving the lives of others and helping to empower women who have gone through something so traumatic. Simply amazing!
They also have all of the unique yarn you could possibly think of! So go check them out and let me know what you think.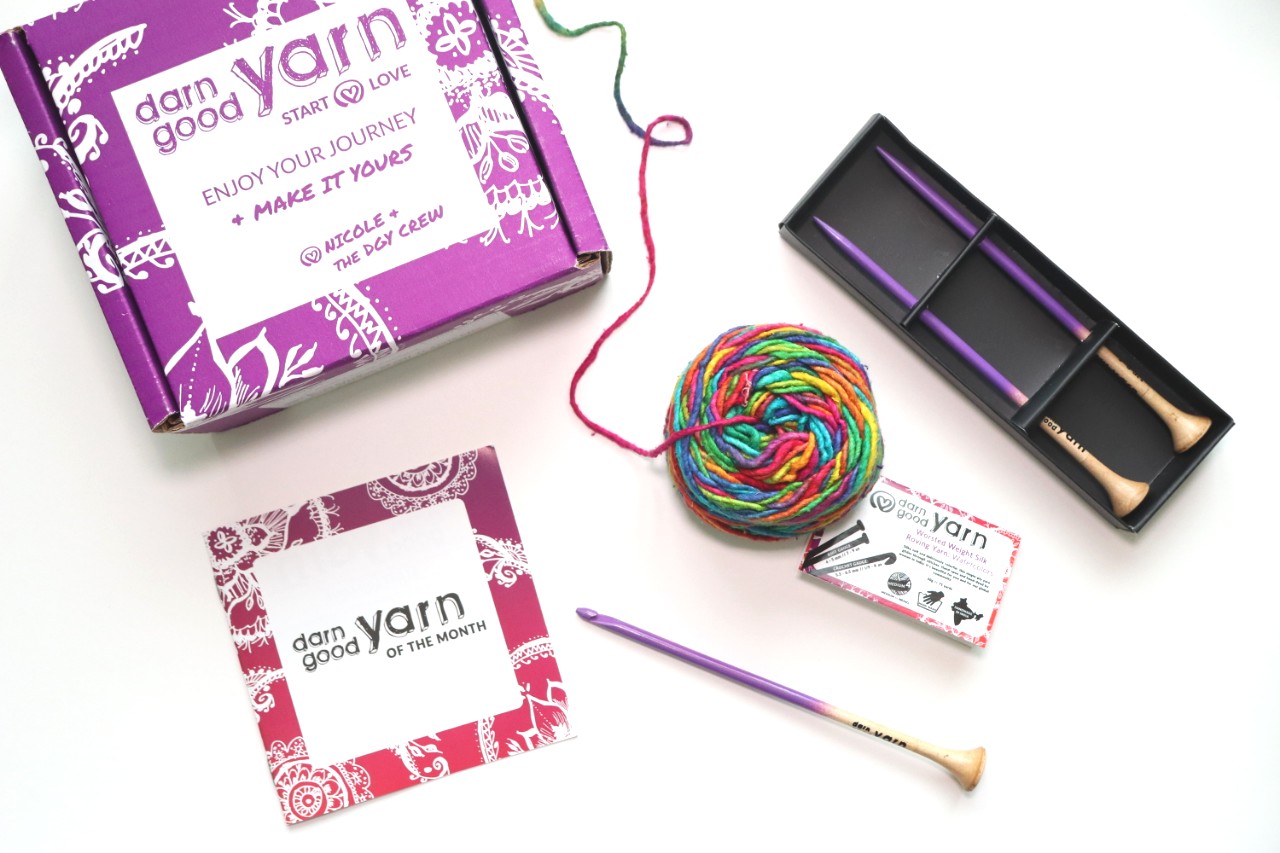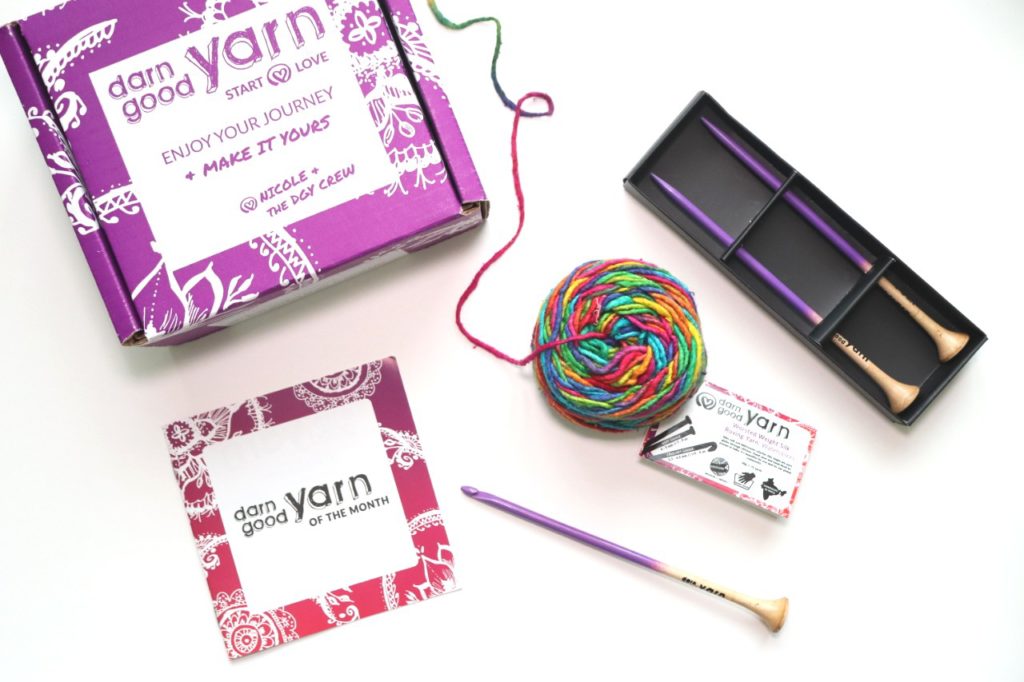 ---
My Overall Thoughts & Honest Review
I really love the Darn Good Yarn of the Month subscription box. Not only is it budget-friendly, but they provide such a unique yarn experience that you won't find anywhere else.
The fact that this company has persevered through the hardships of running a business, makes me more than happy to support them.
Plus, their motto, Start @ Love, is exactly what their company does and they prove that every day. What more you can ask for in a small business?
I hope you enjoyed reading all about Darn Good Yarn and they're amazingly budget-friendly crochet subscription box.
If you enjoyed this review, I think you will love this long list of my top crochet secrets. This includes:
my favorite crochet supplies
what I learned to NEVER try again
how frogging is actually a good thing
and so much more!
Read through my top crochet secrets here.