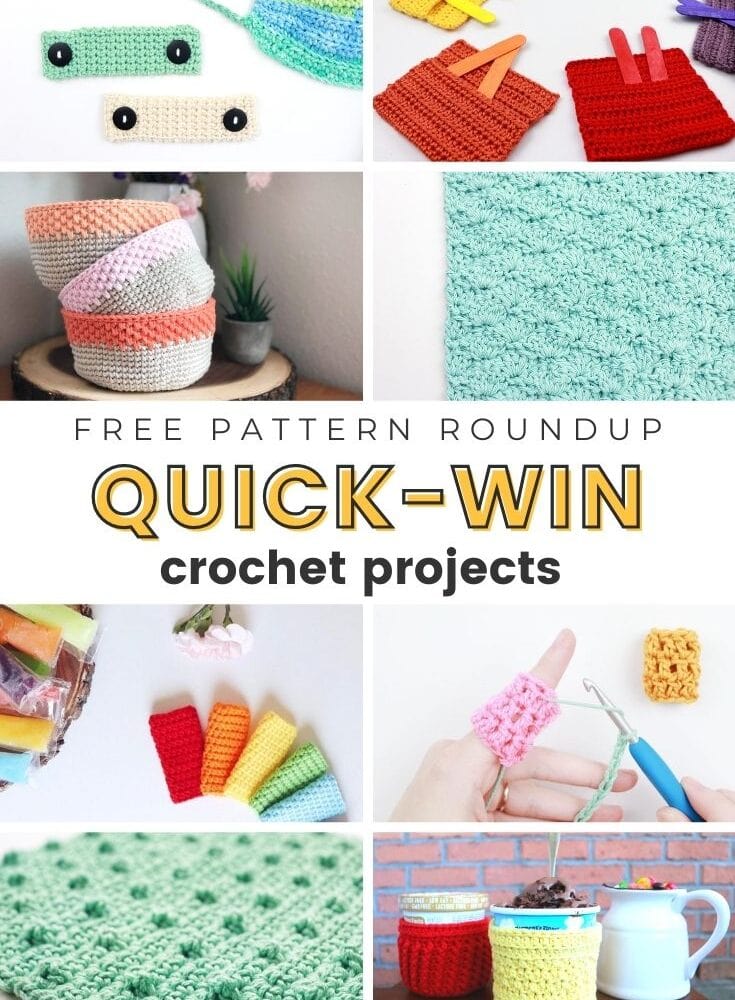 Sometimes when you're working on a project that's taking longer than you hoped, you could use a quick win. Even if you're not working on a longer project in the background, it's nice to work on a mini crochet project that you can work up in no time. I put together this free pattern roundup filled with small quick win crochet projects that you can make for yourself or as gifts!
Small crochet projects are great because they take up no time and they give you a quick win. A lot of them can actually be finished in 30 minutes or less. You can also use scrap or leftover yarn that you have on hand – that's the best part in my opinion.
There are over 40 different projects listed in this roundup and I will continue to add to the list as I find some more that you'll enjoy making! So be sure to pin this small quick win crochet project roundup to your Pinterest boards and check back periodically.
This small quick win crochet project roundup is from Week 5 of the Limitless Crochet Everyday project! Head over there for more encouragement and tips for when you're first learning how to crochet.
---
What can I crochet with small amounts of yarn?
It really depends on how small you mean! Most of the crochet projects I have listed below will use less than a ball of yarn to make. If you have a very small amount of yarn, here are some projects from the list you can make:
Baby Headband
Wrist Watch Strap
Itty Bitty "Love Me" Kitty
Adjustable Freeze Pop Sleeve
Rainy Sunny Coin Purse
Forget Me Not Coasters
Chair Socks
Keychain Chapstick Holder
---
What is the quickest crochet stitch?
Personally, I find that the quickest crochet stitch is anything that works into chain spaces. For instance, the granny stitch or the v-stitch. Chain spaces are easy to find and they're especially relaxing. So if you're looking to work up a quick, mindless crochet project, try using a stitch that works into chain spaces.
---
What are the easiest projects in this quick win crochet roundup?
Are you an absolute beginner looking for some small quick win crochet projects to practice on? Here are some of the patterns that I recommend trying out:
Beginner Friendly Ice Cream Cozy
Whimsy Head Wrap
Quick & Pretty Crochet Washcloths
Adjustable Freeze Pop Sleeve
Chair Socks
Lavender Bags
Quick Bulky Scarf
Spring Cup Cozy
---
Small Quick Win Crochet Projects | FREE Pattern Roundup
I hope you enjoy this long free pattern roundup of small quick win crochet projects! Let me know in the comments which crochet projects from the list catch your eye.
And if you need some more encouragement on practicing and becoming a better crocheter, read Week 5 of the Limitless Crochet Project emails. This will give you motivation like no other. Happy hooking!
Easy, Quick-Win Crochet Projects for Beginners | FREE Pattern Roundup
Which project will you make first?