Quick Easy Crochet Toy For Baby | Crochet Color Pockets Free Pattern
Blankets, beanies, and booties are all really great crochet gifts for babies, but have you ever wondered what else you could make for a baby? This quick, easy crochet toy for baby is not only a thoughtful gift, but you can also use the yarn you already have in your stash! These Crochet Color Pockets area perfect gift for babies over the age of 1 because it helps to strengthen their fine motor skills and color recognition! Who knew you could do all this with a little crochet time?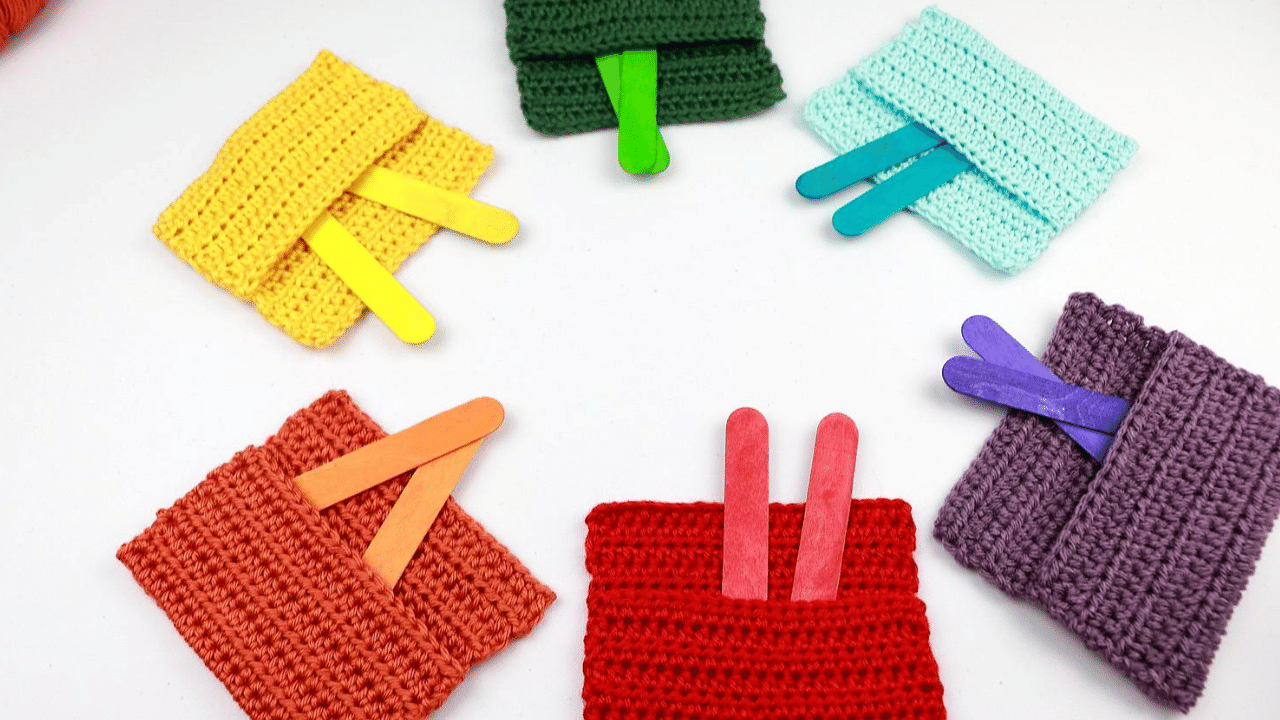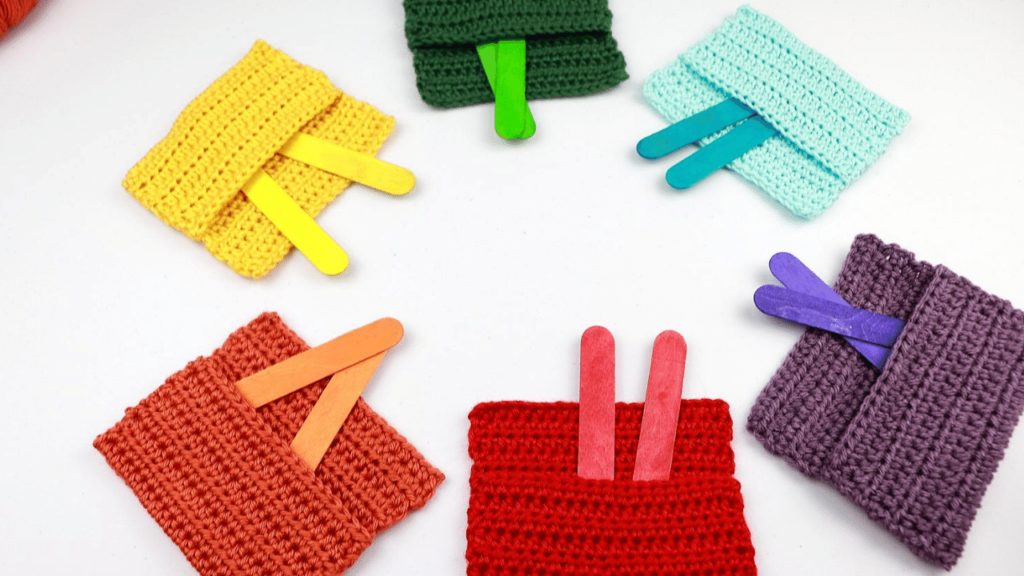 Behind the Crochet Color Pockets Design
Today I have something a little bit different for you.
If you don't know, I have two kiddos – my oldest just turned 6 and my youngest just turned 1. Due to COVID-19 and everything going on, we've decided to pull our oldest out of school and homeschool instead. This was a very, very hard decision to make but we have several reasons in doing so. I have to say though, I am extremely excited to be my son's teacher. I've spent hours and hours doing my research on how to teach him everything he needs to know based on his learning style and I think we're going to have a lot of fun with it!
Anyway, my point is that while I'll be homeschooling my oldest, I'll also have to find a way to keep the baby busy when my 6-year-old needs my full attention. I didn't want him to just be watching TV or playing with a random toy. I wanted to find a way for him to learn alongside his big brother!
After lots of research, I've put together several activities (you can find more of the behind the scenes with the fam over on my new Instagram account here) and came across a really great activity for color recognition and out came this idea for an easy crochet toy for baby.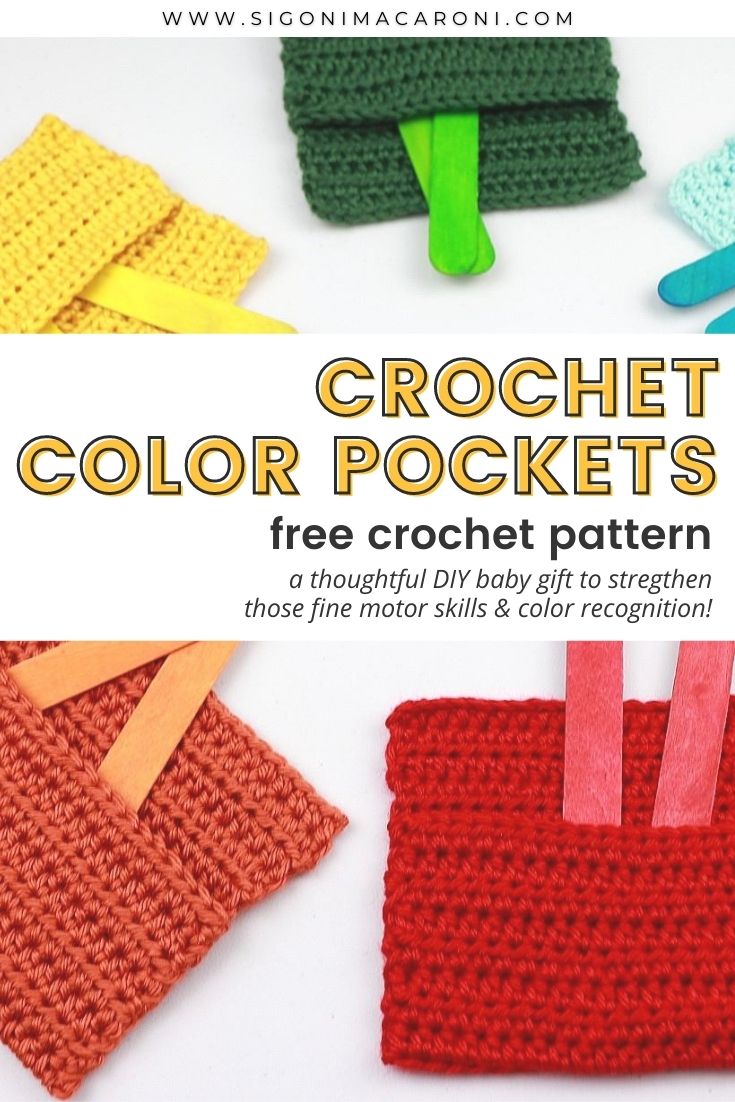 I first found this idea from Lovevery. They used felt, which probably would have worked just fine, but because I didn't have any on hand I thought I would just make something similar with the scrap yarn in my stash.
Remember my Double Strand Scrap Blanket? I used almost every color of the rainbow in that blanket and still had some colors left over! So I got to work on this easy crochet toy and I love the way they turned out.
---
Quick Easy Crochet Toy For Baby | Crochet Color Pockets Free Pattern
Materials
Abbreviations
*All Sigoni Macaroni patterns are written in standard US terms *
Ch – Chain
Hdc – Half Double Crochet
St – Stitch
| | |
| --- | --- |
| US TERMS | UK TERMS |
| Half Double Crochet (dc) | Half Treble Crochet (tr) |
Helpful Tutorials
Notes
Ch 2 at beginning of each row does not count as a stitch
Permissions & Copyright
Please do not publish or share this pattern as your own. You may make items to sell with this pattern. In exchange, please link back this post. Do NOT use my photos as your own sales photos.
---
Crochet Color Pockets Free Pattern Instructions
Make 1 color pocket in each color (red, orange, yellow, green, blue, purple).
Row 1: Ch 22, hdc 3rd ch from hook and each ch down (20)
Rows 2-21: Ch 2, turn work. Hdc each st across (20)
Tie off, leaving long tail.
Use long tail to whip stitch the first side of the pocket shut. Cut another strand to whip stitch the second side shut.
Weave in all ends.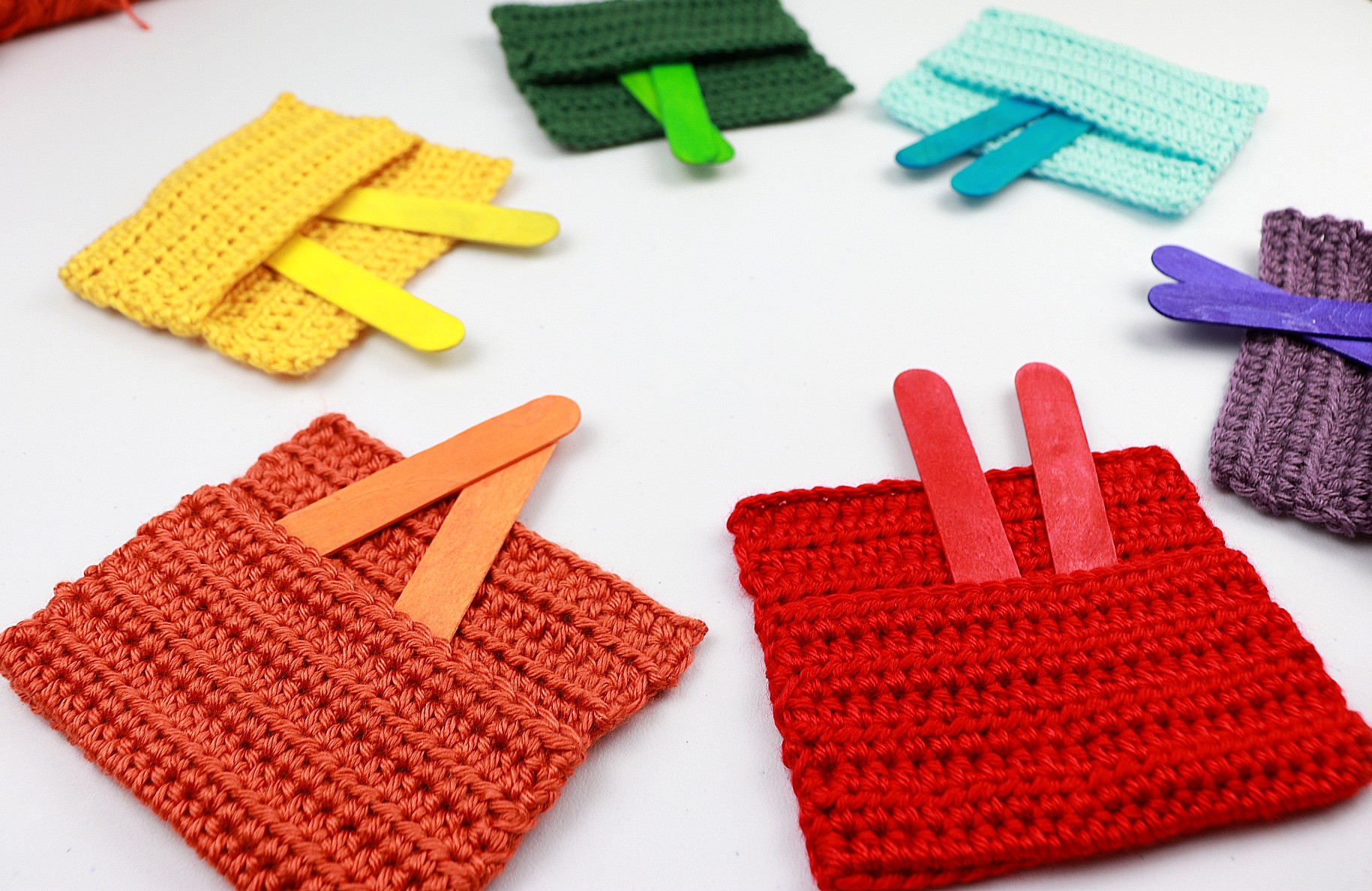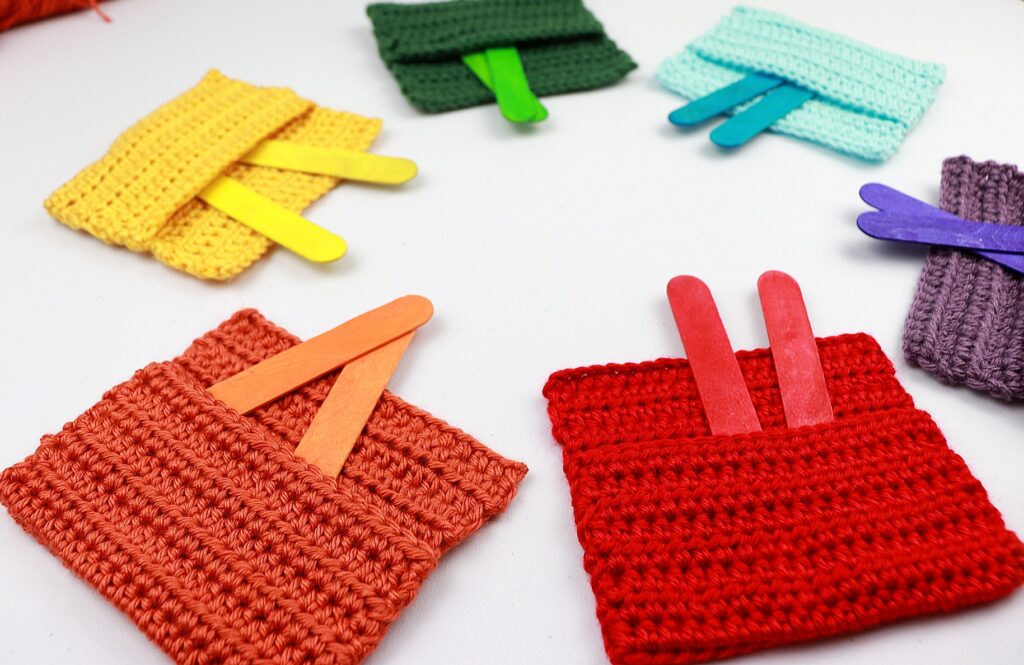 Are you going to make this easy crochet toy for the little one in your life?