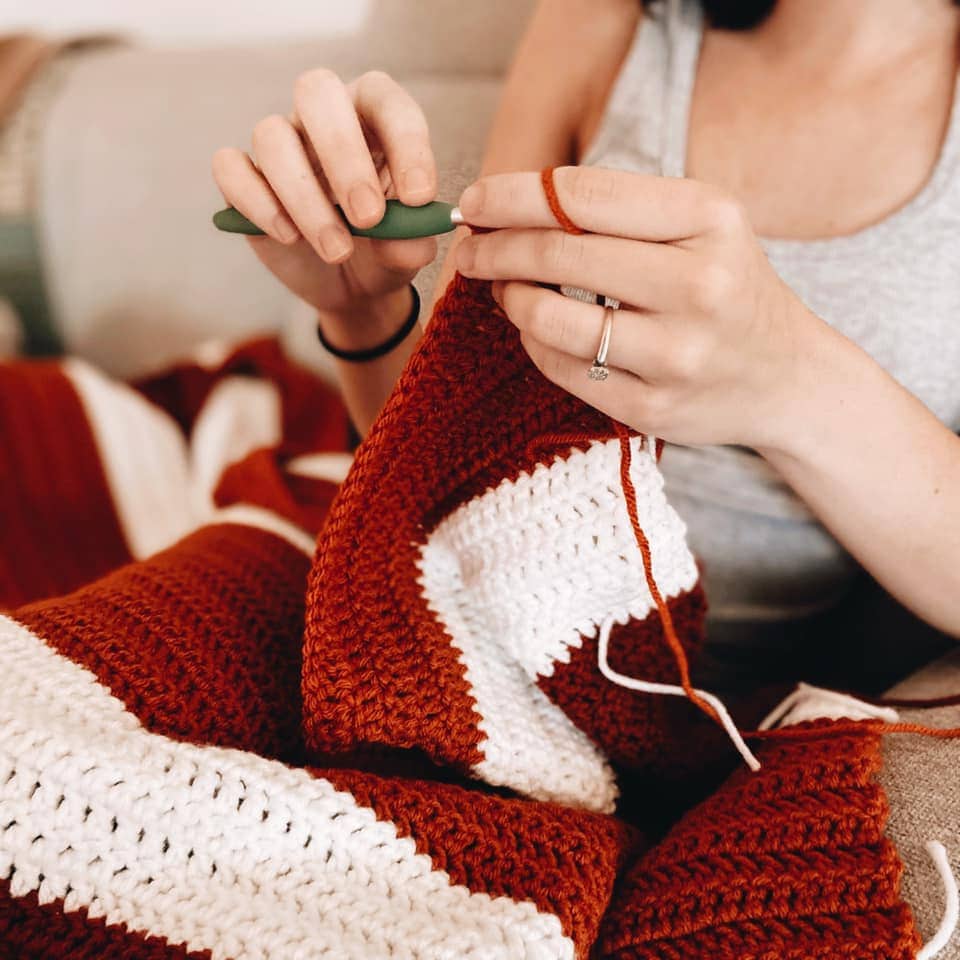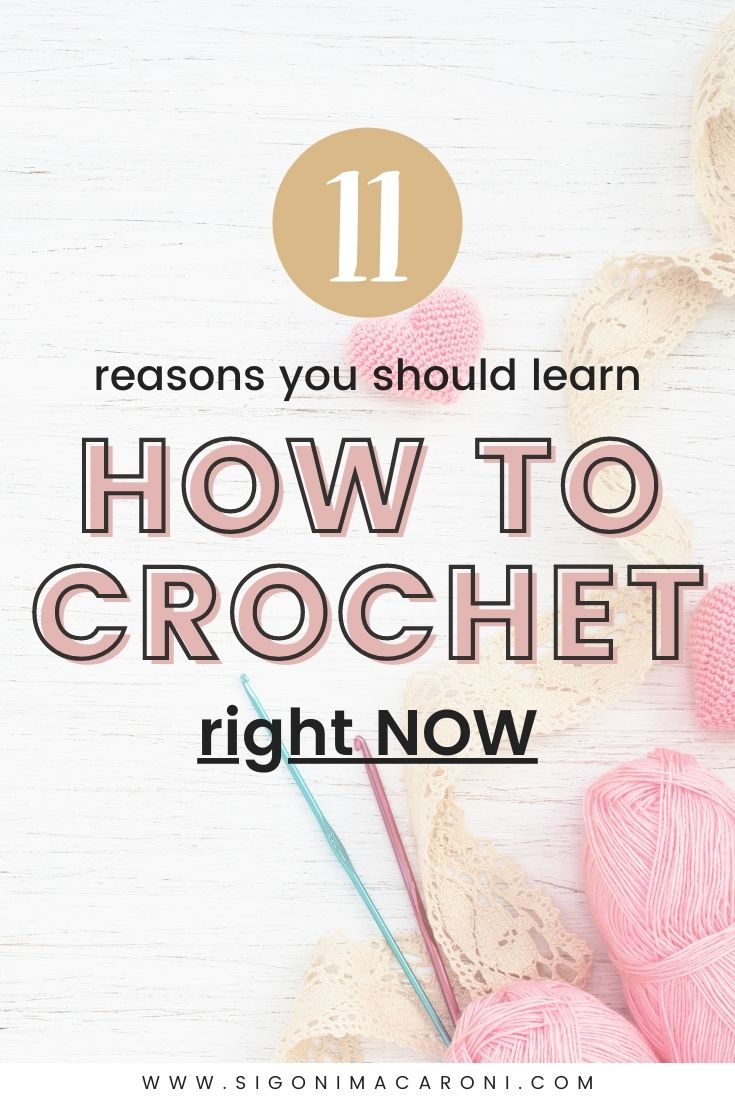 What is crochet and why should you learn? If you've never heard of crochet, neither did I three years ago. Now crochet is my life and.. a little bit of an obsession. Before you decide if you want to take the time to learn crochet, you might be wondering if crochet is for you. So first I'm going to answer some of the most frequently asked questions about crochet. If you're asking, why should I crochet? We're going to cover 11 reasons why you should learn how to crochet right now.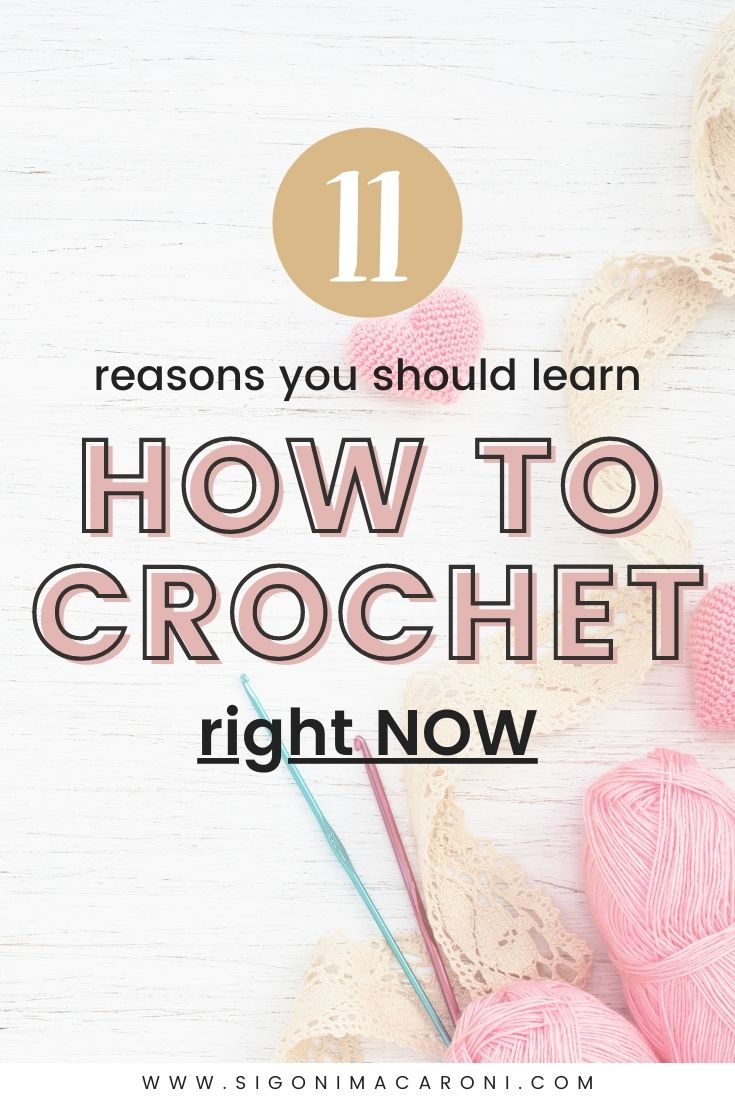 First, I'll admit that crochet isn't for everyone. Trust me. I've been trying to convince my sister for the longest time to just give it a try and she couldn't be less interested. And that's okay!
But for those of you who love being creative, love making things you never thought you could, and always want to learn something new… then crochet is for you. Another reason crochet might be fore you is if you gave knitting a try and it traumatized you as far as yarn crafts go. I promise crochet is way easier than knitting (in my personal opinion) because it's much more forgiving 😉
Oh and while we're on the same topic… knitting is not the same as crochet. Yes they are both yarn crafts but they use different tools. With knitting, you use two needles and with crochet you only need one hook.
Now that we've talked about the basics of crochet and how it is NOT knitting, let's go over the most frequently asked questions about crochet and get them answered.
---
Why Should I Crochet? Q&A
What are the benefits of crochet?
Crochet has so many benefits, it's a little insane. Later in the post, I'll go more into detail about this, but here are just a few benefits to crocheting:
reduces anxiety/stress
helps to relieve depression
good for brain health
helps with insomnia
keeps your hands busy
Some of these reasons alone should be enough to want to learn how to crochet. But keep reading/scrolling if you want to hear more about the health benefits of crochet!
---
Does crocheting help your brain?
Yes it does! Again, I'll touch more on this later but it has been known to reduce the risk of Alzheimers and Dementia. Crocheting helps your brain to stay focused and improves your memory.
---
Is crochet easy to learn?
Crochet can be easy to learn depending on who you are and if you have the right tools. Some people immediately take to crochet and can make a large blanket on their first try. Others may need a little more practice. What's important is your attitude towards it. If you want crochet to be easy to learn then you have to put in the effort. Practicing is so important if you want to get better. If you're just starting out, the best thing to do is follow a step by step class to get started on the right foot.
---
How long does it take to learn to crochet?
The amount of time it takes for you to learn to crochet depends on the amount of time you have to dedicate to practicing. If you have at least an hour of uninterrupted time each day, you can learn how to crochet the basics within the next 7 days with my free challenge.
---
What is the best way to learn crochet?
I personally think that the best way to learn crochet is online, here with me of course! If you don't know me, my goal is to teach beginners how to crochet like pros. That's my thing.
I have many beginner tutorials and patterns (picture and video), all free. But I also have an online course called the Learn To Crochet Masterclass that I'm very proud to have put together. And I am available any time to answer any questions.
Someone else might tell you that the best way to learn crochet is through an in-person class. In some cases it might work, but here's why learning online is the best way:
Classes are usually only an hour long – Online you have all the time you need
Instructors are there to answer your questions as your starting, but you will absolutely 100% have more questions the more you practice – Online I'm just an email or Facebook message away from answering your questions.
Those classes only teach you a few things, but the possibilities are endless! The internet (and Limitless Crochet Everyday) shares all of the amazing things you can do and/or make.
In-person classes cost around $35 for a one-time, one project class – Not only is my Masterclass only $37 but it has way more lessons to offer, comes with a 70+ page ebook, lifetime access, a bunch of patterns to choose from, and you have a place to go when you need a question answered.
---
How do you get good at crocheting?
You want all honesty, right? To get good at crocheting, you have to practice, practice, practice. I know it's hard to just practice when there are so many patterns to choose from and you just want to start making. But you can practice while making something! Now that's being productive.
In a few weeks I'll be coming out with some more tips on becoming a better crocheter as a part of the Limitless Crochet Everyday project so go check that out if you want to learn more!
---
What should a beginner crochet?
If you've already starting dipping your toes into crochet, you may be wondering what you, as a beginner, should crochet. The best way to practice is to work on crochet projects that only use the basic stitches. On Friday, I'll have a long list of free single crochet patterns for beginners that you can start practicing with once you learn the basics. I'll have some more roundups coming out similar to this soon.
Some of the easiest things for a beginner to crochet are:
scarf
beanie
fingerless gloves
cowl
& those sorts of things.
Alright that answered most of the questions about why you should crochet. If you have any more questions about getting started with crochet, leave them in the comments. Now let's get into the reasons why you should learn how to crochet right now.
If you know of someone who might enjoy crochet, share this with them and then you'll have yourself a crochet buddy!
---
11 Reasons Why You Should Learn How To Crochet RIGHT NOW
1. It's cheap!
As one of the cheapest hobbies, it's hard not to just give it a try because you don't need that much to get started. All you need is some yarn and a crochet hook. Yarn is typically between $2-$10 and individual hooks can be as low as $2.
You can buy crochet hooks individually or in a pack so if you'd like to test the waters, just grab one! There are a few other things that are good to have, but aren't necessary while you're figuring things out. When you're ready to dive into all the materials, you can read all about my favorites here.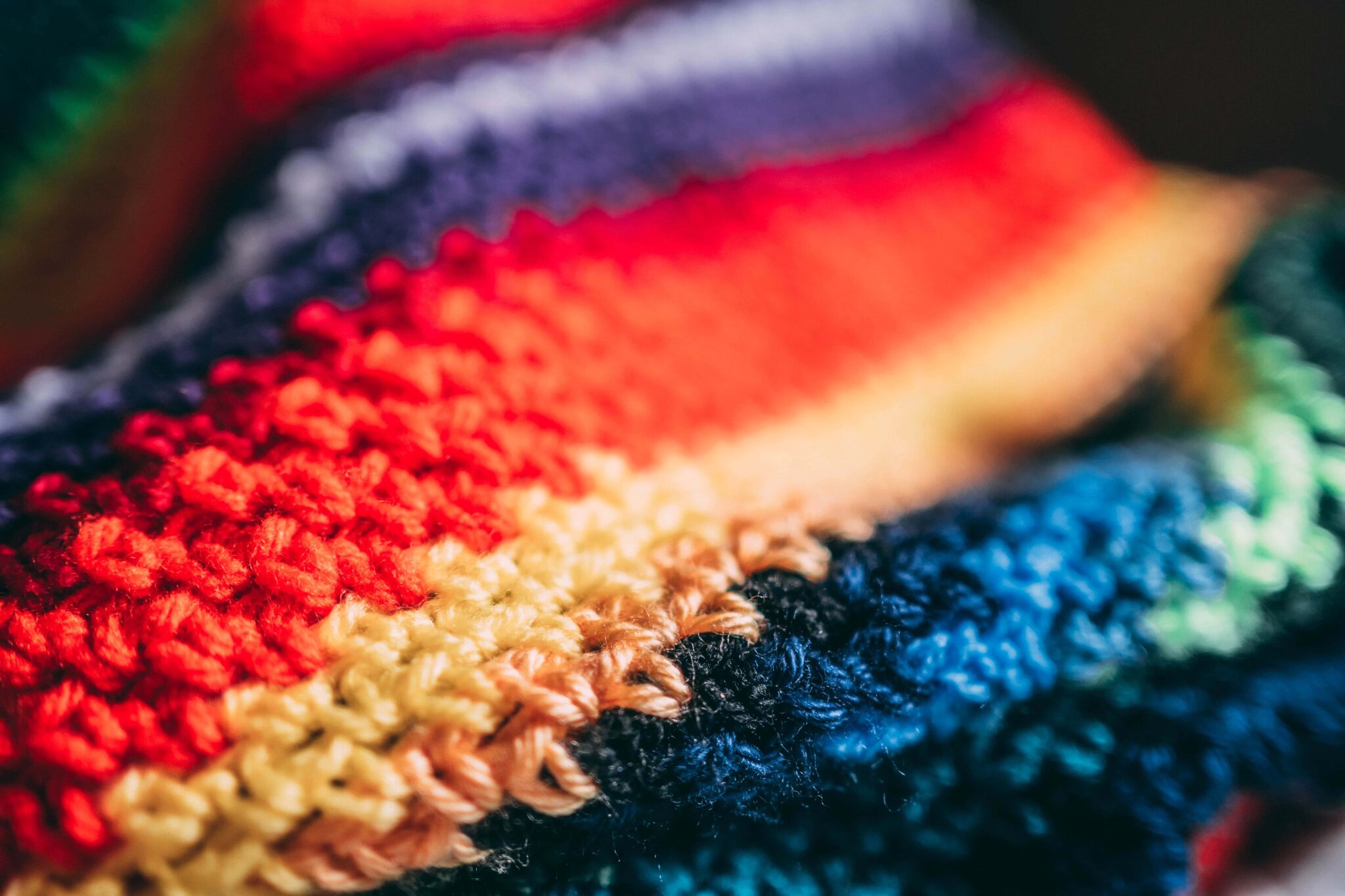 ---
2. It's easy!
I know, I know. It's easier said than done, but learning to crochet is like any other hobby. It takes patience and persistence. If you stick with it, it's well worth it.
What I mean by easy is it's easy to get started and to stick with it when you have someone (like me!) to help you through it. A long time ago you might have learned in person from your mother, grandmother, or family friend. These days a lot of us learn virtually, which is amazing when you think about it.
If you do decide to give crochet a try, I created a free email challenge teaching you everything you need to know about crochet in just 7 short days. Then you can join my free Facebook group where we all hang out, get your questions answered, and celebrate the beautiful things you make.
---
3. Binge watch all the Netflix you want!
Do you like binge watching your favorite TV shows? Now you don't have to feel guilty!
Whether you decide to crochet as a hobby or as a side business, the best time to work on a project is when you're binge watching your favorite shows. It's easiest to do this when you're working on mindless crochet projects, but when you become more advanced you can continue to do this with more complicated projects.
I'm at the point where if I'm watching TV, I have to have a couch project or else I'm wasting my time. 😂 Am I the only one who feels that way?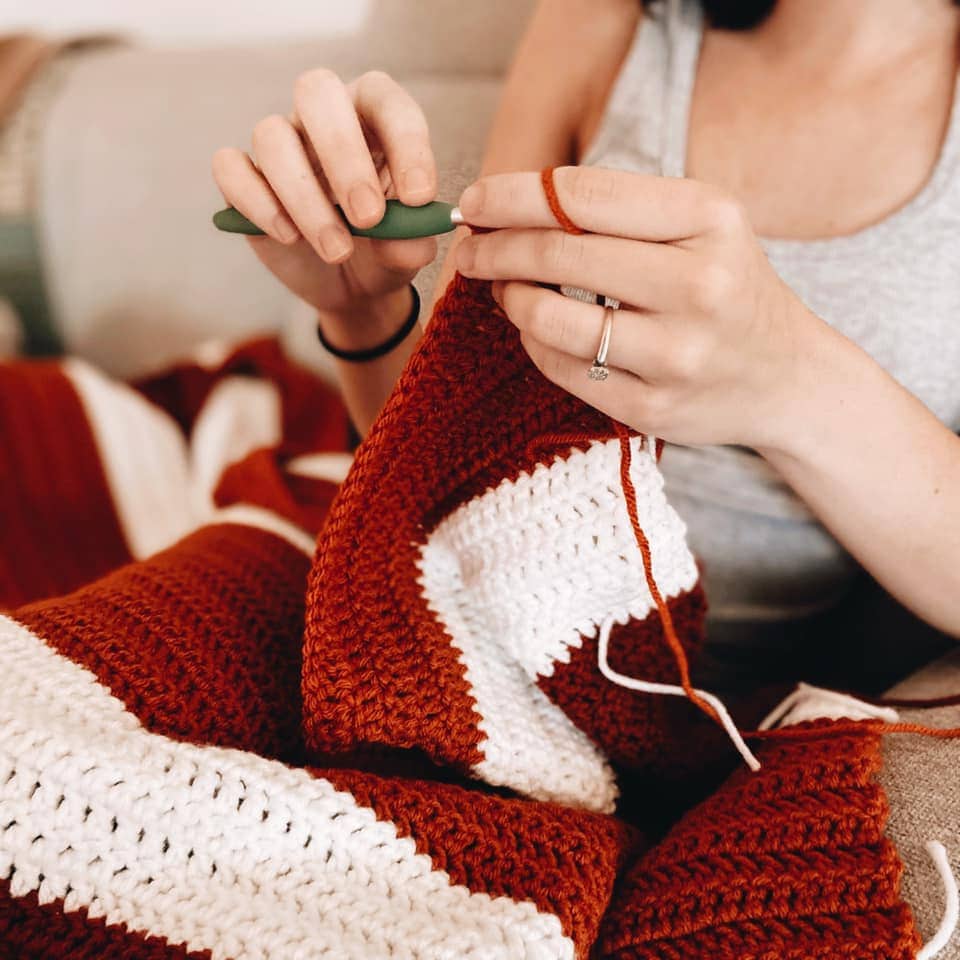 ---
4. Good for brain health
Now I'm not a doctor, but I've read that crochet and other yarn crafts are really great for brain health. How, you ask? Here are just a few examples from LittleThings.com:
Lowers heart rate and blood pressure
Keeps fingers nimble
Improves math skills
Calms anxiety
Sharpens memory
Manages pain
Gives a sense of purpose
These are a just few examples listed in their article and I highly suggest reading more in detail about the benefits of crochet over on their site. It's so informative and even exciting!
---
5. Stress Buster/Anxiety Reducer
Not only is it great for your actual brain, but is a great way to improve mental health. If you haven't been around here long, you may not know this. The whole reason why I decided to learn how to crochet was because I was going through a great deal of stress at the time.
From the moment I made my first pair of fingerless gloves, my life completely changed. I was happier, more optimistic, and I loved making, gifting, and learning new things.
Since then it has continued to reduce my anxiety when I have my days and I've heard the same success from so many different people. If you struggle with anxiety or depression, I absolutely suggest giving this a try.
Just remember that getting the hang of things takes time. Be patient with yourself while you're learning and give it a real chance if you want to see those anxiety reducing results.
---
6. You can literally crochet ANYTHING
You really, truly can make anything you want with crochet. A lot of people think of crochet as a winter hobby because of all of the hats, scarves, blankets, and cozy projects to keep you warm. However, it is absolutely not just a winter hobby.
You can making bathing suits, bags, purses, toys, costumes, washcloths, baskets, home decor, and literally anything else you can think of. You can even make a cat couch!
This Witch Trick or Treat Bag was a simple drawing that I made when brainstorming some Halloween crochet patterns. I honestly never thought that I could create something almost exactly like my drawing, but it is the best feeling.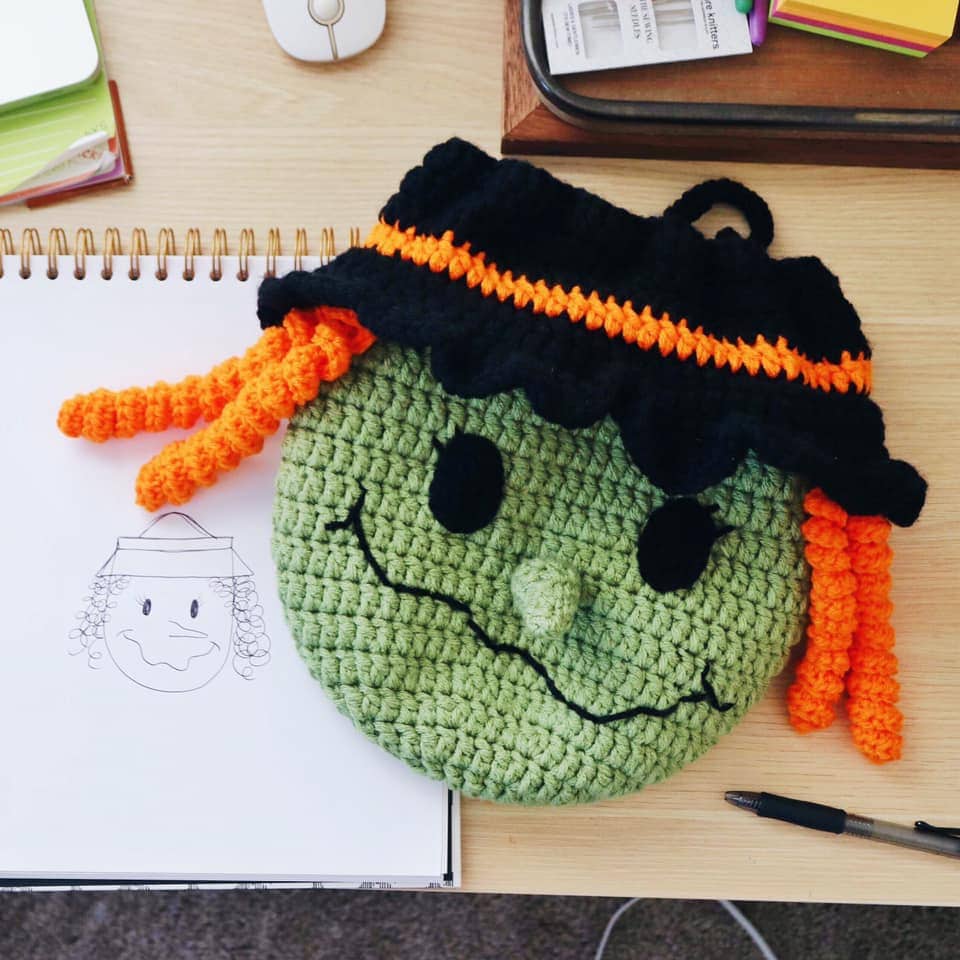 Do me a favor and really dig into crochet once you get the basics down. There are so many amazing things to learn. You might be surprised.
---
7. It's portable
All you need to crochet is a crochet hook and some yarn. As long as you have some sort of tote, you can take it on a train, on a bus, to a family gathering, to the park, beach, or pretty much anywhere.
You can even take your crochet hooks on a plane in your carry-on bag! Which is great, especially when you have a long layover or you need some sort of distraction while you're up in the air.
Need more details about the supplies you need to get started? I've got the article just for you.
---
8. Inexpensive Gift Making
I decided to learn how to crochet for two reasons. The first was my high anxiety and stress levels. The second was because I was a single mom low on money and the holidays were coming up.
Everyone knows handmade gifts are the best gifts! Especially when you have family members who really appreciate the time and love you put into making a gift for them.
You can make a hat with one skein of yarn, a scarf with two skeins of yarn, and an entire blanket for about 6 or 7 skeins of medium weight yarn. And if you know where you go, you can always find a discount.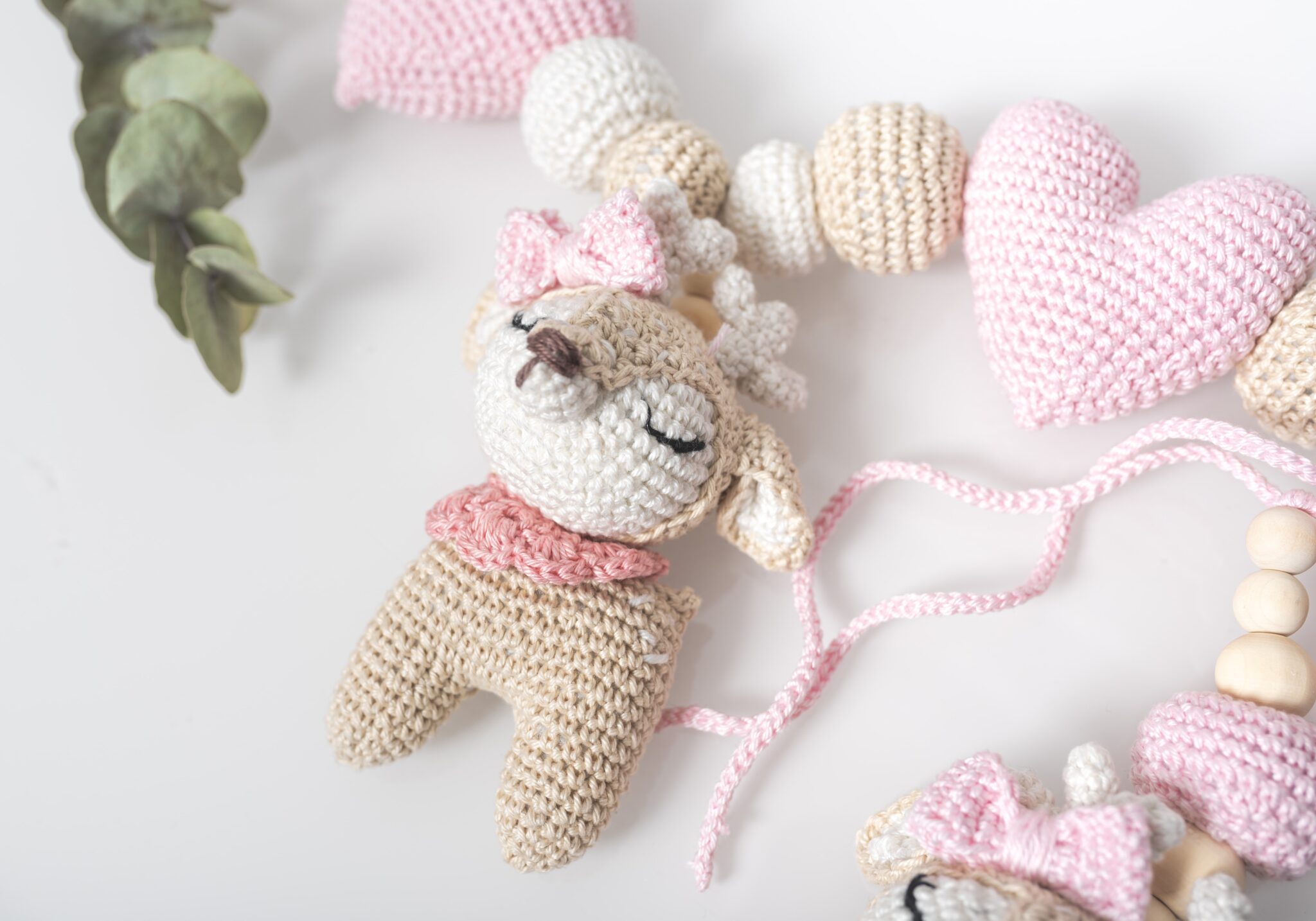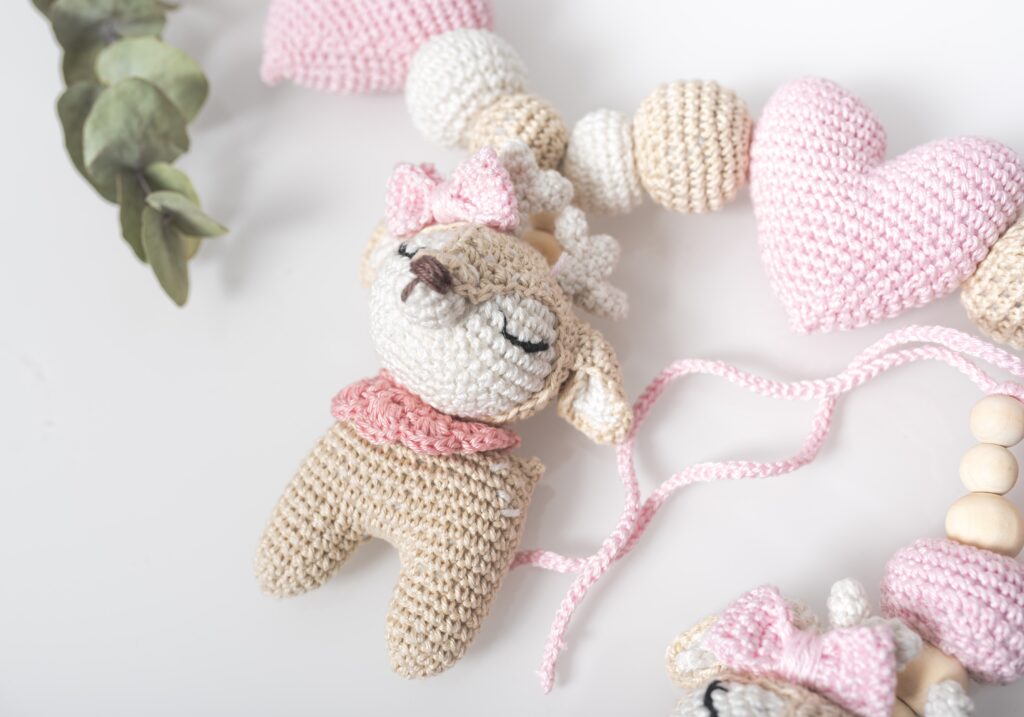 ---
9. Start A Creative Side Business
When you're thinking about learning to crochet, making some money off of it isn't usually your first thought. But it is absolutely a possibility! I work from home full time with my crochet and it is the happiest I've ever been.
When you're ready, there are a few different options to turn it into a side business:
blogging
selling your designs
submitting your designs to magazines
working with yarn companies
selling physical items online or at craft fairs
hand-dying and selling yarn
The best person to look to for advice when turning your crochet into a side business is the Crochetpreneur. She has been my mentor for the last few years and has helped me tremendously.
If starting a creative side business was something you thought you could only dream of, I suggest watching her free masterclass, The 3 Step Framework For a Profitable Crochet Business. You will learn a ton and it's free so you have nothing to lose!
---
10. Make friends all around the world
Back in the day, crochet was only taught in person. Nowadays, a lot of us are learning how to crochet through the internet and that's amazing! But at the same time, that personal connection isn't there.
I'm the only one who crochets out of all of my friends and family, except for my wonderful mother in law! It makes me so happy to sit and make pretty things with her when we visit, but sadly we only see her once or twice a year.
If you're like me and you don't have anyone to share your obsession with this craft, join us in the Crochet'dy Bunch. You're going to love it!
A few years ago I created this free Facebook group and it has blossomed into the best group I could have ever imagined. Everyone is so encouraging and welcoming and I love seeing everyone's works in progress.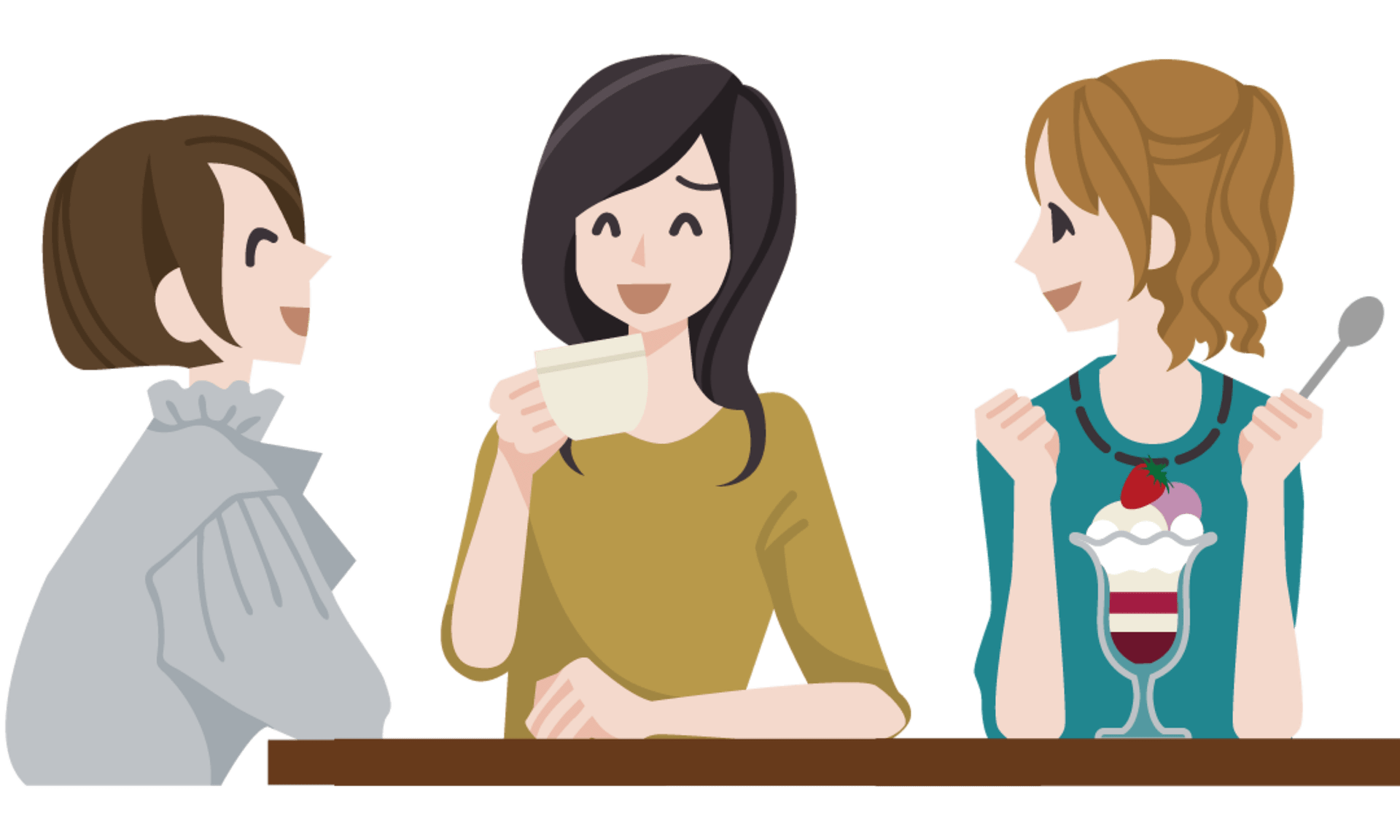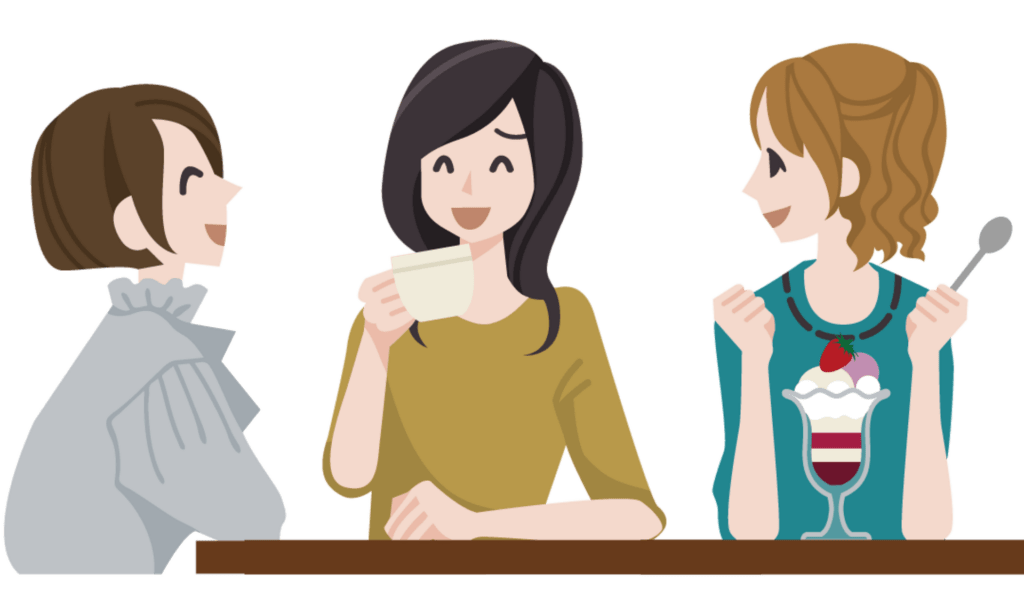 ---
11. It's NOT just for Grandmas!
I don't even like saying that because I don't want to offend my older friends, but it's no secret that people who don't know much about yarn crafts think knitting and crochet are both grandma crafts. A long time ago maybe, but not anymore my friend! There are more and more younger crocheters every day. Even Jonah's Hands is creating a movement and he's only 10!
Truth is, there are haters who will call you an "old lady" if they see you whipping up some yarn crafts. But that's just because they haven't tried it for themselves and gotten hooked yet 😉
This community of crocheters is filled with so many creative and uplifting people. It's rare to see any negative talk about anyone or anything and like I said previously, it's a great way to destress.
---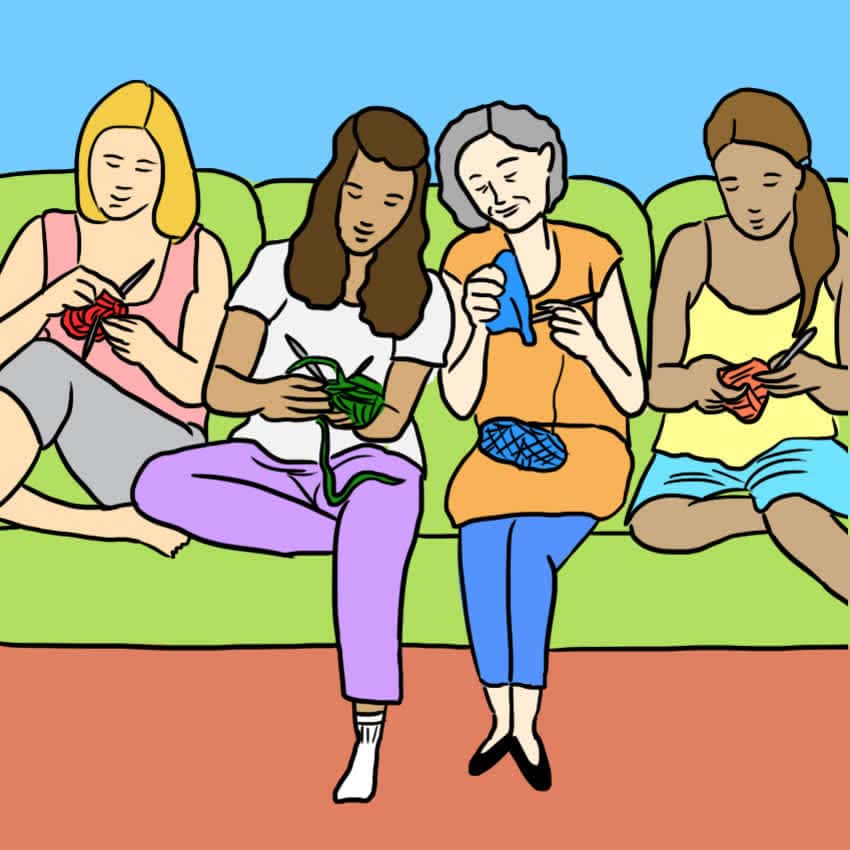 And there you have it.
These are my 11 reasons why you should learn how to crochet RIGHT NOW.
It's cheap
It's easy
You can binge watch all the Netflix you want
It's good for you brain health
It's a stress buster
You can crochet anything you want (with a little practice)
It's portable
It's a great way to make inexpensive & meaningful gifts for friends/family
Make a little money by starting a creative side business
Make friends all around the world
& it's not just for grandmas!
If you want to learn more about crochet and how to get started, take my free 7-Day Challenge. This challenge will have you understanding the basics of crochet and crocheting your first project in just 7 days.
Why have you been thinking about learning?
Tell me in the comments below! 👇🏼