Slouchy Crochet Leg Warmers – One Skein Wonder
Winter's coming! If you find yourself doubling up your leggings in the winter, you're going to love this free beginner-friendly pattern. By using a few basic stitches, we'll create a pair of ribbed, slouchy crochet leg warmers using one skein!
I am so excited to be featured as one of the designers in the Design Create Repeat blog hop this month! The theme is One Skein Wonder. There have been so many beautiful designs so far and I highly suggest you check them out! You can find all of the gorgeous, one-skein projects here!
---
Now back to these slouchy leg warmers!
These leggings are made using single and double crochet stitches and is worked in the round. There are a few techniques you will need to know how to do, but they're easy peasy and I have tutorials that will help you right along.
If you're ready to get started making these slouchy crochet leg warmers, then scroll on down to the good stuff (the pattern, of course!)
If you'd like an easy-to-read, printed version of the pattern with resizing, yardage, and additional resources, find the inexpensive PDF pattern by clicking here.
For those of you who want to hear all the details, keep reading. 😉
First of all, can you believe it's almost September? This Summer flew by before I could even enjoy it! Then again, we live in Florida so it's really hard to enjoy the summertime when the heat index is 112 and the humidity makes it hard to breathe. I am beyond excited for the cooler weather to begin.
One of my favorite things about crochet is making things for friends and family. You can't get any better than handmade gifts.
I know that this time of the year we're thinking about others, but sometimes we need to make things for us too! I have wanted to make a pair of leg warmers for the longest time now and I'm so happy that I finally have. Is it just me or do they make every outfit look 10 times cuter?
When the cold weather begins, I basically live in leggings. On those super cold days, I even double up my leggings! I'm not the only one who does that, right? Doubling up on leggings makes me feel extra toasty, but it's not really the most convenient thing.
That's where these crochet leg warmers come into play!
---
The Yarn
I went back and forth on the type of yarn to use for this project and I think, in the end, I made the perfect decision. Lion Brand Fisherman's Wool is a medium weight (#4) yarn and packs 465 yards into one skein!
Not only does the stitch definition with this yarn look great, but it is made with 100% wool which will absolutely get those legs warm in the colder months. Plus, you can easily make a pair of these crochet leg warmers with only one skein and there's enough left over to make them even slouchier. There's no such thing as too much slouch!
---
Techniques Used
The techniques used in this pattern are really quite simple. You will need to know how to work in the back loop only and also how to work around double crochet posts. Lucky for you, I have a full video tutorial on how to make these crochet leg warmers.
Even if you're a complete beginner, you should be able to make a pair of these slouchy crochet leg warmers!
---
Resizing Your Slouchy Crochet Leg Warmers
These leg warmers were designed to fit my legs, but all body types are different so I want you to be able to have the tools at your fingertips so that they fit yours too!
First, let's talk about the foundation chain. For this particular stitch, you will need to start with a foundation chain in multiples of 4 + 1, plus 2. For example, 20 is a multiple of 4, then you would add 3 more chains.
Next, we'll figure out how to resize your slouchy crochet leg warmers to fit around your leg. For the best possible accuracy, measure around the largest part of your calf (right below your knee) with a tape measure. Create a foundation chain that measures 3 1/2 inches less than what you measured.
This way your leg warmers will fit snug and won't fall down your leg. Then all you have to do is follow the slouchy crochet leg warmers pattern! Easy peasy lemon squeezy.
As for the length, you can make these slouchy crochet leg warmers as short or as long as you want. All you have to do is add or subtract the rows in between the ribbed cuffs.
To make them shorter, stop around round 10 (or whenever you prefer) and that will turn them into your very own pair of boot cuffs.
To make them longer, continue adding rows of the main pattern. I think they would look great even slouchier than the intended design (if you use Fishermans Wool you will have more than enough yarn to do this)!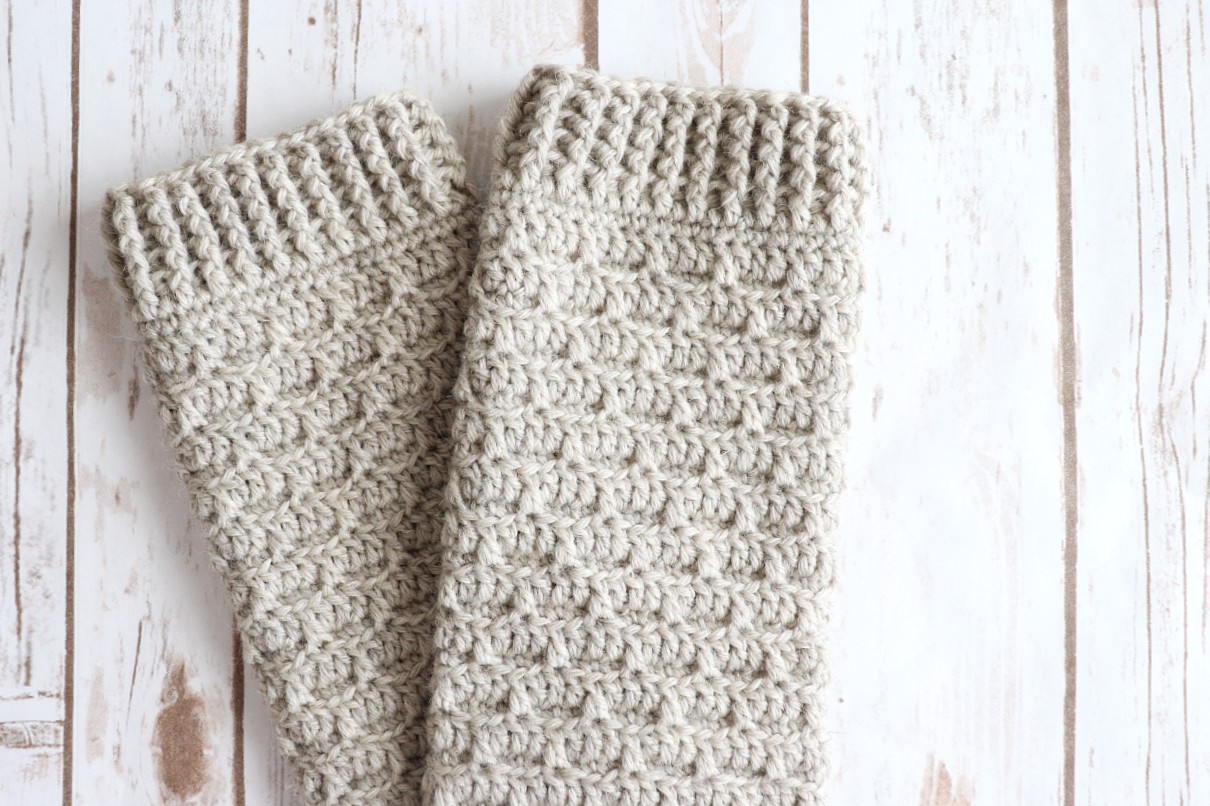 ---
Slouchy Crochet Leg Warmers – One Skein Wonder
This post may contain affiliate links, please view my disclosure policy for details.
Get the ad-free, large print, printable PDF pattern (on Etsy) HERE.
Add to your Ravelry Queue HERE.
PIN this pattern to your Pinterest boards for later HERE.
Materials
---
Abbreviations Used
Ch – chain
Sc – single crochet
Dc – double crochet
FPdc – front post double crochet
BPdc – back post double crochet
BLO – back loop
Sk – skip
Sl st – slip stitch
Rep – repeat
Beg – beginning
| | |
| --- | --- |
| US TERMS | UK TERMS |
| single crochet (sc) | double crochet (dc) |
| double crochet (dc) | treble crochet (tr) |
---
Helpful Tutorials
---
Notes
Ch 3 at beginning of round counts as a stitch
These slouchy crochet leg warmers were designed to fit myself. Please see the resizing section above to ensure they will fit you to perfection.
---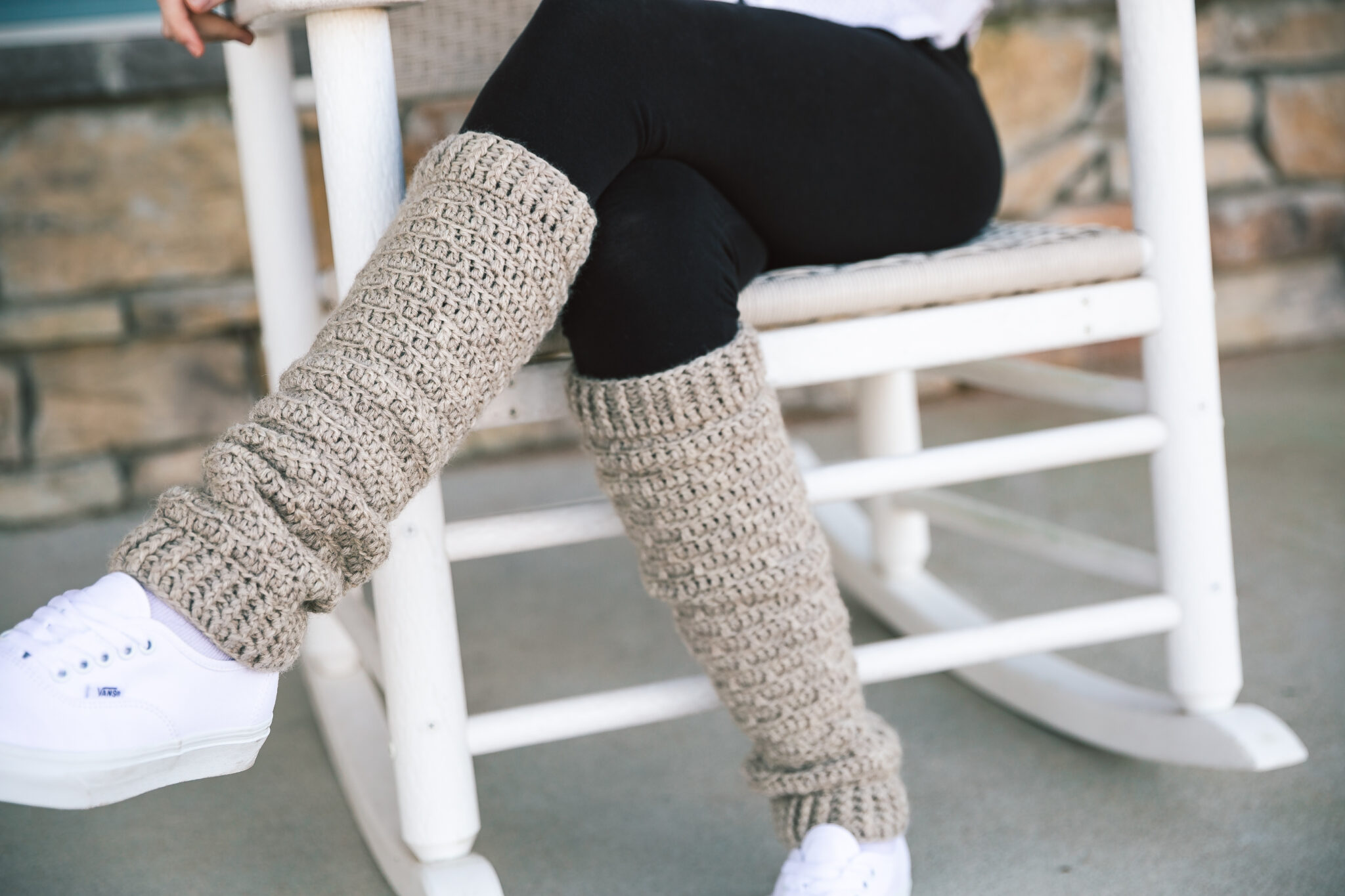 Slouchy Crochet Leg Warmers Pattern
Row 1: Ch 47, dc in 4th ch from hook and each ch down. Sl st to the ch3 from the beg of row to create circle (45)
From this point on, we'll be working in the round
Round 2: Ch 3 (counts as st here and throughout), *FPdc next st, BPdc next st, Rep * around. Sl st to beg ch (45)
Rounds 3-5: Rep round 2
If you're having trouble with this next part, watch the video tutorial.
Round 6: Ch 1, sc in the very first stitch (top of ch-3 from previous round) and then sc in BLO of each st around. Sl st to first st (45)
Round 7: Ch 3, sk first sc, *1dc in front loop of dc in row below next sc, 1dc in each of next 3sc, Rep from * around. Sl st to beg ch (45)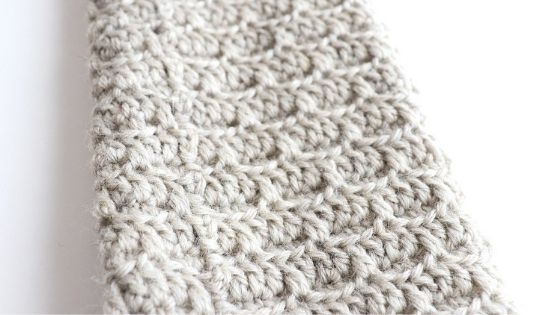 Round 8: Rep Round 6
Round 9: Ch 3, sk first sc, 1dc in each of the next 2sc, *1dc in front loop of dc in row below next sc, 1dc in each of the next 3sc, Rep from * to last 2 sc. 1dc in front loop of dc in row below next sc, dc in last st, Sl st to join (45)
Rep rows 6-9 11 more times
***Note: After you've crocheted a few rows, slide the cuff up your leg to make sure they fit snug. That way you don't spend hours making them then come to realize they don't fit! If they don't fit, take a look at the Resizing section above and try again.
Round 52: Ch 1, sc each st around (45)
Round 53: Ch 3, dc each st around (45)
Round 54: Ch 3, *FPdc next st, BPdc next st, Rep * around. Sl st to ch 3 at beg of round
Rounds 55-57: Rep Round 54
Tie off and weave in ends
Don't forget to close the side from the beginning!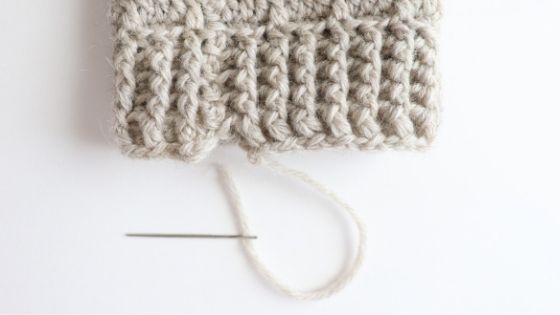 These leg warmers are one of my favorite designs to date and once the cooler weather hits, I'm going to be wearing them all the time. If you're a beginner, I hope the tutorials helped you create these leggings with ease. If you're a seasoned crocheter, I hope you enjoyed the textured brick effect that these leggings have!
I hope you enjoy wearing these crochet leg warmers as much and I loved designing them! Share your makes with me on social media @sigonimacaroni. I would love to see them. What color are you going to make your leg warmers?
Like what you see? Share the free, beginner-friendly Slouchy Crochet Leg Warmers pattern with your friends!