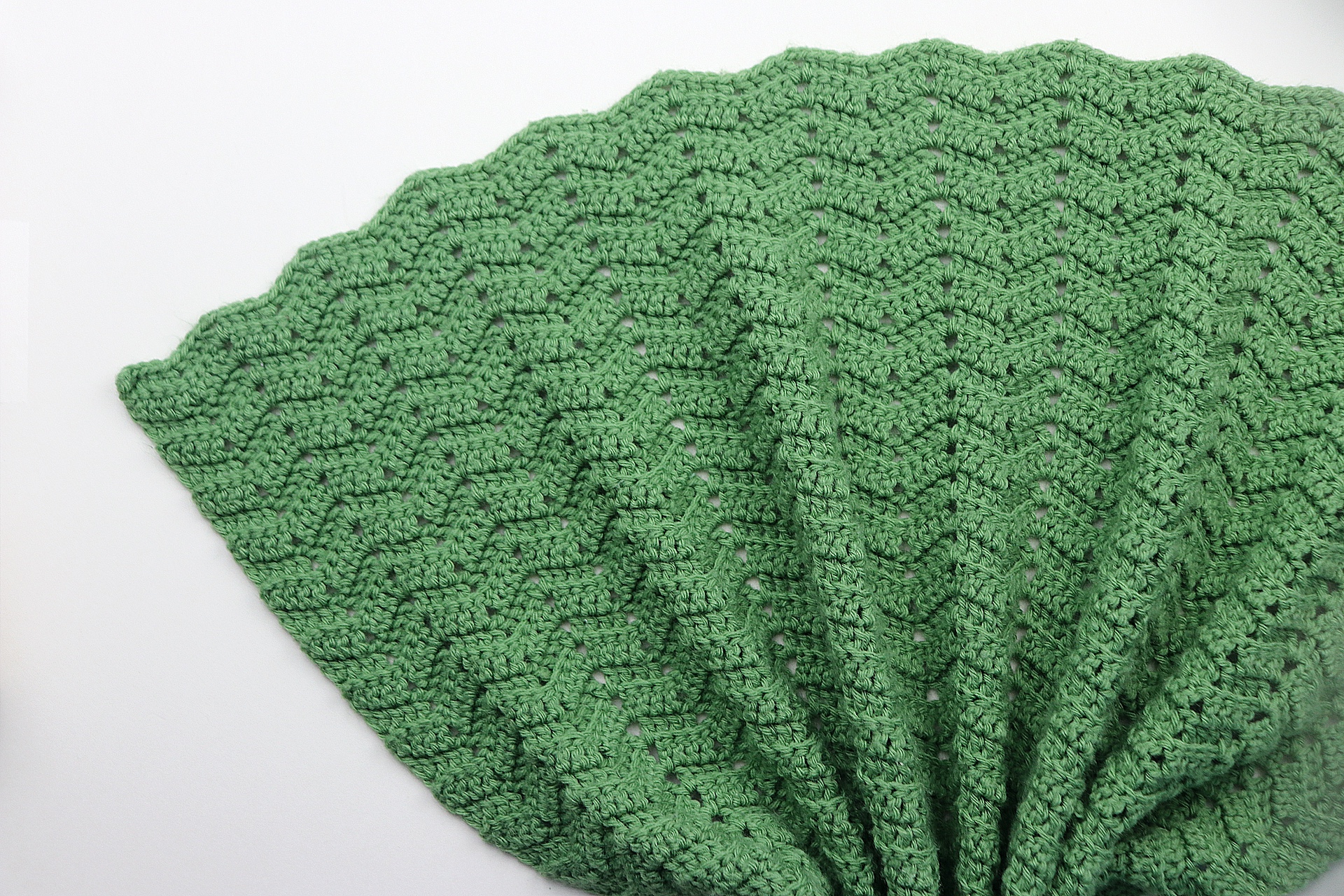 The chevron stitch is a trendy (sometimes infuriating) pattern in the crochet world and in the crafting world in general. When it comes to the chevron stitch, there are many different variations using different stitches. In today's tutorial, I'm going to show you how to crochet this easy, Peephole Chevron Crochet Blanket. This is a free crochet pattern using double crochet stitches in the back loop only to create a beautiful texture. This lightweight baby blanket would be the perfect baby shower gift and you're going to love working on it.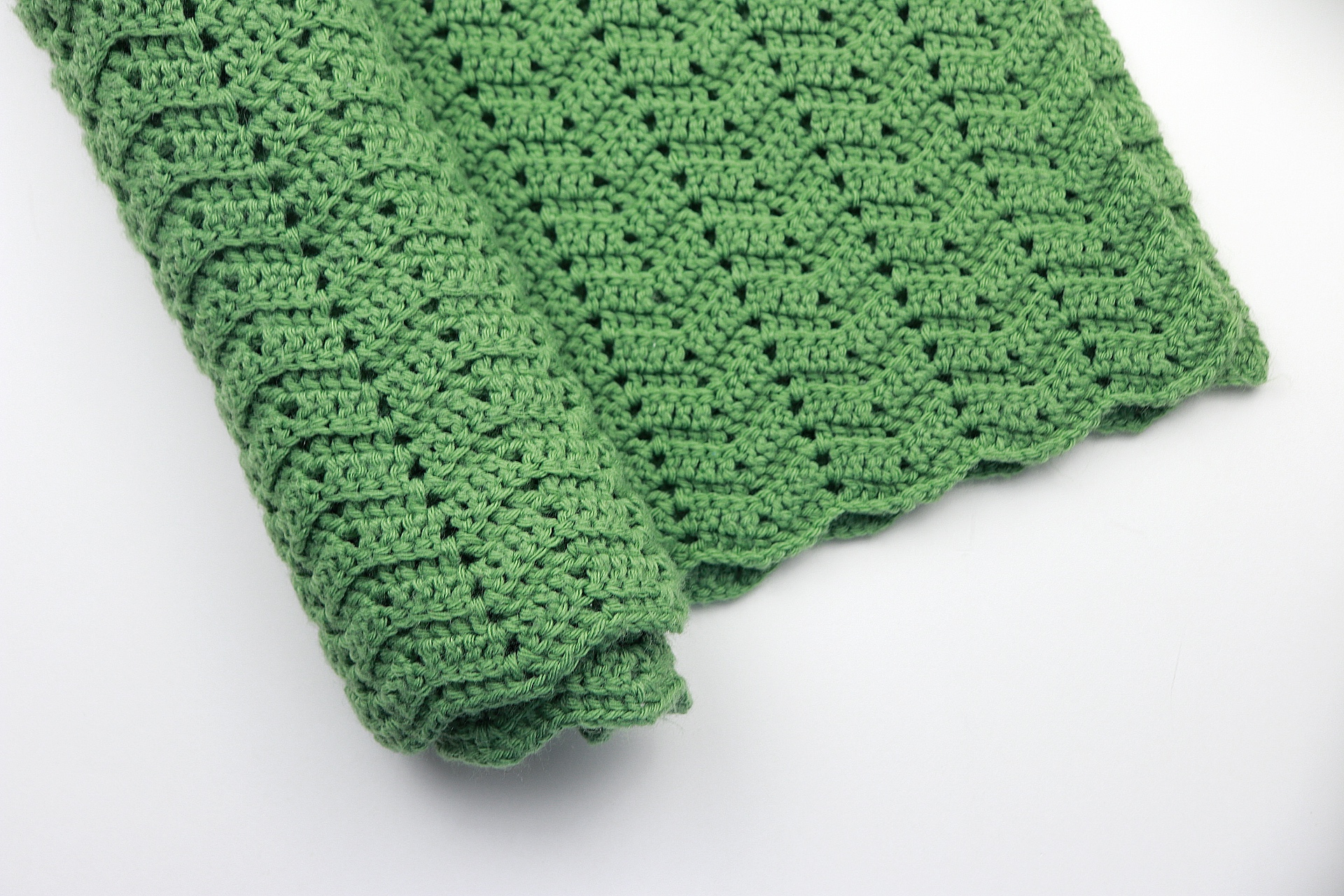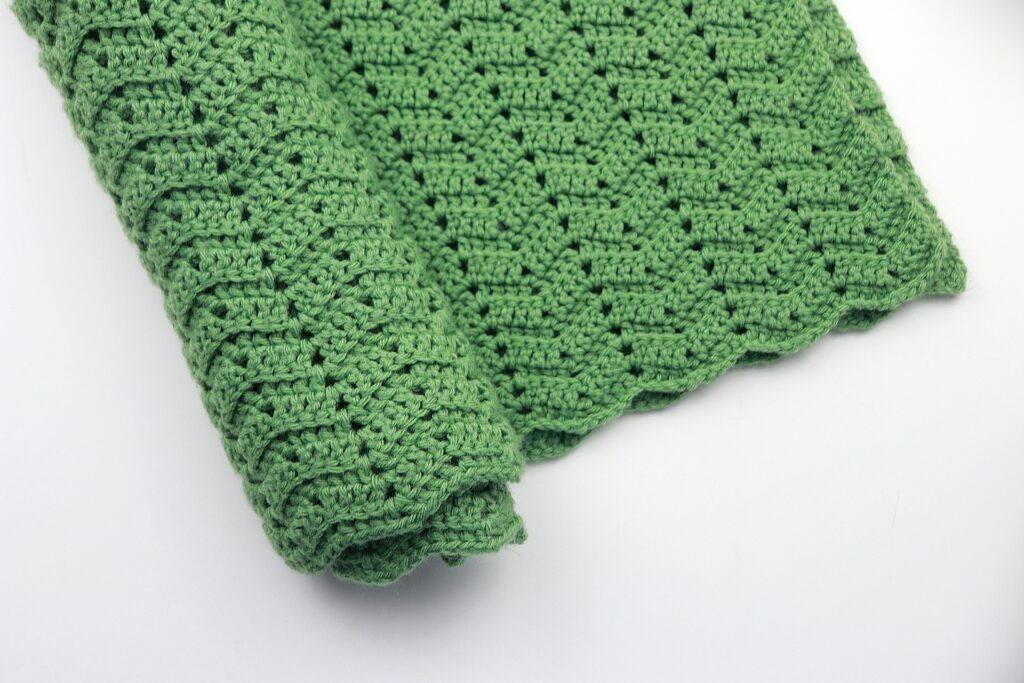 Truth be told, I started this design a long time ago.. a few years to be exact. While I was designing this blanket, we went through a hurricane that ended up destroying our house, uprooting our family, and moving us a few hours away.
We've had a crazy few years.
This variation of the chevron stitch is one of my favorites because it's simple to make, easy to count, and quick to work up! All you need to know is the double crochet stitch and there's no decreasing, which is why I think so many people struggle with the chevron stitch.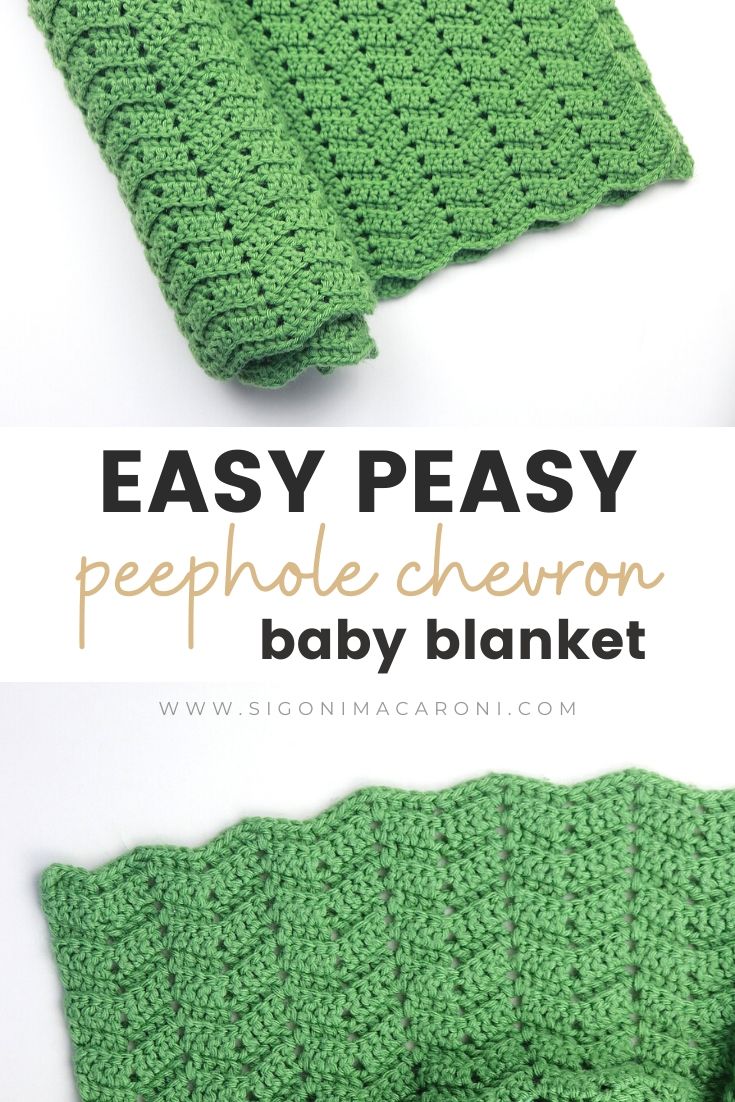 ---
Peephole Chevron Stitch
Last week I released a picture and video tutorial for a double crochet chevron stitch and this easy, Peephole Chevron Crochet Blanket pattern features that stitch.
So head over to that tutorial if you want to see the basics on how it's worked up.
The only difference between that tutorial and this pattern is that we'll be working into the back loops only.
The only time you're not working into the back loop is when you're working into the chain space and at the top of the chain 3 when you reach the end of the row.
---
More About The Yarn Used
Usually I like to use yarn in my patterns that everyone has access to, but when I came across this yarn I knew I wanted to make a lightweight blanket with it.
The yarn I used is Baby Bee Sweet Delight which is exclusively found at Hobby Lobby. It's not too out of reach, but I know that not everyone has access to their stores. You can always purchase online of course, but not everyone prefers that.
So I wanted to make sure I listed a few alternatives. This yarn is a DK weight (#3) and is made out of 60% acrylic and 40% polyamide. A few good alternatives could be:
If you grab the downloadable PDF of this pattern, there's a full section on how to resize your blanket, how many yards you'd need for several different sizes, and the approximate starting chains for each size. This section has information for both DK and worsted weight yarn.
A few medium weight yarns that would fit perfectly with this easy, Peephole Chevron Blanket crochet blanket would be:
Right now we're both social distancing and having a hard time with online stores being out of stock or delaying shipping. But you can find most of these yarn lines and more on Amazon if you want 2-day free shipping – and you get a 30 day free trial so what's the harm?!
Sometimes the prices will be higher though so make sure you compare and choose what's best for you.
Also, Lion Brand's Feels Like Butta yarn is one of my favorites. It's classified as a medium weight yarn, but I think it's on the lighter end.
---
How To Resize This Chevron Crochet Blanket
Create a foundation chain in multiples of 10+3. In other words, chain in multiples of 10 until you reach your desired length and then add 3 chains to the end of that.
Follow pattern as written below.
I know that not everyone wants to create the exact size blanket and this easy Peephole Chevron Crochet Blanket would look beautiful in any different color or size.
That's why I wanted to make things super easy for you and put together everything you need to know in order to resize your blanket.
Download the PDF of this pattern and get a full section on:
detailed steps on resizing your blanket
instructions for creating a gauge swatch
how many yards you will need for your desired size (6 different sizes included)
the approximate starting chains for each size
& all of this information for both lightweight AND worsted weight yarn
Click Here To Grab A Copy Of The PDF Pattern
---
Easy Peephole Chevron Crochet Blanket | Before You Start
Some of the links below are affiliate links. Please see my disclaimer for details.
Get the ad-free, large print, printable PDF pattern with all resizing instructions HERE.
Add to your Ravelry Queue HERE.
PIN this pattern to your Pinterest boards for later HERE.
Permissions + Copyright:
Please do not publish or share this pattern as your own. You may make items to sell with this pattern. In exchange, please link back this post. Do NOT use my photos as your own sales photos.
---
Materials:
2 skeins Baby Bee Sweet Delight (#3 light; 60% acrylic, 40% polyamide; 377yds) in Baby Sage
4.5mm Crochet Hook
Tapestry Needle
Scissors
Abbreviations Used:
*All Sigoni Macaroni patterns are written in standard US terms *
Ch – Chain
Dc – Double Crochet
Sk – Skip
St – Stitch
BLO – Back Loop Only
| | |
| --- | --- |
| US TERMS | UK TERMS |
| double crochet (dc) | treble crochet (tr) |
Finished Measurements
Gauge
Helpful Tutorials
Pattern Notes/Tips:
To create the texture, you will be working into the back loops only throughout the pattern
Ch 3 at beginning of row counts as a stitch
When chaining 3 at the beginning of each row, try to make that top stitch a little more loose so that it's easier to work into when you reach the next row
If your edges aren't straight, remember to keep track of your stitches. This stitch might be an easier variation of the chevron stitch but it still requires some counting.
You should have 4 dc in between each peak (the ch-2) and each valley (the 2 skipped dc).
To ensure your edges stay straight, make sure you create that beginning-of-the-row increase by double crocheting into that very first stitch.
---
Easy Peephole Chevron Crochet Blanket | Free Crochet Pattern
Pattern Instructions
Ch 143
Row 1: Dc into the 4th chain from your hook and in each of the next 3 chains, *sk 2 ch, dc into each of the next 4 ch, ch 2, dc into each of the next 4 ch.** Rep * to ** to your last 6 ch. Sk 2 ch, dc into each of the next 3 ch. 2 dc in last ch. (114)
Work into the BLO for the rest of the pattern
Row 2: Ch 3 (counts as dc here and throughout), turn work. Dc into very first stitch, dc into each of the next 3 st, *sk 2 st, dc into each of the next 3 st, [dc, ch-2, dc] in ch-2 space, dc into each of the next 3 st. Rep * until you have 6 stitches left. Sk 2 st, dc into each of the next 3 st, 2 dc into last stitch (top ch from ch-3). (114)
Repeat Row 2 until you reach Row 65 (or 29″)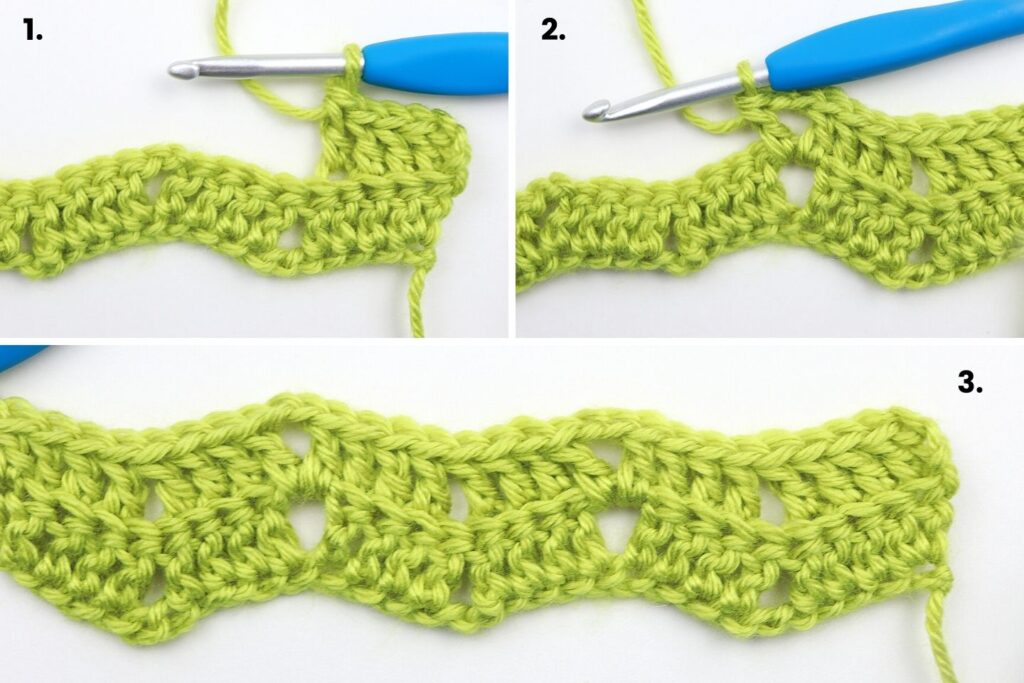 I chose not to create a border for this blanket because I liked the way it looked as it was. But if you choose to create a border for yours, go for it!
I would love to see photos too so definitely share your projects with me by creating a project in Ravelry and tagging me @sigonimacaroni across all social media. I'm most active on Facebook and Instagram!